GOOD NEWS: 'Woke' Universities To Be Fined For Limiting Free Speech
The government will also instruct heritage charities, museums and art galleries to stop 'airbrushing' history at the behest of the woke mob
A pair of new government initiatives will see universities in the UK fined if colleges or student bodies attempt to shut down free speech on campuses, and heritage bodies sanctioned if they use funds to advance partisan political movements.
The Sunday Telegraph reported that the university measure is to be announced this week by the Education secretary Gavin Williamson, who has previously railed against the rise of 'wokism' and leftist cancel culture.
The report notes that "Colleges or student bodies that try to cancel, dismiss or demote people over their views will be sanctioned in a major Government escalation on the 'war on woke'."
Williamson's effort will make it the duty of universities to promote free speech on campuses by allowing a broad spectrum of events and speakers, without hindrance.
The move will also see a 'Free Speech Champion' established on campuses as part of government's regulatory Office for Students.
The role will be to ensure free speech isn't impeded and that academic freedom is maintained, and to impose fines on establishments or student unions that restrict speech.
A government source told the Telegraph that "Unacceptable silencing and censoring on campuses is having a chilling effect and that is why we must strengthen free speech in higher education, by bolstering the existing legal duties and ensuring strong, robust action is taken if these are breached."
In addition, the government will instruct heritage charities, museums and art galleries to stop 'airbrushing' history at the behest of the woke mob.
Culture secretary Oliver Dowden is expected to issue instructions to the National Trust, Historic England, the National Lottery Heritage Fund, Arts Council England, the National History Museum, the British Museum and the Imperial War Museum at a summit next week "to defend our culture and history from the noisy minority of activists constantly trying to do Britain down".
The move comes after revelations that public funds are being used to pay for reviews that seek to link British heritage to 'colonialism' and 'white supremacy'.
This is particularly the case in London, where the mayor Sadiq Khan has appointed a rogues gallery of woke partisans as a 'task force' to review whether statues and other landmarks in the city are 'diverse enough'.
In a letter, Dowden stated "History is ridden with moral complexity and interpreting Britain's past should not be an excuse to tell an overly-simplistic version of our national story, in which we damn the faults of previous generations whilst forgetting their many great achievements."
"Purging uncomfortable elements of our past does nothing but damage our understanding of it," Dowden also urged.
Responding to the government initiatives, Sir John Hayes, the chairman of the Common Sense Group of Conservative MPs said "It is absolutely right that the Government steps in to defend free speech. Without the ability to speak freely soon we will not have the ability to think freely."
Hayes added that "universities ought to be places where ideas are to be a fulcrum for devising and testing ideas to be places of imaginings", but noted that debate is being stifled by self appointed "thought police".
A recent study by leading education focused think tank Civitas found that free speech at the world's leading universities is being eroded at an alarming rate owing to the rise of "cancel culture".
The study found that within the past three years, more than 68 per cent of universities in the UK have seen free speech severely restricted, with academics unable to meaningfully discuss the nuances of issues such as race and gender.
It is now an everyday occurrence, even at distinguished universities such as Cambridge, to see ridiculous one sided 'discussions' led by panels of activists who all agree on one subject, such as Winston Churchill being worse than Hitler, while speakers who disagree, or just have an opinion that isn't robustly 'woke' are prevented from appearing.
A recent national poll found that half of Britons agree that freedom of speech is under direct threat from cancel culture, with only 12% feeling that they can speak more freely than five years ago.
News Outlets Announce They're Abandoning "Objectivity" Because It's Racist
A relic of "white newsrooms".
Top news outlets have openly announced that they're abandoning "objectivity" because it's a racist relic of "white newsrooms".
No, this isn't a Babylon Bee story.
The decision arose from a series of interviews conducted by former executive editor for The Washington Post Leonard Downie Jr. and former CBS News President Andrew Heyward.
"The media figures argued that journalists should include their own beliefs, biases, and experiences to convey truth, and that journalistic objectivity was either unrealistic or undesirable," reports the Daily Caller.
Downie Jr. argued that objectivity distorts the news because the standard "was dictated over decades by male editors in predominantly White newsrooms and reinforced their own view of the world."
Emilio Garcia-Ruiz, editor-in-chief at the San Francisco Chronicle, put it even more explicitly asserting, "objectivity has got to go."
So there you have it.
"Diversity" is hostile to objectivity (truth) and for diversity to win, the truth must be abolished in favor of pushing narratives that benefit so-called minority groups (which are now endorsed and empowered by every major institution in America).
Downie Jr. insisted that covering both sides of a story, particularly one "about race, the treatment of women, LGBTQ+ rights, income inequality, climate change and many other subjects," prevents individuals who belong to such groups "pursuing truth in their work."
Kathleen Carroll, former executive editor at the Associated Press asserted that objectivity was a standard set by "White, educated, and fairly wealthy" people and should therefore be abolished.
Chris Menahan pointed out one such example of how journalists dispensing with objectivity actually serves to bury the truth.
The New York Times reported the claim of a 12-year-old girl being racially bullied by referring to her as "Black" and her bullies as "White".
After it emerged that the claims had been totally invented and the story was a lie, they removed both "Black" and "White" from subsequent reporting of the story.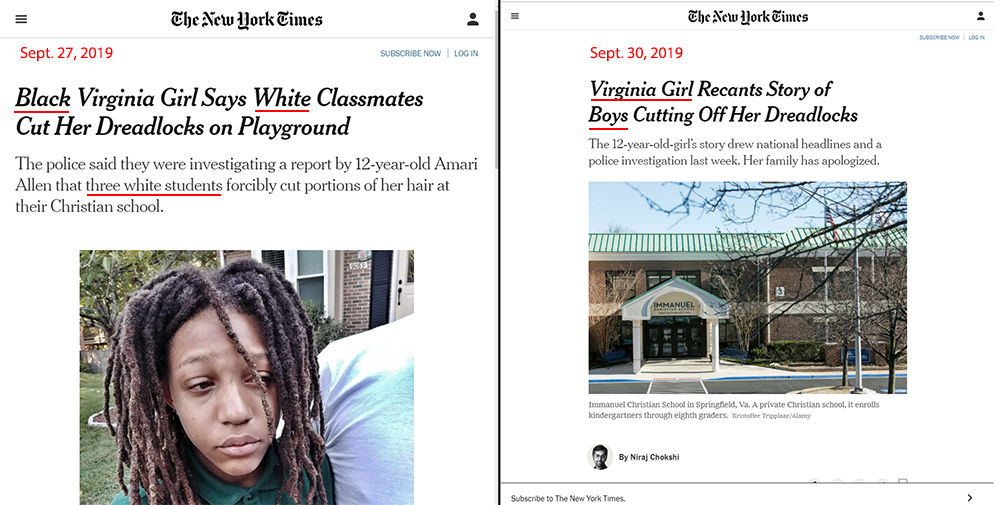 "What we found has convinced us that truth-seeking news media must move beyond whatever 'objectivity' once meant to produce more trustworthy news," said Downie Jr., obfuscating the fact that jettisoning objectivity actually achieves the exact opposite of "truth-seeking".
"Their statements are all objectively idiotic but they don't even realize it because they've abandoned all objectivity!" remarked Menahan.
As we previously highlighted, fact-checking institute Poynter demanded that local news stations reduce coverage of stories that connect "Black and brown communities" to violent crime because it is fueling "systemic racism."
They are literally at war with truth.
SUBSCRIBE on YouTube:
Follow on Twitter: Follow @PrisonPlanet
———————————————————————————————————————
Brand new merch now available! Get it at https://www.pjwshop.com/
ALERT!
In the age of mass Silicon Valley censorship It is crucial that we stay in touch.
I need you to sign up for my free newsletter here.
Support my sponsor – Turbo Force – a supercharged boost of clean energy without the comedown.
Get early access, exclusive content and behind the scenes stuff by following me on Locals.
———————————————————————————————————————
German Public Broadcaster Hides Migrant Background of Terrorist to 'Preserve Democracy'
More concerned about preventing "racism and xenophobia" than telling the truth.
A major German public broadcaster revealed that it had deliberately avoided mentioning the migrant background of a terrorist who killed two teenagers in order to prevent racism and 'preserve democracy'.
A 33-year-old asylum seeker was arrested last week after murdering a 17-year-old girl and a 19-year-old man during a frenzied knife attack on a regional train service near the town of Brokstedt which left several others injured.
The culprit was described as a "stateless" Palestinian who had been living in Germany since 2014.
Ibrahim A., who had been working as an Amazon delivery driver, had numerous previous convictions and was released from pre-trial detention despite having threatened people with a knife in 2021.
Even the suspect's own lawyer said he was surprised that Ibrahim had been released on January 19th.
With the German public reeling from yet another terror attack carried out by a migrant who had entered the country illegally, top broadcaster NDR was seemingly more concerned about maintaining politically correct narratives.
After Norddeutscher Rundfunk refused to detail the migrant background of the perpetrator, social media users called out the broadcaster for censoring the story.
NDR then ludicrously claimed that "the origin of the perpetrator is not relevant to the report" and that even mentioning such detail "leads to discriminatory generalizations or misinterpretations" and that "ridding our pages of racism and xenophobia" was more important.
The broadcaster's final absurd claim, before they closed comments on the story entirely, was to assert that hiding the true background of the terrorist was "not censorship, but preservation of democracy," a phrase which sounds like it was lifted directly from George Orwell's 1984.
Striking a similar tone, regional interior minister Sabine Sütterlin-Waack demanded that "no room should be given to assumptions and speculations that are currently being circulated" on social media.
"This is not the first time the German establishment media has been taken to task over omitting facts from reportage some consider important context for helping the public build an informed opinion on the events of the day," writes Oliver JJ Lane.
"Public broadcaster Tagesschau was criticised after their coverage of New Year's Eve riots this year omitted the overwhelmingly migrant character of those known to be involved."
Lane points out that top German news outlets also refused to report on the infamous mass molestation of women by migrant men in Cologne on New Year's Eve 2015 until it became an international scandal.
As we previously highlighted, German media outlets responded to violent riots in Sweden last year mainly involving Muslim migrants by falsely claiming the unrest occurred as a result of "right-wing demos."
SUBSCRIBE on YouTube:
Follow on Twitter: Follow @PrisonPlanet
———————————————————————————————————————
Brand new merch now available! Get it at https://www.pjwshop.com/
ALERT!
In the age of mass Silicon Valley censorship It is crucial that we stay in touch.
I need you to sign up for my free newsletter here.
Support my sponsor – Turbo Force – a supercharged boost of clean energy without the comedown.
Get early access, exclusive content and behind the scenes stuff by following me on Locals.
———————————————————————————————————————
Video: Leftist Talking Heads Claim Letting Trump Back On Facebook Will "Destroy Democracy"
"Do you want to be that institution that really helps take down the country?"
Reacting to the news that Facebook is to allow President Trump access to its platform after a two year ban, leftist 'journalists' on MSNBC claimed that it will "destroy democracy".
Trump derangement syndrome is well and truly back, with New York Times editor Mara Gay, Lincoln Project co-founder George Conway, and historian Jon Meacham crying about Meta helping to "take down the country" by allowing Trump to return.
Conway said "They think, 'Well oh, the fire's out, so even though this guy has a cache of matches and gasoline that he carries around with him, let's let him just play with matches again."
Meacham described Facebook's decision on Trump as a "devil's bargain" claiming that Meta needs more money and Trump needs to gain relevance again.
"If you are one of these companies, do you want to be the means by which an autocrat mounts an assault on the Constitution itself?" he added.
Gay chimed in "As a country or as a company, you don't want to hand over the keys to democracy to have someone destroy that democracy. Do you want to be that institution that really helps take down the country?"
She went on to compare Meta's decision to reinstate Trump to chemical companies pushing for wars so they can sell weapons.
More video below:
SUBSCRIBE on YouTube:
Follow on Twitter:
Follow @PrisonPlanet
———————————————————————————————————————
Brand new merch now available! Get it at https://www.pjwshop.com/


ALERT! In the age of mass Silicon Valley censorship It is crucial that we stay in touch.

We need you to sign up for our free newsletter here.

Support our sponsor – Turbo Force – a supercharged boost of clean energy without the comedown.

Also, we urgently need your financial support here. ———————————————————————————————————————