Cambridge University Panel: Winston Churchill A "White Supremacist" Leading Empire "Worse Than The Nazis"
'Academics' label Britain's past 'morally poorer than the Third Reich'
A Cambridge University panel of academics discussing wartime Prime Minister Winston Churchill's legacy concluded that the leader who helped defeat Hitler was actually a "white supremacist" and was leading an empire "worse than the Nazis".
The London Telegraph reports that the inflammatory comments were made during a discussion titled "Racial Consequences of Mr Churchill".
Ironically, the event was taking place at the Churchill College, named in honour of the former Prime Minister.
Participants decided that Churchill was "the perfect embodiment of white supremacy", and labelled the British Empire 'morally poorer than the Third Reich'.
The academics involved agreed that it is a "problematic narrative" that Britain was 'virtuous' in comparison to the Nazis.
One academic, Professor Kehinde Andrews, declared "The British Empire far worse than the Nazis and lasted far longer."
"That's just a fact. But if you state something like that it's like heresy," Andrews added, claiming that holding Churchill in esteem is part of a process of "lionising dead white men".
Another panelist, Dr Onyeka Nubia, claimed that Churchill promoted 'white supremacy' because he used terms such as "English Speaking Peoples" and "Anglo-Saxon".
Others argued that Churchill viewed Indian people as animals, and that his policies regarding India led to mass starvation there in the early 1940s.
Another academic, Dr Madhusree Mukerjee, dismissed Britain's role in the Second World War, stating that "It was the Soviets who defeated the Nazis and the Americans who defeated the Japanese."
Before the 'discussion' at the college took place this week, Andrew Roberts, author of Churchill: Walking with Destiny, warned that the panel taking part lack historical expertise, and that previous claims made by some of them are "libels" that are "entirely factually incorrect".
Defending Churchill, Roberts wrote that "a white supremacist wants bad things to happen to non-whites… Churchill fought to protect the hundreds of millions of non-whites in the Empire."
"If the Japanese had captured India in WW2 [that] would have led to perhaps tens of millions of deaths if their record elsewhere was comparable," the author added.
"In his political career [Churchill] fought again and again against slavery and for the rights of non-whites within the British Empire. Churchill was moreover instrumental in destroying the worst racist in history, Adolf Hitler," Roberts further urged.
The discussion group was chaired by college fellow Prof Priyamvada Gopal, who last year made headlines for declaring "abolish whiteness", and stating that "white lives don't matter".
After receiving backlash for the comments, Gopal was defended and then promoted by Cambridge University, despite the fact that Twitter removed her original tweet under 'hate speech' rules.
Cambridge is one of the Universities named in a recent study by leading education focused think tank Civitas, which found that free speech at the world's leading universities is being eroded at an alarming rate owing to the rise of "cancel culture".
This kind of revisionist history being pushed by race baiting activists who have wormed their way into the fabric of Universities is having real world effects, as witnessed by the boxing up of Churchill's Parliament Square statue, as well as the Cenotaph WWII memorial in London last year during Black Lives Matter led protests.
London Mayor Sadiq Khan also just appointed a 'task-force' made up of unelected woke activists and campaigners to determine whether the capital's statues and landmarks are 'diverse enough'.
National Embarrassment: Saudi TV Mocks Biden In Skit
International laughing stock
If there was ever any doubt that Joe Biden has made the U.S. an international laughing stock, then look no further than this clip from Saudi TV.
The MBC channel In Saudi depicted Biden as extending his hand to shake a non-existent person's, getting lost on stage, and falling up the steps of Air Force One, while an equally useless Kamala Harris looks on.
It's funny because it's true:
The Saudi channel is continually using Biden for laughs:
It is not surprising given that, as reported by The Wall St Journal, sources inside the Saudi government have claimed that the country's leader Crown Prince Mohammed bin Salman privately mocks gaffes made by Joe Biden, and has questioned his mental fitness to be President.
SUBSCRIBE on YouTube:
Follow on Twitter:
Follow @PrisonPlanet
———————————————————————————————————————
Brand new merch now available! Get it at https://www.pjwshop.com/


ALERT! In the age of mass Silicon Valley censorship It is crucial that we stay in touch.

We need you to sign up for our free newsletter here.

Support our sponsor – Turbo Force – a supercharged boost of clean energy without the comedown.

Also, we urgently need your financial support here. ———————————————————————————————————————
US Firms No Longer Safe In Mexico? Army Commandeers US-Owned Marine Terminal
We've heard many heartbreaking stories of American tourists venturing into Mexico only to be kidnapped or, worse, killed in crazy cartel drug war battles. It appears these days, no one is safe across the southern border, not even US-owned companies. 
Bloomberg reported that Mexican marines and police officers seized US construction firm Vulcan Materials' port terminal near Playa del Carmen in southern Mexico.
Footage from the seizure showed a long line of police and military units entering the property last Tuesday. 
In a statement, Vulcan Materials claimed that Mexican officials did not possess any legal documentation to warrant the seizure of the terminal.
"It should be clear that the rule of law is no longer assured for foreign companies in Mexico," the Alabama-based company said in a statement. "This invasion, unsupported by legal warrants, violates Vulcan's commercial and property rights."
AP News pointed out that President Andrés Manuel López Obrador and the company have been in a multi-year dispute:
López Obrador needs the dock to get cement, crushed stone and other materials into the area to finish his pet project, a tourist train known as the Train Maya. The president shut down Vulcan's stone quarries last May, arguing the company had extracted or exported stone without approval.
US lawmakers, including Republican Senator Bill Hagerty of Tennessee, voiced concern about the forced takeover of the terminal. He said this "adds to the trend of misguided and counterproductive behavior" by the Mexican president.
This presents a significant concern for US companies considering relocating production from China to Mexico – how can they be sure their businesses will be safe from government seizure?
This post was originally published at Zero Hedge
Fox News Host: "I Love A Good Drag Show"
Fox News is endorsing drag shows now in addition to child transgendism. 
"I love a good drag show," The Big Sunday Show co-host Julie Banderas said over the weekend, "but like, not for my first grader."
Banderas said that despite loving drag shows herself, she takes issue with using "taxpayer dollars" to fund Drag Queen Story Hours for kids.
"Drag shows have been going on for a very long time without incident," co-host Guy Benson chimed in. "It's got a following, especially in gay culture, it's not personally my thing but people like it. It's campy, it's funny, it's bawdy, it can be raunchy — and like go for it!"
"Knock yourself out!" Benson said. "Have fun! Go to your brunch! But there are some lines here, like do taxpayer dollars need to fund this? And do we need to have children at these events?"
Fox News endorsed and promoted child transgenderism last year during "Pride Month" and earlier this month they ran a column arguing that America needs open borders for LGBTQIA+ Latinx illegal aliens and their homosexual lovers to own the libs.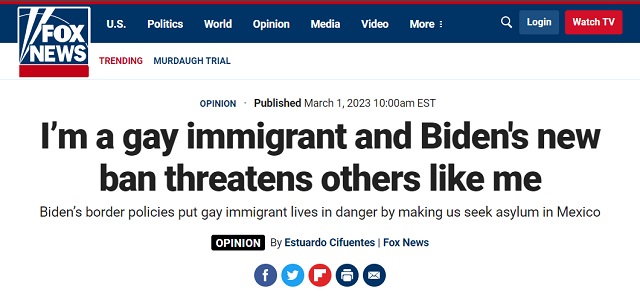 Their biggest hosts are also now lobbying for war with China and trying to scapegoat China for all the problems in our country that were caused by our own crooked globalist elites.
This post was originally published at Information Liberation