Spotify Wins Patent to Snoop on User's Voice to Gauge 'Emotional State'
Technology will also pick up background ambient noise.
Music streaming service Spotify has won a patent that will enable it to snoop on users' speech and "background noise" in order to choose songs that best suit the listener's "emotional state."
Yes, really.
"Spotify has received a patent that will allow it to use speech recognition and sound analysis to assess a user's demographic attributes, determine their emotional state, and even glean insight into their location," reports RT. "The information will be used – hypothetically, at least – to pick the perfect song to play without requiring any conscious data input from the listener."
Spotify applied for the patent back in February 2018 but it was quietly approved earlier this month.
In addition to demographic information, the technology will also scan for "intonation, stress, rhythm and the likes of units of speech" to determine the user's mood. It will also be able to pick up ambient background noise in order to determine whether the user it at a party, using public transport or on a rural walk.
The technology will utilize the user's emotional response to tweak its algorithm and perform better suited song suggestions in pursuit of a "positive metadata/emotional state."
Spotify secured another patent back in October called "methods and systems for personalizing user experience based on [user] personality traits," while also publishing a paper in July that detailed its plans "to link streaming behavior with brain scanning, genetic, and physiological data."
The use of in-built microphones of cellphones to spy on users is by no means a brand new technology.
Android and Apple users are routinely asked to give permission to apps enabling them to access cellphone mics.
SUBSCRIBE on YouTube:
Follow on Twitter: Follow @PrisonPlanet
———————————————————————————————————————
ALERT!
New limited edition merch now available! Click here.
In the age of mass Silicon Valley censorship It is crucial that we stay in touch.
I need you to sign up for my free newsletter here.
Support my sponsor – Turbo Force – a supercharged boost of clean energy without the comedown.
Also, I urgently need your financial support here.
———————————————————————————————————————
EU Chief Boasts About Vaccine Passports, Calls For More Global Digital Collaboration – Paving The Way For Digital IDs
Von der Leyen audaciously proclaimed our collective future to be digital.
With an ominous call for increased global collaboration and centralization, European Commission President, Ursula von der Leyen at a G20 Summit session, dubbed "One Future," today appealed for an international regulatory body for Artificial Intelligence and digital ID systems similar to coronavirus vaccine passports.
Von der Leyen audaciously proclaimed our collective future to be digital, hence the implied necessity for global entities to draw boundaries and enforce regulations.
Von der Leyen, in her position as the EU Commission President, touched on AI and the digital landscape in her address. She acknowledged the potential dangers and gargantuan opportunities linked with advancing AI technology and emphasized the importance of channeling such explosive technology.
"Today I want to focus on AI and digital infrastructure. As it has been described, AI has risks but also offers tremendous opportunities. The crucial question is how to harness a rapidly changing technology.
"In the EU, in 2020, we presented the first-ever law on artificial intelligence. We want to facilitate innovation while building trust. But we need more. What the world does now will shape our future. I believe that Europe — and its partners — should develop a new global framework for AI risks," von der Leyen said.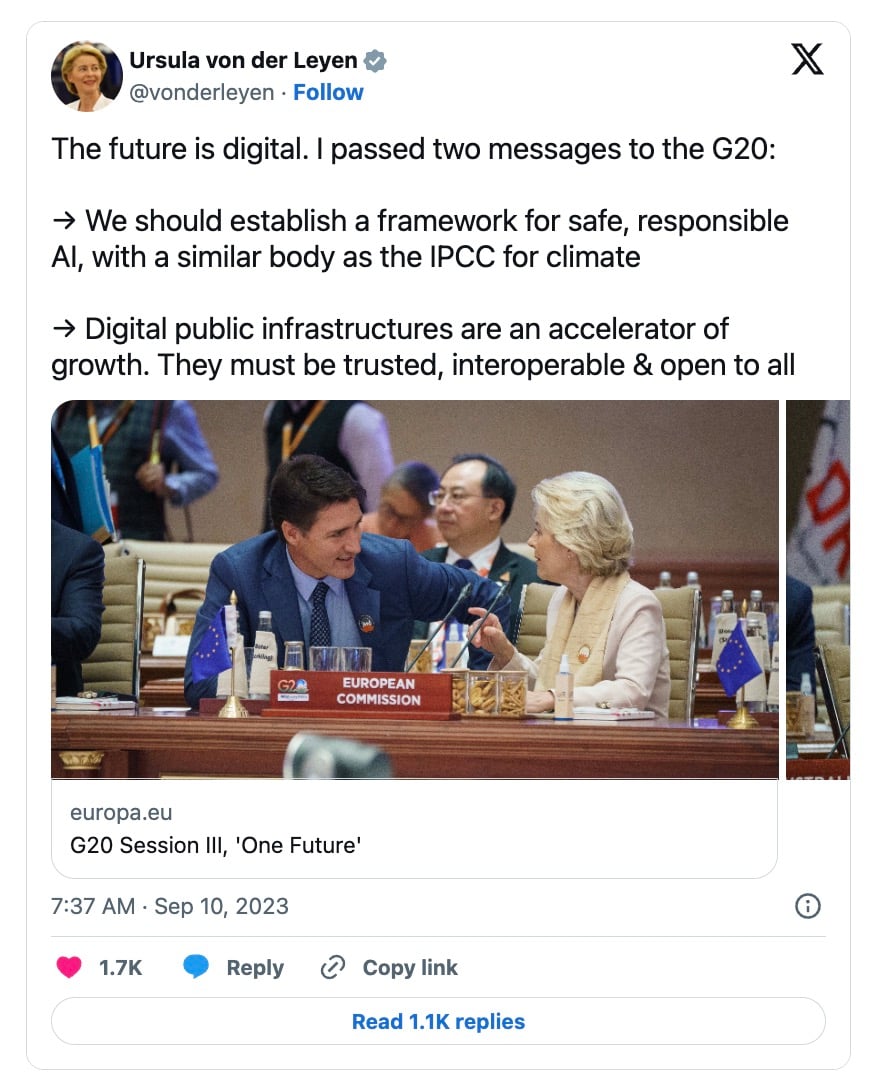 Von der Leyen praised the European Union's move in 2020 to introduce the first legal framework on AI, a step taken with the intent of fostering innovation alongside trust. However, she insisted that this wasn't sufficient. She suggested a multinational adoption of a coping mechanism for managing AI risks.
The EU Chief also stressed that globally accepted standards must be created under the purview of the United Nations, akin to their Intergovernmental Panel on Climate Change. Humanity stood to benefit, she argued, if an international authority could clarify the risks and rewards related to AI, akin to the IPCC for climate concerns.
Concurrently, von der Leyen championed the concept of digital public infrastructure similar to the coronavirus passport system – a system developed by the EU as a response to the Covid saga. The World Health Organization embraced it with open arms as a global standard for combating health threats.
"Many of you are familiar with the COVID-19 digital certificate. The EU developed it for itself. The model was so functional and so trusted that 51 countries on 4 continents adopted it for free. Today, the WHO uses it as a global standard to facilitate mobility in times of health threats," von der Leyen continued.
Alarmingly, von der Leyen praised the EU's strides towards a bloc-wide digital identity app capable of storing a citizen's personal information, including credit cards, driver's license, and passport data.
These developments ring alarm bells for individuals and nations valuing free speech and privacy.
Whoops!
Paper straws cause cancer.
A new study has found that paper straws contain cancer-causing chemicals and are harmful to humans, wildlife and the environment.
Please share this video! https://youtu.be/EoV3e4m2mcw
SUBSCRIBE on YouTube:
Follow on Twitter: Follow @PrisonPlanet
———————————————————————————————————————
Brand new merch now available! Get it at https://www.pjwshop.com/
ALERT!
In the age of mass Silicon Valley censorship It is crucial that we stay in touch.
I need you to sign up for my free newsletter here.
Support my sponsor – Summit Vitamins – super charge your health and well being.
Get early access, exclusive content and behind the scenes stuff by following me on Locals.
———————————————————————————————————————
Report: Biden Wanted To Partner With Communist Chinese App To Spy On Americans
The federal government wanted to become the Western arm of Tik Tok's surveillance network
A Forbes report has revealed that the Biden Administration attempted to forge a contractual agreement with TikTok that would have allowed the government to control features of the Chinese app to spy on Americans.
Forbes managed to get hold of a draft of the contract between TikTok and the Committee on Foreign Investment in the United States (CFIUS) that would have essentially allowed multiple US agencies to access the app's records and operations in exchange for allowing it to continue operating in the U.S.
The report notes that the draft agreement dating from mid 2022 would have given the Department of Justice and Department of Defense direct access to TikTok users' activities, allowing for searches of TikTok's US headquarters, files, and servers without providing any notice.
The U.S. government would have basically been using the exact same methods via TikTok that the Communist Party in China uses to monitor its citizens.
While it has not confirmed the details of the report, TikTok issued a statement noting that it has been working with CFIUS for an extended period of time.
"As has been widely reported, we've been working with CFIUS for well over a year to implement a national security agreement and have invested significant resources in implementing a firewall to isolate US user data," the statement noted.
It continued, "Today, all new protected US user data is stored in the Oracle Cloud Infrastructure in the US with tightly controlled and monitored gateways. We are doing more than any peer company to safeguard US national security interests."
The report comes in the wake of a ruling by a federal judge in July that the Biden administration acted like an "Orwellian Ministry Of Truth" By working in conjunction with big tech platforms to censor opinions it didn't like during the Covid pandemic.
Related:
SUBSCRIBE on YouTube:
Follow on Twitter:
Follow @PrisonPlanet
———————————————————————————————————————
Brand new merch now available! Get it at https://www.pjwshop.com/


ALERT! In the age of mass Silicon Valley censorship It is crucial that we stay in touch.

We need you to sign up for our free newsletter here.

Support my sponsor – Summit Vitamins – super charge your health and well being.

Also, we urgently need your financial support here. ———————————————————————————————————————