Video: ABC News Compares End of Trump Presidency To End Of Nazi Germany
"Other countries have gone through this before, Germany, Japan, South Africa…"
In a frothing display of insanity, ABC News directly compared the end of President Trump's term in office to the end of fascism in Nazi Germany after World War Two, and suggested that Joe Biden's administration is akin to the government that formed in Japan after imperial rule there was overturned.
Panelist Matthew Dowd made the comparison, also throwing in apartheid South Africa for good measure.
Dowd suggested that "other countries have gone through this before, Germany, Japan, South Africa, and the thing before you get to reconciliation and healing, you have some element of truth and accountability in this."
Dowd continued the demented train of thought by bringing the Civil War into the conversation.
"And even besides those foreign country examples, we have an example in our country during reconstruction in the aftermath of the Civil War when we went through — we were supposed to go through a process of truth and accountability and changing the nature of what went on," he said.
Along with Dowd, a rogue's gallery of talking heads also bayed for Trump to be punished in the same way war criminals would be.
"We have to have an insight into the truth before we get to reconciliation and healing," Dowd proclaimed.
When New Jersey Governor Chris Christie argued that there has been more violence on the left through the past four years, the panel attempted to argue that Antifa and BLM destruction is morally justifiable.
"One is defending the Constitution and the organizing principles and values of this country, and also prosecuting people who committed property crimes. And if you draw a moral equivalence you're morally lost," former Chicago Mayor Rahm Emanuel declared.
In other words, 'It's OK when we do it'.
Poll: 59 Per Cent of Americans Are Worried About Biden's Mental Health
"There is genuine concern."
A new poll has found that 59 per cent of Americans are concerned about President Joe Biden's mental health.
The survey was conducted by Issues & Insights/TIPP and revealed that 36 per cent of respondents say they are "very concerned" with Biden's mental health, along with 23 per cent who say they are "somewhat concerned."
The poll noted that worries about Biden's cognitive functioning pre-date him becoming president.
"Even before he became president, the now-79-year-old Joe Biden faced serious and persistent questions about his mental health. Among average Americans, those questions have become a major issue."
The Democratic establishment has increasingly abandoned Biden in recent months, with the New York Times publishing a number of articles asserting that he shouldn't run for a second term.
As we highlighted earlier this week, Biden was involved in another embarrassing incident when he was seen struggling to put his own jacket on without the help of his wife Jill.
Former White House physician Ronny Jackson recently asserted that Joe Biden "won't finish his term" because "his mind is too far gone."
Jackson also revealed how he was scolded by Barack Obama for daring to publicly question Biden's mental faculties.
"The fact is, based on these polling data, there is genuine concern among virtually all groups over Biden's cognitive health," said Terry Jones, editor of Issues & Insights.
"It has taken on political urgency with the looming 2022 midterm elections, which, if Republicans prevail, could well turn Biden into a lame duck."
SUBSCRIBE on YouTube:
Follow on Twitter: Follow @PrisonPlanet
———————————————————————————————————————
Brand new merch now available! Get it at https://www.pjwshop.com/
ALERT!
In the age of mass Silicon Valley censorship It is crucial that we stay in touch.
I need you to sign up for my free newsletter here.
Support my sponsor – Turbo Force – a supercharged boost of clean energy without the comedown.
Get early access, exclusive content and behinds the scenes stuff by following me on Locals.
———————————————————————————————————————
IRS Training Included Armed Agents Carrying Out Simulated Assault on Suburban Home
Internal report shows agents with guns drawn.
An Internal Revenue Service internal report shows heavily armed agents simulating an assault on a suburban home as part of their training.
The training was featured in the 2021 IRS annual report, which shows agents at the agency's National Criminal Investigation Training Academy (NCITA), which is located within the Federal Law Enforcement Training Center (FLETC) in Brunswick, Georgia.
The report documents how the agents are given "firearms training" and another image shows agents wearing tactical clothing that says 'POLICE' and 'IRS-CI'.
Training also includes "physical fitness conditioning and use of force training, which includes firearms, weaponless tactics, and building entry," according to the report.
"In addition to SAIT, NCITA assists in providing advanced training to special agents in use of force, firearms instruction, defensive tactics, and building entry."
Another image shows agents having entered a house with guns drawn.
The training simulation is likely to prompt concern following the revelation of an IRS job posting that announced it was looking to hire people who are ready to kill.
The job ad listed one of the "major duties" of IRS agents to be able to "carry a firearm and be willing to use deadly force, if necessary."
The IRS subsequently deleted the job posting, which was discovered after the Democrats introduced a new bill that would give $80 billion in funding to the IRS to hire 87,000 new IRS agents.
$45.6 billion contained in the 'Inflation Reduction Act' will be specifically designated for IRS "enforcement."
Although the Biden administration claims the newly empowered IRS will target the rich, 75% of IRS audits target Americans making under $200,000 a year.
H/T: Valiant News
SUBSCRIBE on YouTube:
Follow on Twitter: Follow @PrisonPlanet
———————————————————————————————————————
Brand new merch now available! Get it at https://www.pjwshop.com/
ALERT!
In the age of mass Silicon Valley censorship It is crucial that we stay in touch.
I need you to sign up for my free newsletter here.
Support my sponsor – Turbo Force – a supercharged boost of clean energy without the comedown.
Get early access, exclusive content and behinds the scenes stuff by following me on Locals.
———————————————————————————————————————
Trump Demands 'Immediate Release' Of FBI Raid Documents
Update (0032ET): President Trump has effectively dared the Department of Justice to release the documents related to the Monday raid on Mar-a-Lago.
"Not only will I not oppose the release of documents related to the unAmerican, unwarranted, and unnecessary raid and break-in of my home in Palm Beach, Florida, Mar-a-Lago, I am going a step further by ENCOURAGING the immediate release of those documents, even though they have been drawn up by radical left Democrats and possible future political opponents, who have a strong and powerful vested interest in attacking me, much as they have done for the last 6 years…" Trump said in a Thursday night post on Truth Social.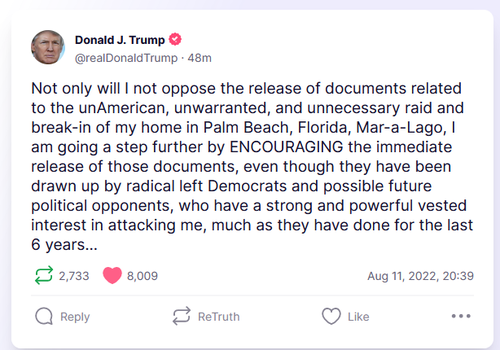 "This unprecedented political weaponization of law enforcement is inappropriate and highly unethical. The world is watching as our Country is being brought to a new low, not only on our border, crime, economy, energy, national security, and so much more, but also with respect to our sacred elections!" he said in a subsequent post.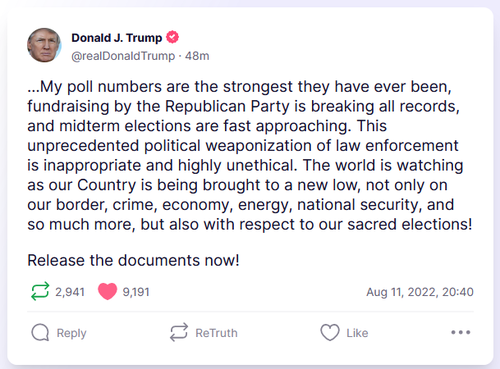 * * *
The FBI was looking for 'classified documents relating to nuclear weapons,' among other things, during its Monday raid at former President Trump's Mar-a-Lago residence, WaPo reports, citing 'people familiar with the investigation.'
So – we're to believe that the FBI took several boxes from Trump in June, told him to put a bigger lock, and then two months later realized 'oh — he might have nuclear secrets' – justifying the raid.
The leakers did not offer additional details.
Material about nuclear weapons is especially sensitive and usually restricted to a small number of government officials, experts said. Publicizing details about U.S. weapons could provide an intelligence road map to adversaries seeking to build ways of countering those systems. And other countries might view exposing their nuclear secrets as a threat, experts said.
One former Justice Department official, who in the past oversaw investigations of leaks of classified information, said the type of top-secret information described by the people familiar with the probe would probably cause authorities to try to move as quickly as possible to recover sensitive documents that could cause grave harm to U.S. security. -Washington Post
"If the FBI and the Department of Justice believed there were top secret materials still at Mar-a-Lago, that would lend itself to greater 'hair-on-fire' motivation to recover that material as quickly as possible," said David Laufman, the former chief of the Justice Department's counterintelligence section.
So we assume the narrative will now be that Trump leaked, or could have leaked, nuclear secrets to Putin – which justified "authorities to try to move as quickly as possible to recover sensitive documents" in the name of national security.
Right…
Attorney General Merrick Garland revealed during a brief Thursday speech that he personally approved the search warrant at Mar-a-Lago, and that the DOJ has asked a federal court to unseal the document.
"Just now, the Justice Department has filed a motion in the Southern District of Florida to unseal a search warrant and property receipt relating to a court approved search that the FBI conducted earlier this week," Garland said.
Trump allies have suggested that the warrant was politically motivated, while Trump himself said on Truth Social on Wednesday that the FBI may have planted evidence.

It's no accident or coincidence that the grand juries involved in Jan. 6 and the National Archives are under the control of the same United States attorney in Washington, D.C., Matthew Graves, who is an Obama-Biden leftist, as is his wife.

— Mark R. Levin (@marklevinshow) August 11, 2022
The search is connected to an investigation on whether Trump unlawfully retained presidential records – including classified materials, following his departure from office in January 2021.
garland will not take any questions but you can learn more when his staff leaks to the new york times and cnn

— Joe Gabriel Simonson (@SaysSimonson) August 11, 2022
Kind of crazy to think that Merrick Garland may have posed less of a threat to the republic as a Supreme Court justice than as an incompetent, vindictive, corrupt AG.

— Mollie (@MZHemingway) August 11, 2022
According to US Attorney Juan Antonio Gonzalez from the Southern District of Florida, "The public's clear and powerful interest in understanding what occurred under these circumstances weighs heavily in favor of unsealing" the warrant.
Jay I. Bratt, the Justice Department's chief for Counterintelligence and Export Control Section National Security Division, co-signed the document.

According to the four-page motion, a judge signed and approved of the search warrant on Aug. 5, the Friday before the search was executed. The Justice Department also seeks to reveal the property receipt listing the seized items and filed today with the court.

Shortly after the government's filing, U.S. Magistrate Judge Bruce Reinhart set a speedy pace to determine whether Trump opposes unsealing. -Law & Crime
"On or before 3:00 p.m. Eastern time on August 12, 2022, the United States shall file a certificate of conferral advising whether former President Trump opposes the Government's motion to unseal," Reinhart wrote.
* * *
US Attorney General Merrick Garland will make a statement to the media at 2:30 pm ET on Thursday, following the FBI's Monday raid on Mar-a-Lago.
Garland has found himself in the crosshairs of conservatives, who claim that the establishment has once again 'weaponized' the DOJ against Donald Trump.
Sen. Rand Paul and other conservatives have called for an investigation.
"And if it warrants it, there's going to have to be a look at whether or not the attorney general has misused his office for political purposes. Have they gone after a political opponent? I mean, this is beyond the pale," he told Fox News on Wednesady. "No one would have ever imagined before that we would be using or one political party would be using the FBI to attack their political opponents."
This post was originally published at Zero Hedge