Barrage Of New Countries And Airlines To Adopt Vaccine Passports
New York Times admits schemes could lead to "a dystopic system that would limit the rights of people who have been careful to avoid infection and are unable or unwilling to be vaccinated"
Several more countries have indicated that they are to adopt vaccination passports, meaning anyone crossing their borders will need to be able to prove they have been inoculated against coronavirus.
It is being reported that the South African government is working on implementing an entire Covid-19 vaccine 'ID system', which will not only encompass the so called 'passports', but will also include "management and surveillance of the Covid-19 vaccine," as well as "an integrated track-and-trace system," and "a dashboard system… to capture the reasons given for vaccine refusal."
The country's COVID battle has come under scrutiny in recent weeks with a purported super 'mutation' of the virus being discovered there.
The South African Department of Health has announced that all citizens who are vaccinated will be placed on a national register and provided with a vaccination card.
Meanwhile, in Europe, another country has indicated it will adopt the vaccination passport scheme with Ukrainian health officials announcing that all vaccinated people will be entered into an electronic health care database.
"When mandatory vaccination passports are introduced at the international level, Ukrainian doctors will be able to promptly issue a certificate of vaccinations," said chief sanitary doctor of Ukraine Viktor Liashko.
Another country said to be mulling the introduction of COVID passports is Russia. The New York Times reported that "The Russian government is considering issuing coronavirus health certificates that could ease travel and commerce for people who have been vaccinated."
The Times quoted the head of the Russian Parliament's committee on public health, Dmitri Morozov, who said that a Covid passport was "very important and needed."
"This is great, this is the new world," Morozov reportedly stated.
The Times also noted that "A regional governor in Russia, Radi Khabirov, proposed on Monday that Covid passport holders receive discounts at stores, as an incentive for people to obtain the certificate."
The report also noted that "President Vladimir V. Putin's spokesman, Dmitri S. Peskov, said on Tuesday that the government is considering issuing Covid passports."
After the Times report was published, Russian state media denied that a COVID passport scheme to limit travel had been discussed by Peskov or the Kremlin.
"We are far from a unified point of view on this subject right now, there are no consistent approaches or a consensus on this subject," Peskov said, but added that "this subject is circulating, it's being worked out."
Interestingly, while the likes of the New York Times has reported on other countries adopting the COVID passports, in its coverage of Russia potentially doing the same, it paints a much darker picture, stating that "Opponents fear a dystopic system that would limit the rights of people who have been careful to avoid infection and are unable or unwilling to be vaccinated."
"Russia has a grim history rooted in the Soviet era of controlling citizens' movements, through a residency permit system that was never fully abolished," the Times report continues.
So when Russia do it, it's bad, but when other countries do it, it's part of restoring 'open society'. Hmmmm.
COVID lockdown rulebreakers in Germany will be arrested and detained in refugee camps located across the country, it has been revealed.
While scores of countries are now slowly moving toward the implementation of vaccination passports, airlines appear to have fully embraced the idea and essentially already have them in place.
Emirates airlines has announced that it will be trialling the IATA Travel Pass 'digital passport' which shows passengers' proof of Covid-19 tests and other entry requirements when flying.
Adel Al Redha, Emirates' Chief Operating Officer said that "While international travel remains as safe as ever, there are new protocols and travel requirements with the current global pandemic."
"We have worked with IATA on this innovative solution to simplify and digitally transmit the information that is required by countries and governments into our airline systems, in a secure and efficient manner,"Al Redha continued, adding "We are proud to be one of the first airlines in the world to pilot this initiative, which will provide an enhanced customer experience and conveniently facilitate our customers' travel needs."
As we reported last November, the IATA, the world's largest air transport lobby group, expects its COVID travel pass app to be fully rolled out in the first months of 2021.
Other airlines, including United Airlines and Cathay Pacific have already trialled the IATA's scheme.
Meanwhile, American Airlines has reportedly partnered with biometric authentication provider VeriFLY to develop its own COVID passport app, which will be rolled out within days.
"We support the implementation of a global program to require COVID-19 testing for travelers to the United States, and we want to do everything we can to make travel a seamless experience for customers," Julie Rath, the vice president of customer experience at American Airlines, said in a statement.
Virgin Atlantic owner Richard Branson has also thrown his weight behind the vaccination passport idea, telling CNBC he hopes that soon "there will be a proof-of-vaccination piece of paper that people can use to be able to get on a plane without having to be tested or without having to quarantine."
"Vaccination is everything. Once vulnerable people, in particular, have been vaccinated, I think all kinds of businesses can start opening up again: restaurants, travel companies, cruise companies," Branson declared.
The narrative of adopting vaccination passports is now so ubiquitous that it would be surprising not to see them adopted world-wide, despite the fact that even the World Health Organisation has warned that such schemes should absolutely not be implemented while there is no proof that vaccinations can provide immunity to coronavirus.
"Being vaccinated should not exempt international travellers from complying with other travel risk reduction measures," the WHO committee stressed during its meeting held on January 14.
Others have warned that the adoption of vaccination passports will inevitably lead to a two-tier society, and must be prevented.
"The immunity passport could become a 'passport for privilege,' accentuating the divide between those who already have a comfortable position in society and those on the margins," warns Dr Israel Butler, Head of Advocacy, at the Civil Liberties Union for Europe, Liberties.
Maryland School Implements New Mask Mandate
As Biden masks up in front of the press
An elementary school in Maryland has reinstated mandatory mask requirements, as Joe Biden appeared in front of the press wearing a face covering Tuesday.
Rosemary Hills Elementary School in Silver Spring, a wealthy DC suburb, has brought back the mask mandate for students and staff, and added that the coverings should be N95 masks.
The school sent out a letter informing parents they have taken the decision after just THREE students tested positive for COVID.
"Additional KN95 masks have been distributed and students and staff in identified classes or activities will be required to mask while in school for the next 10 days, except while eating or drinking. Masks will become options again following the 10-day period," the letter states.
We've heard that one before.
"At-home rapid test kids will be sent home and made available for students," Principal Irwin Kennedy further notes, adding that CDC guidance decrees that testing should be done "5 days after an exposure (starting day 6)" or at such time as symptoms occur.
"We will continue to reinforce good hand washing and follow cleaning and disinfection procedures," the letter further states.
The move comes as Joe Biden donned a face diaper as he arrived at a White House gathering, before removing it altogether.
The White House says Biden will wear the mask after his multiple time vaxxed and boosted wife contracted COVID again.
Related:
SUBSCRIBE on YouTube:
Follow on Twitter:
Follow @PrisonPlanet
———————————————————————————————————————
Brand new merch now available! Get it at https://www.pjwshop.com/


ALERT! In the age of mass Silicon Valley censorship It is crucial that we stay in touch.

We need you to sign up for our free newsletter here.

Support my sponsor – Summit Vitamins – super charge your health and well being.

Also, we urgently need your financial support here. ———————————————————————————————————————
Trump Lockdown Tyrant Does 180, Says No New Mask Mandates
When COVID-19 broker out, Dr. Deborah Birx, a former military AIDS researcher with no training, experience, or publications in epidemiology or public health policy, found herself leading a White House Task Force which would play a seminal role in dictating how the country locked down for the pandemic.
In March of 2020, Birx and Dr. Anthony Fauci were grinning like Cheshire Cats with Duper's Delight as they laid out an unprecedented lockdown and masking strategy which Birx later admitted they pulled out of their asses.
Now that we're revisiting mask mandates over the latest Covid-19 surge, Birx and Fauci are seemingly on different sides of the debate.
"We don't need to mandate," Birx told Newsmax on Saturday, in response to reports that an increasing number of hospitals and businesses are now requiring masks again.
"We need to actually empower people with the information that they need for themselves and their families because every family is different," she continued. "And by the way, outside is safe, and playgrounds are safe."
Meanwhile Fauci – the guy who was funding risky bat coronavirus research in Wuhan, China and was then put in charge of the Coronavirus response in which he had scientists scramble to create and bolster propaganda denying a lab leak – went on CNN to push for mask mandates, claiming "there have been many studies indicate the benefit of wearing masks."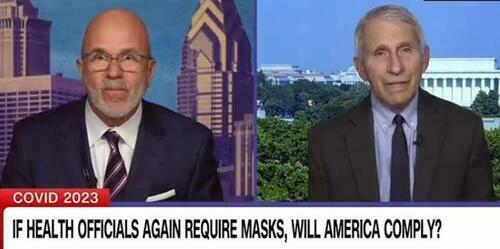 Yet, Anchor Michael Smerconish brought up the Cochrane review of masks, one of umpteen studies that have all found that the face coverings do little to nothing against COVID transmission (via Summit News).
"When you're talking about the effect on the epidemic or the pandemic as a whole, the data are less strong," Fauci said, sqirming. "There are other studies, Michael, that show at an individual level, for individuals they might be protective."
Sure Tony…
This post was originally published at Zero Hedge
Video: Fauci Squirms As CNN Anchor Confronts Him With Data Showing Masks Don't Work
"There are other studies"
Anthony Fauci refused to back away from the recommendation of face masks Saturday as CNN (of all networks) confronted him with a study showing that they have no effect on preventing the spread of COVID.
After Fauci claimed "there have been many studies indicate the benefit of wearing masks," Anchor Michael Smerconish brought up the Cochrane review of masks, one of umpteen studies that have all found that the face coverings do little to nothing against COVID transmission.
"When you're talking about the effect on the epidemic or the pandemic as a whole, the data are less strong," Fauci squirmingly admitted, but then went on to suggest people should still wear them anyway.
"There are other studies, Michael, that show at an individual level, for individuals they might be protective," Fauci claimed.
Senator Rand Paul blasted Fauci for spreading "more subterfuge":
Others chimed in:
Elsewhere during the interview Fauci said he hopes people will comply with wearing masks again, while stating "we're not talking there's forcing anybody to do anything."
He continued, "We're not talking about mandates or forcing anybody but when you have a situation where the volume of cases in society gets to a reasonably high level, particularly the vulnerable, those who are elderly, and those with underlying conditions are going to be more susceptible and vulnerable if they do get infected to get severe disease leading to hospitalization."
"I would hope that if in fact we get to the point where the volume of cases is such an organization's like the CDC recommend, CDC doesn't mandate anything, I mean, recommends that people wear masks, I would hope that they abide by the recommendation and take into account the risk to themselves and to their families," Fauci further stated.
He continued, "People keep thinking that the federal government is going to mandate that you wear a mask, that's not going to happen," he said. "But there may be individual institutions, organizations that are going to say, if you want to come to work, you've got to wear a mask."
Here is the full interview:
As we have highlighted, there is a creeping attempt to bring back masking and COVID restrictions despite no large bounce in cases and the fact that they just don't work.
Related:
SUBSCRIBE on YouTube:
Follow on Twitter:
Follow @PrisonPlanet
———————————————————————————————————————
Brand new merch now available! Get it at https://www.pjwshop.com/


ALERT! In the age of mass Silicon Valley censorship It is crucial that we stay in touch.

We need you to sign up for our free newsletter here.

Support my sponsor – Summit Vitamins – super charge your health and well being.

Also, we urgently need your financial support here. ———————————————————————————————————————