Bill Gates Buying Up Huge Amount of Farmland While 'Great Reset' Tells Americans Future is No Private Property
Feudalism makes a roaring comeback in the name of progress.
While Americans are being told by 'Great Reset' technocrats that the future is one without private property, Bill Gates and other billionaires have been buying up huge amounts of farmland.
Indeed, Gates is now the biggest owner of farmland in America, according to a Forbes report.
"After years of reports that he was purchasing agricultural land in places like Florida and Washington, The Land Report revealed that Gates, who has a net worth of nearly $121 billion according to Forbes, has built up a massive farmland portfolio spanning 18 states."
"His largest holdings are in Louisiana (69,071 acres), Arkansas (47,927 acres) and Nebraska (20,588 acres). Additionally, he has a stake in 25,750 acres of transitional land on the west side of Phoenix, Arizona, which is being developed as a new suburb."
Gates now owns 242,000 acres of farmland across the U.S., mostly "through third-party entities by Cascade Investments, Gates' personal investment vehicle."
America's biggest owner of farmland is now Bill Gates https://t.co/j9gW4zQ0Yh pic.twitter.com/0tZLJcGXfg

— Forbes (@Forbes) January 14, 2021
According to Forbes, it is not known what Gates is doing with the land and Cascade Investments refused to comment on the issue.
In terms of individual land owners, Gates is still far behind media mogul John C. Malone, who is in top spot with 2.2 million acres of ranches and forests and CNN founder Ted Turner, who owns 2 million acres of ranch land.
Amazon's Jeff Bezos is also "investing in land on a large scale," according to the report.
What billionaire philanthropists and technocrats are acquiring land at an accelerating speed, they appear to be telling the general public that in the future private property will virtually cease to exist.
In his books, World Economic Forum founder and globalist Klaus Schwab makes clear that the 'Fourth Industrial Revolution' or 'The Great Reset' will lead to the abolition of private property.
That message is echoed on the WEF's official website, which states, "Welcome to the year 2030. Welcome to my city – or should I say, "our city". I don't own anything. I don't own a car. I don't own a house. I don't own any appliances or any clothes."
Apparently, you won't be allowed to own any private property and your only recourse will be to live in a state of permanent dependency on a small number of rich elitists who own everything.
That used to be called feudalism, which is a form of slavery.
SUBSCRIBE on YouTube:
Follow on Twitter: Follow @PrisonPlanet
———————————————————————————————————————
ALERT!
New limited edition merch now available! Click here.
In the age of mass Silicon Valley censorship It is crucial that we stay in touch.
I need you to sign up for my free newsletter here.
Support my sponsor – Turbo Force – a supercharged boost of clean energy without the comedown.
Also, I urgently need your financial support here.
———————————————————————————————————————
George Soros Urged Use Of Eastern European Soldiers To "Reduce The Risk Of Body-Bags For NATO Countries" In 'New World Order' Article
As the war in Ukraine rages on, there is little doubt that the human cost has been enormous for Ukraine, including what is likely more than 100,000 soldiers who have died in combat operations.
However, there was one man who predicted much of what has come to pass in the battle in the east of Europe: George Soros.
The billionaire oligarch financier, often portrayed as a humanist, promoted a hard-nosed geopolitical strategy in his 1993 piece entitled "Toward a New World Order: The Future of NATO."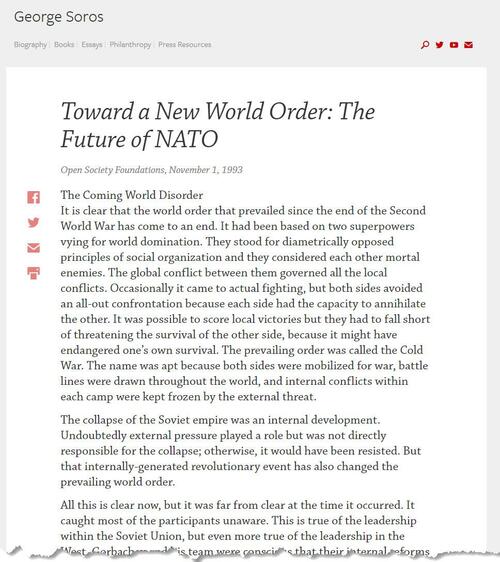 In the piece, he outlines how Eastern Europeans could be used as the "manpower" in coming conflicts in an effort to reduce the number of deaths in Western countries, which Soros argues the West would not politically tolerate, unlike the east of Europe.
"The United States would not be called upon to act as the policeman of the world. When it acts, it would act in conjunction with others. Incidentally, the combination of manpower from Eastern Europe with the technical capabilities of NATO would greatly enhance the military potential of the Partnership because it would reduce the risk of body bags for NATO countries, which is the main constraint on their willingness to act. This is a viable alternative to the looming world disorder," wrote Soros in the article.
Soros acknowledges that the NATO countries have no appetite for "body bags," but his statement implicitly indicates that Eastern Europeans can fill this role.
What Soros described appears to be unfolding exactly as he predicted regarding the war in Ukraine. Armed with high-end NATO weapons, Ukrainian soldiers are actively countering Russia, which Soros had already feared would become a nationalist nation opposed to the global order he was promoting in 1993. The powerful Western countries have the necessary weapons, and Ukraine has the manpower. Given that Soros already saw the potential of what this symbiotic match could produce on the battlefield decades in advance will likely bolster his reputation as a calculating — and perhaps ruthless — strategic thinker.
As Soros predicted, Ukrainian society appears to be tolerating the high death toll in its current conflict with Russia.During the Vietnam War, the U.S. lost 58,220 over the course of approximately 10 years, and yet, the war saw strong opposition from the American public. Despite a far higher death toll in a far shorter period of time, Ukrainian society has seen little in terms of protests.
The lack of protest in Ukraine may also be helped by the fact that Ukraine has suspended most of civil society, banned opposition parties and media, and even outlawed the Russian Orthodox Church. Another key factor in society's perspective on the conflict is that the war is taking place on Ukrainian soil, which is a highly motivating factor for Ukrainian soldiers.
All those Ukrainian bodies, of course, have come with a major price tag for Russia, with the country's cemeteries also filling up as quickly or even more so. Exact figures on casualties for either side remain unofficial and are likely inexact, but the war is costing both nations dearly in terms of life.
In the same article, Soros called for a "new world order." The term is often derided in establishment media as a conspiracy theory, but Soros openly uses it. In addition, in the piece, the new world order he calls for is remarkably globalist and centralized. In other words, exactly the type of new world order critics of his, such as Hungarian Prime Minister Viktor Orbán, have been warning about for over a decade.
"Therefore, the only basis for action is collective security. And that is where the problem lies. The collapse of the Soviet empire has created a collective security problem of the utmost gravity. Without a new world order, there will be disorder; that much is clear. But who will act as the world's policeman? That is the question that needs to be answered," Soros wrote.
Soros outlines a number of his theories in the piece, referring to open and closed societies as well as the "theory of revolutionary change," which he said he had also applied to financial markets. The billionaire describes how the dissolution of the Soviet Union presented new global security challenges but also opportunities.
The original mission was to defend the free world against the Soviet empire. That mission is obsolete; but the collapse of the Soviet empire has left a security vacuum which has the potential of turning into a "black hole." This presents a different kind of threat than the Soviet empire did. There is no direct threat from the region to the NATO countries; the danger is within the region, and it concerns conditions within states as much as relationships between states. Therefore, if NATO has any mission at all, it is to project its power and influence into the region, and the mission is best defined in terms of open and closed societies.
Closed societies based on nationalist principles constitute a threat to security because they need an enemy, either outside or within. But the threat is very different in character from the one NATO was constructed to confront, and a very different approach is required to combat this threat. It involves the building of democratic states and open societies and embedding them in a structure which precludes certain kinds of behavior.
Soros also writes in his piece that NATO was racing to grant membership to countries in Central and Eastern Europe before "Russia recovers." Soros appears to see NATO as actively transgressing against Russia during a time the country was still in chaos following the fall of communism.
"The countries of Central Europe are clamoring for full membership of NATO as soon as possible, preferably before Russia recovers. Russia objects, not because it harbors any designs on its former empire but because it sees no advantage in consenting. Its national pride has been hurt and it is sick and tired of making concessions without corresponding benefits," writes Soros.
The billionaire activist also makes a number of other proposals in the piece, including offering NATO membership to Japan, his goal being the creation of a "new world order."
"Japan should be asked to join NATO. Then we would have the beginnings of an architecture for a new world order. It is based on the United States as the remaining superpower and on open society as the organizing principle. It consists of a series of alliances, the most important of which is NATO and, through NATO, the Partnership for Peace which girds the Northern Hemisphere," he writes.
This post was originally published at Remix News
If, like me, you assumed World Economic Forum meetings were full of altruistic, visionary leaders sourcing the most nutritious bugs for us to eat in our future (rented) EcoPods, you may be shocked at the Mail's latest article, which claims that, at Davos, "pointing at the ceiling in a bar is all it takes to order sex".
Here's an excerpt:
Nearly 3,000 conference delegates were in town for the five-day jamboree, the first in the post-pandemic era, said to provide an £80 million boost to the local economy.
But there is another 'economy' in Davos (pop. just over 11,000) which also receives a considerable boost from the summit — a world that exists in parallel with the earnest discussions on the debating floor of the Congress Centre, and that is the so-called 'oldest profession in the world'.
Prostitution is legal in Switzerland, with sex workers expected to pay taxes, register with local authorities and undergo regular health checks. And business is booming.
Earlier this week, high-class escort Salome Balthus, 36, revealed how she had been booked by a delegate. Speaking exclusively to MailOnline after leaving the plush hotel where she had been staying with her client, she said: "Davos is all about power, money and sex, and all three make good bedfellows".
And there I was, dear reader, thinking it was all about saving our beautiful planet by owning nothing and being happy. I am literally shaking. But thankfully there is an educational aspect to all this, as Salome explains:
Salome, who has her own escort agency in Berlin, called Hetaera, added: "My clients are always of a very high standard and the fact I have a degree in philosophy and German literature guarantees that they will not only have a good time sexually but also intellectually.

I have a wonderful silver fox client, who likes me to wear a see-through blouse and talk French to him because it reminds him of a forbidden love he had as a schoolboy."
So you see, there is really nothing seedy about it after all.
The claim about "pointing at the ceiling" is explained as follows:
One of the people who emerged from the scrum was a young American from a tech firm who had just attended a party in the penthouse above. "At the Europe", he said, "you stand at the bar and point upstairs, whereas at the Belvedere you have to make a call."

Making a call to Swiss Eve or Salome Balthus is normally how it works in Davos. "These agencies use many, many ways to get girls to Davos — cars, trains, and even helicopters", he told us. "They are then put up in apartments by the escort agencies.

"Basically, they are all in place and positioned so that at the drop of a hat they can take a call, entertain a client for a couple of hours, then go straight back to the apartment and wait for the next call, then go out again."
Let's hope our glorious Davos leaders apply the same efficiency to planning our eco-friendly utopia.
Worth reading in full in you like this kind of thing.
This post was originally published at The Daily Sceptic
Davos: Foreign Minister Of Slovenia Demands That Nations "Respect The Rules Of The World Order"
Foreign minister of Slovenija, Tanja Fajon, signals her submission to the globalist agenda with a declaration (or demand) that sovereign nations must "respect" the international rules of the "world order".  
Fajon is leader of the Social Democrats, part of the Party of European Socialists and a former member of the European Parliament from Slovenia.
Fajon was slated for a discussion on "global fragmentation", which seems to be the underlying theme of the event in 2023.
Globalists have hinted in multiple panels about their frustrations with national governments breaking from key agendas of the WEF, including global pandemic response, the war in Ukraine and climate change. 
In a tweet today, Fajon also called for greater inclusion of more corporate actors rather than just governments into WEF initiatives.
The tone of Davos has so far been decidedly morose, with many in attendance lamenting the outcomes of global pandemic measures and the lack of unification on climate change. What they do not mention, at least not directly, is that much of this is due to mass public resistance in many regions. It would seem that the establishment made assumptions about their progress in 2022 that did not come to fruition.
This post was originally published at Zero Hedge