EU Leaders Demand 'Standardised' Vaccine Passport For Travel
"Persons who have been vaccinated should be free to travel"
EU leaders are demanding that the Commission should 'standardise' a vaccine passport across all member countries, and that it should be required for people to travel throughout the area.
Greek Prime Minister Kyriakos Mitsotakis has penned a letter to EU Commission chief Ursula von der Leyen, outlining that "Persons who have been vaccinated should be free to travel."
The letter calls for a "standardised certificate, which will prove that a person has been successfully vaccinated."
While it stops short at advocating mandatory vaccination, the letter further urges that "It is urgent to adopt a common understanding on how a vaccination certificate should be structured so as to be accepted in all member states."
Mitsotakis has pledged to raise the issue during an upcoming EU summit on January 21, declaring that "there is an urgent need for a high-level EU-wide mobilization to move things forward." 
Vaccine passports have previously been touted by the EU, with officials suggesting back in April that visa applicants would also be required to be vaccinated.
EU countries including Spain, Estonia, Iceland, and Belgium have all indicated that they are open to some form of vaccine passports, as well as sharing the data across borders.
This week, it was also revealed that Denmark is the latest country to announce that it is rolling out a 'Covid passport', to allow those who have taken the vaccine to engage in society without any restrictions.
However, the EU's data protection chief Wojciech Wiewiórowski recently labeled the idea of an immunity passport "extreme" and has repeatedly said it is alarming, and 'disgusting'.
The spectre of so called 'immunity passports' is looming globally.
Having left the EU, Britain would not be part of any standardised European scheme, however it has now confirmed that it is rolling out vaccine passports, despite previous denials that it would do so.
Recently, the government in Ontario, Canada admitted that it is exploring 'immunity passports' in conjunction with restrictions on travel and access to social venues for the unvaccinated.
Last month, Israel announced that citizens who get the COVID-19 vaccine will be given 'green passports' that will enable them to attend venues and eat at restaurants.
A litany of other government and travel industry figures in both the US, Britain and beyond have suggested that 'COVID passports' are coming in order for 'life to get back to normal'.
Anna Beduschi, an academic from Exeter University, commented on the potential move toward vaccine passports by EU, noting that it "poses essential questions for the protection of data privacy and human rights."
Beduschi added that the vaccine passports may "create a new distinction between individuals based on their health status, which can then be used to determine the degree of freedoms and rights they may enjoy."
A report compiled last year by AI research body the Ada Lovelace Institute said so called 'immunity' passports "pose extremely high risks in terms of social cohesion, discrimination, exclusion and vulnerability."
Sam Grant, campaign manager at the civili liberties advocacy group Liberty has warned that "any form of immunity passport risks creating a two-tier system in which some of us have access to freedoms and support while others are shut out."
"These systems could result in people who don't have immunity potentially being blocked from essential public services, work or housing – with the most marginalised among us hardest hit," Grant further warned.
"This has wider implications too because any form of immunity passport could pave the way for a full ID system – an idea which has repeatedly been rejected as incompatible with building a rights-respecting society," Grant further urged.
Maryland School Implements New Mask Mandate
As Biden masks up in front of the press
An elementary school in Maryland has reinstated mandatory mask requirements, as Joe Biden appeared in front of the press wearing a face covering Tuesday.
Rosemary Hills Elementary School in Silver Spring, a wealthy DC suburb, has brought back the mask mandate for students and staff, and added that the coverings should be N95 masks.
The school sent out a letter informing parents they have taken the decision after just THREE students tested positive for COVID.
"Additional KN95 masks have been distributed and students and staff in identified classes or activities will be required to mask while in school for the next 10 days, except while eating or drinking. Masks will become options again following the 10-day period," the letter states.
We've heard that one before.
"At-home rapid test kids will be sent home and made available for students," Principal Irwin Kennedy further notes, adding that CDC guidance decrees that testing should be done "5 days after an exposure (starting day 6)" or at such time as symptoms occur.
"We will continue to reinforce good hand washing and follow cleaning and disinfection procedures," the letter further states.
The move comes as Joe Biden donned a face diaper as he arrived at a White House gathering, before removing it altogether.
The White House says Biden will wear the mask after his multiple time vaxxed and boosted wife contracted COVID again.
Related:
SUBSCRIBE on YouTube:
Follow on Twitter:
Follow @PrisonPlanet
———————————————————————————————————————
Brand new merch now available! Get it at https://www.pjwshop.com/


ALERT! In the age of mass Silicon Valley censorship It is crucial that we stay in touch.

We need you to sign up for our free newsletter here.

Support my sponsor – Summit Vitamins – super charge your health and well being.

Also, we urgently need your financial support here. ———————————————————————————————————————
Trump Lockdown Tyrant Does 180, Says No New Mask Mandates
When COVID-19 broker out, Dr. Deborah Birx, a former military AIDS researcher with no training, experience, or publications in epidemiology or public health policy, found herself leading a White House Task Force which would play a seminal role in dictating how the country locked down for the pandemic.
In March of 2020, Birx and Dr. Anthony Fauci were grinning like Cheshire Cats with Duper's Delight as they laid out an unprecedented lockdown and masking strategy which Birx later admitted they pulled out of their asses.
Now that we're revisiting mask mandates over the latest Covid-19 surge, Birx and Fauci are seemingly on different sides of the debate.
"We don't need to mandate," Birx told Newsmax on Saturday, in response to reports that an increasing number of hospitals and businesses are now requiring masks again.
"We need to actually empower people with the information that they need for themselves and their families because every family is different," she continued. "And by the way, outside is safe, and playgrounds are safe."
Meanwhile Fauci – the guy who was funding risky bat coronavirus research in Wuhan, China and was then put in charge of the Coronavirus response in which he had scientists scramble to create and bolster propaganda denying a lab leak – went on CNN to push for mask mandates, claiming "there have been many studies indicate the benefit of wearing masks."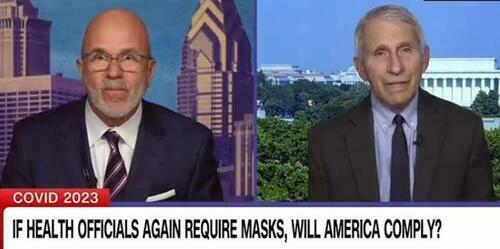 Yet, Anchor Michael Smerconish brought up the Cochrane review of masks, one of umpteen studies that have all found that the face coverings do little to nothing against COVID transmission (via Summit News).
"When you're talking about the effect on the epidemic or the pandemic as a whole, the data are less strong," Fauci said, sqirming. "There are other studies, Michael, that show at an individual level, for individuals they might be protective."
Sure Tony…
This post was originally published at Zero Hedge
Video: Fauci Squirms As CNN Anchor Confronts Him With Data Showing Masks Don't Work
"There are other studies"
Anthony Fauci refused to back away from the recommendation of face masks Saturday as CNN (of all networks) confronted him with a study showing that they have no effect on preventing the spread of COVID.
After Fauci claimed "there have been many studies indicate the benefit of wearing masks," Anchor Michael Smerconish brought up the Cochrane review of masks, one of umpteen studies that have all found that the face coverings do little to nothing against COVID transmission.
"When you're talking about the effect on the epidemic or the pandemic as a whole, the data are less strong," Fauci squirmingly admitted, but then went on to suggest people should still wear them anyway.
"There are other studies, Michael, that show at an individual level, for individuals they might be protective," Fauci claimed.
Senator Rand Paul blasted Fauci for spreading "more subterfuge":
Others chimed in:
Elsewhere during the interview Fauci said he hopes people will comply with wearing masks again, while stating "we're not talking there's forcing anybody to do anything."
He continued, "We're not talking about mandates or forcing anybody but when you have a situation where the volume of cases in society gets to a reasonably high level, particularly the vulnerable, those who are elderly, and those with underlying conditions are going to be more susceptible and vulnerable if they do get infected to get severe disease leading to hospitalization."
"I would hope that if in fact we get to the point where the volume of cases is such an organization's like the CDC recommend, CDC doesn't mandate anything, I mean, recommends that people wear masks, I would hope that they abide by the recommendation and take into account the risk to themselves and to their families," Fauci further stated.
He continued, "People keep thinking that the federal government is going to mandate that you wear a mask, that's not going to happen," he said. "But there may be individual institutions, organizations that are going to say, if you want to come to work, you've got to wear a mask."
Here is the full interview:
As we have highlighted, there is a creeping attempt to bring back masking and COVID restrictions despite no large bounce in cases and the fact that they just don't work.
Related:
SUBSCRIBE on YouTube:
Follow on Twitter:
Follow @PrisonPlanet
———————————————————————————————————————
Brand new merch now available! Get it at https://www.pjwshop.com/


ALERT! In the age of mass Silicon Valley censorship It is crucial that we stay in touch.

We need you to sign up for our free newsletter here.

Support my sponsor – Summit Vitamins – super charge your health and well being.

Also, we urgently need your financial support here. ———————————————————————————————————————