EU Leaders Demand 'Standardised' Vaccine Passport For Travel
"Persons who have been vaccinated should be free to travel"
EU leaders are demanding that the Commission should 'standardise' a vaccine passport across all member countries, and that it should be required for people to travel throughout the area.
Greek Prime Minister Kyriakos Mitsotakis has penned a letter to EU Commission chief Ursula von der Leyen, outlining that "Persons who have been vaccinated should be free to travel."
The letter calls for a "standardised certificate, which will prove that a person has been successfully vaccinated."
While it stops short at advocating mandatory vaccination, the letter further urges that "It is urgent to adopt a common understanding on how a vaccination certificate should be structured so as to be accepted in all member states."
Mitsotakis has pledged to raise the issue during an upcoming EU summit on January 21, declaring that "there is an urgent need for a high-level EU-wide mobilization to move things forward." 
Vaccine passports have previously been touted by the EU, with officials suggesting back in April that visa applicants would also be required to be vaccinated.
EU countries including Spain, Estonia, Iceland, and Belgium have all indicated that they are open to some form of vaccine passports, as well as sharing the data across borders.
This week, it was also revealed that Denmark is the latest country to announce that it is rolling out a 'Covid passport', to allow those who have taken the vaccine to engage in society without any restrictions.
However, the EU's data protection chief Wojciech Wiewiórowski recently labeled the idea of an immunity passport "extreme" and has repeatedly said it is alarming, and 'disgusting'.
The spectre of so called 'immunity passports' is looming globally.
Having left the EU, Britain would not be part of any standardised European scheme, however it has now confirmed that it is rolling out vaccine passports, despite previous denials that it would do so.
Recently, the government in Ontario, Canada admitted that it is exploring 'immunity passports' in conjunction with restrictions on travel and access to social venues for the unvaccinated.
Last month, Israel announced that citizens who get the COVID-19 vaccine will be given 'green passports' that will enable them to attend venues and eat at restaurants.
A litany of other government and travel industry figures in both the US, Britain and beyond have suggested that 'COVID passports' are coming in order for 'life to get back to normal'.
Anna Beduschi, an academic from Exeter University, commented on the potential move toward vaccine passports by EU, noting that it "poses essential questions for the protection of data privacy and human rights."
Beduschi added that the vaccine passports may "create a new distinction between individuals based on their health status, which can then be used to determine the degree of freedoms and rights they may enjoy."
A report compiled last year by AI research body the Ada Lovelace Institute said so called 'immunity' passports "pose extremely high risks in terms of social cohesion, discrimination, exclusion and vulnerability."
Sam Grant, campaign manager at the civili liberties advocacy group Liberty has warned that "any form of immunity passport risks creating a two-tier system in which some of us have access to freedoms and support while others are shut out."
"These systems could result in people who don't have immunity potentially being blocked from essential public services, work or housing – with the most marginalised among us hardest hit," Grant further warned.
"This has wider implications too because any form of immunity passport could pave the way for a full ID system – an idea which has repeatedly been rejected as incompatible with building a rights-respecting society," Grant further urged.
Investigation Into Unusual Spike in Newborn Baby Deaths in Scotland
5 months after the first investigation was promised.
Health authorities in Scotland are set to launch an investigation after an "unusual" spike in deaths of newborn babies was recorded on two separate occasions.
We previously highlighted the spike in deaths back in May, when it was reported that an inquiry was set to be announced into the "very unusual" phenomenon, with the alarm being raised after 18 infants died within four weeks of birth in March.
That same control limit was also breached in September last year, when 21 neonatal deaths were reported, the first time this had occurred since records began.
Despite an "investigation" being promised nearly 6 months ago, one didn't appear to take place, but the media is again reporting that the strange deaths will be scrutinized.
"The Scottish government has ordered the review of neonatal death rates after two spikes over a six-month period. Both increases were larger than what would normally be expected," reports BBC News.
"The review will be carried out by Healthcare Improvement Scotland. It is expected to last six to nine months and cover all reported baby deaths between April 2021 and March 2022."
"The Scottish government has ordered the review of neonatal death rates after two spikes over a six-month period. Both increases were larger than what would normally be expected."https://t.co/IdZQSuR8P4 https://t.co/P47wlVzOHf pic.twitter.com/I0iop5Zb2v

— Prodigal (@ProdigalThe3rd) October 2, 2022
The death rate for babies in Scotland under the age of 1 is at its highest level for a decade.
The Herald newspaper previously reported, "The neonatal mortality rate was 5.1 per 1,000 live births in September and 4.6 per 1,000 in March, against an average of 1.49 per 1000 in 2019."
Health authorities have said that the deaths are not linked to COVID and could not be put down to chance.
Edinburgh University's Dr. Sarah Stock previously said, "The numbers are really troubling," but that the cause of the deaths remained a mystery.
Indeed, it remains a complete enigma as to what medical circumstances relating to pregnant women could have changed from 2021 onwards.
I have full confidence that our esteemed health authorities will totally get to the bottom of this without any possibility whatsoever of hiding the true cause.
SUBSCRIBE on YouTube:
Follow on Twitter: Follow @PrisonPlanet
———————————————————————————————————————
Brand new merch now available! Get it at https://www.pjwshop.com/
ALERT!
In the age of mass Silicon Valley censorship It is crucial that we stay in touch.
I need you to sign up for my free newsletter here.
Support my sponsor – Turbo Force – a supercharged boost of clean energy without the comedown.
Get early access, exclusive content and behind the scenes stuff by following me on Locals.
———————————————————————————————————————
Canadian Actress Reveals She Has Bell's Palsy Two Weeks After Vax, Says She Would Take It Again
July 2021 clip goes viral on Twitter.
In a video originally posted to her Instagram that went viral on Twitter over a year later, Canadian actress Jennifer Gibson revealed that she was suffering from Bell's palsy two weeks after taking the vaccine, before going on to say she would take the shot again.
Gibson first posted the video to Instagram in July 2021 and it was actually filmed on May 11, but it received little attention until going viral on Twitter last night, and has already received millions of views on different versions of the clip.
"This is not a video that I wanted to make, and it's kinda hard to make, cause as I'm watching myself, I see what I'm gonna say," a a visibly upset Gibson says on camera.
The left side of Gibson's face is clearly paralyzed, a condition she subsequently revealed to be Bell's palsy.
Canadian actress Jennifer Gibson. pic.twitter.com/4FsC5ndfAp

— D. Scott @eclipsethis2003 (@eclipsethis2003) September 29, 2022
"So I got it about two weeks after getting my vaccine and I had a rough go with the vaccine, and I guess still am," Gibson remarked.
"But I have to say that I would do it again because it's what we have to do to see people," she said.
"I don't know why I'm making this video but here's my worse smile," Gibson said before ending the video smiling with half of her face paralyzed.
In a message posted to her Instagram page accompanying the video, Gibson wrote, "I've had many people follow this page after their own #diagnosis, so I'm sharing this video hoping it gives them optimism. My symptoms got worse after this video, I was considered a severe case, and I am almost back to 'normal'. (Whatever that is…) I didn't see any improvement for about a month and I got really discouraged, so I hope this can help someone."
The actress posted numerous other photos to her Instagram page urging people to wear masks and take vaccines.
Gibson saying she would take the vaccine again despite it almost certainly causing her condition is a familiar refrain for vaccine enthusiasts who often thank the "100 per cent safe and effective" jab after going public to reveal they have caught COVID.
Studies have shown that the COVID-19 vaccinations can cause rare cases of Bell's palsy.
Back in June, pop star Justin Bieber revealed that he was also suffering from facial paralysis, which was subsequently explained to be caused by Ramsay Hunt syndrome.
Claims that Bieber was suffering from the condition as a result of a COVID-19 vaccine were subsequently denied by fact checkers as "false," despite rampant speculation.
SUBSCRIBE on YouTube:
Follow on Twitter: Follow @PrisonPlanet
———————————————————————————————————————
Brand new merch now available! Get it at https://www.pjwshop.com/
ALERT!
In the age of mass Silicon Valley censorship It is crucial that we stay in touch.
I need you to sign up for my free newsletter here.
Support my sponsor – Turbo Force – a supercharged boost of clean energy without the comedown.
Get early access, exclusive content and behind the scenes stuff by following me on Locals.
———————————————————————————————————————
Fauci Net Worth Soared 66% During Pandemic
The net worth of Dr. Anthony Fauci's household soared a whopping 66% over the course of the pandemic, according to new financial disclosures obtained by OpenTheBooks.com. Fauci reported a Jan 1, 2019 net worth of $7,523,634. By Jan 1, 2022, it had grown to $12,677,513.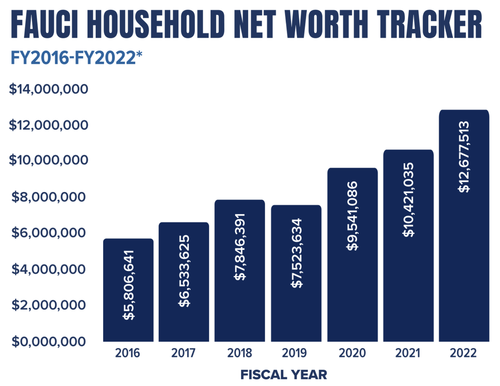 As director of the National Institute of Allergy and Infectious Diseases, Fauci was paid a 2021 salary of $456,028, making him the highest-paid employee in the entire federal government. His wife, Christine Grady, is chief bio-ethicist for the National Institutes of Health, does very well too, raking in a $238,970 salary last year.
Fauci is famously paid more than the president, and his wife collects more than the vice president. However, those hefty federal salaries aren't the only driver of the Fauci household's pandemic-era enrichment.
In 2021, Fauci was awarded the Tel Aviv University-affiliated Dan David Prize, which came with a $1 million check. The prize committee said Fauci "has been widely praised for his courage in speaking truth to power" during the Covid-19 pandemic.
The committee was apparently oblivious that Fauci was the power and routinely spoke falsehoods about everything from the usefulness of masking to herd immunity, the efficacy of vaccines, and NIH funding of gain of function research at the Wuhan Institute.
As is customary, Fauci donated some of his prize money back to be awarded as student scholarships, but still pocketed $901,400, according to the financial statements reviewed by OpenTheBooks.com.
Though it's chump change compared to the Dan David Prize, Fauci also scored $12,500 from both the Elliot Richardson Prize in Public Service and the Abelson Prize from the American Association for the Advancement of Science, and got $5,198 when he was named Federal Employee of the Year at the 2020 Samuel J. Heyman Service to America Medals ceremony.
Fauci even did some moonlighting as an editor for McGraw Hill, taking home $100,000 for his work in 2021.
There's no indication Fauci made any "shrewd" investments a la Nancy and Paul Pelosi. According to the financial disclosures, Fauci's portfolio comprises broad mutual funds with no individual stocks:
"These funds were held in a mix of trust, retirement, and college education accounts. Fauci has an IRA worth $706,219 (up $67,700); a defined benefit brokerage account totaling $2,551,210 (up $147,688); and a revocable trust worth $7,014,197 (up $1,718,299). His wife's revocable trust is worth $2,269,225 (up $306,406) and an IRA totaling $136,662 (up $16,385)," reports OpenTheBooks.com.
OpenTheBooks.com has filed four federal lawsuits against NIH to pry loose additional details not only about Fauci but also about royalties received by other NIH employees.
Though Fauci has announced he'll retire by the end of the year, the wheelbarrows full of taxpayer money will keep on rolling his way. When you're the highest-paid employee in federal government history and you've been on the federal payroll for more than 55 years, that'll make for an astounding pension of some $375,000 a year.
It's emblematic of the whole miserable Covid-19 spectacle: Bureaucrats wallow in government money while ordinary people suffer the ever-mushrooming destruction caused by public health's catastrophic lockdown and mandate regime.
This post was originally published at Zero Hedge