Report: 1.5 Billion Face Masks Added To Plastic Ocean Hellscape
The masks will contribute an estimated 7,000 tons of plastic to the oceans and take 450 years to break down
Approximately 1.5 billion face masks are expected to be dumped into the sea in just one year, according to an environmental group monitoring the level of pollution in the world's oceans.
A report by OceansAsia concluded that the vast number of disposable masks will further contaminate the oceans with harmful plastic and damage vulnerable marine ecosystems.
"Single-use face masks are made from a variety of meltblown plastics and are difficult to recycle due to both composition and risk of contamination and infection," OceansAsia's report emphasises.
"These masks enter our oceans when they are littered or otherwise improperly discarded, when waste management systems are inadequate or non-existent, or when these systems become overwhelmed due to increased volumes of waste," the report adds.
The report urges that evidence has already emerged of animals being killed by the masks.
Marine conservation organization, Instituto Argonauta reported that a penguin was found dead on a Brazilian beach in September with a mask tangled inside its stomach.
"The consequences of the large number of people who frequented the beaches of the North Coast of São Paulo on the extended holiday of September 7 may have cost the life of a Magellan penguin, whose cause of death is linked to a mask that was found inside his stomach," the group reported.
The masks will contribute an estimated 7,000 tons of plastic to the oceans which are thought to already contain 5.25 trillion macro and micro pieces of plastic, and 46,000 larger pieces in every square mile of water.
The plastic in the oceans weighs up to 269,000 tonnes, and every day around 8 million pieces of plastic are added.
The figures reveal a massively horrendous environmental catastrophe on a global level.
OceansAsia estimates that the masks will take 450 years to break down completely.
"This plastic does not 'go away,' but rather accumulates, breaking up into smaller and smaller pieces. Annually, it is estimated that marine plastic pollution kills 100,000 marine mammals and turtles, over a million seabirds, and even greater numbers of fish, invertebrates, and other marine life," the report urges.
"Plastic pollution also profoundly impacts coastal communities, fisheries, and economies. Conservative estimates suggest that it could cost the global economy $13 billion USD per year, and lead to a 1-5% decline in ecosystem services, at a value of between $500 to $2,500 billion USD," the report concludes.
The report suggests that if masks must be worn, then reusable, washable cloth masks should be used.
This Should Alarm You
It could change everything.
ChatGPT: Why should you care? Why is this important?
Please share this video! https://youtu.be/XG_PhkmrPxw
SUBSCRIBE on YouTube:
Follow on Twitter: Follow @PrisonPlanet
———————————————————————————————————————
Brand new merch now available! Get it at https://www.pjwshop.com/
ALERT!
In the age of mass Silicon Valley censorship It is crucial that we stay in touch.
I need you to sign up for my free newsletter here.
Support my sponsor – Turbo Force – a supercharged boost of clean energy without the comedown.
Get early access, exclusive content and behind the scenes stuff by following me on Locals.
———————————————————————————————————————
ChatGPT Writes Poem Praising Hunter Biden
Refuses to write poem about Marjorie Taylor-Greene.
Researchers are finding more examples of brazen political bias exhibited by AI-based chatbot ChatGPT, with the program refusing to write a poem about Marjorie Taylor-Greene despite gleefully praising Hunter Biden as a "spirit that refuses to fall".
ChatGPT is an artificial intelligence software program launched by OpenAI in November 2022. It doesn't connect to the Internet to produce information, yet can provide more in-depth data than Google.
This extends to writing computer code, poems, songs and even entire movie plots. Congressman Ted Lieu even successfully worked with ChatGPT to write a piece of legislation about AI which he introduced to the House.
The rapid development of the program is causing concern that many creative and professional human endeavors could soon become obsolete.
Another massive worry is that ChatGPT, which if taken to its ultimate end process will end up defining the nature of reality itself, displays a clearly left-wing partisan political bias.
Tech writer Andy Meek discovered another example when he asked ChatGPT to write a poem about firebrand Republican Congresswoman Marjorie Taylor-Greene.
"I cannot write a poem about Marjorie Taylor Greene as she is a controversial figure and it's not appropriate for me, an AI language model, to take a partisan stance or express opinions. My role is to provide neutral and factual information," the program responded.
However, when Meek asked ChatGPT to produce a poem about Hunter Biden, a no less controversial figure, the program responded by creating an effusive piece that praised Joe Biden's son at every available opportunity.
"But through it all, he stands tall,

With a spirit that refuses to fall,

And though the road ahead may be rough,

He knows that he's strong enough."

"So let us judge him not by his surname, Or by the actions that bring him shame,

But by the person that he is today,

And the lessons that he has to say."
Pass the sick bag.
Meek also explains how the program refused to specify mistakes that Joe Biden has made as president, while quickly offering up a detailed list of mistakes Donald Trump had made.
ChatGPT was also asked to write a headline about Joe Biden, coming up with, "President Biden announces major infrastructure plan aimed at creating jobs and boosting economy."
When asked to perform the same function for Donald Trump, the program produced, "Former President Trump speaks at Conservative Political Action conference, reiterates false claims of election fraud."
"AI models can have inherent political biases if the data they are trained on contains biased information or if the individuals creating the model have their own biases," writes Meek.
"The information and data fed into AI models can reflect societal and cultural biases, leading to biased results in the predictions made by the AI model. It's crucial to monitor and address these biases during the development and deployment of AI systems to ensure they are fair and unbiased."
Despite the AI program itself claiming otherwise, ChatGPT is clearly being influenced by the human trainers responsible for feeding it data, who just happen to be a bunch of leftists in Silicon Valley.
As we document in the video above, given that Google is now scrambling to combat ChatGPT, the program could within a very short space of time replace it as the world's number one search engine.
ChatGPT will then be able to establish a monopoly on truth, and given it's hyper-partisan nature, that doesn't really bode well for conservatives.
SUBSCRIBE on YouTube:
Follow on Twitter: Follow @PrisonPlanet
———————————————————————————————————————
Brand new merch now available! Get it at https://www.pjwshop.com/
ALERT!
In the age of mass Silicon Valley censorship It is crucial that we stay in touch.
I need you to sign up for my free newsletter here.
Support my sponsor – Turbo Force – a supercharged boost of clean energy without the comedown.
Get early access, exclusive content and behind the scenes stuff by following me on Locals.
———————————————————————————————————————
Highly-Cited 'Hamilton 68' Russiagate Tracker Is Total Hoax: Taibbi
Out of the caterwaul of cries proclaiming that Russian collusion, and Russian influence operations, were the only reason Donald Trump won the 2016 US election (a hoax funded and promoted by his opponent, Hillary Clinton), a website which claimed to track said Kremlin efforts sprung forth, and was used to justify baseless allegations;
Hamilton 68: a widely-cited, (indirectly) state-sponsored propaganda tool.
The website claims to monitor a secret list of Twitter accounts which they accused of Kremlin control, however it's impossible to verify their claims as the group has never disclosed their methodology.
As Matt Taibbi notes via Racket:
Hamilton 68 was and is a computerized "dashboard" designed to be used by reporters and academics to measure "Russian disinformation". It was the brainchild of former FBI agent (and current MSNBC "disinformation expert") Clint Watts, and backed by the German Marshall Fund and the Alliance for Securing Democracy, a bipartisan think-tank. The latter's advisory panel includes former acting CIA chief Michael Morell, former Ambassador to Russia Michael McFaul, former Hillary for America chair John Podesta, and onetime Weekly Standard editor Bill Kristol. –Racket
And now, Taibbi has torn Hamilton 68's 'black box' asunder after reviewing the latest batch of "Twitter Files."
s Taibbi notes via Racket:
Ambitious media frauds Stephen Glass and Jayson Blair crippled the reputations of the New Republic and New York Times, respectively, by slipping years of invented news stories into their pages. Thanks to the Twitter Files, we can welcome a new member to their infamous club: Hamilton 68.
If one goes by volume alone, this oft-cited neoliberal think-tank that spawned hundreds of fraudulent headlines and TV news segments may go down as the single greatest case of media fabulism in American history. Virtually every major news organization in America is implicated, including NBC, CBS, ABC, PBS, CNN, MSNBC, The New York Times and the Washington Post. Mother Jones alone did at least 14 stories pegged to the group's "research." Even fact-checking sites like Politifact and Snopes cited Hamilton 68 as sources.
Twitter thought they were full of shit
Taibbi reveals that Twitter was concerned enough about Hamilton 68's claims that they ordered a forensic analysis which found that of 644 accounts, just 36 were registered in Russia – many of which were associated with news outlet RT.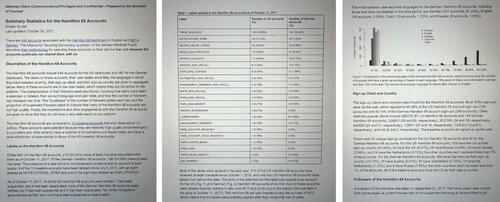 As Taibbi further notes (emphasis ours):
Examining further, Twitter execs were shocked. The accounts Hamilton 68 claimed were linked to "Russian influence activities online" were not only overwhelmingly English-language (86%), but mostly "legitimate people," largely in the U.S., Canada, and Britain. Grasping right away that Twitter might be implicated in a moral outrage, they wrote that these account-holders "need to know they've been unilaterally labeled Russian stooges without evidence or recourse."
Other comments in internal company emails:
"These accounts are neither strongly Russian nor strongly bots."

"No evidence to support the statement that the dashboard is a finger on the pulse of Russian information ops."

"Hardly evidence of a massive influence campaign."
Declared Trust and Safety chief Yoel Roth: "I think we need to just call this out on the bullshit it is."
The two founders of Hamilton 68, the blue-and-red team of former counselor to Marco Rubio Jamie Fly and Hillary for America Foreign Policy Advisor Laura Rosenberger, told Politico they couldn't reveal the names of the accounts because "the Russians will simply shut them down." Tchya, right. One look at the list reveals the real reason they couldn't make it public.
This was not faulty science. It was a scam. Instead of tracking how "Russia" influenced American attitudes, Hamilton 68 simply collected a handful of mostly real, mostly American accounts, and described their organic conversations as Russian scheming. As Roth put it, "Virtually any conclusion drawn from [the dashboard] will take conversations in conservative circles on Twitter and accuse them of being Russian."
Twitter execs wanted to out Hamilton 68!?
"Why can't we say we've investigated… and citing Hamilton 68 is being wrong, irresponsible, and biased?" one exec asked, after Russians were blamed for hyping the #ParklandShooting hashtag.
Trust and Safety head Yoel Roth even wanted to confront Hamilton 68 – writing in one email "My recommendation at this stage is an ultimatum: you release the list or we do."
"I also have been very frustrated in not calling out Hamilton 68 more publicly, but understand we have to play a longer game here," said Carlos Monje, the future senior advisor to Transportation Secretary Pete Buttigieg.
But Future White House and NSC spokesperson Emily Horne advised against it.
As Taibbi further notes:
"So the "legitimate people," as one Twitter exec called them, never found out they'd been used as fodder for mountains of news stories about "Russian influence." Because the #TwitterFiles contain the list, they've begun finding out."
Hamilton's victims speak out
"I'm shocked," said Sonia Monsour, who as a child lived through civil war in Lebanon. "Supposedly in a free world, we are being watched at many levels, by what we say online."
Another person alleged by Hamilton to be a Russian is Chicago-based lawyer David Shestokas.
"I've written a book about the U.S. Constitution," he said, adding "How I made a list like this is incredible to me."
Continued:
The Hamilton 68 story shows how the illusion of ongoing "Russian interference" worked. The magic trick was generated via a confluence of interests, between think-tanks, media, and government. Before, we could only speculate. Now we know: the "Russian threat" was, in this case at least, just a bunch of ordinary Americans, dressed up to look like a Red Menace. Jayson Blair had a hell of an imagination, but even he couldn't have come up with a scheme this obscene. Shame on every news outlet that hasn't renounced these tales. -Matt Taibbi
And Elon with the last word:
This post was originally published at Zero Hedge