Airline Officially Launches COVID Passport Ahead Of "Global Deployment"
"The experience gained helps prepare for the eventual global deployment of the Travel Pass"
Singapore Airlines has become the first carrier to officially launch a COVID passport, which will display the vaccination status and COVID test results of passengers.
The airline announced that its 'digital health verification process' is the first in the world to be modelled on the International Air Transport Association's (IATA) Travel Pass framework.
The airline said it had made the move to start trialling the process because it expects such 'immunity passes' to become the norm for all airline travel globally.
The company declared that COVID tests and vaccinations are sure to be "an integral part" of air travel for the foreseeable future and that certificates are the most efficient way to "validate a passenger's health credentials."
The company proclaimed that the health pass will provide a "more seamless experience" for customers and will be a part of "the new normal."
The airline noted that all passengers traveling from Jakarta or Kuala Lumpur to Singapore will be mandated to take COVID tests at specific clinics in those cities.
Passengers will be issued either a digital or paper 'health certificate' with a QR code, according to the airline's press release, which will be used as part of check ins and immigration control.
"Together we will demonstrate that people can return to travel with confidence that they are meeting all government Covid-19 entry requirements," commented Nick Careen, IATA's Senior Vice President for Airport, Passenger, and Cargo Security.
"This will help ensure that SIA's customers will be among the first to benefit as governments re-open their borders with testing or vaccination requirements. And the experience gained through collaboration helps prepare for the eventual global deployment of the IATA Travel Pass," Careen added.
As we reported last month, the IATA, the world's largest air transport lobby group, expects its COVID travel pass app to be fully rolled out in the first months of 2021.
Scores of airline executives and travel industry officials have now indicated that proof of vaccination, through 'COVID passports', will become mandatory in order to fly.
Another 'COVID passport' type system known as the CommonPass, sponsored by the World Economic Forum, is also under development.
A further 'COVID passport' app called the AOKpass from travel security firm International SOS is currently undergoing trials between Abu Dhabi and Pakistan.
Hundreds of Tech companies are scrambling over themselves to develop COVID passport systems.
""the experience gained through collaboration helps prepare for the eventual global deployment of the IATA Travel Pass
Canadian Actress Reveals She Has Bell's Palsy Two Weeks After Vax, Says She Would Take It Again
July 2021 clip goes viral on Twitter.
In a video originally posted to her Instagram that went viral on Twitter over a year later, Canadian actress Jennifer Gibson revealed that she was suffering from Bell's palsy two weeks after taking the vaccine, before going on to say she would take the shot again.
Gibson first posted the video to Instagram in July 2021 and it was actually filmed on May 11, but it received little attention until going viral on Twitter last night, and has already received millions of views on different versions of the clip.
"This is not a video that I wanted to make, and it's kinda hard to make, cause as I'm watching myself, I see what I'm gonna say," a a visibly upset Gibson says on camera.
The left side of Gibson's face is clearly paralyzed, a condition she subsequently revealed to be Bell's palsy.
Canadian actress Jennifer Gibson. pic.twitter.com/4FsC5ndfAp

— D. Scott @eclipsethis2003 (@eclipsethis2003) September 29, 2022
"So I got it about two weeks after getting my vaccine and I had a rough go with the vaccine, and I guess still am," Gibson remarked.
"But I have to say that I would do it again because it's what we have to do to see people," she said.
"I don't know why I'm making this video but here's my worse smile," Gibson said before ending the video smiling with half of her face paralyzed.
In a message posted to her Instagram page accompanying the video, Gibson wrote, "I've had many people follow this page after their own #diagnosis, so I'm sharing this video hoping it gives them optimism. My symptoms got worse after this video, I was considered a severe case, and I am almost back to 'normal'. (Whatever that is…) I didn't see any improvement for about a month and I got really discouraged, so I hope this can help someone."
The actress posted numerous other photos to her Instagram page urging people to wear masks and take vaccines.
Gibson saying she would take the vaccine again despite it almost certainly causing her condition is a familiar refrain for vaccine enthusiasts who often thank the "100 per cent safe and effective" jab after going public to reveal they have caught COVID.
Studies have shown that the COVID-19 vaccinations can cause rare cases of Bell's palsy.
Back in June, pop star Justin Bieber revealed that he was also suffering from facial paralysis, which was subsequently explained to be caused by Ramsay Hunt syndrome.
Claims that Bieber was suffering from the condition as a result of a COVID-19 vaccine were subsequently denied by fact checkers as "false," despite rampant speculation.
SUBSCRIBE on YouTube:
Follow on Twitter: Follow @PrisonPlanet
———————————————————————————————————————
Brand new merch now available! Get it at https://www.pjwshop.com/
ALERT!
In the age of mass Silicon Valley censorship It is crucial that we stay in touch.
I need you to sign up for my free newsletter here.
Support my sponsor – Turbo Force – a supercharged boost of clean energy without the comedown.
Get early access, exclusive content and behind the scenes stuff by following me on Locals.
———————————————————————————————————————
Fauci Net Worth Soared 66% During Pandemic
The net worth of Dr. Anthony Fauci's household soared a whopping 66% over the course of the pandemic, according to new financial disclosures obtained by OpenTheBooks.com. Fauci reported a Jan 1, 2019 net worth of $7,523,634. By Jan 1, 2022, it had grown to $12,677,513.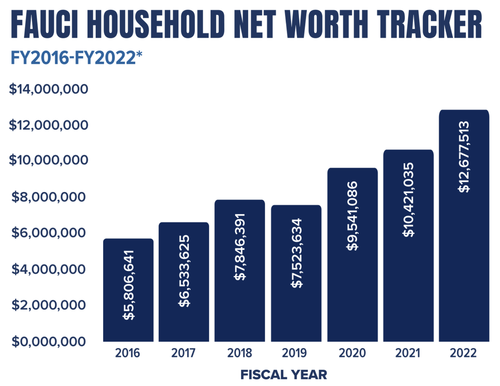 As director of the National Institute of Allergy and Infectious Diseases, Fauci was paid a 2021 salary of $456,028, making him the highest-paid employee in the entire federal government. His wife, Christine Grady, is chief bio-ethicist for the National Institutes of Health, does very well too, raking in a $238,970 salary last year.
Fauci is famously paid more than the president, and his wife collects more than the vice president. However, those hefty federal salaries aren't the only driver of the Fauci household's pandemic-era enrichment.
In 2021, Fauci was awarded the Tel Aviv University-affiliated Dan David Prize, which came with a $1 million check. The prize committee said Fauci "has been widely praised for his courage in speaking truth to power" during the Covid-19 pandemic.
The committee was apparently oblivious that Fauci was the power and routinely spoke falsehoods about everything from the usefulness of masking to herd immunity, the efficacy of vaccines, and NIH funding of gain of function research at the Wuhan Institute.
As is customary, Fauci donated some of his prize money back to be awarded as student scholarships, but still pocketed $901,400, according to the financial statements reviewed by OpenTheBooks.com.
Though it's chump change compared to the Dan David Prize, Fauci also scored $12,500 from both the Elliot Richardson Prize in Public Service and the Abelson Prize from the American Association for the Advancement of Science, and got $5,198 when he was named Federal Employee of the Year at the 2020 Samuel J. Heyman Service to America Medals ceremony.
Fauci even did some moonlighting as an editor for McGraw Hill, taking home $100,000 for his work in 2021.
There's no indication Fauci made any "shrewd" investments a la Nancy and Paul Pelosi. According to the financial disclosures, Fauci's portfolio comprises broad mutual funds with no individual stocks:
"These funds were held in a mix of trust, retirement, and college education accounts. Fauci has an IRA worth $706,219 (up $67,700); a defined benefit brokerage account totaling $2,551,210 (up $147,688); and a revocable trust worth $7,014,197 (up $1,718,299). His wife's revocable trust is worth $2,269,225 (up $306,406) and an IRA totaling $136,662 (up $16,385)," reports OpenTheBooks.com.
OpenTheBooks.com has filed four federal lawsuits against NIH to pry loose additional details not only about Fauci but also about royalties received by other NIH employees.
Though Fauci has announced he'll retire by the end of the year, the wheelbarrows full of taxpayer money will keep on rolling his way. When you're the highest-paid employee in federal government history and you've been on the federal payroll for more than 55 years, that'll make for an astounding pension of some $375,000 a year.
It's emblematic of the whole miserable Covid-19 spectacle: Bureaucrats wallow in government money while ordinary people suffer the ever-mushrooming destruction caused by public health's catastrophic lockdown and mandate regime.
This post was originally published at Zero Hedge
Video: Rand Paul Promises To 'Find The Paper Trail' For Lab Leak COVID Origin
"This is the biggest coverup in the history of science"
Senator Rand Paul vowed this week to continue to expose the origins of the COVID pandemic and uncover a paper trail that he is positive will lead back to the Wuhan lab research funded by Anthony Fauci and the National Institutes of Health.
"The entire pandemic, if it came from a lab, the fact that he approved the research and funded the lab would draw culpability to himself." Paul said of Fauci during an appearance on Fox Business.
"Culpability to all of these people who made the unwise decision to send money to China to do dangerous research. That's why they steadfastly resist this," the Senator added referring to his efforts in the Senate.
Paul continued, "If you look at the early e-mails when they first discovered the sequence of this virus, January 31 of 2020, they are quite frightened. There are harried e-mails going back and forth until 2:30 in the morning."
"All of the initial scientists are saying to him, holy cow. We have looked at the sequence and it looks like it has been manipulated in the lab. In fact, it has a cleavage site. The way the virus gets into the cell, that we do not see in nature, typically, and that Chinese last year ask us money to do that research," Paul further explained.
"All kinds of alarms and bells went off for a day or two," the Senator added.
"And then we have another couple of e-mails where Dr. Collins and Dr. Fauci are talking about how they are science, and this would be really damaging to science and the NIH, and all the taxpayer money we get and also to themselves personally," Paul further stated, asserting "So they began a cover-up."
"I think it is probably the biggest in the history of science and we will get to the bottom of this. I promise you, there will be a paper trail," Paul urged.
"Should we win in November, I will use every bit of subpoena power to get every bit of data. We will bring all of the scientists under oath and we will get to the bottom of this," Paul vowed.
Watch:
Paul recently slammed Fauci for taking the default position of trying to "cover up" his activities, including potentially encouraging social media companies to censor medical information.
The Senator has warned the NIH that it should not attempt to destroy any documents relating to or in the possession of Anthony Fauci as he retires.
Paul has called for restricting the exporting of DNA technology to China in the same way nuclear technology to the Communist regime is restricted, and has revealed in his Senate hearings that there is a committee that is supposed to oversee experimentation with potentially lethal viruses, but that it is above the oversight of Congress.
SUBSCRIBE on YouTube:
Follow on Twitter:
Follow @PrisonPlanet
———————————————————————————————————————
Brand new merch now available! Get it at https://www.pjwshop.com/


ALERT! In the age of mass Silicon Valley censorship It is crucial that we stay in touch.

We need you to sign up for our free newsletter here.

Support our sponsor – Turbo Force – a supercharged boost of clean energy without the comedown.

Also, we urgently need your financial support here. ———————————————————————————————————————