Video: Google Whistleblower Tells Veritas Search Engine Is 'Skewing Results' To Benefit Democrats
Accuses big tech of "playing god" with US politics
A person who claims to be a program manager at Google Cloud has told investigative journalists with Project Veritas that the search engine is intentionally manipulating results in order to benefit the Democrats and to hinder President Trump's campaign.
Ritesh Lakhkar, who identified himself as a technical program manager at Google's Cloud service, made the comments in footage released Monday. The interview appears to have been filmed without Lakhkar's knowledge.
The project manager accused Google of "playing god" with US politics, and of 'skewing' it's algorithms to project negative news and talking points where Trump is concerned.
BREAKING: @Google Program Manager Confirms Election Interference In Favor of @JoeBiden

Google search "skewed by owners and drivers of the algorithm"

"Plain and simple trying to play god"#ExposeGoogle pic.twitter.com/swyV1W3ZKt

— Project Veritas (@Project_Veritas) October 19, 2020
When asked if Google favours one party over another, Lakhkar commented that "The wind is blowing toward Democrats, because GOP equals Trump and Trump equals GOP. Everybody hates it, even though GOP may have good traits, no one wants to acknowledge them right now."
"So the wind is blowing toward Democrats, so let's skew the results toward Democrats," he added.
"It's skewed by the owners or the drivers of the algorithm," Lakhkar explains, adding "Like, if I say 'Hey Google, here's another two billion dollars, feed this data set of whenever Joe Biden is searched, you'll get these results.'"
Remember when Google had that meeting in 2016 after Trump won and vowed to never let it happen again?

Have you tried finding anything on Google in the last 2 years that doesn't amplify Democrat talking points?

"Oh, but there's no bias…we're non partisan."

Yeah, OK. 😄

— Paul Joseph Watson (@PrisonPlanet) October 20, 2020
Lakhkar slammed Big Tech for "playing god and taking away freedom of speech on both sides."
He emphasised that "Like, if it was fraud it doesn't matter, but for Trump or Melania Trump, it matters… Trump says something, misinformation. You're going to delete that because it's illegal under whatever pretext. And if a Democratic leader says that, you're going to leave it."
Describing the working environment at Google, Lakhkar said "your opinion matters more than your work."
"When Trump won the first time, people were crying in the corridors of Google. There were protests, there were marches. There were like, I guess, group therapy sessions for employees organized by HR," he said.
The whistleblower continued, "I guess that's one of the reasons I feel suffocated [at Google]. Because on one side you have this unprofessional attitude, and on the other side you have this ultra-leftist attitude. Your entire existence is questioned."
Google has not responded to the allegations at time of writing.
Facebook Rolls Out Weird 'You've Been Exposed To Extremist Content' Alerts
Asks users to report anyone they think 'might be becoming an extremist', without defining what that even is.
Facebook users have begun to receive creepy messages warning them that they 'may have been exposed to extremist content' and asking if they need support, as well as asking them to report anyone they know who 'may be becoming an extremist'.
The warnings began popping up Thursday and have little indication of what the platform considers to be 'extremist content':
Encouraging people to turn in their friends, relatives and neighbours for wrongthink, where have we heard about this before?
Here's what the Facebook warnings end up at:
On closer inspection, the warnings further link to a group that calls itself Life After Hate.
The About description on their website reads:
Our Mission -Life After Hate is committed to helping people leave the violent far-right to connect with humanity and lead compassionate lives.
Our Programs -Our primary goal is to interrupt violence committed in the name of ideological or religious beliefs. We do this through education, interventions, academic research, and outreach.
Note that there is still no definition of what 'violent far-right' means, and there is no mention of any far-left hate groups, of which there are plenty.
A 'fact sheet' posted to Life After Hate's website also proclaims that "far right extremism and white supremacy are the greatest domestic terror threats facing the United States."
So, ok hate only exists on the right. And surely every woke leftist this message is sent to won't use it against the conservative neighbour or colleague who merely disagrees with them.
You can see where this is heading.
Facebook responded to questions about the alerts Thursday, issuing a statement that says "This test is part of our larger work to assess ways to provide resources and support to people on Facebook who may have engaged with or were exposed to extremist content, or may know someone who is at risk,"
"We are partnering with NGOs and academic experts in this space and hope to have more to share in the future," the Facebook statement also read.
This group appears to be yet another like the Southern Poverty Law Center, a far left political entity masquerading as a bipartisan organisation with the express goal of silencing anyone who does not adhere to their warped outlook.
We shouldn't be surprised, Facebook has been doing this for years already, first targeting and attempting to silence those who publicly engage in wrongthink, and then going after everyone else.
As Pink Floyd legend Roger Waters recently noted, Facebook and Zuckerberg have an insatiable desire to "insidiously take over absolutely everything" and wipe out anyone or anything they cannot control.
SUBSCRIBE on YouTube:
Follow on Twitter:
Follow @PrisonPlanet
———————————————————————————————————————
Brand new merch now available! Get it at https://www.pjwshop.com/


ALERT! In the age of mass Silicon Valley censorship It is crucial that we stay in touch.

We need you to sign up for our free newsletter here.

Support our sponsor – Turbo Force – a supercharged boost of clean energy without the comedown.

Also, we urgently need your financial support here. ———————————————————————————————————————
Watch: Another Video Of Future Killer Robot Dogs Dancing
Cable of chasing you down, ripping out your lungs, AND dropping some wicked moves to K-pop!
It's all fun and games when it comes to Boston Dynamics' robot dog SPOT. Watch as the loveable scamps dance to Korean boy band music in their latest video:
As Zero Hedge notes, the video was made to signify South Korean firm Hyundai finalizing its acquisition of Boston Dynamics earlier this month.
Eric Whitman, a Boston Dynamics roboticist commented "There were a lot of challenges around getting the vision of our choreographer, who's used to dealing with human dancers, into our software." 
What is the deal with this?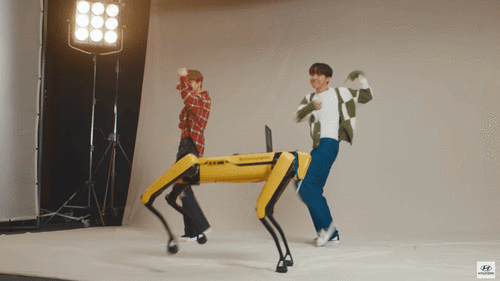 Are we really supposed to believe that these machines are being developed so they can dance around with 14 year old K-pop boys?
In reality, these machines are being made for military and law enforcement purposes, as this recent video of the French military highlights:
Last December, the NYPD is deployed a similar 70 pound robotic Boston Dynamics dog capable of opening doors and moving objects out of its path.
In fact, the 'dog', called Digidog, is actively being used to apprehend suspects, according to a report by ABC 7 News.
"This dog is going to save lives, protect people, and protect officers and that's our goal," NYPD Technical Assistance Response Unit Inspector (TARU) Frank Digiacomo said.
"This robot is able to use its artificial intelligence to navigate things, very complex environments," NYPD TARU's Deepu John added.
Watch:
Last year, one of the machines was used in Singapore to enforce social distancing and mask wearing:
The 'SPOT' dog was also deployed last year by Massachusetts State Police in live action situations to provide troopers with images of suspicious devices or reveal where suspects were hiding.
Video of MA State Police testing the dogs shows one of the robots opening a door, mirroring footage released previously by Boston Dynamics.
Boston Dynamics routinely releases slick videos of the machines in action:
The AI on the dogs is open, so it can be customized, and the machines can be fitted with weapons. Along with the lease to law enforcement, that is enough for Kade Crockford, director of the technology for liberty program at the ACLU of Massachusetts to issue a warning.
"We just really don't know enough about how the state police are using this," Crockford said. "And the technology that can be used in concert with a robotic system like this is almost limitless in terms of what kinds of surveillance and potentially even weaponization operations may be allowed."
"We really need some law and some regulation to establish a floor of protection to ensure that these systems can't be misused or abused in the government's hands," Crockford said, adding "And no, a terms of service agreement is just insufficient."
The robot dogs inspired an infamous episode of Black Mirror in 2017, where machines very similar looking to the SPOT, but more advanced, were depicted hunting down and killing people after the unexplained collapse of human society.
SUBSCRIBE on YouTube:
Follow on Twitter:
Follow @PrisonPlanet
———————————————————————————————————————
Brand new merch now available! Get it at https://www.pjwshop.com/


ALERT! In the age of mass Silicon Valley censorship It is crucial that we stay in touch.

We need you to sign up for our free newsletter here.

Support our sponsor – Turbo Force – a supercharged boost of clean energy without the comedown.

Also, we urgently need your financial support here. ———————————————————————————————————————
Dubai Nail Salon Installing Microchips on Customers' Fingernails
COVID-19 pandemic led to surge of interest in tiny devices.
A beauty salon in Dubai is carrying out "microchip manicures" where tiny microchips that act as digital business cards are planted on a customer's fingernail, with the chip eventually intended to be used for contactless payments and digital menus.
"We install the information that you want, like your name, your mobile number, your social media accounts and website as well," Lanour Beauty Lounge founder Nour Makarem told CNN.
The COVID-19 pandemic has evidently helped generate interest in the procedure, with the beauty parlor already claiming it has marked 500 customers with the chip.
The chips also make use of use near field communication (NFC) technology to connect with other mobile devices.
Given the obsequiousness displayed by some 2.66 billion people around the world in taking the COVID vaccine, don't be surprised to see governments push implantable microchips for bio-security next.
Cellphone apps are already used as vaccine passports, which are de facto identity cards, so it's not a huge leap to suggest that within a decade, a huge public relations campaign will be launched urging everyone to get chipped.
Whether that is predicated on banking and lifestyle restrictions being placed on those who refuse to take the chip or whether it will be introduced off the back of a new pandemic remains to be seen.
Don't forget that 'Great Reset' pioneer himself Klaus Schwab acknowledges in his own book that an implantable microchip is the ultimate aim.
"Some of us already feel that our smartphones have become an extension of ourselves. Today's external devices—from wearable computers to virtual reality headsets—will almost certainly become implantable in our bodies and brains," wrote the World Economic Forum founder.
SUBSCRIBE on YouTube:
Follow on Twitter: Follow @PrisonPlanet
———————————————————————————————————————
Brand new merch now available! Get it at https://www.pjwshop.com/
ALERT!
In the age of mass Silicon Valley censorship It is crucial that we stay in touch.
I need you to sign up for my free newsletter here.
Support my sponsor – Turbo Force – a supercharged boost of clean energy without the comedown.
Also, I urgently need your financial support here.
———————————————————————————————————————