Polls: Support For BLM Falls Further; Americans See 'Protests' As Riots, Believe There Is A War On Police
Support for BLM tanks by more than 10%
A series of new polls reveals that the majority of Americans believe there is a war being waged against police officers, and that support for the 'black lives matter' movement has dropped even further, with many more now seeing little distinction between the movement's 'protests' and violent riots.
Polls from Pew Research and Fox News reveal that support for BLM has dropped more than ten percentage points in just a few months.
"As racial justice protests have intensified following the shooting of Jacob Blake, public support for the Black Lives Matter movement has declined," Pew notes.
"A majority of U.S. adults (55%) now express at least some support for the movement, down from 67% in June amid nationwide demonstrations sparked by the death of George Floyd. The share who say they strongly support the movement stands at 29%, down from 38% three months ago."
The findings also show that "The recent decline in support for the Black Lives Matter movement is particularly notable among White and Hispanic adults."
"In June, a majority of White adults (60%) said they supported the movement at least somewhat; now, fewer than half (45%) express at least some support," Pew notes, adding that "The share of Hispanic adults who support the movement has decreased 11 percentage points, from 77% in June to 66% today."
A corresponding Fox News poll shows that "More voters consider the unrest in three US cities stemming from Black Lives Matter demonstrations to be riots rather than protests."
"The poll, published Sunday, found that 48 percent of likely voters surveyed described violence in New York, Portland, and Kenosha, Wisconsin to be riots, compared to 40 percent who saw them as protests," The new York Post noted.
Meanwhile, a third poll, from Rasmussen, reveals that 59% of voters believe there is a war being waged on police officers.
A whopping 80% of Republicans said it is obvious to them that there is a war on police, compared to 39% of Democrats.
In addition, a majority of independents (60%) agreed with the statement.
Previously, in 2018, 43% of respondents believed there is an ongoing war against police, with another previous high of 58% in 2015 also now being eclipsed.
The new poll found that 59% of respondents say they support the institution of 'Blue Lives Matter' laws in their state to classify attacks on police and first respondents as hate crimes with harsher punishments. Several states have already implemented such laws since 2016.
The Rasmussen poll reveals that while white voters are most likely to support 'Blue Lives Matter' laws (63%), a majority of 52% of black voters also support the idea, in addition to 49% of other minority voters also expressing support.
The poll also found that a huge majority of 84% of black voters expressed concern that attacks on police would lead to a shortage of police officers and a decline in public safety.
Just Get The Hell Away
There's no fixing this.
A shocking viral video shows a small white child with his parents being racially abused by a black man on the New York subway.
Please share this video! https://youtu.be/6VTWnYOqICk
SUBSCRIBE on YouTube:
Follow on Twitter: Follow @PrisonPlanet
———————————————————————————————————————
Brand new merch now available! Get it at https://www.pjwshop.com/
ALERT!
In the age of mass Silicon Valley censorship It is crucial that we stay in touch.
I need you to sign up for my free newsletter here.
Support my sponsor – Turbo Force – a supercharged boost of clean energy without the comedown.
Get early access, exclusive content and behind the scenes stuff by following me on Locals.
———————————————————————————————————————
Video: Don Lemon From 2013 Would Now Be Accused Of Being A White Supremacist
A glimpse of what life was like before the woke mind virus
In the wake of CNN's last remaining woke host being sidelined for making a 'sexist' and 'ageist' remark about Nikki Haley, a video of Don Lemon from 2013 in which he surprisingly speaks sense has gone viral.
The video shows Lemon talking about what the black community should do to fix its problems, including stop littering, and encouraging kids to try harder in school.
The host also extols the virtues of marriage, and warns about the problem of absent fathers, asserting "just because you can have a baby doesn't mean you should."
Lemon even tells young black men to stop using the N word and to pull up their pants and stop walking around with their asses hanging out looking like prison bitches.
Imagine the meltdown that would occur if Lemon spoke like this today, just 10 years later:
Some pointed out how frightening it is that things changed so monumentally because of the woke mid virus:
What happened to that guy?
SUBSCRIBE on YouTube:
Follow on Twitter:
Follow @PrisonPlanet
———————————————————————————————————————
Brand new merch now available! Get it at https://www.pjwshop.com/


ALERT! In the age of mass Silicon Valley censorship It is crucial that we stay in touch.

We need you to sign up for our free newsletter here.

Support our sponsor – Turbo Force – a supercharged boost of clean energy without the comedown.

Also, we urgently need your financial support here. ———————————————————————————————————————
VIDEO: White Boy 'Strangled' by Black Girl on School Bus in Virginia
A Fort Belvoir mom has released shocking video of her 12-year-old son being "strangled" by a girl twice his size on a school bus in Virginia and claims her son's abuser only received a slap on the wrist. 
WATCH:
From WUSA 9, "VIDEO: Boy choked on school bus, mother demands consequences":
Taylor Brock said her son was captured on cell phone video being choked by a female classmate on a school bus from Walt Whitman Middle School in Alexandria.

In the one-minute video, the girl could be seen smacking her son and grabbing him by the mouth. There was a brief exchange between the two before she grabs him by the neck. Seconds later, the girl appeared to be choking him against the seat.

"My son came home crying, and I saw the marks on his neck," Brock said. "It breaks my heart that there are all these kids on the bus and not one decided to stand up."

The incident happened in late January, but she posted the video through her business website on Monday. She said the response from the school to keep her child safe has been inadequate.

Brock said she not only pressed charges but had a Fairfax County judge grant a protective order against the girl earlier this month.
"When I got my son a two year protection order, the Judge who saw this video and pictures asked if the girl still attended the school to which I replied 'yes,'" Brock said on her website. "The Judge was confused and asked if the school knows about this event and if they understand the severity and gravity of what happened. I asked the school why they thought suspension was enough for strangulation to which they replied, 'We have protocols we have to follow and execute punishment according to the School's Code of Conduct.'"
"They can't create a safe environment for our kids if they sweep these violent acts under the rug, hoping no one hears about them," Brock said.
Brock also shared photos of the marks left on her son's neck from the abuse.
It strikes me that if the girl in this situation had (falsely) claimed her son cut one of her dreadlocks it would make international news as we saw with a viral hate hoax out of Virginiain 2019.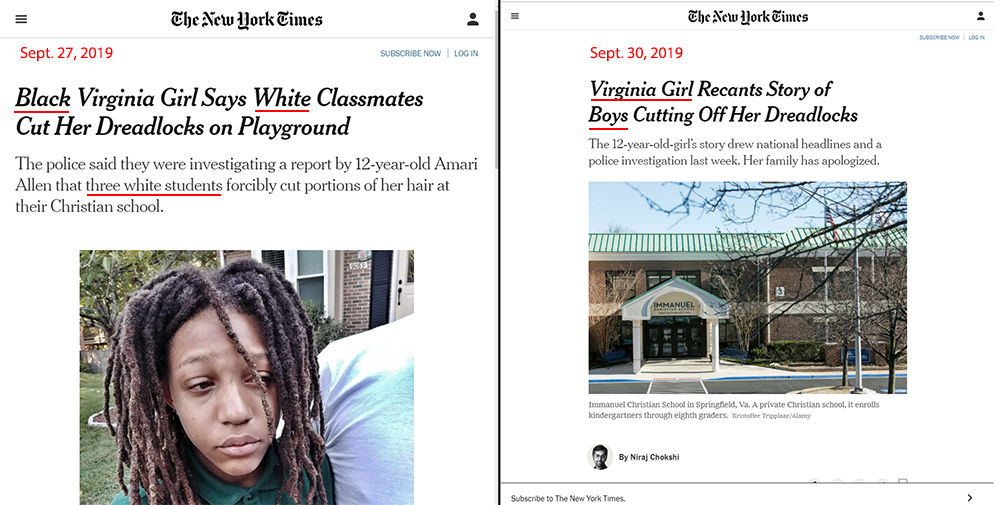 Instead, this vicious abuse is just going to be ignored as we saw with another similar attack in Homestead, Florida earlier this month.
This post was originally published at Information Liberation