Trump Calls For Death Penalty For Cop Attackers
"If you murder a police officer, you should receive the death penalty!"
President Trump called for the Death Penalty for a gunman who carried out a cold blooded attack on two Sheriff's Department deputies in LA, as sick protesters chanted "we hope they die."
"If they die, fast trial [and] death penalty for the killer," Trump raged on Sunday, adding "Only way to stop this."
If they die, fast trial death penalty for the killer. Only way to stop this! https://t.co/K3sKh28GjX

— Donald J. Trump (@realDonaldTrump) September 13, 2020
During his rally in Nevada, Trump repeated the call for the death penalty to be levied for cop killers:
If you murder a police officer, you should receive the death penalty! pic.twitter.com/07n5Rwrb4b

— Donald J. Trump (@realDonaldTrump) September 14, 2020
Our thoughts are with the two @LASDHQ Sheriff Deputies who were shot in Los Angeles. We send our love and support to their families and we pray to God for their recovery. pic.twitter.com/3leulrT42e

— Donald J. Trump (@realDonaldTrump) September 14, 2020
After the video of the gunman was shared by the Sherrif's Department, Trump declared "Animals that must be hit hard!" presumably referring to all who enact violence against police.
Animals that must be hit hard! https://t.co/zrOd9ZUl8o

— Donald J. Trump (@realDonaldTrump) September 13, 2020
California law does allow for the death penalty for such a crime, should the officers not pull through. However, there has not been an execution in the state for 14 years. In addition, Governor Gavin Newsom issued a moratorium on executions last year.
Trump also slammed Joe Biden and the Democrats for enabling anti-police sentiment:
For the entire summer, Joe Biden was SILENT as left-wing mobs assaulted police officers. When Biden's far-left supporters set fire to police cars, precinct stations, and courthouses, Joe Biden called them "PEACEFUL PROTESTORS." When asked if he would cut police funding, Biden…

— Donald J. Trump (@realDonaldTrump) September 14, 2020
…replied "Yes, Absolutely." Biden calls for abolishing cash bail and closing prisons — and Biden even called law enforcement "the ENEMY." Biden's anti-police crusade must STOP. Furthermore, the corporations funding anti-police organizations should instead give their money…

— Donald J. Trump (@realDonaldTrump) September 14, 2020
…to the families of crime victims and fallen officers. In the Republican Party, we know that police officers are not villains, but HEROES who risk their lives to KEEP US SAFE 24/7/365!

— Donald J. Trump (@realDonaldTrump) September 14, 2020
The exact same thing happened back in 2016 after a sustained period of BLM riots. https://t.co/NS8jlVlMoE

— Paul Joseph Watson (@PrisonPlanet) September 13, 2020
The two deputies are in critical condition according to the Los Angeles County Sheriff department, having undergone surgery Saturday night.
Reports and footage confirmed that a crowd of protesters reached the hospital's emergency room, and were heard chanting "we hope they die."
The sheriff's department also tweeted that the protesters blocked entries and exits to the hospital, with some engaging in phsyical confrontations with officers:
To the protesters blocking the entrance & exit of the HOSPITAL EMERGENCY ROOM yelling "We hope they die" referring to 2 LA Sheriff's ambushed today in #Compton: DO NOT BLOCK EMERGENCY ENTRIES & EXITS TO THE HOSPITAL. People's lives are at stake when ambulances can't get through.

— LA County Sheriffs (@LASDHQ) September 13, 2020
We are aware of the incident which occurred in front of a hospital which resulted in two arrests. There is footage of the incident and an active investigation is underway. We are unable to comment further at this time.

— Captain Kerry Carter (@CenturyStation) September 14, 2020
The Sheriff's department also confirmed that there are no known suspects at this time:
Currently, there is a social media post that is being circulated which identifies a male out of the Los Angeles area as the suspect responsible for the ambush of our 2 deputies yesterday. This is ERRONEOUS information and there are no named or wanted suspects at this time.

— LA County Sheriffs (@LASDHQ) September 14, 2020
"It pisses me off," Los Angeles County Sheriff Alex Villanueva was quoted Saturday night. "This was a cowardly act," the Sheriff added.
Sheriff Villanueva Discusses Ambush Shooting of Two Deputies in Compton. To watch the full press conference, please visit https://t.co/fOaVP5wTUe pic.twitter.com/7gXlbLQpAK

— LA County Sheriffs (@LASDHQ) September 13, 2020
There is a $100,000 reward for any information leading to the capture of the suspect:
$100K REWARD OFFER in Manhunt for Suspect in Ambush Shooting of 2 LA Sheriff's Deputies #Compton #LASD

Call investigators with your tips to 323-890-5500. https://t.co/gFFsQ72niE pic.twitter.com/N2uk4ONXKg

— LA County Sheriffs (@LASDHQ) September 13, 2020
"Black Lives Don't Seem To Matter When Taken By Black Lives": Maher, Rogan Go Off
Joe Rogan and 'old school Democrat' Bill Maher have had it with progressive policies towards crime and policing, and the hypocrisy over 'black lives' when blacks are killing each other.
"Murders have been happening way out of control in Chicago among the African-American Community for far too long and not really reported in the same way they should be," lamented Maher in an episode of the Joe Rogan Experience which aired on Saturday, adding "It's amazing how black lives don't seem to matter when they're taken by black lives," pointing to the MSM's asymmetric reporting.
"Their idea was like go in arrest the big kingpins and then we'll clean up the city. It didn't work at all."
Maher then asks 'where are the leaders of the community? The people who have such cache among those young African American men, to say 'cut it out! What the fuck are you doing to each other?'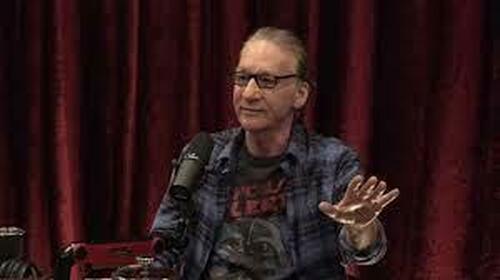 (Yes Bill, it would be nice if everything was an episode of the A-Team where ex-gangsters are high-fiving each other over paint rollers as they clean up the graffiti they just made & drug dealers flush their stashes because kingpins finally spoke out).
According to Rogan, "Austin defunded the police and refunded it far more than they defunded it because they course corrected," adding "They realized this was not working, and we have to do something to fix it. Which makes me happy because there's a lot of crime." (via KanekoaTheGreat).
"Liberalism was never 'shoplifting is progressive,'" Maher responded. "And we weren't interested in legalizing shoplifting, but after the George Floyd murder and riots, there was a movement to disband a lot of the police… And what happened was, of course, crime went up in certain areas, and a lot of the officers who were fired or let go, were hired as private security by the rich people, and their neighborhoods stayed safe. That wasn't exactly a victory for Liberalism."
Watch:
Bonus: Rogan goes off on the anti-Ivermectin crowd…
This post was originally published at Zero Hedge
Parent Slams California School For Holding 'No Whites Allowed' Kids Playdate
Hosted by the school 'equity & inclusion committee'.
A parent at a California elementary school has slammed officials for sanctioning a playdate for kids that essentially segregated them by race, and excluded white children.
A flyer for the event at Anthony Chabot Elementary School in Oakland, CA notes that it is "for black, brown and API families."
"If your family identifies as Black, Brown, or API or are [sic] a parent/caregiver of a Black, Brown, or API student. Come hang out while we get a chance to know each other and build our community as we kick off this schoolyear [sic]," reads the invite to the event.
Ironically it was hosted by the school 'equity & inclusion committee'.
Taking to social media, the parent noted "I dunno about others, but I'm genuinely upset about what ultimately boils down to a "No whites allowed" playdate."
"We'll look back and cringe so hard that we tried to beat racism by segregating kids of color from white kids," the parent added.
"How is this productive? Why are we continuing to segregate people, let alone KIDS," the parent also noted.
Related:
SUBSCRIBE on YouTube:
Follow on Twitter:
Follow @PrisonPlanet
———————————————————————————————————————
Brand new merch now available! Get it at https://www.pjwshop.com/


ALERT! In the age of mass Silicon Valley censorship It is crucial that we stay in touch.

We need you to sign up for our free newsletter here.

Support my sponsor – Summit Vitamins – super charge your health and well being.

Also, we urgently need your financial support here. ———————————————————————————————————————
Progressive Insurance Sued Over 'Patently Unlawful' Racism For $25K Black-Only Business Grants
Progressive insurance is being sued for "patently unlawful" racism over a program which awards exclusively black-owned businesses $25,000, while allegedly discriminating against businesses owned by white, asian, hispanic and anyone else who isn't black.
Filed in an Ohio federal court on Wednesday by the conservative group America First Legal (AFL) – which is headed by former senior Trump adviser Stephen Miller – the class-action lawsuit filed on behalf of the owner of Freedom Truck Dispatch, Nathan Roberts, claims that Progressive racially discriminated against non-black small-business owners by offering the grants to 10 "black-owned small businesses to use toward the purchase of a commercial vehicle."
The lawsuit claims that on May 24, Roberts – a customer of Progressive – received an email advertising "a grant opportunity for their [Progressive's] commercial-trucking small-business owners," but that "Progressive decided that only black-owned businesses would be eligible for these grants," since "studies have shown how inequities have made it harder for black entrepreneurs to access capital."
Progressive is joined by defendant Hello Alice, which it partnered with on the financial award extended to black-owned businesses with 10 or fewer employees and a turnaround below $5 million.
The insurance company announced its 2023 winners in a Tuesday press release, which stated that "Progressive is stepping in to provide funding to Black entrepreneurs to help navigate their small business journey."
According to Roberts' suit, the entire scheme was nothing more than "racially discriminatory grantmaking" with the "racially discriminatory requirement" to be black in order to qualify.
AFL lawyer Gene Hamilton told the Daily Mail that the case was part of a larger pushback against big corporations injecting "racial considerations into every aspect of their business operations, employment practices, and so much more."
The lawsuit asks that the court declare Progressive's grants illegal, and to award the plaintiffs "nominal" compensation and legal fees.
This post was originally published at Zero Hedge