Trump Calls For Death Penalty For Cop Attackers
"If you murder a police officer, you should receive the death penalty!"
President Trump called for the Death Penalty for a gunman who carried out a cold blooded attack on two Sheriff's Department deputies in LA, as sick protesters chanted "we hope they die."
"If they die, fast trial [and] death penalty for the killer," Trump raged on Sunday, adding "Only way to stop this."
If they die, fast trial death penalty for the killer. Only way to stop this! https://t.co/K3sKh28GjX

— Donald J. Trump (@realDonaldTrump) September 13, 2020
During his rally in Nevada, Trump repeated the call for the death penalty to be levied for cop killers:
If you murder a police officer, you should receive the death penalty! pic.twitter.com/07n5Rwrb4b

— Donald J. Trump (@realDonaldTrump) September 14, 2020
Our thoughts are with the two @LASDHQ Sheriff Deputies who were shot in Los Angeles. We send our love and support to their families and we pray to God for their recovery. pic.twitter.com/3leulrT42e

— Donald J. Trump (@realDonaldTrump) September 14, 2020
After the video of the gunman was shared by the Sherrif's Department, Trump declared "Animals that must be hit hard!" presumably referring to all who enact violence against police.
Animals that must be hit hard! https://t.co/zrOd9ZUl8o

— Donald J. Trump (@realDonaldTrump) September 13, 2020
California law does allow for the death penalty for such a crime, should the officers not pull through. However, there has not been an execution in the state for 14 years. In addition, Governor Gavin Newsom issued a moratorium on executions last year.
Trump also slammed Joe Biden and the Democrats for enabling anti-police sentiment:
For the entire summer, Joe Biden was SILENT as left-wing mobs assaulted police officers. When Biden's far-left supporters set fire to police cars, precinct stations, and courthouses, Joe Biden called them "PEACEFUL PROTESTORS." When asked if he would cut police funding, Biden…

— Donald J. Trump (@realDonaldTrump) September 14, 2020
…replied "Yes, Absolutely." Biden calls for abolishing cash bail and closing prisons — and Biden even called law enforcement "the ENEMY." Biden's anti-police crusade must STOP. Furthermore, the corporations funding anti-police organizations should instead give their money…

— Donald J. Trump (@realDonaldTrump) September 14, 2020
…to the families of crime victims and fallen officers. In the Republican Party, we know that police officers are not villains, but HEROES who risk their lives to KEEP US SAFE 24/7/365!

— Donald J. Trump (@realDonaldTrump) September 14, 2020
The exact same thing happened back in 2016 after a sustained period of BLM riots. https://t.co/NS8jlVlMoE

— Paul Joseph Watson (@PrisonPlanet) September 13, 2020
The two deputies are in critical condition according to the Los Angeles County Sheriff department, having undergone surgery Saturday night.
Reports and footage confirmed that a crowd of protesters reached the hospital's emergency room, and were heard chanting "we hope they die."
The sheriff's department also tweeted that the protesters blocked entries and exits to the hospital, with some engaging in phsyical confrontations with officers:
To the protesters blocking the entrance & exit of the HOSPITAL EMERGENCY ROOM yelling "We hope they die" referring to 2 LA Sheriff's ambushed today in #Compton: DO NOT BLOCK EMERGENCY ENTRIES & EXITS TO THE HOSPITAL. People's lives are at stake when ambulances can't get through.

— LA County Sheriffs (@LASDHQ) September 13, 2020
We are aware of the incident which occurred in front of a hospital which resulted in two arrests. There is footage of the incident and an active investigation is underway. We are unable to comment further at this time.

— Captain Kerry Carter (@CenturyStation) September 14, 2020
The Sheriff's department also confirmed that there are no known suspects at this time:
Currently, there is a social media post that is being circulated which identifies a male out of the Los Angeles area as the suspect responsible for the ambush of our 2 deputies yesterday. This is ERRONEOUS information and there are no named or wanted suspects at this time.

— LA County Sheriffs (@LASDHQ) September 14, 2020
"It pisses me off," Los Angeles County Sheriff Alex Villanueva was quoted Saturday night. "This was a cowardly act," the Sheriff added.
Sheriff Villanueva Discusses Ambush Shooting of Two Deputies in Compton. To watch the full press conference, please visit https://t.co/fOaVP5wTUe pic.twitter.com/7gXlbLQpAK

— LA County Sheriffs (@LASDHQ) September 13, 2020
There is a $100,000 reward for any information leading to the capture of the suspect:
$100K REWARD OFFER in Manhunt for Suspect in Ambush Shooting of 2 LA Sheriff's Deputies #Compton #LASD

Call investigators with your tips to 323-890-5500. https://t.co/gFFsQ72niE pic.twitter.com/N2uk4ONXKg

— LA County Sheriffs (@LASDHQ) September 13, 2020
TikToker Who Filmed Himself Committing Crimes For Clout Says Outrage Is Only Because He's a "Black Male"
Big doubt.
A TikToker who filmed himself committing crimes for social media clout, leading to his arrest, says people are only outraged because he's a "black male".
Yes, really.
18-year-old Bacari Ogarro, known online as 'Mizzy', went viral after recording himself committing numerous criminal offenses, including invading people's homes, stealing dogs and harassing people on the street.
One of his 'pranks' included wearing a balaclava and walking up to people in London and aggressively asking them, "Do you want to die?" before pulling out a bottle and saying, "It's just hair dye."
Another video showed Mizzy physically assaulting Orthodox Jews in the Stamford Hill area of London by vaulting over their backs.
He has also filmed himself getting into random people's cars and walking into a library before tearing up a book.
After his antics attracted an avalanche of social media attention, Mizzy responded by saying it was worth it for the views and likes, celebrating the fact that he was "blowing up" online.
However, his luck ran out when police announced a number of charges and Mizzy was forced to hand himself in at Bethnal Green station to be arrested.
Breaking 🚨📰

British TikToker Mizzy has SURRENDERED to the Metropolitan Police.

The 18 year old TikToker who sparked outrage for filming a home invasion on a family home is now in custody at Bethnal Green Police Station. pic.twitter.com/GOxf9YAJ2S

— Oli London (@OliLondonTV) May 22, 2023
However, before he was taken into custody, Ogarro told media outlets that he was being targeted not because he committed a laundry list of crimes, but because he was black.
"I'm a Black male doing these things and that's why there's such an uproar on the internet," said the TikToker.
It doesn't matter whether you're, white, black or brown. If you assault Orthodox Jews, ask women at night if they wanted to die and damage property in a library, you deserve the consequences.

Deflecting with the race card is pathetic. Sadly there are some who would fall for it. pic.twitter.com/Jo5mFybm6Z

— Chris Rose (@ArchRose90) May 22, 2023
"Controversy, even though it's not good, is the best way to blow up on social media. I always know outrage is going to happen. I know exactly what I'm doing and the consequences of my actions. I tell people not to reciprocate what I've done," he added.
Despite having filmed himself carrying out the crimes months ago, Mizzy was only arrested after MPs voiced concern about his behavior.
As we document in the video above, some of them have tried to exploit the outrage to push for the passage of the Online Safety Bill, which has the potential to target lawful but "harmful" free speech for censorship.
SUBSCRIBE on YouTube:
Follow on Twitter: Follow @PrisonPlanet
———————————————————————————————————————
Brand new merch now available! Get it at https://www.pjwshop.com/
ALERT!
In the age of mass Silicon Valley censorship It is crucial that we stay in touch.
I need you to sign up for my free newsletter here.
Support my sponsor – Turbo Force – a supercharged boost of clean energy without the comedown.
Get early access, exclusive content and behind the scenes stuff by following me on Locals.
———————————————————————————————————————
Uber's Asian Diversity Chief Put on Leave After Hosting "Don't Call Me Karen" Event Addressing Anti-White Racism
Uber diversity chief Bo Young Lee has been suspended from her job for hosting a "Don't Call Me Karen" event for the company's White female employees to discuss the "American white woman's experience" in dealing with the anti-white "Karen" slur.
From The New York Times, "Uber's Diversity Chief Put on Leave After Complaints of Insensitivity":
Uber has placed its longtime head of diversity, equity and inclusion on leave after workers complained that an employee event she moderated, titled "Don't Call Me Karen," was insensitive to people of color.

Dara Khosrowshahi, Uber's chief executive, and Nikki Krishnamurthy, the chief people officer, last week asked Bo Young Lee, the head of diversity, "to step back and take a leave of absence while we determine next steps," according to an email on Thursday from Ms. Krishnamurthy to some employees that was viewed by The New York Times.

"We have heard that many of you are in pain and upset by yesterday's Moving Forward session," the email said. "While it was meant to be a dialogue, it's obvious that those who attended did not feel heard."

Employees' concerns centered on a pair of events, one last month and another last Wednesday, that were billed as "diving into the spectrum of the American white woman's experience" and hearing from white women who work at Uber, with a focus on "the 'Karen' persona." They were intended to be an "open and honest conversation about race," according to the invitation.

But workers instead felt that they were being lectured on the difficulties experienced by white women and why "Karen" was a derogatory term and that Ms. Lee was dismissive of their concerns,according to messages sent on Slack, a workplace messaging tool, that were viewed by The Times.

The term Karen has become slang for a white woman with a sense of entitlement who often complains to a manager and reports Black people and other racial minorities to the authorities. Employees felt the event organizers were minimizing racism and the harm white people can inflict on people of color by focusing on how "Karen" is a hurtful word, according to the messages and an employee who attended the events.
Richard Hanania first broke the story on Twitter.
"EXCLUSIVE: Uber has put its chief DEI officer Bo Young Lee on a leave of absence after a series of complaints," Hanania reported. "This was after a DEI session called Moving Forward: Don't Call Me Karen. An employee organization called 'Black at Uber' is celebrating."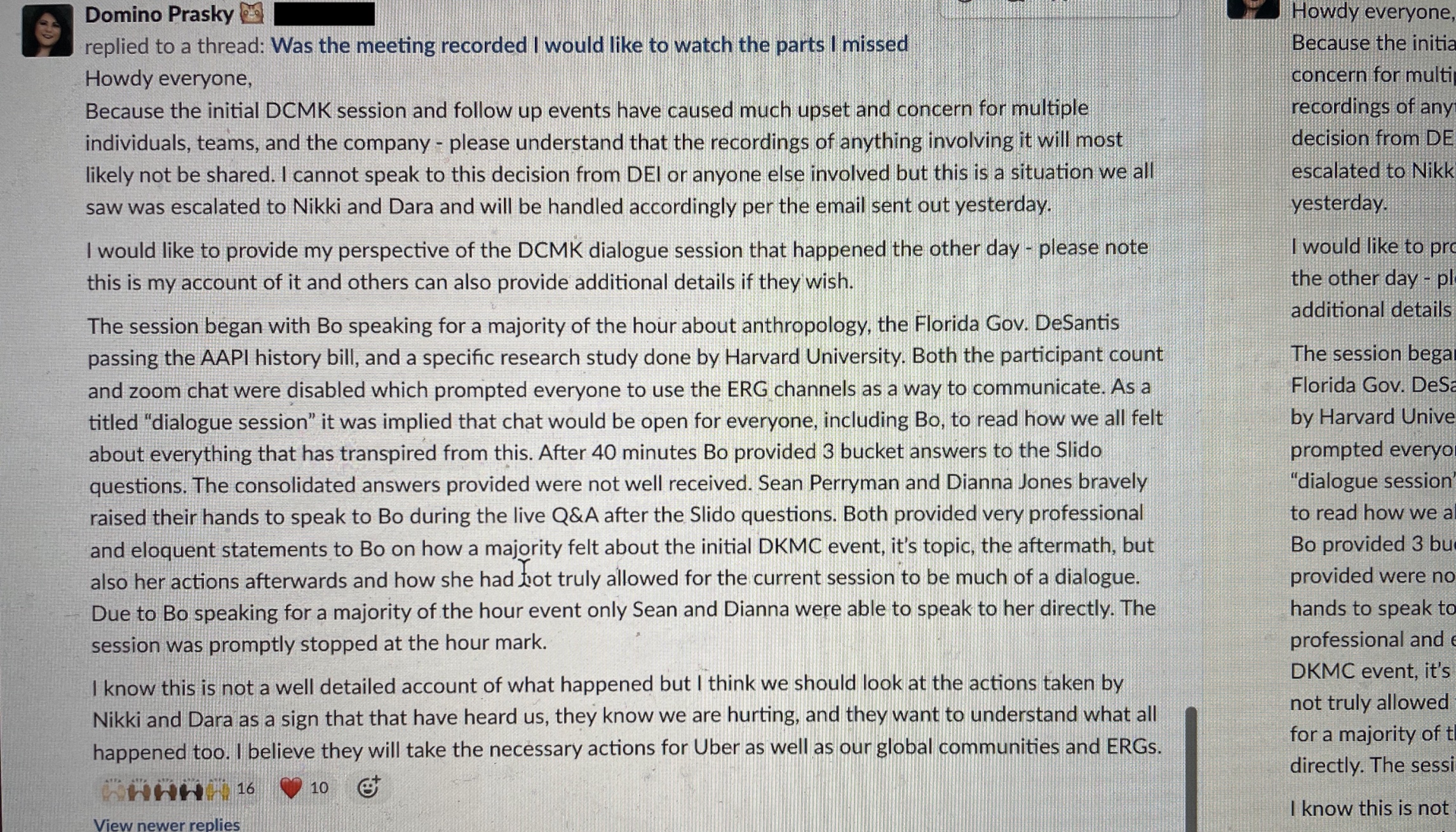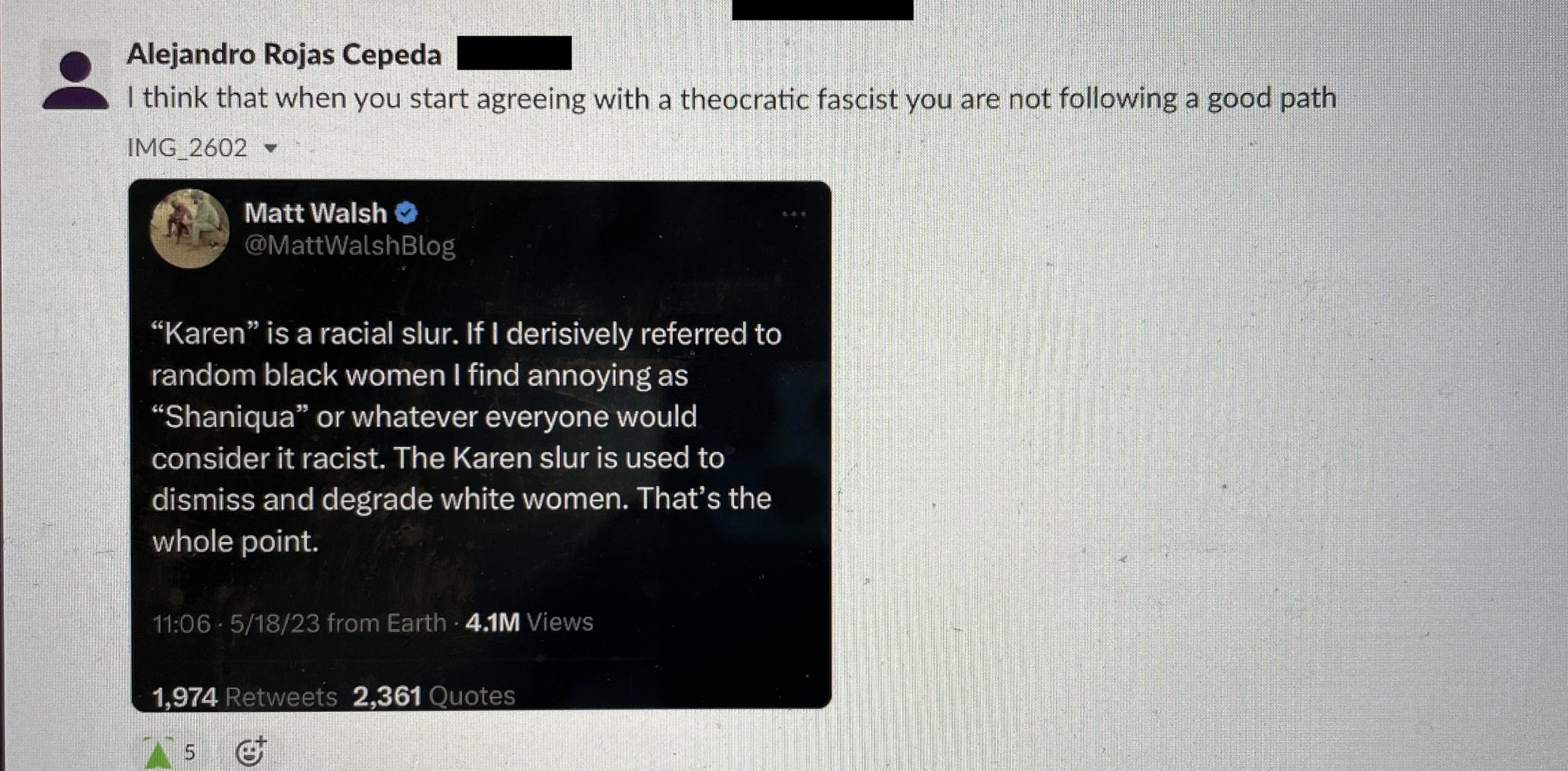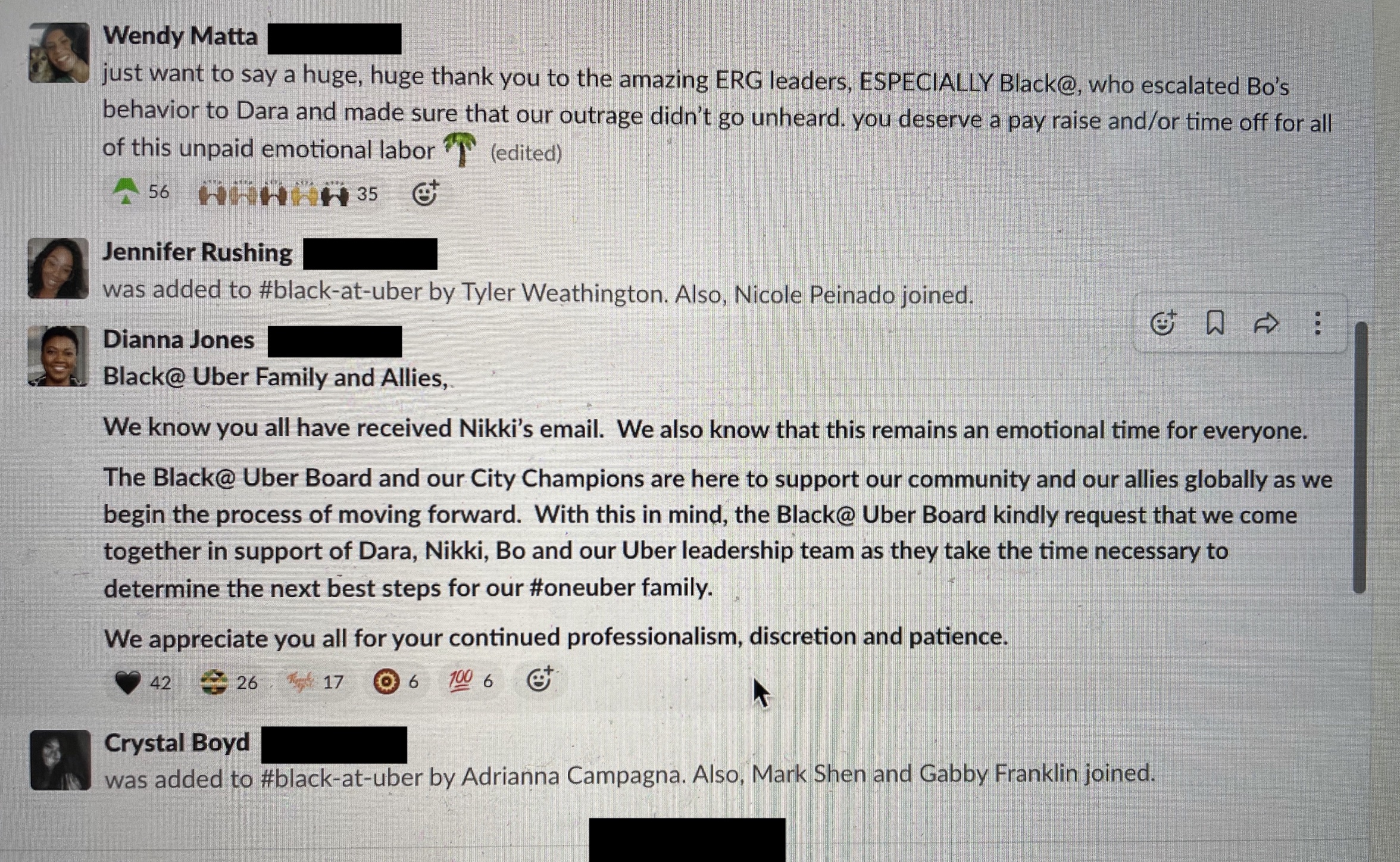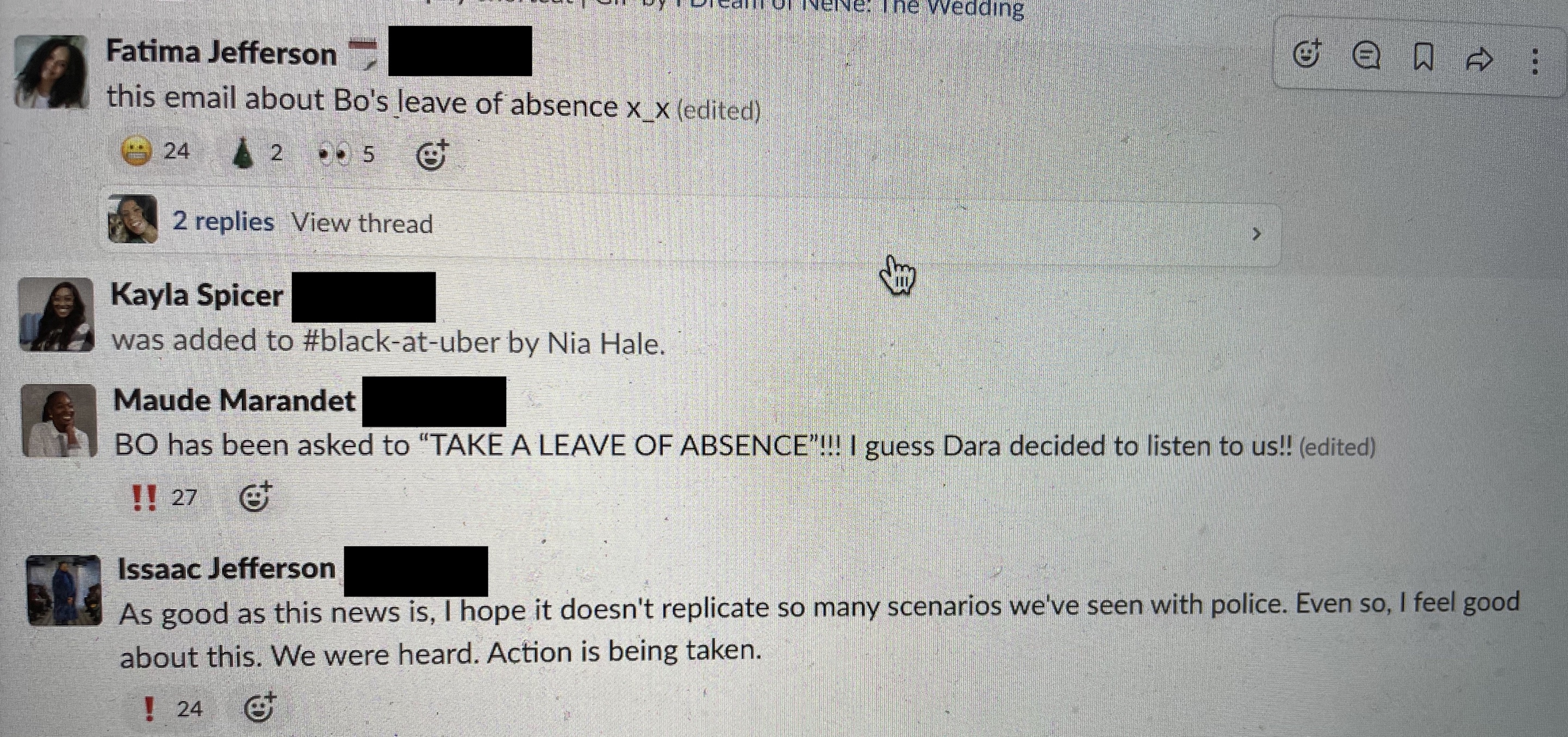 "It doesn't appear that many men are involved here," Hanania said. "Below are the advertisements for the session, and the email announcing the leave of absence."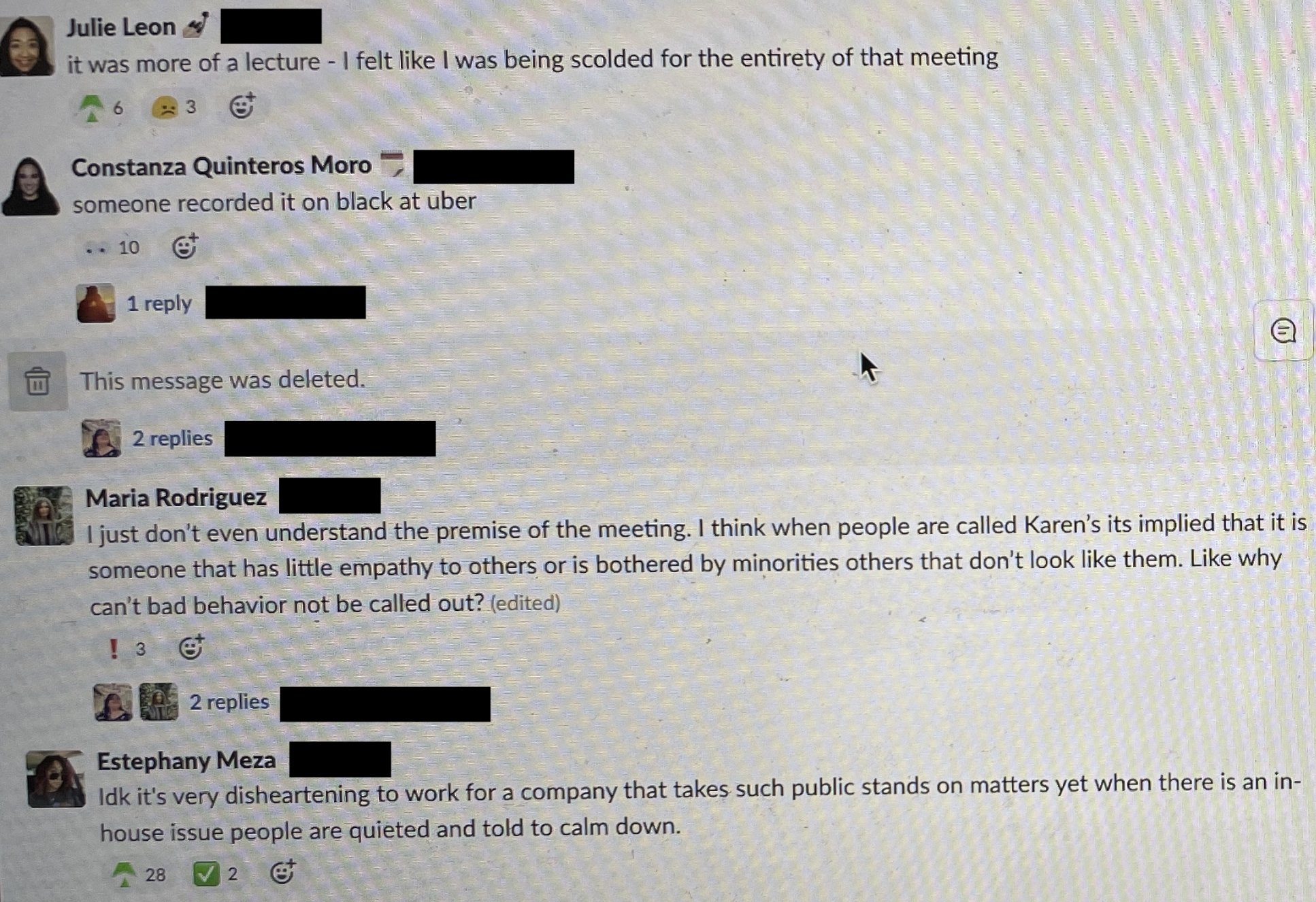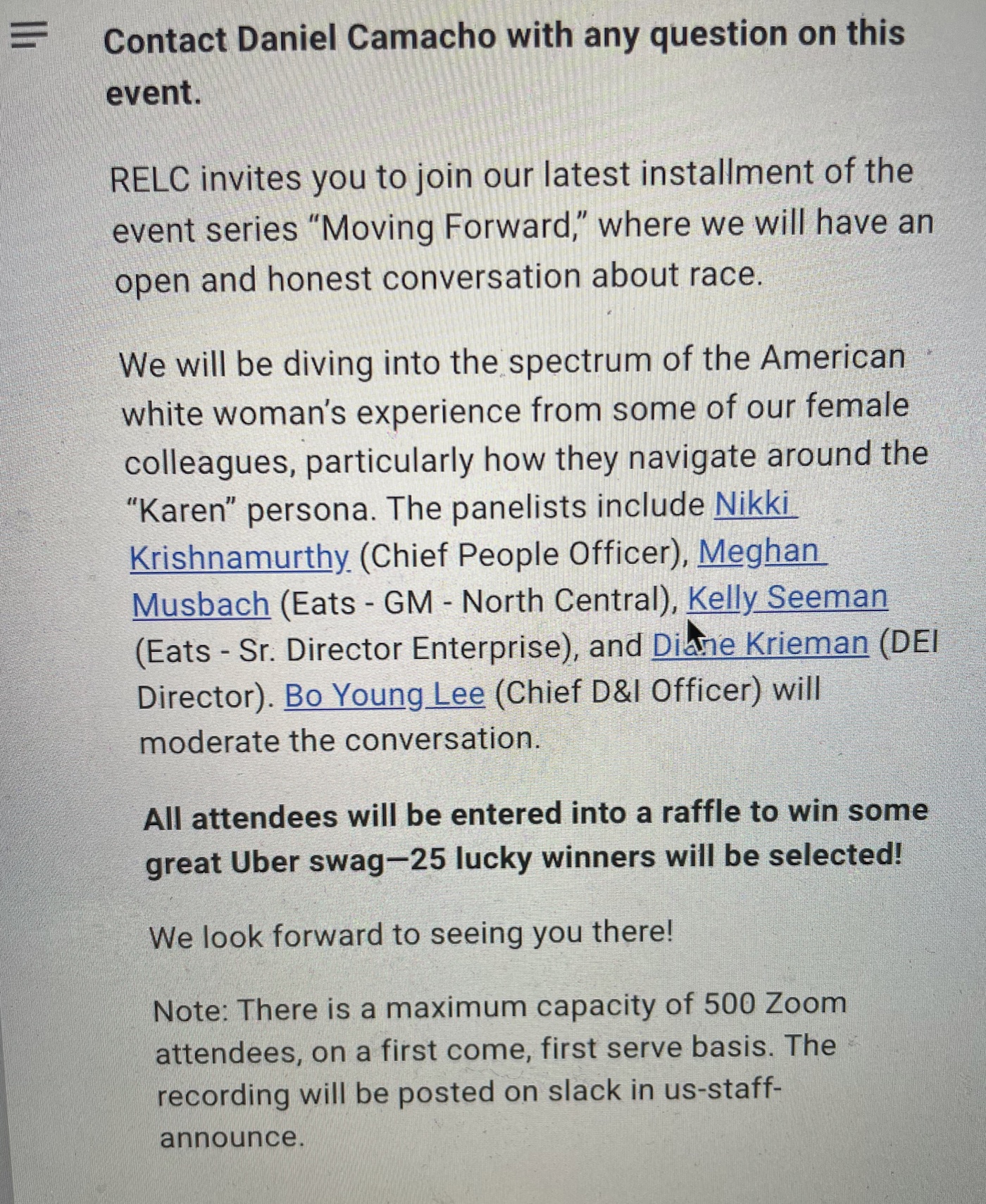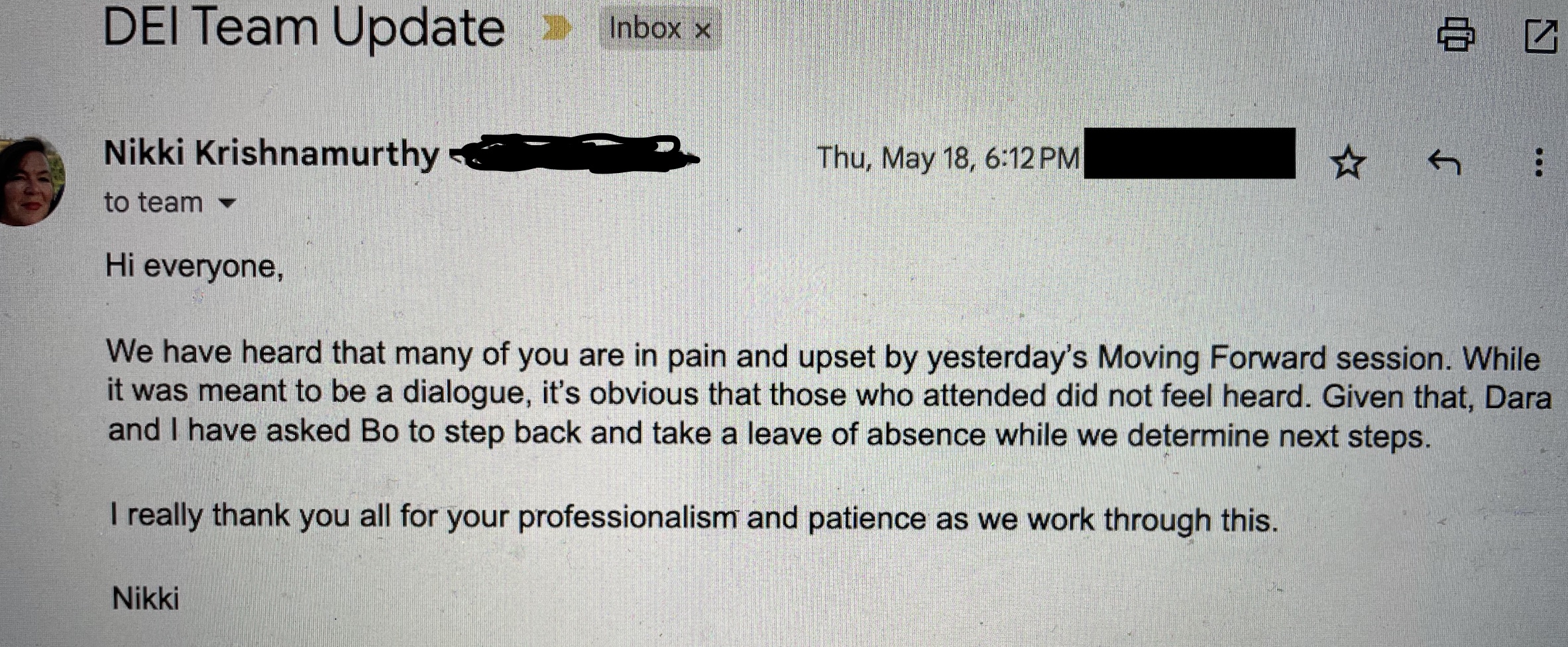 "This appears to be a classic case of women's tears," he continued. "The 'Karen' slur upset white women, Asian women in DEI tried to show some sympathy, black women are angry and got the head Asian woman put on leave. Where are the men? Doing the real work, apparently."
"One of the female members of the Blacks at Uber group tries to shame the Latinos at Uber organization for not being outraged enough, gets a few to respond," Hanania said, sharing the image below. "One woman was triggered by being told that not everything has to be triggering."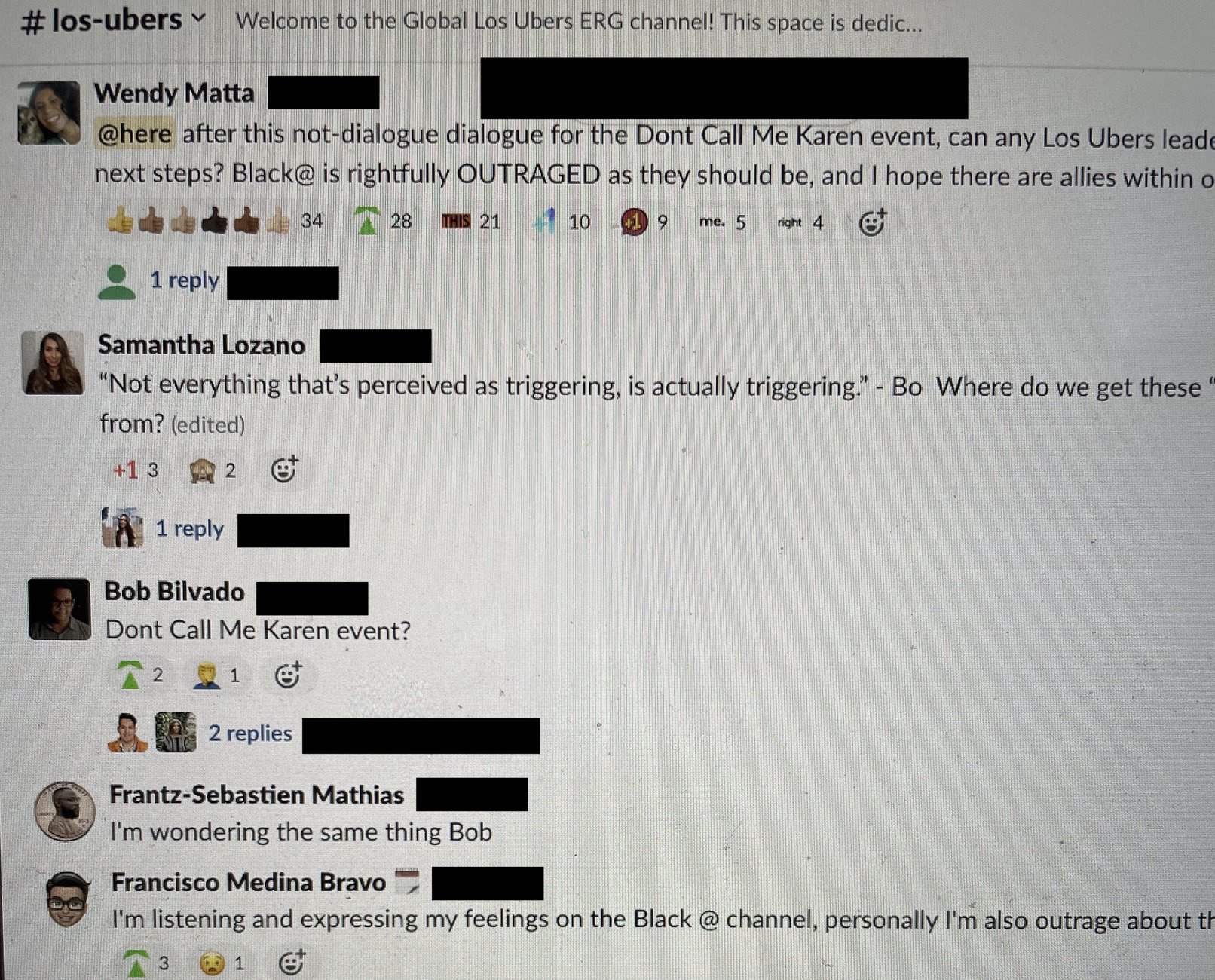 "More from the Latinos at Uber channel," he continued. "Women rushing to reassure the original triggered women that their feelings are valid and they as Latinas are also very very upset."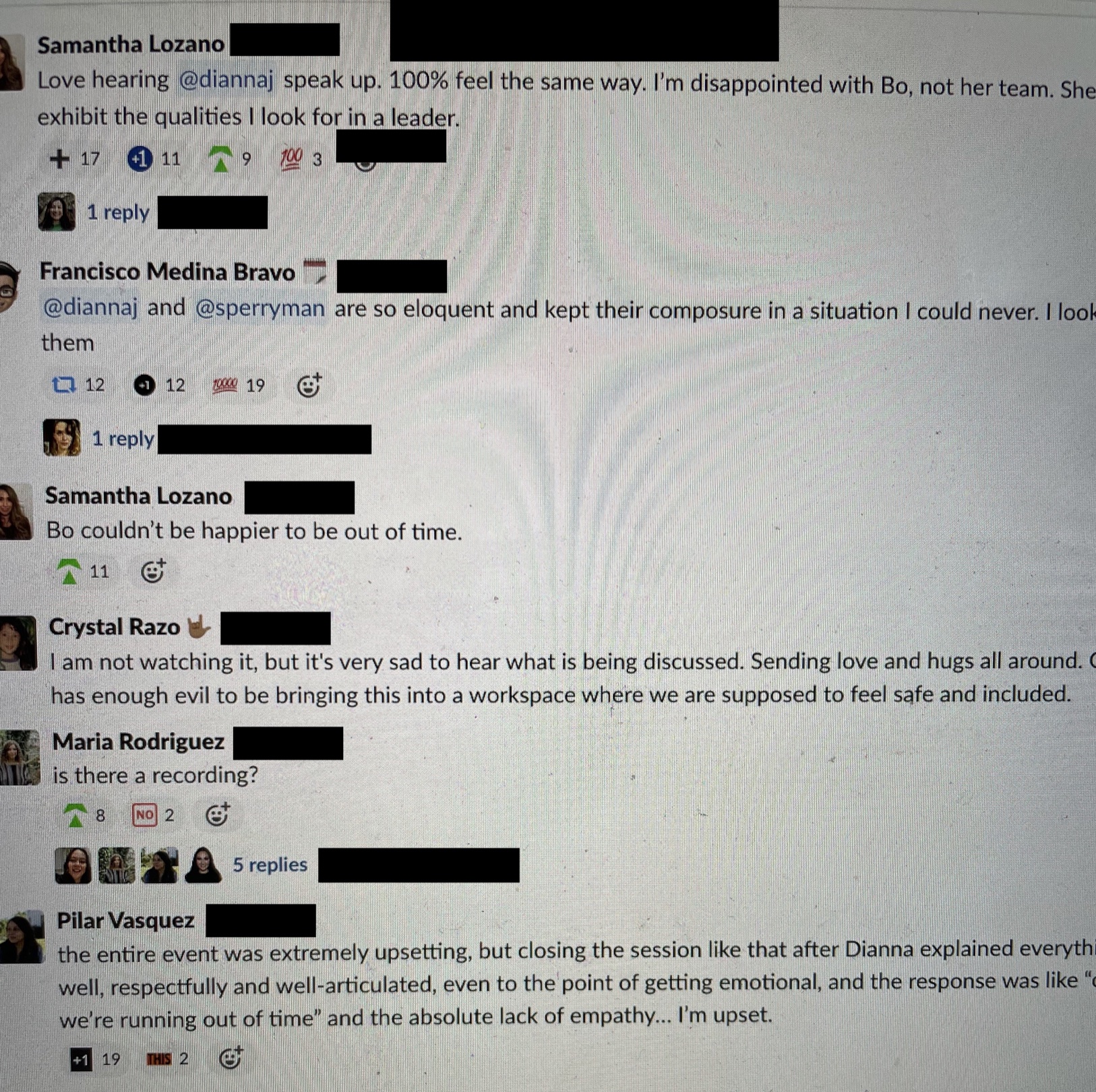 This story reminds me of how Apple's diversity chief Denise Young Smith, who is Black, was fired from her job and replaced with a liberal White woman because she said that a group of "blue-eyed blonde men" can be diverse.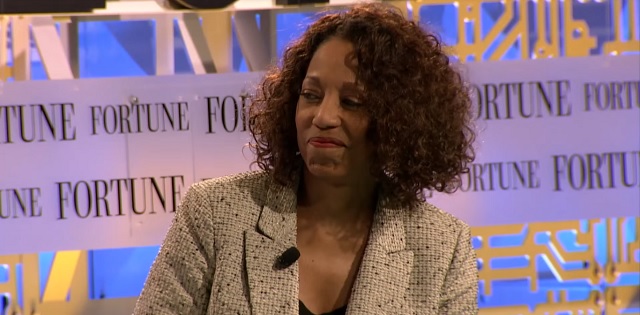 "Diversity is the human experience," Smith said at the One Young World Summit in Bogota, Colombia in Oct 2017. "I get a little bit frustrated when diversity or the term diversity is tagged to the people of color, or the women, or the LGBT."
"There can be 12 White blue-eyed blonde men in a room and they are going to be diverse too because they're going to bring a different life experience and life perspective to the conversation," Smith said.
DEI (aka DIE) is a one-way street.
We're told incessantly by the media and our ruling elites that America is a "white supremacist" nation and yet non-white diversity chiefs can't even discuss anti-white racism without losing their jobs.
There is "systemic racism" in this country but it's the opposite of what we've been told.
This post was originally published at Information Liberation
White People Told They're Not Welcome at BLM-Inspired London Play
Diversity = no white people.
White people have been told not to attend a BLM-inspired theatre production in London so that black audience members can enjoy it without being subjected to "the white gaze."
Yes, really.
The Theatre Royal Stratford East, which is located in a 'diverse' area of London has been accused of setting a "dangerous precedent" after it was revealed that white visitors have been told to stay away from the July 5 performance of Tambo & Bones.
The director of the play Matthew Xia said that the play was a "darkly provocative satire on race" about two characters who "find themselves trapped in a minstrel show" and end up doing "the only thing that is possible to do to really break out of the white gaze."
"It's hilarious, it's provocative… it's got a hip hop concert in the middle". Can't ask for more than that!

We sat down with @Excalibah, director of TAMBO & BONES, to find out more about the show

Book now: https://t.co/Pg5iQdng5u pic.twitter.com/5cmKdVX2rX

— Stratford East (@stratfordeast) May 4, 2023
The characters later stage a hip hop performance in the middle of the show and then become members of the violent revolutionary communist Black Lives Matter group.
Theatre organizers said the one-off "Black Out" event would serve to create a "safe, private" space for an "all-black-identifying audience" to explore race-related issues, and that white people were not welcome.
Presumably, white people who 'identify' as black can still attend.
Diversity = no white people. pic.twitter.com/w1deRcyDf9

— Paul Joseph Watson (@PrisonPlanet) May 21, 2023
"A Black Out night is the purposeful creation of an environment in which an all-black-identifying audience can experience and discuss an event in the performing arts, film, and cultural spaces – free from the white gaze," states a description for the show.
Britain's first black police and crime commissioner (PCC), Festus Akinbusoye, said excluding white people sets a "poor and dangerous precedent" and "strongly urged" the theatre and director to cancel the event entirely.
Expect the play to be sparsely attended given that the vast majority of people who attend social justice-style plays are middle class white people trying to atone for their self-inflicted 'white guilt'.
In this case, 'diversity' appears to mean no white people.
SUBSCRIBE on YouTube:
Follow on Twitter: Follow @PrisonPlanet
———————————————————————————————————————
Brand new merch now available! Get it at https://www.pjwshop.com/
ALERT!
In the age of mass Silicon Valley censorship It is crucial that we stay in touch.
I need you to sign up for my free newsletter here.
Support my sponsor – Turbo Force – a supercharged boost of clean energy without the comedown.
Get early access, exclusive content and behind the scenes stuff by following me on Locals.
———————————————————————————————————————