Support For Black Lives Matter Plummets in Wisconsin Amidst Kenosha Riots
Lifelong Democrats say they're either not voting or voting for Trump.
Support for Black Lives Matter in the key swing state of Wisconsin has plummeted from +25 approval to zero amidst the riots in Kenosha.
The city has been plagued by rioting, looting, violence and arson all week following the police killing of Jacob Blake, culminating in the Tuesday night shooting of three BLM protesters, two fatally, by a 17-year-old who acted in self-defense.
A new poll suggests that the bedlam is turning people against Black Lives Matter, and by proxy Joe Biden, who has endorsed BLM on numerous occasions.
"Democrats need to be extremely concerned about what's happening in Wisconsin, where support for BLM has gone from +25 to +0 in 2 months," tweeted Jonathan Chait.
He cites a newly released RPubs poll which also shows that approval for Black Lives Matter amongst whites has dropped from +22 to -5 since June.
Democrats need to be extremely concerned about what's happening in Wisconsin, where support for BLM has gone from +25 to +0 in 2 months. https://t.co/2wNMWoW6it

— Jonathan Chait (@jonathanchait) August 27, 2020
The poll was taken before much of the violence unfolded in Kenosha, meaning the numbers are likely even worse for BLM approval.
The poll numbers are backed up by anecdotal evidence from a New York Times article about how the violence is "already swaying some voters in Kenosha."
The article quotes several voters who say their support for Trump has hardened because of the riots, while also highlighting how the chaos is driving Democrats away from Joe Biden.
For example, 59-year-old Scott Haight said he was a "lifelong Democrat" but that he isn't going to vote this year.
Priscella Gazda, who only voted once in her life – for Obama in 2008 – told the newspaper, "I am going to vote for Trump. He seems to be more about the American people and what we need."
As we highlighted earlier this week, people like Don Lemon are suddenly expressing concern that the relentless rioting is harming Democrats' chances in the 2020 election.
"I think Democrats are ignoring this problem or hoping that it will go away…Joe Biden may be afraid to do it…He's got to address it. He's got to come out and talk about it," said the CNN host.
A CNN poll earlier this month also found that Biden's lead over Trump had dropped from 14 points in early June to just 4 points following three months of unrest.
A separate Pew poll also found that almost as many American voters now view violent crime as an important election issue compared to coronavirus, something that is likely to help President Trump.
"A sizable 59 percent of voters in the survey indicate that violent crime, which President Trump has framed as happening in Democrat-controlled cities, is a "very important" factor in casting their ballots," writes Rusty Weiss.
Democrats are clearly starting to become very nervous that more moderate voters are turned off by Black Lives Matter/Antifa rioting, but the notion that they can do anything to reign in the mayhem looks incredibly unlikely.
SUBSCRIBE on YouTube:
Follow on Twitter: Follow @PrisonPlanet
———————————————————————————————————————
ALERT!
In the age of mass Silicon Valley censorship It is crucial that we stay in touch.
I need you to sign up for my free newsletter here.
Also, I urgently need your financial support here.
———————————————————————————————————————
Video: Don Lemon From 2013 Would Now Be Accused Of Being A White Supremacist
A glimpse of what life was like before the woke mind virus
In the wake of CNN's last remaining woke host being sidelined for making a 'sexist' and 'ageist' remark about Nikki Haley, a video of Don Lemon from 2013 in which he surprisingly speaks sense has gone viral.
The video shows Lemon talking about what the black community should do to fix its problems, including stop littering, and encouraging kids to try harder in school.
The host also extols the virtues of marriage, and warns about the problem of absent fathers, asserting "just because you can have a baby doesn't mean you should."
Lemon even tells young black men to stop using the N word and to pull up their pants and stop walking around with their asses hanging out looking like prison bitches.
Imagine the meltdown that would occur if Lemon spoke like this today, just 10 years later:
Some pointed out how frightening it is that things changed so monumentally because of the woke mid virus:
What happened to that guy?
SUBSCRIBE on YouTube:
Follow on Twitter:
Follow @PrisonPlanet
———————————————————————————————————————
Brand new merch now available! Get it at https://www.pjwshop.com/


ALERT! In the age of mass Silicon Valley censorship It is crucial that we stay in touch.

We need you to sign up for our free newsletter here.

Support our sponsor – Turbo Force – a supercharged boost of clean energy without the comedown.

Also, we urgently need your financial support here. ———————————————————————————————————————
VIDEO: White Boy 'Strangled' by Black Girl on School Bus in Virginia
A Fort Belvoir mom has released shocking video of her 12-year-old son being "strangled" by a girl twice his size on a school bus in Virginia and claims her son's abuser only received a slap on the wrist. 
WATCH:
From WUSA 9, "VIDEO: Boy choked on school bus, mother demands consequences":
Taylor Brock said her son was captured on cell phone video being choked by a female classmate on a school bus from Walt Whitman Middle School in Alexandria.

In the one-minute video, the girl could be seen smacking her son and grabbing him by the mouth. There was a brief exchange between the two before she grabs him by the neck. Seconds later, the girl appeared to be choking him against the seat.

"My son came home crying, and I saw the marks on his neck," Brock said. "It breaks my heart that there are all these kids on the bus and not one decided to stand up."

The incident happened in late January, but she posted the video through her business website on Monday. She said the response from the school to keep her child safe has been inadequate.

Brock said she not only pressed charges but had a Fairfax County judge grant a protective order against the girl earlier this month.
"When I got my son a two year protection order, the Judge who saw this video and pictures asked if the girl still attended the school to which I replied 'yes,'" Brock said on her website. "The Judge was confused and asked if the school knows about this event and if they understand the severity and gravity of what happened. I asked the school why they thought suspension was enough for strangulation to which they replied, 'We have protocols we have to follow and execute punishment according to the School's Code of Conduct.'"
"They can't create a safe environment for our kids if they sweep these violent acts under the rug, hoping no one hears about them," Brock said.
Brock also shared photos of the marks left on her son's neck from the abuse.
It strikes me that if the girl in this situation had (falsely) claimed her son cut one of her dreadlocks it would make international news as we saw with a viral hate hoax out of Virginiain 2019.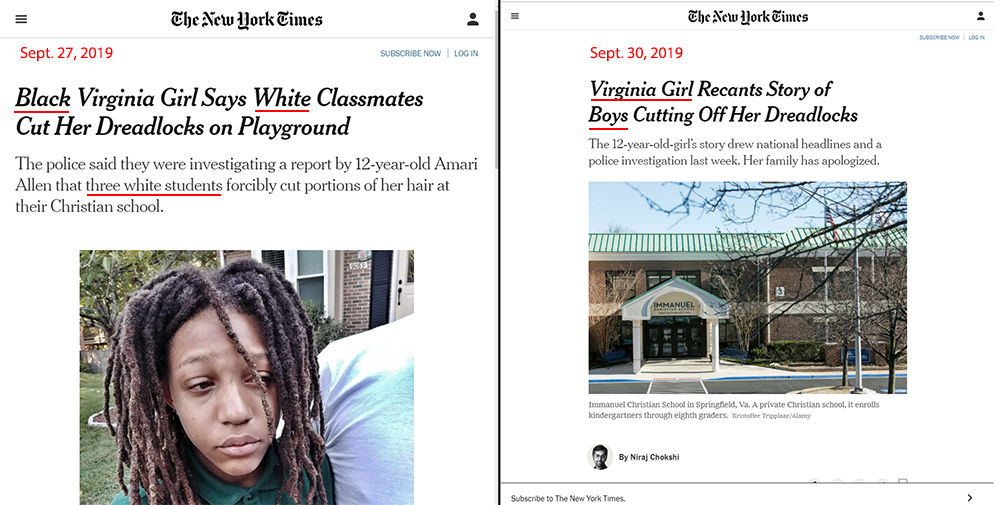 Instead, this vicious abuse is just going to be ignored as we saw with another similar attack in Homestead, Florida earlier this month.
This post was originally published at Information Liberation
"Why Is The NFL Trying To Divide Us?": 'Black National Anthem' Performed At Super Bowl
"Seems racist and divisive."
The NFL kicked off the Super Bowl with a performance of a song that has been dubbed the 'black national anthem,' before featuring the actual U.S. anthem, causing anger among detractors who charged that the decision was divisive.
The song, 'Lift Every Voice and Sing,' performed by Sheryl Lee Ralph, was adopted by the NAACP in 1917, and has since been known as a 'black national anthem'.
The NFL has been playing the song before games since 2020 after the BLM riots in the wake of the George Floyd incident.
This is the third consecutive time it has been played at the Super Bowl, but the first time it has been performed live.
Many criticised the move, pointing out that having two anthems sends a message that Americans are separated by race.
SUBSCRIBE on YouTube:
Follow on Twitter:
Follow @PrisonPlanet
———————————————————————————————————————
Brand new merch now available! Get it at https://www.pjwshop.com/


ALERT! In the age of mass Silicon Valley censorship It is crucial that we stay in touch.

We need you to sign up for our free newsletter here.

Support our sponsor – Turbo Force – a supercharged boost of clean energy without the comedown.

Also, we urgently need your financial support here. ———————————————————————————————————————