Goodyear Diversity Training: "Zero Tolerance" For MAGA, but Black Lives Matter & LGBT is Encouraged
Company absurdly argues supporting Black Lives Matter isn't political.
Goodyear is facing calls for a boycott after a slide outlining the company's "zero-tolerance policy" said Black Lives Matter and LGBT attire was acceptable but that MAGA attire and 'All Lives Matter' slogans were not.
The slide was presented during a "diversity training" session at the Topeka plant by an area manager and came straight from Goodyear's corporate office in Akron, Ohio before being leaked on social media.
The slide is headlined "zero tolerance" and makes clear which opinions are allowed and which aren't.
Under acceptable: Black Lives Matter (BLM), Lesbian, Gay, Bisexual, Transgender Pride.
Listed as unacceptable: Blue Lives Matter, All Lives Matter, MAGA Attire, Political Affiliated Slogans or Material.
After the slide was revealed, Goodyear issued the following statement:
"Goodyear is committed to fostering an inclusive and respectful workplace where all of our associates can do their best in a spirit of teamwork. As part of this commitment, we do allow our associates to express their support on racial injustice and other equity issues but ask that they refrain from workplace expressions, verbal or otherwise, in support of political campaigning for any candidate or political party as well as other similar forms of advocacy that fall outside the scope of equity issues."
Goodyear's statement is patently ludicrous. To suggest that supporting Black Lives Matter isn't a political statement is absurd.
BLM is a revolutionary Marxist extremist movement responsible for innumerable violent attacks and numerous murders of police officers.
It's an organization that has repeatedly expressed its agenda to destroy capitalism.
Claiming that support for BLM isn't political is as stupid as claiming support for the Weather Underground in the 1970's wasn't political.
"If someone wants to wear a BLM shirt in here, then cool. I'm not going to get offended about it," the employee who leaked the slide told Cleveland 19News.
"But at the same time, if someone's not going to be able to wear something that is politically based, even in the farthest stretch of the imagination, that's discriminatory. If we're talking about equality, then it needs to be equality. If not, it's discrimination."
Numerous people took to Twitter to call for a boycott of the company, although Goodyear is just as likely to get a boost in revenue from the free 'woke' advertising the controversy will generate.
SUBSCRIBE on YouTube:
Follow on Twitter: Follow @PrisonPlanet
———————————————————————————————————————
ALERT!
In the age of mass Silicon Valley censorship It is crucial that we stay in touch.
I need you to sign up for my free newsletter here.
Also, I urgently need your financial support here.
———————————————————————————————————————
Video: Don Lemon From 2013 Would Now Be Accused Of Being A White Supremacist
A glimpse of what life was like before the woke mind virus
In the wake of CNN's last remaining woke host being sidelined for making a 'sexist' and 'ageist' remark about Nikki Haley, a video of Don Lemon from 2013 in which he surprisingly speaks sense has gone viral.
The video shows Lemon talking about what the black community should do to fix its problems, including stop littering, and encouraging kids to try harder in school.
The host also extols the virtues of marriage, and warns about the problem of absent fathers, asserting "just because you can have a baby doesn't mean you should."
Lemon even tells young black men to stop using the N word and to pull up their pants and stop walking around with their asses hanging out looking like prison bitches.
Imagine the meltdown that would occur if Lemon spoke like this today, just 10 years later:
Some pointed out how frightening it is that things changed so monumentally because of the woke mid virus:
What happened to that guy?
SUBSCRIBE on YouTube:
Follow on Twitter:
Follow @PrisonPlanet
———————————————————————————————————————
Brand new merch now available! Get it at https://www.pjwshop.com/


ALERT! In the age of mass Silicon Valley censorship It is crucial that we stay in touch.

We need you to sign up for our free newsletter here.

Support our sponsor – Turbo Force – a supercharged boost of clean energy without the comedown.

Also, we urgently need your financial support here. ———————————————————————————————————————
VIDEO: White Boy 'Strangled' by Black Girl on School Bus in Virginia
A Fort Belvoir mom has released shocking video of her 12-year-old son being "strangled" by a girl twice his size on a school bus in Virginia and claims her son's abuser only received a slap on the wrist. 
WATCH:
From WUSA 9, "VIDEO: Boy choked on school bus, mother demands consequences":
Taylor Brock said her son was captured on cell phone video being choked by a female classmate on a school bus from Walt Whitman Middle School in Alexandria.

In the one-minute video, the girl could be seen smacking her son and grabbing him by the mouth. There was a brief exchange between the two before she grabs him by the neck. Seconds later, the girl appeared to be choking him against the seat.

"My son came home crying, and I saw the marks on his neck," Brock said. "It breaks my heart that there are all these kids on the bus and not one decided to stand up."

The incident happened in late January, but she posted the video through her business website on Monday. She said the response from the school to keep her child safe has been inadequate.

Brock said she not only pressed charges but had a Fairfax County judge grant a protective order against the girl earlier this month.
"When I got my son a two year protection order, the Judge who saw this video and pictures asked if the girl still attended the school to which I replied 'yes,'" Brock said on her website. "The Judge was confused and asked if the school knows about this event and if they understand the severity and gravity of what happened. I asked the school why they thought suspension was enough for strangulation to which they replied, 'We have protocols we have to follow and execute punishment according to the School's Code of Conduct.'"
"They can't create a safe environment for our kids if they sweep these violent acts under the rug, hoping no one hears about them," Brock said.
Brock also shared photos of the marks left on her son's neck from the abuse.
It strikes me that if the girl in this situation had (falsely) claimed her son cut one of her dreadlocks it would make international news as we saw with a viral hate hoax out of Virginiain 2019.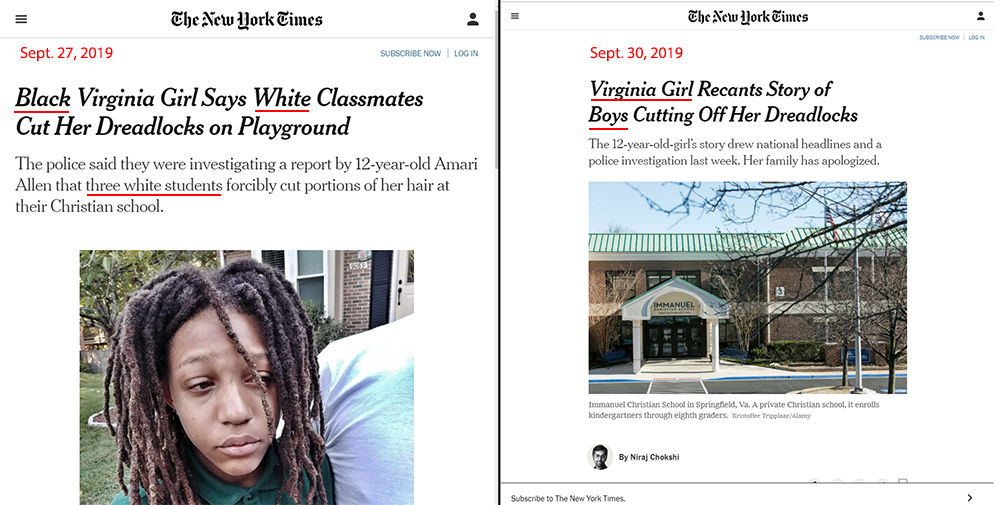 Instead, this vicious abuse is just going to be ignored as we saw with another similar attack in Homestead, Florida earlier this month.
This post was originally published at Information Liberation
"Why Is The NFL Trying To Divide Us?": 'Black National Anthem' Performed At Super Bowl
"Seems racist and divisive."
The NFL kicked off the Super Bowl with a performance of a song that has been dubbed the 'black national anthem,' before featuring the actual U.S. anthem, causing anger among detractors who charged that the decision was divisive.
The song, 'Lift Every Voice and Sing,' performed by Sheryl Lee Ralph, was adopted by the NAACP in 1917, and has since been known as a 'black national anthem'.
The NFL has been playing the song before games since 2020 after the BLM riots in the wake of the George Floyd incident.
This is the third consecutive time it has been played at the Super Bowl, but the first time it has been performed live.
Many criticised the move, pointing out that having two anthems sends a message that Americans are separated by race.
SUBSCRIBE on YouTube:
Follow on Twitter:
Follow @PrisonPlanet
———————————————————————————————————————
Brand new merch now available! Get it at https://www.pjwshop.com/


ALERT! In the age of mass Silicon Valley censorship It is crucial that we stay in touch.

We need you to sign up for our free newsletter here.

Support our sponsor – Turbo Force – a supercharged boost of clean energy without the comedown.

Also, we urgently need your financial support here. ———————————————————————————————————————