US Universities Are Asking Students To Report Anyone Not Following Covid Guidelines
Colleges want attendees to act as coronavirus stasi.
Several universities in the US have set up systems so students can report on each other if they see anyone breaking the Covid 'rules'.
Campus Reform notes that universities in Miami, Texas, and New Orleans have all encouraged students to play campus stasi when it comes to the Covid guidelines.
Yale has also got in on the act with a hotline, along with The University of North Georgia, whose plea for students to police each other prompted the Southeastern Legal Foundation to pen a letter warning that the system may violate students' privacy and freedom of speech.
I can't wait until Black students who are reported for social distancing violations report the reporters to @Yale's new, bloated Maoist bureaucracy for snitching on students for alleged racial harassment. https://t.co/vpD5xXp2Qd

— Sarah Braasch (@sarahbraasch1) August 14, 2020
"Colleges have a duty to protect student health and safety, especially during uncertain times like these. However, even in unprecedented times, students' First Amendment rights remain unchanged. That means colleges and universities cannot engage in viewpoint or content-based discrimination, cannot enact vague and overbroad policies, and cannot chill student expression," the letter urges.
It continues, "With a Concern Form at students' fingertips, students wishing to prevent a controversial speaker from visiting campus or to stop a student organization from garnering interest in their cause can simply report members of that organization as symptomatic. Without stricter reporting guidelines and limits, it appears that such events could be shut down entirely with the press of a button. This may sound unlikely, but then again, who would have predicted 2020 to turn out as it has?"
The SLF also warned that Fourth Amendment rights may be under threat as students could be forced to get tested for COVID-19, without probable cause.
"Under the Fourth Amendment, individuals cannot be subject to unreasonable searches and seizures. The Supreme Court has even considered that right in the context of cheek swabs. The Court has held that a criminal arrested and charged with a serious crime can be subjected to a DNA cheek swab, so long as the charges are supported by probable cause, meaning there must be sufficient likelihood that the crime occurred. However, a swab is unconstitutional if there is no probable cause, the charge is not criminal, or if the DNA is used to gather medical information about the criminal," SLF asserted.
"Will UNG, upon receiving a report of a symptomatic student, subject that student to an invasive COVID-19 swab? Surely the university understands that this action would violate the Fourth Amendment," the SLF further explains.
Universities are asking students to report on each other for breaking coronavirus safety rules. What could go wrong!?!?! https://t.co/2X6wA7QZtK

— Eleanor Barkhorn (@eleanorbarkhorn) August 12, 2020
In a recent opinion piece published in the New York Times, Karen Levy, an assistant professor at Cornell University and Lauren Kilgour, a doctoral candidate at Cornell warned that universities should avoid turning students into spies, warning that while some "may feel a sense of civic duty… others may be loath to report on their friends."
"People report on one another (truthfully or falsely) for a number of personal reasons, including competition, revenge, leverage and everyday aggravations," the piece also notes.
"There's every reason to assume that these motivations will bubble up in the college context, too. Students have their own loyalties, broken hearts, rocky roommate relationships and fraternity codes of silence," Levy and Kilgour note.
Maryland School Implements New Mask Mandate
As Biden masks up in front of the press
An elementary school in Maryland has reinstated mandatory mask requirements, as Joe Biden appeared in front of the press wearing a face covering Tuesday.
Rosemary Hills Elementary School in Silver Spring, a wealthy DC suburb, has brought back the mask mandate for students and staff, and added that the coverings should be N95 masks.
The school sent out a letter informing parents they have taken the decision after just THREE students tested positive for COVID.
"Additional KN95 masks have been distributed and students and staff in identified classes or activities will be required to mask while in school for the next 10 days, except while eating or drinking. Masks will become options again following the 10-day period," the letter states.
We've heard that one before.
"At-home rapid test kids will be sent home and made available for students," Principal Irwin Kennedy further notes, adding that CDC guidance decrees that testing should be done "5 days after an exposure (starting day 6)" or at such time as symptoms occur.
"We will continue to reinforce good hand washing and follow cleaning and disinfection procedures," the letter further states.
The move comes as Joe Biden donned a face diaper as he arrived at a White House gathering, before removing it altogether.
The White House says Biden will wear the mask after his multiple time vaxxed and boosted wife contracted COVID again.
Related:
SUBSCRIBE on YouTube:
Follow on Twitter:
Follow @PrisonPlanet
———————————————————————————————————————
Brand new merch now available! Get it at https://www.pjwshop.com/


ALERT! In the age of mass Silicon Valley censorship It is crucial that we stay in touch.

We need you to sign up for our free newsletter here.

Support my sponsor – Summit Vitamins – super charge your health and well being.

Also, we urgently need your financial support here. ———————————————————————————————————————
Trump Lockdown Tyrant Does 180, Says No New Mask Mandates
When COVID-19 broker out, Dr. Deborah Birx, a former military AIDS researcher with no training, experience, or publications in epidemiology or public health policy, found herself leading a White House Task Force which would play a seminal role in dictating how the country locked down for the pandemic.
In March of 2020, Birx and Dr. Anthony Fauci were grinning like Cheshire Cats with Duper's Delight as they laid out an unprecedented lockdown and masking strategy which Birx later admitted they pulled out of their asses.
Now that we're revisiting mask mandates over the latest Covid-19 surge, Birx and Fauci are seemingly on different sides of the debate.
"We don't need to mandate," Birx told Newsmax on Saturday, in response to reports that an increasing number of hospitals and businesses are now requiring masks again.
"We need to actually empower people with the information that they need for themselves and their families because every family is different," she continued. "And by the way, outside is safe, and playgrounds are safe."
Meanwhile Fauci – the guy who was funding risky bat coronavirus research in Wuhan, China and was then put in charge of the Coronavirus response in which he had scientists scramble to create and bolster propaganda denying a lab leak – went on CNN to push for mask mandates, claiming "there have been many studies indicate the benefit of wearing masks."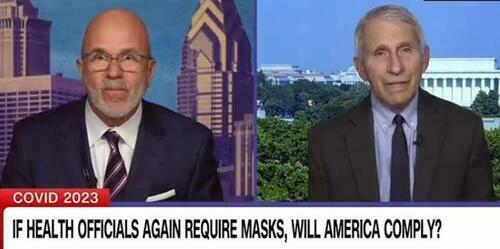 Yet, Anchor Michael Smerconish brought up the Cochrane review of masks, one of umpteen studies that have all found that the face coverings do little to nothing against COVID transmission (via Summit News).
"When you're talking about the effect on the epidemic or the pandemic as a whole, the data are less strong," Fauci said, sqirming. "There are other studies, Michael, that show at an individual level, for individuals they might be protective."
Sure Tony…
This post was originally published at Zero Hedge
Video: Fauci Squirms As CNN Anchor Confronts Him With Data Showing Masks Don't Work
"There are other studies"
Anthony Fauci refused to back away from the recommendation of face masks Saturday as CNN (of all networks) confronted him with a study showing that they have no effect on preventing the spread of COVID.
After Fauci claimed "there have been many studies indicate the benefit of wearing masks," Anchor Michael Smerconish brought up the Cochrane review of masks, one of umpteen studies that have all found that the face coverings do little to nothing against COVID transmission.
"When you're talking about the effect on the epidemic or the pandemic as a whole, the data are less strong," Fauci squirmingly admitted, but then went on to suggest people should still wear them anyway.
"There are other studies, Michael, that show at an individual level, for individuals they might be protective," Fauci claimed.
Senator Rand Paul blasted Fauci for spreading "more subterfuge":
Others chimed in:
Elsewhere during the interview Fauci said he hopes people will comply with wearing masks again, while stating "we're not talking there's forcing anybody to do anything."
He continued, "We're not talking about mandates or forcing anybody but when you have a situation where the volume of cases in society gets to a reasonably high level, particularly the vulnerable, those who are elderly, and those with underlying conditions are going to be more susceptible and vulnerable if they do get infected to get severe disease leading to hospitalization."
"I would hope that if in fact we get to the point where the volume of cases is such an organization's like the CDC recommend, CDC doesn't mandate anything, I mean, recommends that people wear masks, I would hope that they abide by the recommendation and take into account the risk to themselves and to their families," Fauci further stated.
He continued, "People keep thinking that the federal government is going to mandate that you wear a mask, that's not going to happen," he said. "But there may be individual institutions, organizations that are going to say, if you want to come to work, you've got to wear a mask."
Here is the full interview:
As we have highlighted, there is a creeping attempt to bring back masking and COVID restrictions despite no large bounce in cases and the fact that they just don't work.
Related:
SUBSCRIBE on YouTube:
Follow on Twitter:
Follow @PrisonPlanet
———————————————————————————————————————
Brand new merch now available! Get it at https://www.pjwshop.com/


ALERT! In the age of mass Silicon Valley censorship It is crucial that we stay in touch.

We need you to sign up for our free newsletter here.

Support my sponsor – Summit Vitamins – super charge your health and well being.

Also, we urgently need your financial support here. ———————————————————————————————————————