Washington Post Pushes Weak Trump/Epstein Connection, Ignores Bill Clinton 'Pedo Island' Allegation
"Before President Trump wished Ghislaine Maxwell 'well,' they had mingled for years in the same gilded circles."
The Washington Post attempted to connect elite pedophile Jeffrey Epstein with President Trump following unsealing of court documents, yet completely ignored witness assertions that Bill Clinton was present on the infamous 'pedo island' in the Caribbean.
The Post published a story last week in which it proclaimed "Before President Trump wished Ghislaine Maxwell 'well,' they had mingled for years in the same gilded circles."
The article laboured on Trump's remarks concerning Ghislaine Maxwell, after the President told reporters "I wish her well, frankly," when he was asked about what could happen if Maxwell exposed elite figures and their connections to child sex trafficking.
Trump was referencing the fact that Epstein ended up dead in prison, yet the underlying assertion in the article appears to be that Trump is siding with Maxwell.
There is no mention, and has not been in any article from the newspaper, of Epstein's extensive connections to Bill Clinton, however.
Court documents unsealed in the Maxwell case Thursday revealed that a witness claims to have seen Bill Clinton on the infamous 'pedo island' along with Epstein, Maxwell and "two young girls".
Witness interview:

Bill Clinton was at Epstein's island with Jeffrey Epstein, Ghislaine Maxwell, and "2 young girls." pic.twitter.com/NG8PbaZLNt

— Techno Fog (@Techno_Fog) July 31, 2020
The claims in the documents echo those previously made by a former worker on Epstein's island in a Netflix documentary.
The claims run contrary to denials by Clinton that he ever visited the island, which was reportedly the site of multiple sexual assaults of underage women by the convicted pedophile Epstein and his elite guests.
The allegations were made by Steve Scully, a 70-year-old phone and internet specialist worker who was present on the island of Little Saint James, as part of Jeffrey Epstein: Filthy Rich, which features testimony from witnesses and victims of Epstein's sordid activities.
Scully claims that he saw the Clinton sitting with Epstein in the porch of the island's villa. Scully did not witness Clinton partaking in any illegal activity, however, and says no other guests were present at the time.
Scully says that he saw other 'important people' visiting the island, including Prince Andrew, adding that some would be naked and flanked by topless girls.
"You tell yourself that you didn't know for sure and you never really saw anything, but that's all just rationalization," Scully notes in the program, adding "Jeffrey Epstein, he was a guy who concealed his deviance very well – but he didn't conceal it that well."
In separate legal papers Epstein victim Virginia Giuffre has also placed Clinton on the island, claiming she had dinner with the former president, Epstein, Maxwell and two other women from New York on the island on one occasion.
Giuffre also said that she saw Clinton "strolling into the darkness with two beautiful girls around either arm."
The same witness, thought to be Giuffre, also said she had overheard Epstein saying that Clinton owed him "favors," while noting that she couldn't tell whether he was joking or not:
Six references to Bill Clinton in Virginia Roberts' chat with her lawyers on April 7, 2011:

Asked about Epstein boasting "Bill Clinton owes me favors," Giuffe said:

"Yes. I do. It was a laugh though. He would laugh it off… I didn't know if he was serious. It was just a joke." pic.twitter.com/InugMgHOz5

— Adam Klasfeld (@KlasfeldReports) July 31, 2020
Just watching blue check after blue check completely ignore the fact that a Jeffrey Epstein victim identified Bill Clinton as a resident of pedophile island.

How do you ignore what is objectively of the highest news value?

— Rate Limit Exceeder Cernovich (@Cernovich) July 31, 2020
In January, pictures emerged of Clinton with his arms around Chauntae Davies, who has said that she was recruited to be Epstein's personal masseuse and 'sex slave':
Clinton has also been pictured on the steps of Epstein's private plane, dubbed 'the Lolita Express' with Maxwell in 2002:
WORLD EXCLUSIVE: Bill Clinton poses with Epstein's 'pimp' Ghislaine Maxwell and a sex slave on board private jet the 'Lolita Express' https://t.co/dxIyqDy953

— The US Sun (@TheSunUS) January 8, 2020
Flight logs have shown that Clinton made 26 trips on the plane from 2001 to 2003.
Clinton was also pictured with Epstein's housekeeper Jun-Lyn Fontanilla, and another staff member inside Epstein's New York house:
Billionaire sex offender Epstein gave heavily to Democrats, until he didn'thttps://t.co/Pz3J88hhRI

Jeffrey Epstein's Ex-Housekeeper Facebook Photos Show Her With Prince Andrew, Bill Clintonhttps://t.co/hoDVok5wpE pic.twitter.com/glzFBEU7uP

— duane poole (@duanepoole) February 25, 2020
Polls indicate that the majority of Americans believe Epstein was murdered, and did not commit suicide in prison.
The first image of the noose supposedly used by Epstein contradicted the official story of his alleged "suicide." It shows a clean cloth with so signs of blood stains despite the fact that Epstein's neck was bloody.

Owen explains why the left is furiously trying to cover-up the shady past of former president Bill Clinton.
BBC Forced To Apologise For Interviewing Accused Epstein Attorney About Ghislaine Maxwell's trial
Alan Dershowitz, accused of sex trafficking by Epstein victim, claims interview was "entirely appropriate"
The BBC has apologised for interviewing Alan Dershowitz, the lawyer who helped Jeffrey Epstein stay out of prison in 2008, and one of the key associates accused of sex trafficking by by Virginia Giuffre, regarding the outcome of Ghislaine Maxwell's trial.
The BBC brought on Dershowitz without properly explaining his intimate connection to Epstein, giving the impression that he was an impartial correspondent.
The network announced Dershowitz as just a "constitutional lawyer":
After public outcry, the BBC was forced to apologise and vowed to "look into how this happened":
Remarkably, Dershowitz himself hit back, claiming that it was "entirely appropriate" for the BBC to interview him:
Dershowitz has denied Giuffre's claims and sued her for defamation in 2019.
SUBSCRIBE on YouTube:
Follow on Twitter:
Follow @PrisonPlanet
———————————————————————————————————————
Brand new merch now available! Get it at https://www.pjwshop.com/


ALERT! In the age of mass Silicon Valley censorship It is crucial that we stay in touch.

We need you to sign up for our free newsletter here.

Support our sponsor – Turbo Force – a supercharged boost of clean energy without the comedown.

Also, we urgently need your financial support here. ———————————————————————————————————————
Former Clinton Chief Aide: Bill Went To Epstein's 'Pedo Island'
Claims Clinton couldn't stay away from Epstein
A former senior aide to Bill Clinton has claimed that the former President did indeed visit Jeffrey Epstein's notorious island, despite repeated denials, and that his daughter Chelsea Clinton also had a relationship with Epstein and Ghislaine Maxwell.
Doug Band, who previously accused Chelsea of using Clinton Foundations funds to pay for her wedding, made the claims in an interview with Vanity Fair.
"Band said he had no idea about Epstein's sex crimes back then but got enough bad vibes that he advised Clinton to end the relationship," the report notes.
It continues "Clinton continued to socialize with Epstein and take his money. In 2006 Epstein donated $25,000 to the Clinton Foundation. Clinton made more than two dozen trips on Epstein's jet around this time, Epstein's flight logs show."
"In January 2003, according to Band, Clinton visited Epstein's private Caribbean island, Little St. James. Band said it was one of the few trips he declined to go on in his time with Clinton," the report further notes.
Band notes that Ghislaine Maxwell was invited to Chelsea Clinton's wedding in 2010, despite the fact that it was then known that Epstein had committed sex crimes involving underage girls.
The report notes:
Chelsea had ties to Epstein and Maxwell, Band said; he showed me a photo of Bill and Chelsea posing with Epstein and Maxwell at the King of Morocco's wedding. Chelsea remained friends with Maxwell for years after the press revealed Maxwell was a close associate of Epstein's. For instance, Chelsea invited Maxwell to her 2010 wedding at the Brooke Astor estate in Rhinebeck, New York, after Epstein had pleaded guilty in Florida to procuring sex from a minor.
Band says that there was one major reason Maxwell was at the wedding. "Ghislaine had access to yachts and nice homes. Chelsea needed that," the former aide notes.
Band says in the interview that it was only in 2011 that he began to tell Clinton staffers to cut Maxwell out of the picture.
"I knew in telling everyone to stop including Ghislaine that Chelsea and her father would be very angry. It made it harder for them to justify being close to her," Band says.
Band's claims that Bill Clinton visited the notorious 'pedo island' dovetail with previously unsealed court documents in the Ghislaine Maxwell, which revealed that a witness claims to have seen the former president there with Epstein, Maxwell and "two young girls".
The documents also echo claims previously made by a former worker on Epstein's island in a Netflix documentary.
The claims run contrary to denials by Clinton that he ever visited the island, which was reportedly the site of multiple sexual assaults of underage women by the convicted pedophile Epstein and his elite guests.
Lawsuit: Epstein Cited Friendship With Bill Clinton To Carry Out "Vicious, Prolonged Sexual Assault"
"When I chose a seat on the jet, Jeffrey told me that his good friend, Bill Clinton, always chose to sit there."
Documents made public as part of a lawsuit against Jeffrey Epstein's estate have alleged that the billionaire cited his 'friendship' with Bill Clinton as a way of intimidating a fifteen year old girl into sleeping with him.
The Documents, identifying the victim only as 'Jane Doe' claim that Epstein carried out a "vicious, prolonged sexual assault" on her in 2004 after trafficking her on the infamous 'Lolita express' to his New Mexico ranch.
"Epstein made clear to Jane Doe 15 how powerful he was. He made a point of mentioning that he was close with Bill Clinton," the documents note.
"When I chose a seat on the jet, Jeffrey told me that his good friend, Bill Clinton, always chose to sit there," the accuser has claimed.
The documents allege that dropping Clinton's name was Epstein's way of conveying "how powerful he was and how helpful he could be in assisting Jane Doe 15 with her future goals, such as paying for college" as long as she went along with his perverted desires.
The lawsuit also alleges that Epstein told the girl, now in her 30's, that he liked women to sleep at his feet, which "made her immediately think of slaves."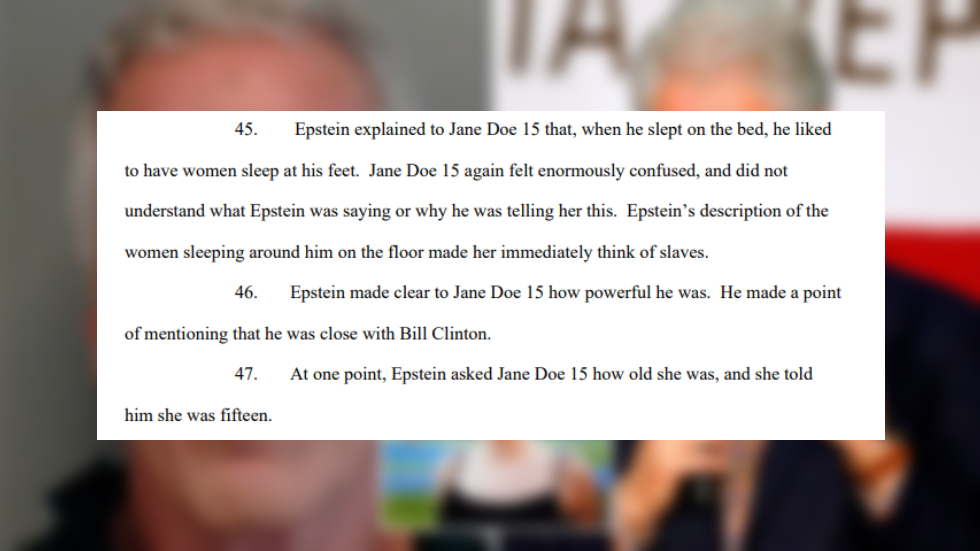 US court filings
The development comes on the heels this week of never before seen photos emerging of Clinton receiving a massage from Jeffrey Epstein 'sex slave' Chauntae Davies, who was just 22 at the time, adding to the already bursting portfolio of questionable connections Clinton shared with the billionaire pedophile.
EXCLUSIVE: 'Would you mind giving it a crack?' Clinton leans back and smiles while receiving neck massage from Epstein victim https://t.co/wtWwgLa2CX

— Daily Mail US (@DailyMail) August 18, 2020