Ghislaine Maxwell's 'Life is in Danger' if She Plans to Reveal Names of Powerful Clients
"If she squeals on some of the people that she has videos on they won't be happy."
Virginia Roberts Giuffre says that Ghislaine Maxwell's life is in danger if she plans to reveal the names of powerful names who were part of Jeffrey Epstein's sex trafficking ring.
During an interview with CBS This Morning earlier today, the Epstein accuser said that Maxwell was under threat due to the nature of what she knows about wealthy elitists who were involved in the scandal.
Asked by the host if she thought Maxwell's "life is in danger," Giuffre responded, "Absolutely."
"If she squeals on some of the people that she has videos on they won't be happy with her talking about that," she added.
Giuffre said that these individuals were "very well known names, the government officials, politicians, the royalty – they were taping everybody, every moment when you walked into the New York mansion, to Palm Beach, everything was being filmed.
The Epstein accuser reiterated that Epstein and Maxwell were blackmailing elitist acquaintances by building up an archive of compromising footage, but that those involved didn't know they were being taped at the time.
According to attorney Lisa Bloom, Maxwell is unlikely to name names as part of a plea deal because she would likely face a long prison sentence anyway and would rather try to have her lawyers get the case dismissed altogether.
Maxwell purportedly has a stash of secret sex tapes in her possession that would expose powerful Epstein acquaintances.
"The secret stash of sex tapes I believe Ghislaine has squirreled away could end up being her get-out-of-jail card if the authorities are willing to trade," said one of Maxwell's former friends. "She has copies of everything Epstein had. They could implicate some twisted movers and shakers."
SUBSCRIBE on YouTube:
Follow on Twitter: Follow @PrisonPlanet
———————————————————————————————————————
My voice is being silenced by free speech-hating Silicon Valley behemoths who want me disappeared forever. It is CRUCIAL that you support me.
Please sign up for the free newsletter here. Donate to me on SubscribeStar here.
Support my sponsor – Turbo Force – a supercharged boost of clean energy without the comedown.
———————————————————————————————————————
BBC Forced To Apologise For Interviewing Accused Epstein Attorney About Ghislaine Maxwell's trial
Alan Dershowitz, accused of sex trafficking by Epstein victim, claims interview was "entirely appropriate"
The BBC has apologised for interviewing Alan Dershowitz, the lawyer who helped Jeffrey Epstein stay out of prison in 2008, and one of the key associates accused of sex trafficking by by Virginia Giuffre, regarding the outcome of Ghislaine Maxwell's trial.
The BBC brought on Dershowitz without properly explaining his intimate connection to Epstein, giving the impression that he was an impartial correspondent.
The network announced Dershowitz as just a "constitutional lawyer":
After public outcry, the BBC was forced to apologise and vowed to "look into how this happened":
Remarkably, Dershowitz himself hit back, claiming that it was "entirely appropriate" for the BBC to interview him:
Dershowitz has denied Giuffre's claims and sued her for defamation in 2019.
SUBSCRIBE on YouTube:
Follow on Twitter:
Follow @PrisonPlanet
———————————————————————————————————————
Brand new merch now available! Get it at https://www.pjwshop.com/


ALERT! In the age of mass Silicon Valley censorship It is crucial that we stay in touch.

We need you to sign up for our free newsletter here.

Support our sponsor – Turbo Force – a supercharged boost of clean energy without the comedown.

Also, we urgently need your financial support here. ———————————————————————————————————————
Former Clinton Chief Aide: Bill Went To Epstein's 'Pedo Island'
Claims Clinton couldn't stay away from Epstein
A former senior aide to Bill Clinton has claimed that the former President did indeed visit Jeffrey Epstein's notorious island, despite repeated denials, and that his daughter Chelsea Clinton also had a relationship with Epstein and Ghislaine Maxwell.
Doug Band, who previously accused Chelsea of using Clinton Foundations funds to pay for her wedding, made the claims in an interview with Vanity Fair.
"Band said he had no idea about Epstein's sex crimes back then but got enough bad vibes that he advised Clinton to end the relationship," the report notes.
It continues "Clinton continued to socialize with Epstein and take his money. In 2006 Epstein donated $25,000 to the Clinton Foundation. Clinton made more than two dozen trips on Epstein's jet around this time, Epstein's flight logs show."
"In January 2003, according to Band, Clinton visited Epstein's private Caribbean island, Little St. James. Band said it was one of the few trips he declined to go on in his time with Clinton," the report further notes.
Band notes that Ghislaine Maxwell was invited to Chelsea Clinton's wedding in 2010, despite the fact that it was then known that Epstein had committed sex crimes involving underage girls.
The report notes:
Chelsea had ties to Epstein and Maxwell, Band said; he showed me a photo of Bill and Chelsea posing with Epstein and Maxwell at the King of Morocco's wedding. Chelsea remained friends with Maxwell for years after the press revealed Maxwell was a close associate of Epstein's. For instance, Chelsea invited Maxwell to her 2010 wedding at the Brooke Astor estate in Rhinebeck, New York, after Epstein had pleaded guilty in Florida to procuring sex from a minor.
Band says that there was one major reason Maxwell was at the wedding. "Ghislaine had access to yachts and nice homes. Chelsea needed that," the former aide notes.
Band says in the interview that it was only in 2011 that he began to tell Clinton staffers to cut Maxwell out of the picture.
"I knew in telling everyone to stop including Ghislaine that Chelsea and her father would be very angry. It made it harder for them to justify being close to her," Band says.
Band's claims that Bill Clinton visited the notorious 'pedo island' dovetail with previously unsealed court documents in the Ghislaine Maxwell, which revealed that a witness claims to have seen the former president there with Epstein, Maxwell and "two young girls".
The documents also echo claims previously made by a former worker on Epstein's island in a Netflix documentary.
The claims run contrary to denials by Clinton that he ever visited the island, which was reportedly the site of multiple sexual assaults of underage women by the convicted pedophile Epstein and his elite guests.
Lawsuit: Epstein Cited Friendship With Bill Clinton To Carry Out "Vicious, Prolonged Sexual Assault"
"When I chose a seat on the jet, Jeffrey told me that his good friend, Bill Clinton, always chose to sit there."
Documents made public as part of a lawsuit against Jeffrey Epstein's estate have alleged that the billionaire cited his 'friendship' with Bill Clinton as a way of intimidating a fifteen year old girl into sleeping with him.
The Documents, identifying the victim only as 'Jane Doe' claim that Epstein carried out a "vicious, prolonged sexual assault" on her in 2004 after trafficking her on the infamous 'Lolita express' to his New Mexico ranch.
"Epstein made clear to Jane Doe 15 how powerful he was. He made a point of mentioning that he was close with Bill Clinton," the documents note.
"When I chose a seat on the jet, Jeffrey told me that his good friend, Bill Clinton, always chose to sit there," the accuser has claimed.
The documents allege that dropping Clinton's name was Epstein's way of conveying "how powerful he was and how helpful he could be in assisting Jane Doe 15 with her future goals, such as paying for college" as long as she went along with his perverted desires.
The lawsuit also alleges that Epstein told the girl, now in her 30's, that he liked women to sleep at his feet, which "made her immediately think of slaves."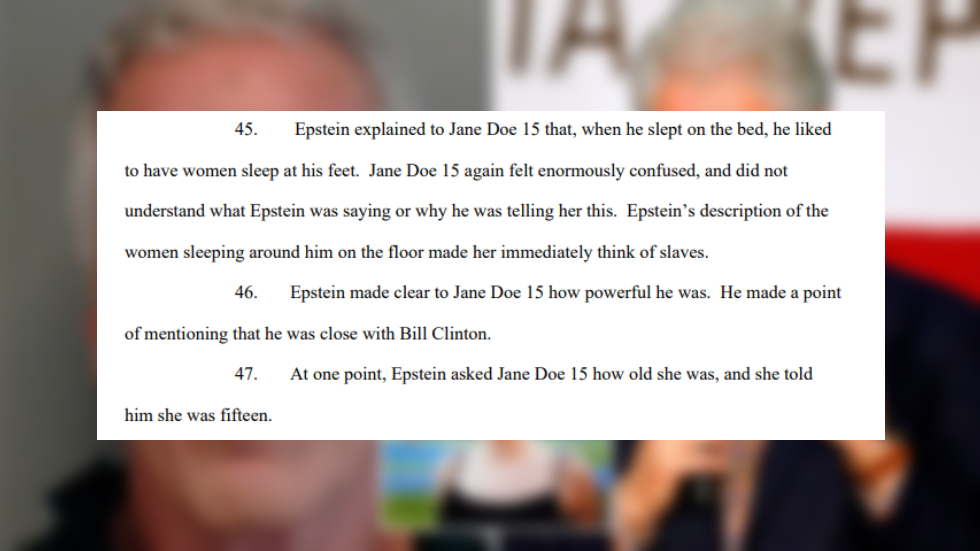 US court filings
The development comes on the heels this week of never before seen photos emerging of Clinton receiving a massage from Jeffrey Epstein 'sex slave' Chauntae Davies, who was just 22 at the time, adding to the already bursting portfolio of questionable connections Clinton shared with the billionaire pedophile.
EXCLUSIVE: 'Would you mind giving it a crack?' Clinton leans back and smiles while receiving neck massage from Epstein victim https://t.co/wtWwgLa2CX

— Daily Mail US (@DailyMail) August 18, 2020