Law Professor Argues US Constitution Is Racist And Sexist
"It is time to update the Constitution to reflect America's modern values."
A law professor at the University of Texas-Austin has called for the US Constitution to be 'updated', claiming that it has 'racist words' and that it is written in 'gendered language'.
Writing in The Hill this week, Richard Albert stated that the document's "gendered and racist words stand in the way of true reconciliation in this divided country and have no place in any modern society."
I explain in this new oped why it is time to update the language of the US Constitution: "Its gendered and racist words stand in the way of true reconciliation in this divided country and have no place in any modern society." https://t.co/rqrD6wIhei

— Richard Albert (@RichardAlbert) June 30, 2020
"The Constitution is replete with obsolete and outdated language that weakens rather than enhances the feeling of belonging that a constitution should generate among a country's citizens," the professor proclaims.
The 'racist' part of the Constitution, Albert claims, comes in the 13th Amendment, despite the fact that it actually abolishes slavery.
Albert argues that the Fugitive Slave Clause remains, claiming it serves as "a painful reminder of America's original sin."
Albert also argues that because all pronouns in the Constitution are male, it is discriminatory.
"Imagine how schoolchildren must feel when they read the Constitution in their basic civics course. Some will be made to feel less than welcome in their own country… The highest law of the land creates a hierarchy of citizenship." he writes.
The professor also argues against claims that altering the Constitution as it was written would water it down, claiming that if "racist and gendered terms" are removed, then the Constitution "would celebrate equality and inclusion, and give Americans a text proudly to call their own — one in which they would see themselves and their hopes reflected."
Many had choice words for Professor Albert:
Doesn't the Constitution also show the progress the US has made? Schoolchildren read the fugitive slave clause but then learn slavery was abolished by amendment following a bloody war. They see masculine pronouns but then learn they've long been interpreted to include both sexes.

— Asher Honickman (@Honickman) July 1, 2020
"a constitution as a canvas-in-progress, w/ priority to present values."

New take on "living, breathing document" which would mean it would be at the mercy of emotion, crisis, oppressive majority, a tyrant who arises. What if the present values are, say, Jews are the problem.

— David.in.Houston (@DavidinHouston1) July 2, 2020
This trash (and it is trash, the 2nd paragraph shows someone who doesn't understand how amendments work) doesn't belong in a publication dedicated to public policy. Sad thing is people will read it, see who published it, and assume it's relevant.https://t.co/jqPQjHWax8

— The Mask of WuFlu Zorro (@rayrothfe) July 1, 2020
The true goal of leftists! In other words, destroy the Constitution and put in a totalitarian one world government.

Time to update the language of the Constitution https://t.co/rZV2VvM78s

— Auntie Thesis (@ThesisAuntie) July 2, 2020
The ultimate Marxist goal 🤬Time to update the language of the Constitution | TheHill https://t.co/yGqYAC1WOC

— SoyMamá (@amalavida0) July 3, 2020
A grotesque attack on the US constitution by Canadian law professor @RichardAlbert who works at UT Austin. Read it and weep for American college students.https://t.co/nA71XeNgij

— Couldn't B. Righter (@CouldntBRighter) July 3, 2020
Tucker: 'Troops Will Never Leave DC; They're There To Prop Up The Regime'
Phantom threats including "QAnon Inauguration Day" are being used to continue an occupation around the centre of government
Tucker Carlson outlined Thursday how Democrats intend to maintain a permanent military presence in Washington DC and will continue to manufacture security threats to keep fear among leftists high.
"When you're a liberal, the world is a very scary place, but there is one fear that rises above all other fears in the liberal mind: The fear of "the other," Carlson opined in his monologue.
He continued "Liberals understand most of the American continent as a mysterious dark space, like a medieval map populated by drooling Trump voters and violent illiterates with extra chromosomes."
"There's nothing rational about that behavior, but you shouldn't be surprised by it. Modern liberalism is not a coherent worldview, it's a deeply unhappy, high-strung personality type. Wokeness is what you get when people are miserable inside," Carlson added.
The host then outlined how phantom threats including "QAnon Inauguration Day" are being used to continue an occupation around the centre of government.
"What is QAnon Inauguration Day? We have no idea, and we don't know anyone who does," Tucker continued, adding "We'd bet money that not one Trump voter in a million had heard of it until this week, when the hysteria merchants on the other channels started yapping about it on television."
Carlson noted how Nancy Pelosi and House leaders rescheduled votes Thursday and many even fled the Capitol, including even some Republicans, believing their own fear mongering that there would be another "peasants revolt".
"It was all just another lie," Tucker urged, noting that it is "not so different from when they told us we would need troops to protect Joe Biden's inauguration. Then, they said we would need soldiers to keep QAnon away from the impeachment trial. Then, there was today's hysteria. Next, there will be something else. Capitol Police are now saying they will need soldiers in Washington for at least two more months."
"The troops will never leave." Carlson emphasised, adding "As you probably figured out by now, the troops are in the Capitol for political reasons. They're there to prop up the regime."
He continued "If this were happening in Cameroon, our State Department would complain about it, call it 'an offense against democracy.' But because it's happening here in America, we have been slow to catch on."
Why Has Amazon Just Appointed The Former Director of The NSA To Its Board?
"Nothing nefarious about that at all"
Amazon has appointed former NSA head General Keith Alexander to its board of directors, prompting privacy advocates to suggest the move could be connected to Alexander's previous experience in overseeing mass surveillance operations.
"We're thrilled to elect a new member to our Board of Directors this month. Welcome, General Keith Alexander!" Amazon announced in a tweet:
We're thrilled to elect a new member to our Board of Directors this month. Welcome, General Keith Alexander! https://t.co/iJDrgUJEjd pic.twitter.com/pZkW2anlJ0

— Amazon News (@amazonnews) September 9, 2020
Alexander served as NSA director from 2005 until he retired in March 2014. He oversaw the agency's monolithic program, encompassing illegal mass spying on Americans, which officials lied about.
Wow, the former director of the NSA? nothing nefarious about that at all.

— MAX 👁 PROPAYNE X (@Black24Boi) September 9, 2020
Under Alexander, the NSA deployed the PRISM tool to sweep up vast amounts of data from Google, Microsoft, Yahoo, and Facebook to name a few.
Edward Snowden, who exposed the NSA activity, had some choice words about Amazon's appointment:
🚨🚨 It turns out "Hey Alexa" is short for "Hey Keith Alexander." Yes, the Keith Alexander personally responsible for the unlawful mass surveillance programs that caused a global scandal. And Amazon Web Services (AWS) host ~6% of all websites. 🚨🚨https://t.co/6hkzsHjxh9

— Edward Snowden (@Snowden) September 9, 2020
Amazon hosts a massive amount of web traffic, so it figures:
"Alexa, what is everyone in the world doing right now?"

— Btcn Ftrs (@BtcnFtrs) September 9, 2020
Nothing to see here, except that the former NSA spy chief Keith Alexander is on the board of directors of Amazon which has CIA contracts and a monopoly on many services on the internet. pic.twitter.com/vgC2JYiiaa

— Esha (@eshaLegal) September 9, 2020
Nothing to worry about, the US government would never dream of accessing all of data stored on Amazon AWS https://t.co/M3jBiP3aJI

— Micah Lee (@micahflee) September 9, 2020
Glen Greenwald, the former Guardian journalist who reported exclusively on Snowden's leaks, also chimed in:
Gen. Keith Alexander was head of NSA when it secretly built a massive domestic surveillance system aimed at Americans – the one an appellate court just ruled likely illegal.

Amazon just appointed him to its Board of Directors, again showing who they are:https://t.co/6s5VAeRIMK

— Glenn Greenwald (@ggreenwald) September 9, 2020
Others speculated that Alexander's hiring has more to do with Amazon going after lucrative Pentagon contracts:
NSA and the DoD in general have had a tight relationship Microsoft in the past, which is why it's not surprising Microsoft won the JEDI contract. Clearly Amazon is working a new angle to make sure they can land more DoD contracts in the future.

— Roman McClaine (@RomanMcClaine) September 9, 2020
Zero Hedge points out the deep state angle of all this, noting that last week, "Amazon literally accused Trump of unprecedented corruption in a public letter and less than a week later it effectively brings the NSA on board."
71 Percent Of Americans Reject Privacy Killing Contact Tracing Apps
Europeans also say no to government monitoring.
Almost three quarters of Americans say they will not submit their privacy to contact tracing apps, with Europeans also rejecting the notion outright because they do not trust government to keep their information safe and refrain from misusing it.
A study from Avira reveals that the vast majority of Americans are against contact tracing apps, with 71 percent saying they will not download them, and 75% believing their digital privacy is at risk from the technology.
Image: Avira
The poll found that only 14 percent believe the government would protect their data effectively.
When asked if they would trust big tech more than the government, 32 percent said they would feel safe giving Apple or Google their data.
The study also noted that those working in Government and Healthcare are the least-likely to download the technology, with 84% of people from these sectors saying they will not use the apps.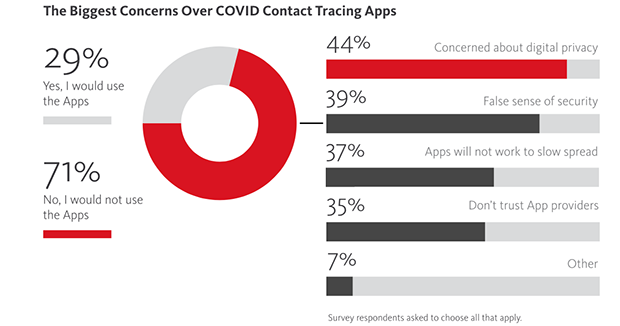 Image: Avira
Travis Witteveen, CEO of Avira commented "We believe these survey results send a clear signal to both app creators and the government. COVID contact tracing apps could fail before they launch if developers don't communicate to the public how they plan to protect people's privacy."
Meanwhile, in Germany people are also rejecting the contact tracing technology owing to privacy concerns.
The amount of people willing to use the apps has fallen to 42 percent, according to polling data from Forschungsgruppe Wahlen.
Statista notes that the latest data indicates a 6 percentage point drop since April: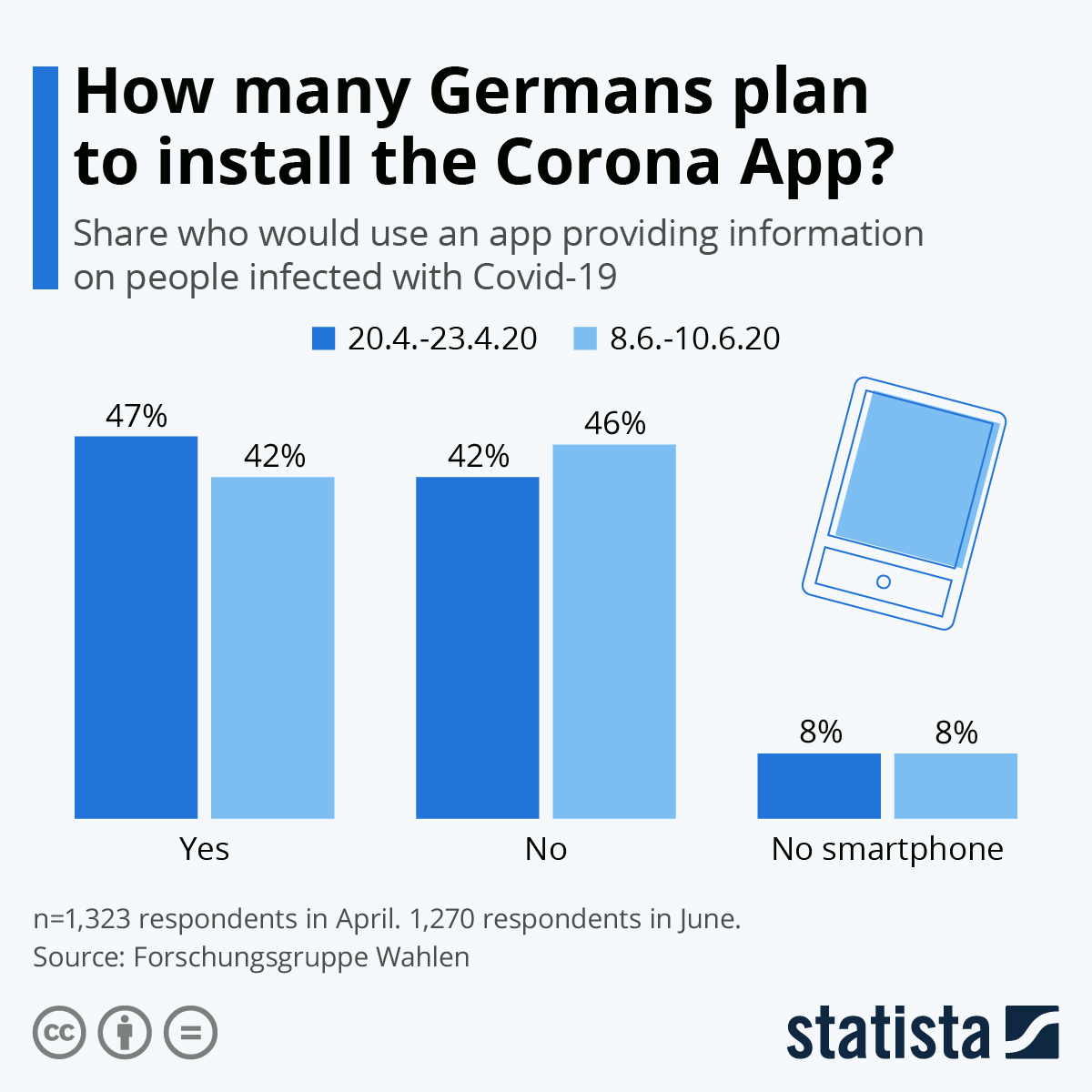 Image: Statista
In Norway, the technology has been completely abandoned after it was deemed to be too invasive.
Amnesty International has warned that contact tracing apps like Norway's are "most alarming mass surveillance tools". The organisation's assessment did not include the US contact tracing app.
In the UK, despite touting it for months, the government has (predictably) failed to roll out its contact tracing app because of bureaucracy.
Cybersecurity experts also analysed the source code of the app and found no less than seven major flaws.