Iran Holds 'Art' Exhibition Depicting US Police As Nazis, KKK
Iran is one of the most systemically racist countries on the planet.
Iran, governed by one of the most racist regimes on Earth, has sponsored an 'international art exhibition' using the death of George Floyd to tar America as deeply racist society.
The exhibition, titled "I can't breathe" includes 'art' that depicts US police as Nazis and Ku Klux Klan.
Tehran Hosts "I Can't Breathe" Cartoon Exhibition: America, Trump, Police Depicted with Nazi, KKK Imagery; Star of David Shown Crushing the Neck of a Dove pic.twitter.com/2YEbsfXaHo

— MEMRI (@MEMRIReports) June 14, 2020
Footage of the exhibition was broadcast on Iranian state television, showing one painting with a Guillotine for "only colored" people, with the blade as an American flag: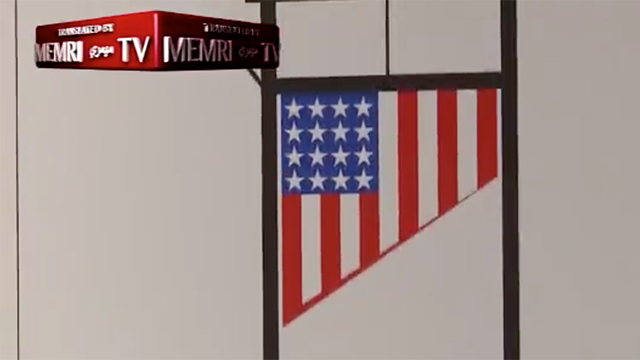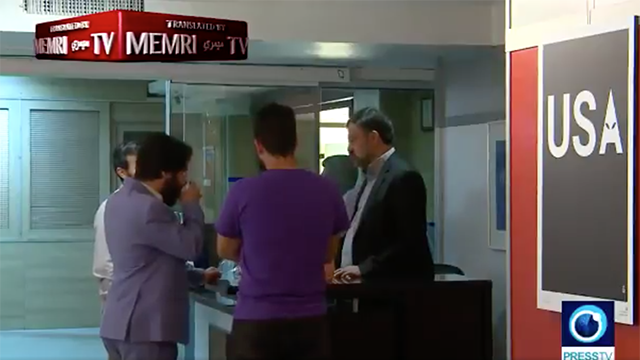 Another piece features the star of David crushing the neck of a dove, which is in itself a racist sentiment: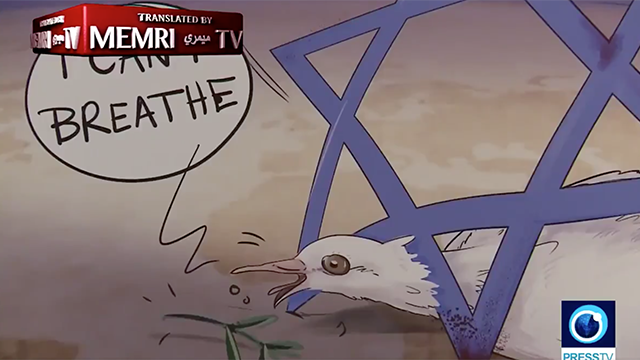 While the collection features pieces from people with 27 different nationalities, it is clearly being hosted and promoted by Iran as anti-American propaganda.
The Iranian regime has basked in the unrest in America, with its 'Supreme Leader' and its Foreign Ministry bragging about how racist the US is on Twitter:
If you're dark-skinned walking in the US, you can't be sure you'll be alive in the next few minutes. #ICantBreathe #BlackLivesMatter pic.twitter.com/nwR8jeUPpg

— Khamenei TV (@Khamenei_tv) May 27, 2020
Some don't think #BlackLivesMatter.

To those of us who do: it is long overdue for the entire world to wage war against racism.

Time for a #WorldAgainstRacism. pic.twitter.com/06p1LmmwgF

— Javad Zarif (@JZarif) May 30, 2020
This coming from a country that viciously oppresses all minorities, sanctions brutally beating women if they dare to uncover their heads, and endorses the execution of people for their sexuality.
Go on then Twitter:
Another Exhibition in Iran pic.twitter.com/DUjstcrFNr

— Dilpak (@AlMaidan5) June 14, 2020
Iran killed 7500 of their own ppl protesting just a few months ago

— PresidentofBTC (@Mr_ShuShu_) June 14, 2020
— Elle Unmasked (@ElleZee6) June 17, 2020
Today in Tehran, there was a protest in which entrepreneurs gathered in front of the Central Bank holding placards saying "Remove your knee off our throats, we can't breathe." You can find it here:https://t.co/cO7ktNXB4g

— Nahid Ghani (@NahidGhani) June 14, 2020
There is a reason an enemy state of the US is creating propaganda in support of BLM and antifa.

— Gary Beal (@Giqueux) June 17, 2020
Imagine a cartoon of a gay man crushed by the knee of a mullah, I imagine all hell would break loose

— Tannie (@Tannie66364346) June 14, 2020
As a woman who's forced to cover her head or be jailed walks by and only men are allowed to gather and speak. Throw any gays off the roof lately?

— BicycleBelle🚲 (@BicycleBelle00) June 17, 2020
Should we stuff down their throats what the Islamic slave trade did to Black men?

— Dennis (@djbarro) June 14, 2020
German Investigators Find Nord Stream Evidence Points To Ukraine
Seven months after explosions severed three of Russia's four Nord Stream gas pipelines in the Baltic Sea, German investigators are now pursuing leads that point to Ukraine as the responsible country. At the same time, a multinational consortium of European investigative journalists has also found leads pointing to Kiev.
A long-running Western propaganda campaign — abetted by media that's credulous at best and complicit at worst — would have us believe Russia blew up pipelines that took the country 15 years of construction — and painstaking diplomacy to overcome U.S. interference — to bring to reality.
According to The Times of London, Germany's Federal Office of Criminal Investigation (BKA) has investigated Russian naval movements that have been declared "suspicious," but found nothing that suggests Moscow is responsible for the attack.
Rather, BKA investigators are now focusing on a yacht that sailed from the German port of Rostock weeks before the explosions. That 15-meter yacht — the Andromeda — was hired from a Polish company, and docked at a tiny Danish island near the blast site. Most strikingly, investigators found traces of "military-grade and underwater-deployable" explosives on the vessel.
Given the complexity of the operation, the BKA believes a government must have backed the undertaking, and has found evidence pointing to Ukraine, via a shell company — a travel agency — formed by two Ukrainians in Warsaw. According to the team of journalists, the purported travel agency is one of more than 100 entities listed at a single address. In 2022, the travel agency, which had a Ukrainian woman named as president, received about $3 million for no documented reason.
According to the BKA's working theory, five men and one woman with forged Romanian and Bulgarian passportsentered Germany before using the yacht as a base for expert divers who planted the charges more than 200 feet below the sea. Germans have identified two other people — Ukrainians — who were aboard the vessel. Journalists say one of them is a Ukraine infantry veteran.
It's an intriguingly detailed scenario — and quite different from Seymour Hersh's own blockbuster account. Citing unnamed national security sources, the legendary investigative journalist reported in February that the United States blew up the pipeline, in a plan crafted by the CIA with the cooperation of Norway and executed by US Navy divers deploying from a Norwegian mine-hunting vessel.
Meanwhile, Hersh has just reported that Ukraine's neighbor's are quietly pressuring President Zelensky to find a way to bring the 15-month-old war to an end — with some apparently willing to compensate him personally for doing so.
This post was originally published at Zero Hedge
CIA Releases Video Urging Russians To Spy On Their Own Country
In an unusual attempt at public outreach 'spy-style', the world's most powerful intelligence organization is openly encouraging Russians to spy on their own country. 
The CIA released a nearly 2-minute video Monday on its official YouTube, Twitter, and Telegram channels. The Russian-language, professionally produced video urges individual Russians to provide intelligence on their country in the midst of the Ukraine war. Watch:
The video has a 'patriotic' orientation, assuring Russians they can do something to improve their country and its situation by handing over intelligence to the CIA.
"The CIA wants to know the truth about Russia, and we are looking for reliable people who can tell us that truth," the agency said in the video, according to a translation. "Your information may be more valuable than you know."
The text on the screen of the clip further tells Russians to "Contact us. Perhaps the people around you don't want to hear the truth. We want to."
Some of the narration includes the following messaging, according to a description:
In the video – published on the CIA's official YouTube channel and the Telegram messaging app, popular in Russia – a male voice reflects on the meaning of heroism and endurance as lone individuals are seen weighing their decisions: a man trudging through snow, a woman staring through a window.

"We are easily swayed by lies. But we do know what our reality is. The reality we live in. And the reality we talk about in whispers," the voice says.

At the end, a man and a woman are shown in separate scenes with their fingers hovering over mobile phone screens with a link saying "Contact CIA".

"This is my Russia. This will always be my Russia. I will endure. My family will endure. We will live with dignity because of my actions," the narrator concludes.
The video at the end informs viewers how to submit information with a Tor browser utilizing the dark web and suggests tools for encrypted communications. 
Kremlin spokesman Dmitry Peskov in a daily briefing was asked about the CIA's asset recruitment efforts. He responded, "I am convinced that our special services are monitoring this space in the necessary way."
He added: "We all know perfectly well that the CIA and other Western intelligence services are not reducing their activity on the territory of our country."
This post was originally published at Zero Hedge
Joe Biden claims he couldn't attend King Charles' coronation because he's got a 'lot going on'
President Joe Biden brushed his decision not to attend King Charles III's coronation on Saturday during a softball interview with MSNBC's Stephanie Ruhle by saying: 'I told him I couldn't be there because I have this going on.'
Biden, 80, said that he told the king that he would be in the United Kingdom during the summer during the NATO conference. 'He's a good acquaintance and we've worked together on environmental issues,' the president said of King Charles III.
The president dispatched his wife to represent the US at the celebrations in London. No American president has ever attended a British coronation. First Lady Jill Biden's first stop was a meeting with Akshata Murty, the wife of Prime Minister Rishi Sunak.
This post was originally published at The Daily Mail