71 Percent Of Americans Reject Privacy Killing Contact Tracing Apps
Europeans also say no to government monitoring.
Almost three quarters of Americans say they will not submit their privacy to contact tracing apps, with Europeans also rejecting the notion outright because they do not trust government to keep their information safe and refrain from misusing it.
A study from Avira reveals that the vast majority of Americans are against contact tracing apps, with 71 percent saying they will not download them, and 75% believing their digital privacy is at risk from the technology.
Image: Avira
The poll found that only 14 percent believe the government would protect their data effectively.
When asked if they would trust big tech more than the government, 32 percent said they would feel safe giving Apple or Google their data.
The study also noted that those working in Government and Healthcare are the least-likely to download the technology, with 84% of people from these sectors saying they will not use the apps.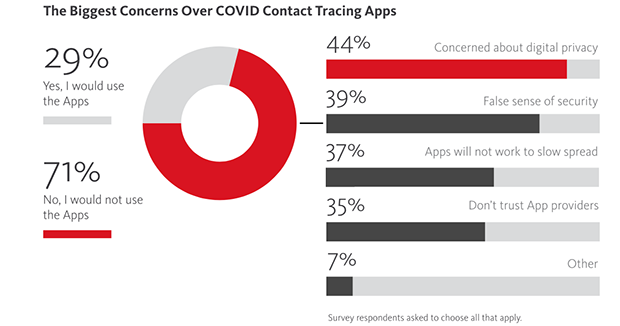 Image: Avira
Travis Witteveen, CEO of Avira commented "We believe these survey results send a clear signal to both app creators and the government. COVID contact tracing apps could fail before they launch if developers don't communicate to the public how they plan to protect people's privacy."
Meanwhile, in Germany people are also rejecting the contact tracing technology owing to privacy concerns.
The amount of people willing to use the apps has fallen to 42 percent, according to polling data from Forschungsgruppe Wahlen.
Statista notes that the latest data indicates a 6 percentage point drop since April: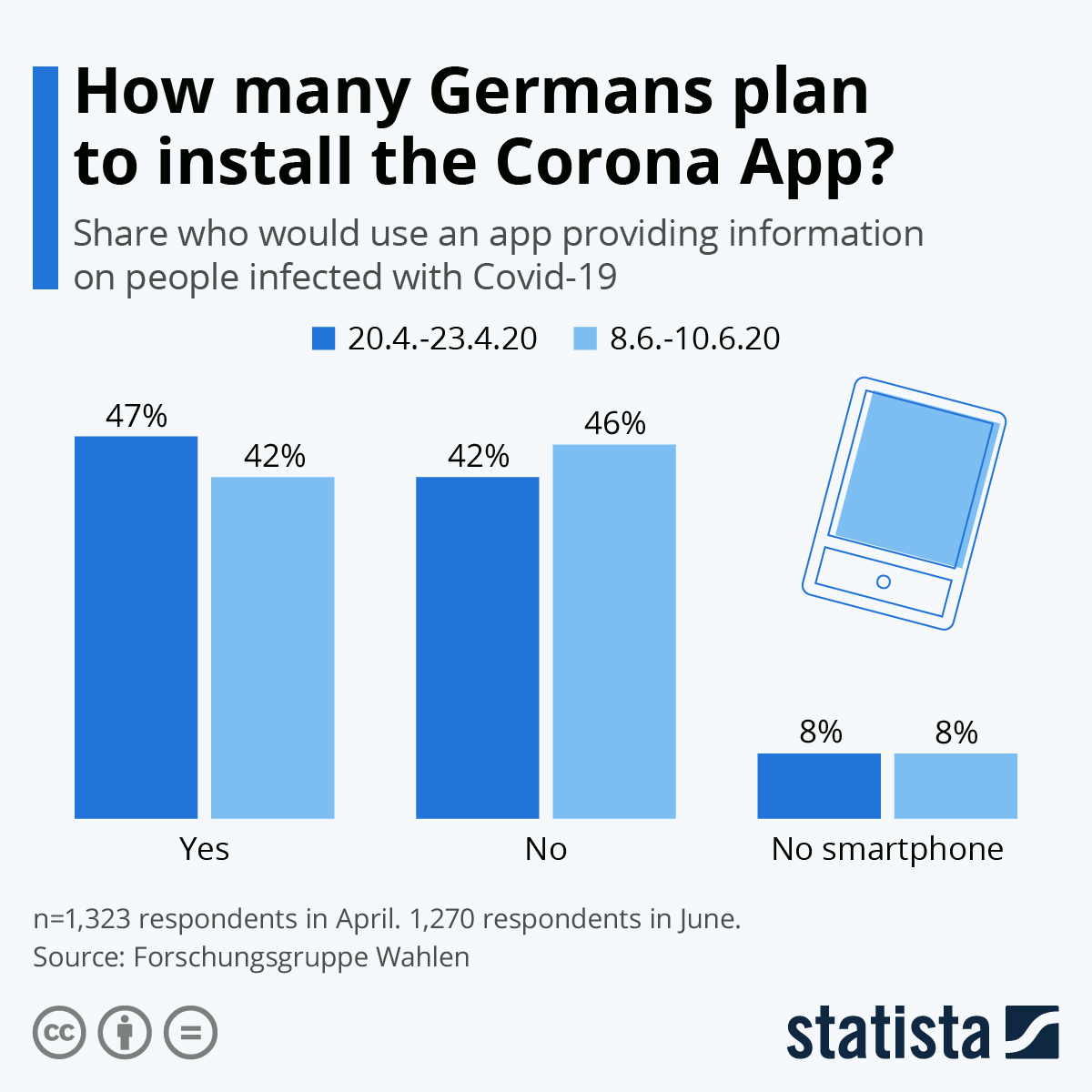 Image: Statista
In Norway, the technology has been completely abandoned after it was deemed to be too invasive.
Amnesty International has warned that contact tracing apps like Norway's are "most alarming mass surveillance tools". The organisation's assessment did not include the US contact tracing app.
In the UK, despite touting it for months, the government has (predictably) failed to roll out its contact tracing app because of bureaucracy.
Cybersecurity experts also analysed the source code of the app and found no less than seven major flaws.
UK Military Wants to Spy on Social Media to Detect "Change in Population Sentiment"
Plan inadvertently revealed in MoD strategy document.
The UK Ministry of Defence has inadvertently revealed its plan to spy on social media platforms in order to detect "change(s) in population sentiment."
Despite ostensibly being about "better use of existing silos," the MoD's Data Strategy for Defence document explains how the military should move towards "Automated scanning of social media platforms" to detect "change in population sentiment."
"Nowhere does the document explain why a strategy paper has gone so far off the beaten track that it promotes collecting data the MoD doesn't have and using it for decidedly non-military purposes," reports the Register.
Since the beginning of the COVID pandemic, the military has increasingly turned its attention inward towards its own citizens rather than doing what it should do, which is fighting foreign adversaries.
As author Laura Dodsworth revealed, GCHQ has embroiled itself in anti-vaccine and anti-lockdown messaging by targeting people who challenge the official COVID narrative online.
"She says some people believe they have been targeted by the 77th Brigade, part of the 6th Division of the Army," reported the Telegraph.
According to the Ministry of Defence, the 77th Brigade uses "legitimate non-military levers as a means to adapt behaviours of the opposing forces and adversaries."
The military's main "adversaries" are now apparently British citizens who complain about lockdown while questioning the efficacy and safety of vaccines.
Dodsworth said she "hit a brick wall" when attempting to get answers about the unit's activities, noting, "and I find that when someone puts up a brick wall, it's because that's where the real story lies."
The unit played its role in the broader agenda, facilitated by government-affiliated behavioral psychologists, to terrify the public into mass obedience to lockdown rules by exaggerating the threat posed by COVID.
SUBSCRIBE on YouTube:
Follow on Twitter: Follow @PrisonPlanet
———————————————————————————————————————
Brand new merch now available! Get it at https://www.pjwshop.com/
ALERT!
In the age of mass Silicon Valley censorship It is crucial that we stay in touch.
I need you to sign up for my free newsletter here.
Support my sponsor – Turbo Force – a supercharged boost of clean energy without the comedown.
Get early access, exclusive content and behinds the scenes stuff by following me on Locals.
———————————————————————————————————————
European Court Of Human Rights Rules Mass Spying Was Illegal; Snowden Vindicated
Renewed calls for pardoning whistleblowers after GCHQ's communications trawling officially ruled unlawful
In a landmark ruling, the European Court of Human Rights has declared that bulk communications gathering by Britain's GCHQ spy agency was illegal, proving whistleblower Edward Snowden right, and prompting more calls for the former NSA contractor to be pardoned.
The court noted that there were "fundamental deficiencies" in the GCHQ's interception of communications, namely that no politician or independent body had authorised the data gathering, that search terms GCHQ used to trawl through the data had not been included in a warrant application, and that individual names, email addresses, and phone numbers had not been authorised to be used by the spooks.
Snowden revealed that the GCHQ was scouring all online and telephone data in the UK via a program code named 'Tempora'.
Former editor of The Guardian, Alan Rusbridger, who had to destroy hard drives given to him by Snowden in 2013 before the government seized them, lauded the ruling:
Snowden responded, saying that he couldn't have done what he did without journalists and human rights lawyers:
The ruling led to new calls for Snowden, still hiding out in Moscow, as well as Wikileaks founder Julian Assange, languishing in prison, to be given their lives back:
The GCHQ continues to spy on British citizens, as we reported last November it has been monitoring the movement of British people minute by minute to check if they are complying with government restrictions.
According to reports, the spy agency embedded a 'cell' within Number 10 Downing Street in order to provide Prime Minister Boris Johnson with real time information pertaining to the public's movements.
SUBSCRIBE on YouTube:
Follow on Twitter:
Follow @PrisonPlanet
———————————————————————————————————————
Brand new merch now available! Get it at https://www.pjwshop.com/


ALERT! In the age of mass Silicon Valley censorship It is crucial that we stay in touch.

We need you to sign up for our free newsletter here.

Support our sponsor – Turbo Force – a supercharged boost of clean energy without the comedown.

Also, we urgently need your financial support here. ———————————————————————————————————————
Biden Infrastructure Bill Includes $20 BILLION To DESTROY Highways For Being Racist
Administration claims "long-standing and persistent racial injustice" in infrastructure
Joe Biden's $2.5 trillion infrastructure spending spree will include $20 billion earmarked for actually destroying highways because they have been deemed to be racist.
The administration pointed to the Claiborne Expressway in New Orleans and Interstate 81 in Syracuse, New York as two examples of "long-standing and persistent racial injustice," in infrastructure.
The plan set forth by Biden would see billions spent on an effort to "reconnect neighborhoods" by destroying current highways and making sure that new projects "advance racial equity and environmental justice."
A whopping $621 billion has been touted for 'transportation infrastructure and resilience,' with the administration promising it will address "historic inequities."
"Structural racism and persistent economic inequities have undermined opportunity for millions of workers," the administration has also claimed.
Last year, Biden's Transportation Secretary Pete Buttigieg proclaimed that "Black and brown neighborhoods have been disproportionately divided by highway projects or left isolated by the lack of adequate transit and transportation resources."
During a Senate confirmation hearing in January, Buttigeg declared "At their worst, misguided policies and missed opportunities in transportation can reinforce racial and economic inequality by dividing or isolating neighborhoods and undermining government's basic role of empowering Americans to thrive."
The Infrastructure plan has been widely criticised for including non-infrastructure related components:
Tucker Carlson warned Thursday that the Biden Administration is "looting America" and that the infrastructure outline is as much about tearing down highways than it is building them.
"Expect a lot more highways to meet this fate. People who believe highways are racist will get tens of billions of dollars as part of this plan, as long as they're in what the Biden administration calls 'underserved communities,'" Carlson noted.
"Is this really about infrastructure? Bridges? Roads? Airports? Things we could actually use? Or is it yet another weird climate scheme/power grab/race-based redistribution plan?" the host asked, going on to cite multiple examples of non-infrastructure wokeness in the bill.
Despite the vast investment plan, the woke 'Green Deal' crowd is all not happy with it, saying it isn't enough.
SUBSCRIBE on YouTube:
Follow on Twitter:
Follow @PrisonPlanet
———————————————————————————————————————
Brand new merch now available! Get it at https://www.pjwshop.com/


ALERT! In the age of mass Silicon Valley censorship It is crucial that we stay in touch.

We need you to sign up for our free newsletter here.

Support our sponsor – Turbo Force – a supercharged boost of clean energy without the comedown.

Also, we urgently need your financial support here. ———————————————————————————————————————