71 Percent Of Americans Reject Privacy Killing Contact Tracing Apps
Europeans also say no to government monitoring.
Almost three quarters of Americans say they will not submit their privacy to contact tracing apps, with Europeans also rejecting the notion outright because they do not trust government to keep their information safe and refrain from misusing it.
A study from Avira reveals that the vast majority of Americans are against contact tracing apps, with 71 percent saying they will not download them, and 75% believing their digital privacy is at risk from the technology.
Image: Avira
The poll found that only 14 percent believe the government would protect their data effectively.
When asked if they would trust big tech more than the government, 32 percent said they would feel safe giving Apple or Google their data.
The study also noted that those working in Government and Healthcare are the least-likely to download the technology, with 84% of people from these sectors saying they will not use the apps.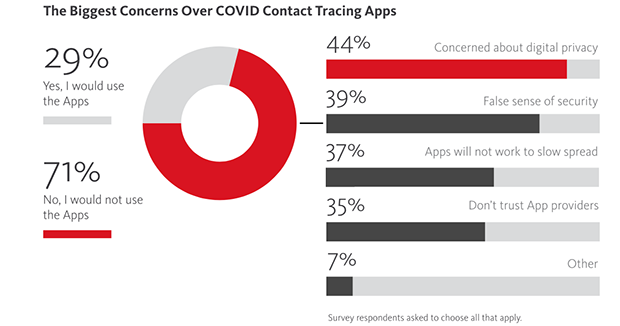 Image: Avira
Travis Witteveen, CEO of Avira commented "We believe these survey results send a clear signal to both app creators and the government. COVID contact tracing apps could fail before they launch if developers don't communicate to the public how they plan to protect people's privacy."
Meanwhile, in Germany people are also rejecting the contact tracing technology owing to privacy concerns.
The amount of people willing to use the apps has fallen to 42 percent, according to polling data from Forschungsgruppe Wahlen.
Statista notes that the latest data indicates a 6 percentage point drop since April: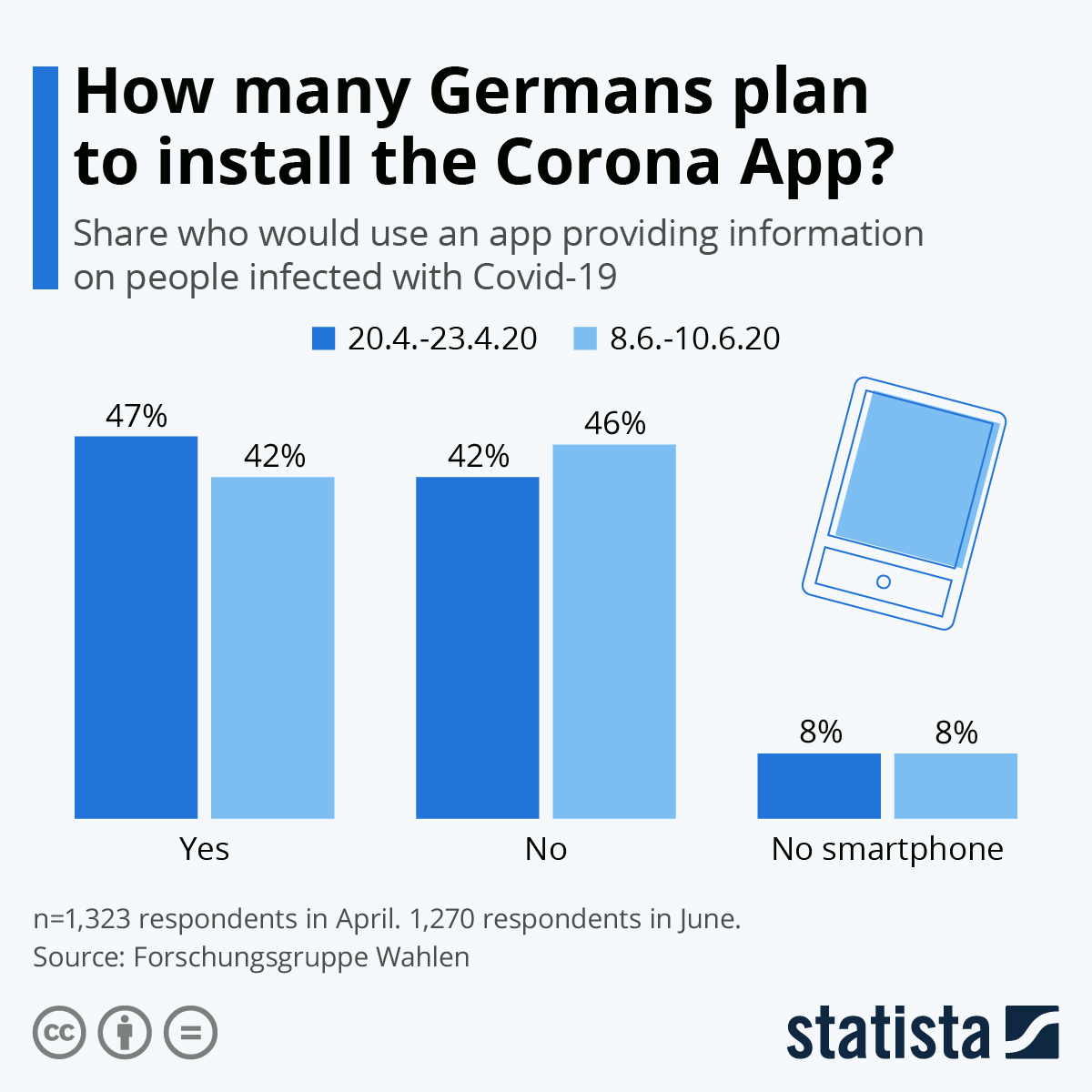 Image: Statista
In Norway, the technology has been completely abandoned after it was deemed to be too invasive.
Amnesty International has warned that contact tracing apps like Norway's are "most alarming mass surveillance tools". The organisation's assessment did not include the US contact tracing app.
In the UK, despite touting it for months, the government has (predictably) failed to roll out its contact tracing app because of bureaucracy.
Cybersecurity experts also analysed the source code of the app and found no less than seven major flaws.
Video: CNN Host Stelter Sad Over Demise Of 'Ministry Of Truth'
Tucker Carlson compares CNN anchor to 'paralyzingly stupid' character from Orwell's 1984
After CNN's potato headed weirdo Brian Stelter declared he was sad about a literal Ministry of Truth being put on hold by the Biden administration, Tucker Carlson mocked his 'paralyzing stupidity' and compared him to a character from George Orwell's dystopian novel 1984.
Carlson played clips of Stelter expressing annoyance that conservatives outed the Department of Homeland Security's (DHS) Disinformation Governance Board and its leader Nina Jankowicz as authoritarian, leading to it being mothballed.
"By far the most entertaining person Joe Biden has appointed to anything was that Nina woman he put in charge of the Ministry of Truth," Carlson said, adding that "She was so ridiculous and provably so that she's out."
"But at CNN, they are sad. They wanted her there forever," Carlson continued.
Carlson asserted that Stelter "loved the idea of a Ministry of Truth," because the CNN clown is himself "basically lifted directly from the pages of 1984, the Orwell novel."
Carlson then quoted from the novel a passage describing Tom Parsons, a character who "works as a flack for the Ministry of Truth": 
He was a fattish but active man of paralyzing stupidity, a mass of imbecile enthusiasms. One of those completely unquestioning, devoted drudges on whom a more even than on the thought police, the stability of the party depended.

George Orwell, 1984
"Now, we're not saying that's a perfect, word-for-word description of someone who currently has a media analysis show on CNN, we're gonna let you judge," Carlson quipped, adding "in case you're wondering, was George Orwell a prophet? Yeah, clearly he was."
Watch:
SUBSCRIBE on YouTube:
Follow on Twitter:
Follow @PrisonPlanet
———————————————————————————————————————
Brand new merch now available! Get it at https://www.pjwshop.com/


ALERT! In the age of mass Silicon Valley censorship It is crucial that we stay in touch.

We need you to sign up for our free newsletter here.

Support our sponsor – Turbo Force – a supercharged boost of clean energy without the comedown.

Also, we urgently need your financial support here. ———————————————————————————————————————
Government Claims DHS Disinfo Board Is Being Shut Down Because Of Disinfo
Everything is disinformation
Following the news that the Department of Homeland Security's Disinformation Board is being put on hold, new White House Press Secretary Karine Jean-Pierre claimed that the reason is that it has been 'mischaracterised'.
Labeled a 'Ministry of Truth' by critics, the Disinformation board has been suspended, with its head Nina Jankowicz, dubbed the "Mary Poppins of Disinformation", submitting a letter of resignation, according to The Washington Post.
Questioning Jean-Pierre on the matter Wednesday, Fox News reporter Peter Doocy noted "Last week, you guys said that you needed this Disinformation Governance Board at DHS to make sure that freedom of speech is protected across the country and that these platforms are not used for forums of disinformation, so what changed?"
Jean-Pierre responded that the Board has been halted because of "mischaracterations [sic] from outside forces."
"So, if it's pausing because you think the board was mischaracterized, then the Disinformation Board is being shut down because of disinformation? Is that what's happening here?" Doocy asked, pointing out the irony.
Watch:
Additionally, Jankowicz herself appeared on MSNBC and also claimed that disinformation is the reason the disinformation board is on hold.
"All these sensationalized narratives about what people thought the board was going to do was completely wrong. It was a coordinating mechanism. It was meant to make sure that the very large agency that is the Department of Homeland Security, that people were talking to each other within it," Jankowicz claimed.
"So, every characterization of the board that you heard up until now has been incorrect, and frankly, it's kind of ironic that the board itself was taken over by disinformation when it was meant to fight it," she added.
Despite the fact that she previously compared free speech to "fairy dust", promoted the lie that the Hunter Biden laptop story was Russian disinformation, and ludicrously cited Christopher Steele as an expert on disinformation, Jankowicz also asserted that "To say that I am just a partisan actor was wildly out of context."
Watch:
The so called Ministry of Truth could be dusted off and reactivated at any point, with reports suggesting that DHS Secretary Alejandro Mayorkas has picked former DHS Secretary Michael Chertoff to replace Jankowicz and to lead a "thorough review" of the scheme.
SUBSCRIBE on YouTube:
Follow on Twitter:
Follow @PrisonPlanet
———————————————————————————————————————
Brand new merch now available! Get it at https://www.pjwshop.com/


ALERT! In the age of mass Silicon Valley censorship It is crucial that we stay in touch.

We need you to sign up for our free newsletter here.

Support our sponsor – Turbo Force – a supercharged boost of clean energy without the comedown.

Also, we urgently need your financial support here. ———————————————————————————————————————
Report: CDC Spied On Americans To See If They Were Complying With Lockdowns
CDC lauded the data for "hourly monitoring of activity in curfew zones or detailed counts of visits to participating pharmacies for vaccine monitoring."
A report by Vice News details how the CDC purchased tracking data for millions of Americans' mobile phones with an intention of monitoring their movements to see if they were complying with lockdowns, curfews and travel restrictions during the COVID pandemic.
The reports states that the CDC paid $420,000 for one year of data from a company called SafeGraph, which links up with app developers to harvest location data from people's phones. When people download the apps to their devices, they are asked to accept terms that include sharing location data.
The company, which is linked to a former head of Saudi intelligence, has since been banned from the Google Play Store for violating its T&Cs on data collection.
The documents obtained by Vice state that the procurement request for the data by the CDC was labelled as an "URGENT COVID-19" request and should be given priority.
The documents outline several "potential CDC use cases for data," specifically listing "the effect of large-scale anti-contagion policies on the COVID-19 pandemic," "Examination of COVID-19 vaccination rates, mobility, … at the county or sub-county level (this could also be applies to flu and mask use)," and "examination of the correlation of mobility patterns data and rise in COVID-19 cases".
A CDC document obtained by Vice admits that the data "has been critical for ongoing response efforts, such as hourly monitoring of activity in curfew zones or detailed counts of visits to participating pharmacies for vaccine monitoring."
Another section notes that "CDC has interest in continued access to this mobility data as the country opens back up. This data is used by several teams/groups in the response and have been resulting in deeper insights into the pandemic as it pertains to human behavior."
It is believed that at least 20 million active cellphone users per day in the US had data harvested by the process.
SafeGraph has also been accused of selling location data of visitors to abortion clinics, which the company this week announced it will halt.
As we previously noted, reports revealed that Government spies in the UK were monitoring the movement of British people minute by minute to check if they were complying with government restrictions.
The London Telegraph (Paywall) reported in late 2020 that spies from Britain's most secretive intelligence and security organisation, Government Communications Headquarters, had embedded a 'cell' within Number 10 Downing Street in order to provide Prime Minister Boris Johnson with real time information pertaining to the public's movements.
The Daily Mail also reported on the development, noting that GCHQ, normally tasked with spying on terrorists and foreign powers, was turned on the British public to gauge whether people were following the COVID 'rules' or not.
The report noted that as well as tracking the movement of people, the spies were collecting information on "internet searches for holidays and jobs."
The spy agency was also being employed to combat 'anti-vaccination conspiracy theories' being spread on social media, in relation to the pandemic.
Speaking anonymously to the London Times, a source noted that "GCHQ has been told to take out antivaxers online and on social media. There are ways they have used to monitor and disrupt terrorist propaganda."
GCHQ has previously been embroiled in controversy where spying on the public is concerned, as it was revealed in 2013 by former NSA contractor Edward Snowden, that the agency was scouring all online and telephone data in the UK via a program code named 'Tempora'.
In addition, In January 2021, British Conservative MP Jeremy Hunt called for the government to use GPS tracking technology to ensure Brits were complying with COVID quarantine measures.
As we also previously highlighted, a YouGov poll asked Brits if they supported, "The Government in [country name] using the mobile phone data of individuals to ensure they are complying with restrictions on movement outside of the home during a lockdown."
45% supported the idea compared to 42% who opposed it.
Another idea was to force Brits to take daily selfies that were cross referenced with GPS data and facial recognition software to ensure they didn't leave home.
The policies were compared to those of the Chinese government, which reportedly forced some citizens to scan a government tracking app before being allowed to re-enter their own homes.
SUBSCRIBE on YouTube:
Follow on Twitter:
Follow @PrisonPlanet
———————————————————————————————————————
Brand new merch now available! Get it at https://www.pjwshop.com/


ALERT! In the age of mass Silicon Valley censorship It is crucial that we stay in touch.

We need you to sign up for our free newsletter here.

Support our sponsor – Turbo Force – a supercharged boost of clean energy without the comedown.

Also, we urgently need your financial support here. ———————————————————————————————————————