71 Percent Of Americans Reject Privacy Killing Contact Tracing Apps
Europeans also say no to government monitoring.
Almost three quarters of Americans say they will not submit their privacy to contact tracing apps, with Europeans also rejecting the notion outright because they do not trust government to keep their information safe and refrain from misusing it.
A study from Avira reveals that the vast majority of Americans are against contact tracing apps, with 71 percent saying they will not download them, and 75% believing their digital privacy is at risk from the technology.
Image: Avira
The poll found that only 14 percent believe the government would protect their data effectively.
When asked if they would trust big tech more than the government, 32 percent said they would feel safe giving Apple or Google their data.
The study also noted that those working in Government and Healthcare are the least-likely to download the technology, with 84% of people from these sectors saying they will not use the apps.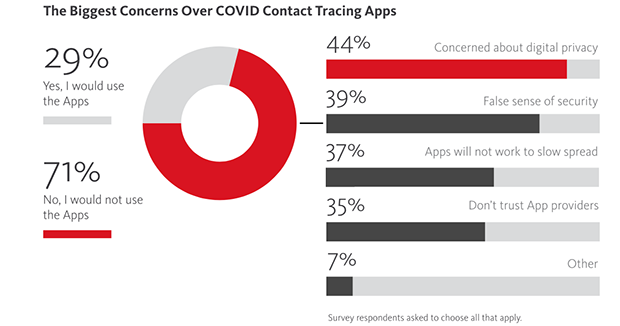 Image: Avira
Travis Witteveen, CEO of Avira commented "We believe these survey results send a clear signal to both app creators and the government. COVID contact tracing apps could fail before they launch if developers don't communicate to the public how they plan to protect people's privacy."
Meanwhile, in Germany people are also rejecting the contact tracing technology owing to privacy concerns.
The amount of people willing to use the apps has fallen to 42 percent, according to polling data from Forschungsgruppe Wahlen.
Statista notes that the latest data indicates a 6 percentage point drop since April: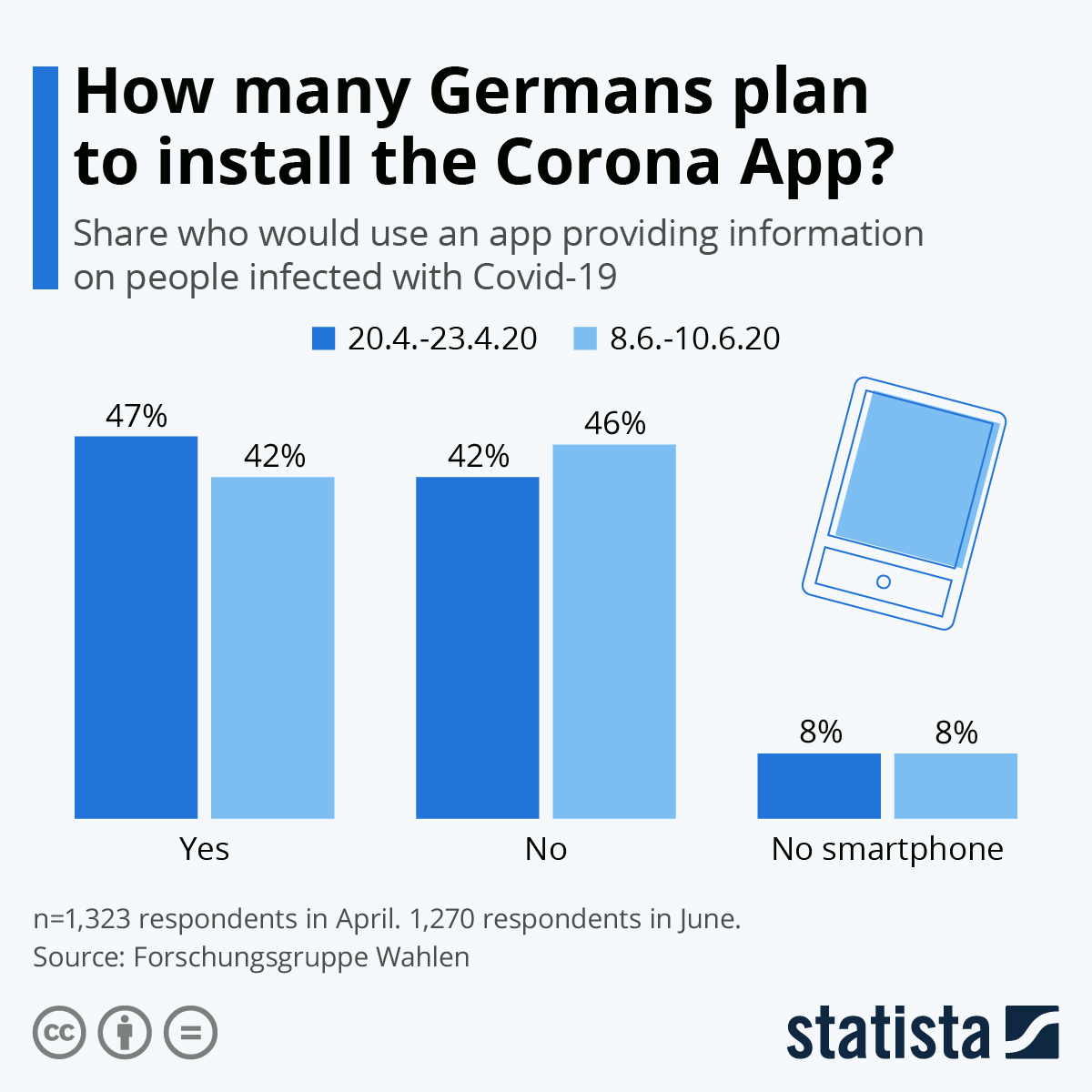 Image: Statista
In Norway, the technology has been completely abandoned after it was deemed to be too invasive.
Amnesty International has warned that contact tracing apps like Norway's are "most alarming mass surveillance tools". The organisation's assessment did not include the US contact tracing app.
In the UK, despite touting it for months, the government has (predictably) failed to roll out its contact tracing app because of bureaucracy.
Cybersecurity experts also analysed the source code of the app and found no less than seven major flaws.
Report: CDC Spied On Americans To See If They Were Complying With Lockdowns
CDC lauded the data for "hourly monitoring of activity in curfew zones or detailed counts of visits to participating pharmacies for vaccine monitoring."
A report by Vice News details how the CDC purchased tracking data for millions of Americans' mobile phones with an intention of monitoring their movements to see if they were complying with lockdowns, curfews and travel restrictions during the COVID pandemic.
The reports states that the CDC paid $420,000 for one year of data from a company called SafeGraph, which links up with app developers to harvest location data from people's phones. When people download the apps to their devices, they are asked to accept terms that include sharing location data.
The company, which is linked to a former head of Saudi intelligence, has since been banned from the Google Play Store for violating its T&Cs on data collection.
The documents obtained by Vice state that the procurement request for the data by the CDC was labelled as an "URGENT COVID-19" request and should be given priority.
The documents outline several "potential CDC use cases for data," specifically listing "the effect of large-scale anti-contagion policies on the COVID-19 pandemic," "Examination of COVID-19 vaccination rates, mobility, … at the county or sub-county level (this could also be applies to flu and mask use)," and "examination of the correlation of mobility patterns data and rise in COVID-19 cases".
A CDC document obtained by Vice admits that the data "has been critical for ongoing response efforts, such as hourly monitoring of activity in curfew zones or detailed counts of visits to participating pharmacies for vaccine monitoring."
Another section notes that "CDC has interest in continued access to this mobility data as the country opens back up. This data is used by several teams/groups in the response and have been resulting in deeper insights into the pandemic as it pertains to human behavior."
It is believed that at least 20 million active cellphone users per day in the US had data harvested by the process.
SafeGraph has also been accused of selling location data of visitors to abortion clinics, which the company this week announced it will halt.
As we previously noted, reports revealed that Government spies in the UK were monitoring the movement of British people minute by minute to check if they were complying with government restrictions.
The London Telegraph (Paywall) reported in late 2020 that spies from Britain's most secretive intelligence and security organisation, Government Communications Headquarters, had embedded a 'cell' within Number 10 Downing Street in order to provide Prime Minister Boris Johnson with real time information pertaining to the public's movements.
The Daily Mail also reported on the development, noting that GCHQ, normally tasked with spying on terrorists and foreign powers, was turned on the British public to gauge whether people were following the COVID 'rules' or not.
The report noted that as well as tracking the movement of people, the spies were collecting information on "internet searches for holidays and jobs."
The spy agency was also being employed to combat 'anti-vaccination conspiracy theories' being spread on social media, in relation to the pandemic.
Speaking anonymously to the London Times, a source noted that "GCHQ has been told to take out antivaxers online and on social media. There are ways they have used to monitor and disrupt terrorist propaganda."
GCHQ has previously been embroiled in controversy where spying on the public is concerned, as it was revealed in 2013 by former NSA contractor Edward Snowden, that the agency was scouring all online and telephone data in the UK via a program code named 'Tempora'.
In addition, In January 2021, British Conservative MP Jeremy Hunt called for the government to use GPS tracking technology to ensure Brits were complying with COVID quarantine measures.
As we also previously highlighted, a YouGov poll asked Brits if they supported, "The Government in [country name] using the mobile phone data of individuals to ensure they are complying with restrictions on movement outside of the home during a lockdown."
45% supported the idea compared to 42% who opposed it.
Another idea was to force Brits to take daily selfies that were cross referenced with GPS data and facial recognition software to ensure they didn't leave home.
The policies were compared to those of the Chinese government, which reportedly forced some citizens to scan a government tracking app before being allowed to re-enter their own homes.
SUBSCRIBE on YouTube:
Follow on Twitter:
Follow @PrisonPlanet
———————————————————————————————————————
Brand new merch now available! Get it at https://www.pjwshop.com/


ALERT! In the age of mass Silicon Valley censorship It is crucial that we stay in touch.

We need you to sign up for our free newsletter here.

Support our sponsor – Turbo Force – a supercharged boost of clean energy without the comedown.

Also, we urgently need your financial support here. ———————————————————————————————————————
Dem Rep. Suggests STEALING Trucks Of Mandate Protesters And Giving Them Away To Compliant Businesses
"Will your distribution of wealth be done at gunpoint?"
As truckers in the U.S. prepare to drive across the country into Washington D.C. in solidarity with the Canadian Freedom Convoy, one Democratic congressman has suggested that authorities should "impound" the vehicles of the anti-vaccine mandate protesters and then give them away to businesses that are compliant with the government mandates.
Democratic representative Ruben Gallego of Arizona tweeted a response to the headline "Trucker convoy could shut down DC Beltway tomorrow."
"Perfect time to impound and give the trucks to small trucking companies looking to expand their business," Gallego wrote:
Gallego's suggestion comes after the mayor of Ottawa Jim Watson suggested confiscating vehicles from freedom protesters in Canada and selling them, thus taking away their livelihoods.
"This is costing a small fortune for the taxpayers of Ottawa," Watson claimed, adding "That's one of the reasons why under the Emergencies Act, I've asked our solicitor and our city manager: How can we keep the tow trucks and the campers and the vans and everything else that we've confiscated, and sell those pieces of equipment to help recoup some of the costs that our taxpayers are absorbing? So that's one of the provisions of the Emergencies Act, and we have been a beneficiary of the Emergencies Act."
Respondents on Twitter noted that with his suggestion Gallego is essentially sanctioning illegal search and seizure:
SUBSCRIBE on YouTube:
Follow on Twitter:
Follow @PrisonPlanet
———————————————————————————————————————
Brand new merch now available! Get it at https://www.pjwshop.com/


ALERT! In the age of mass Silicon Valley censorship It is crucial that we stay in touch.

We need you to sign up for our free newsletter here.

Support our sponsor – Turbo Force – a supercharged boost of clean energy without the comedown.

Also, we urgently need your financial support here. ———————————————————————————————————————
Videos: Parents Accuse School Boards Of 'Promoting Suicide' With Creepy Corporate Run 'Social Emotional Learning' Schemes
They also warn the scheme is a "trojan horse" for Critical Race Theory and a "gateway to the LGBTQ agenda"
Concerned parents have slammed school officials for "promoting suicide" among children by amplifying a so called 'Social Emotional Learning' agenda that is obsessed with encouraging kids that it is normal to have and to openly discuss mental health illnesses and to feel like they were born as the wrong gender.
The SEL scheme is often traced back to a 1995 book titled 'Emotional Intelligence' by academic Daniel Goleman, who argued that schools focus too much on intellectual achievement, and not enough on emotional development and empathy.
However, parents are now arguing that SEL has evolved into indoctrination, and that government run schools have no place getting involved with their children's emotional and mental wellbeing.
In a recent school board hearing, a Southlake Texas mother, Tara Eddins, called for an end to the program in her children's school, claiming that it 'advertises suicide'.
Eddins asked school officials "Why are we hiring counsellors grades five through 12 at $90k a pop?"
"Counsellors need to get back to the business of prepping our kids for higher learning. Not promoting suicide," she urged, adding "These kids are trying to get through the day – get through compacted math, algebra, go to cotillion on Sunday – they are not thinking about these issues."
Watch:
Parents in Indiana also recently argued that SEL is a "dangerous gateway to the LGBT agenda," with schools encouraging children to question their sexuality:
Parents' activist groups have also warned that "profiteer consulting groups" are being brought in by schools to replace traditional school counselors.
Asra Nomani, the vice president of Parents Defending Education told NBC News "What we need to do is to separate the authenticity of social and emotional learning from the activist, divisive agendas of profiteer consulting groups that are basically using our children to increase their bottom line."
Nomani added that the SEL agenda "took a turn in the summer of 2020, after the tragedy of George Floyd's killing," adding that it has become "a vehicle for this quote-unquote 'social justice activism' and the indoctrination of controversial ideas related to race, sexuality and even gender and identity."
Another parents activist group, No Left Turn in Education, has warned that SEL "sets students up to be 'counseled' to believe things that go against what their parents have taught them."
"There are parents who raise their children with traditional family values and a biblical worldview only to have that shattered by adults in authority at school. Do you see it?" The group wrote in a recent Facebook post.
the post continued, "SEL is dangerous. It may not lead to a sexual assault by an adult, but it will likely lead to some serious mental health struggles for many young people."
"Look at the staggering number of very young women who now identify as transgender or gender fluid. Have you wondered why this is? SEL is not the only cause, but it is certainly contributing to some of the identity issues of our day," the group further warned.
As we noted last week, a new poll by Arizona Christian University has found that 39 per cent of 18-24 year olds now identify as LGBTQ.
A previous poll by Gallup found that 5.6 per cent of all adult Americans now identify as LGBTQ, up from 4.5 per cent in 2017.
The fact that the number has inflated so significantly in recent years clearly indicates it is being driven by social and cultural engineering.
The results of the Gallup poll also indicated that the rise was largely due to more people identifying as "bisexual."
However, as journalist Glenn Greenwald noted, "The vast majority of them in long-term relationships are in opposite-sex relationships (33%) rather than same-sex ones (3.7%). So 10 times more people who identify as "bi" live in hetero-appearing relationships than gay/lesbian ones."
In other words, the cultural cache of claiming to be part of 'LGBTQ' when these people aren't even in LGBTQ relationships is too tempting to resist.
The Foundations of Freedom report also noted that "The proportion of young adults who identify as LGBTQ is roughly three times the proportion identified among the combined older adults of the nation."
In addition, the fact that mental illness and depression is statistically higher amongst people who identify as LGBT raises the question of the damage that the amplification of such lifestyles by the culture is doing to young people.
Parents nation-wide have found themselves under attack by leftists and even government entities over recent weeks after taking on school officials over issues including Critical Race Theory and gay porn literature in schools.
As Tucker Carlson recently detailed, the Biden administration is using the Department of Justice and the FBI to target parents who refuse to go along with its medical mandates and teaching of such 'social justice' theories in schools.
Watch:
SUBSCRIBE on YouTube:
Follow on Twitter:
Follow @PrisonPlanet
———————————————————————————————————————
Brand new merch now available! Get it at https://www.pjwshop.com/


ALERT! In the age of mass Silicon Valley censorship It is crucial that we stay in touch.

We need you to sign up for our free newsletter here.

Support our sponsor – Turbo Force – a supercharged boost of clean energy without the comedown.

Also, we urgently need your financial support here. ———————————————————————————————————————