Harvard Professor: "Defunding The Police Is Not A Solution And Could Cost Thousands Of Black Lives"
Study finds that when police are under scrutiny, homicide numbers explode.
A Harvard university Professor has urged that defunding the police would cause more loss of life, citing figures showing that there are "450 excess homicides per year" when police are not able to do their jobs proficiently.
"Defunding the police is not a solution and could cost thousands of black lives," professor Roland Fryer wrote in an email to the College Fix.
Fryer has recently authored a research paper titled "Policing the Police: The Impact of "Pattern-or-Practice Investigations on Crime," noting that police are less present when 'viral incidents' occur, meaning crime, including homicides increase… a lot.
"Our estimates suggest that investigating police departments after viral incidents of police violence is responsible for approximately 450 excess homicides per year" the paper reads.
"This is 2x the loss of life in the line of duty for the US Military in a year, 12.6x the annual loss of life due to school shootings, and 3x the loss of life due to lynchings between 1882 and 1901 – the most gruesome years." it also notes.
"If the price of policing increases, officers are rational to retreat," the study concludes, adding "And, retreating disproportionately costs black lives."
Fryer has slammed the media for an "absolute refusal to grapple with the data" and says that there has been an "insistence" among journalists that he should not publicize his findings.
Previously, Fryer published research concerning racial disparities in police shootings. His 2016 paper concluded that officers were more likely to shoot at white suspects than they were with black suspects, indicating little to no racial bias.
"In officer-involved shootings in these cities, officers were more likely to fire their weapons without having first been attacked when the suspects were white," Fryer's paper read.
"Black and white civilians involved in police shootings were equally likely to have been carrying a weapon. Both of these results undercut the idea that the police wield lethal force with racial bias," Fryer also noted.
Rather than defunding police, Fryer argues that community policing should increase, reasoning that this way officers can make more accurate distinctions between people when they have more frequent, non-confrontational interactions with them.
The professor also suggests that investment should go toward "new technologies for police officers that allow them to do their jobs, safely, without lethal force against anyone."
Get Out of Big Cities
More stabbings in London.
Multiple stabbing attack in London. Police station 200 meters from the scene but no officers on site.
Presumably, they were too busy filing hate crime reports about people being misgendered on Twitter.
Please share this video! https://youtu.be/4N37yVK3H80
SUBSCRIBE on YouTube:
Follow on Twitter: Follow @PrisonPlanet
———————————————————————————————————————
Brand new merch now available! Get it at https://www.pjwshop.com/
ALERT!
In the age of mass Silicon Valley censorship It is crucial that we stay in touch.
I need you to sign up for my free newsletter here.
Support my sponsor – Turbo Force – a supercharged boost of clean energy without the comedown.
Get early access, exclusive content and behind the scenes stuff by following me on Locals.
———————————————————————————————————————
"Murderapolis": Ground Zero For 'Defund The Police' Movement Now Suffering Horrendous Crime Wave
In the mid-1990s, the murder rate was so high in Minneapolis that it earned the nickname, "Murderapolis."
Now, more than two years after the Democrat stronghold turned into ground zero for the 'defund the police' movement after the murder of George Floyd, Murderopolis is back.
In a kind of Newtonian response, the city became the epicenter of the culturally seismic "Defund the Police" movement. But that progressive local effort fizzled with a decisive referendum last November.

Now, with its police department under investigation by the Department of Justice, the city of 425,000 is trying to find a way forward amid a period of heightened crime that began shortly after Floyd's death. –CNN
In 2020, murders jumped from 46 to nearly 80. In 2021, 93 people were killed in the city. This year, homicides are on track to surpass 2020.
"The criminals were celebrating. They were getting rich" after police withdrew from violent neighborhoods in the wake of Floyd's killing, said longtime resident, KG Wilson. "They were selling drugs openly."
Wilson's 6-year-old granddaughter was killed in May of 2021 after getting caught in the crossfire of a shootout in north Minneapolis.
Others are blaming the pandemic.
"It unsettled settled trajectories," said former federal prosecutor, Mark Osler, who now teaches at St. Thomas School of Law in Minneapolis. "Kids who were going to school, who would have graduated but drifted off because there is no school — we're seeing a lot of the violent crime is by juveniles."
After the left demonized cops following Floyd's murder, the Minneapolis PD headcount dropped from 900 in early 2020 to around 560 in August – a loss of more than 1/3 of the force.
The hate was so strong that a 2021 ballot measure which would have replaced the Minneapolis PD with a new "public health-oriented" Department of Public Safety, barely failed – with 56% of voters rejecting it (61% in north Minneapolis).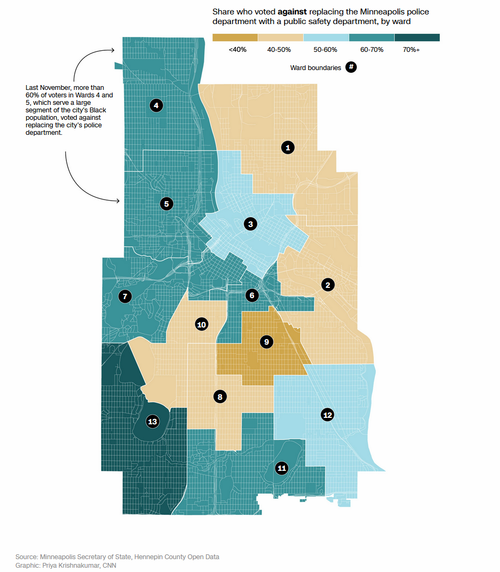 Then, the city council got wise as crime skyrocketed – dealing a final blow to the "defund" movement with a vote to re-fund the police by reversing a cut they'd made the prior year. Mayor Jacob Frey, meanwhile, has proposed beefing up the police budget for the next two fiscal years.
Feeling of lawlessness
According to the report, some 60% of police calls for shots fired have come from the north side, despite it making up just 15% of the population. Young men are openly selling drugs in public during the day, such as a gas station on Broadway ave. dubbed the "murder station" due to all the fatal shootings.
"You pull up to get gas — they try to sell you drugs," said Paul Johnson, 56. "And not just three or four, but it's a bulk of people."
Johnson's friend, Brian Bogan, said he moved from north Minneapolis to relatively safer St. Paul, because he didn't want his kids growing up in an area where you don't know if "it's fireworks or gunshots."
911 wait times have jumped
After Floyd's death average 911 response times from from 10 or 11 minutes in May of 2020, to 14 minutes later in the year – jumping in 2021 to more than 17 minutes in the north side's fourth precinct, where they remain.Some nights are so busy that the dispatchers are directed to hold all non-priority-1 calls citywide; these would include reports of property damage, suspicious persons or theft. That happened during a frenetic five-hour stretch on the night of September 8, when officers responded to multiple shootings and calls for shots fired — many of them in north Minneapolis; one near the "murder station" — that left two dead and seven wounded. -CNNThings have gotten so bad that the Minneapolis PD has flatly refused to respond to certain crimes in a timely manner – such as thefts and stolen goods. According to the police, hostility towards officers has compelled them to take a slower approach in certain parts of town.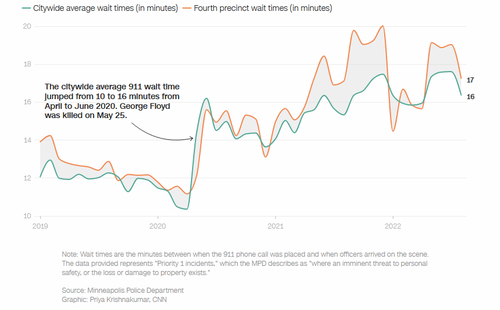 Police officials have characterized the slower response times as an "expected byproduct of a depleted force that has witnessed an overwhelming wave of retirements, resignations and disability leaves" due to post-traumatic stress.
"There's really been a very fundamental challenge to our sense of purpose in law enforcement," said interim Minneapolis Police Chief Amelia Huffman. "(Minneapolis) is the eye of the storm. So all of those challenges and the pressure is magnified, you know, a hundred fold — a thousand fold."
This post was originally published at Zero Hedge
Major London Department Store Gives Up on Calling Police to Catch Shoplifters
Presumably they were busy doing the Macarena at the gay pride parade.
London department store Fortnum and Mason has given up on calling police to catch shoplifters and is instead using its own private detectives to apprehend thieves.
The upmarket brand has "lost faith in the police" in response to rising levels of shoplifting, partly driven by the cost of living crisis.
Responding to Fortnum and Mason's decision to use its own security to catch thieves, the Metropolitan Police said businesses were "entitled to employ security companies to provide additional safety for themselves or their premises."
"Home Office figures published in April revealed that shoplifting prosecutions had fallen to an all-time low," reports the Telegraph. "Just one in six (16.8 per cent) shoplifting offences reported to police resulted in a charge, nearly half the rate of 30.8 per cent five years previously."
Between 200,000 and 300,000 shoplifting offences go unpunished every year, while untold thousands more are never even reported.
Citing a lack of resources, police departments across the UK have stopped responding to or investigating some crimes, with their officers presumably being more interested in performing dance routines at gay pride parades.
Car theft in London has effectively been decriminalized, with just 277 out of 55,000 offences being solved by Scotland Yard, a 0.5% success rate.
Back in 2015, the head of the National Police Chiefs' Council said that due to a lack of resources, officers would be unable to attend some burglaries. In 2018, it was revealed that two thirds of burglaries are not even investigated.
Despite many crimes going unsolved, there are still plenty of resources available to prosecute people for saying offensive things or making edgy social media posts.
Back in June, a man was jailed for 20 weeks for the 'crime' of posting offensive George Floyd memes in private WhatsApp and Facebook group chats.
In 2017, it was reported that British police had arrested 3,395 people for 'offensive online comments' in the space of a year.
SUBSCRIBE on YouTube:
Follow on Twitter: Follow @PrisonPlanet
———————————————————————————————————————
Brand new merch now available! Get it at https://www.pjwshop.com/
ALERT!
In the age of mass Silicon Valley censorship It is crucial that we stay in touch.
I need you to sign up for my free newsletter here.
Support my sponsor – Turbo Force – a supercharged boost of clean energy without the comedown.
Get early access, exclusive content and behind the scenes stuff by following me on Locals.
———————————————————————————————————————