UK Police Investigate Museum Curator For Suggesting Rioters Destroy 'Racist' Statues With Chemicals
White, Oxford-educated curator said next target should be 'racist' Winston Churchill.
Police in the UK have questioned a white Oxford-educated museum curator after she tweeted details of how to destroy bronze statues with household chemicals, and suggested that the next target for black lives matter protesters should be the statue of 'racist' Winston Churchill.
US born Madeline Odent sent out a series of tweets with instructions on how to dissolve bronze statues, asserting that the damage done would be "irreversible" and "practically impossible to stop."
"It can be done, but the chemical needed is super carcinogenic, so it rarely is." Odent tweeted, adding "We haven't found a way to restore artefacts that this happens to."
Odent then sarcastically added "Which is a shame, since we all immediately forget history when statues are destroyed."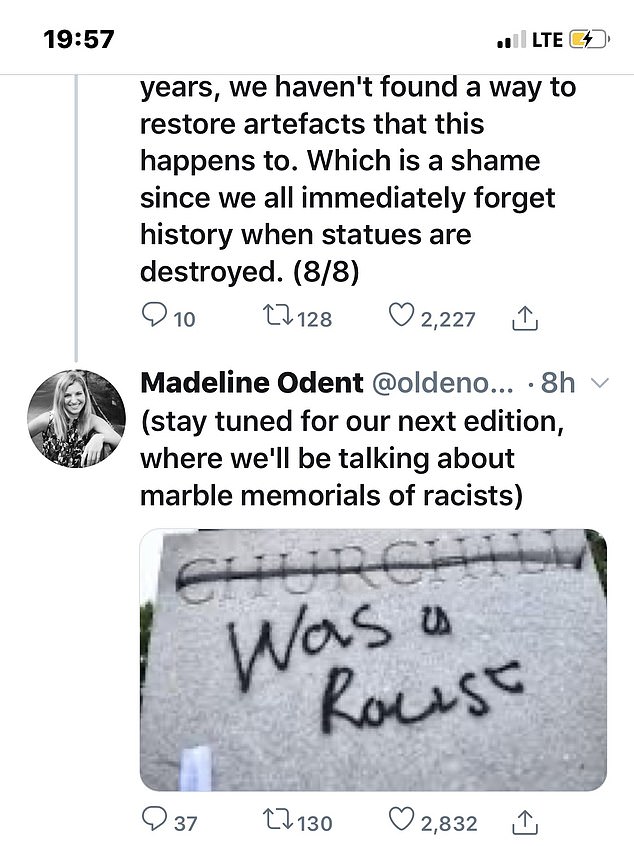 She further tweeted "Stay tuned for our next edition, where we'll be talking about marble memorials of racists."
When several respondents said they had called the police, Odent responded saying "my boss has my back" and that she would continue to use her "safe platform" to "piss off some racists."
Police told the Daily Mail that "We are aware of a series of tweets on a private twitter account, which we believe may relate to damaging statues, and we are currently looking into this matter along with our partner agencies."
Odents's tweets are now only visible to approved followers.
The Mail further reported that Odent is a virulent leftist who virtue signals consistently, noting that "In February, she scheduled a 'Drag Queen Story Time' event, writing on Facebook: 'If you're introduced to difference in a positive way, you'll respond to difference in a positive way. Thrilled to be putting this on.'"
After defacing Churchill's statue in London, and pulling down a statue of Colston in Bristol, BLM agitators have identified scores of 'racist' statues, murals, and landmarks throughout the UK that they are demanding be pulled down.
London mayor Sadiq Khan is pandering to the demands, and has set up a commission to evaluate the diversity of London landmarks.
Meanwhile, counter right wing protesters have vowed to defend the statues when mass protests resume this coming weekend.
Minneapolis Authorities Warn Residents 'Prepare' to be Robbed & Obey Criminals
"Do as they say."
Authorities in Minneapolis sent out a letter to residents telling them to 'prepare' to be robbed and to obey criminals following a recent surge in robberies and carjackings.
"Be prepared to give up your cell phone and purse/wallet," states the email, which also says that if a resident encounters a criminal, they should "do as they say."
The advisory comes off the back of over two months of rioting, protests and unrest following the death of George Floyd.
Minneapolis City Government tells residents to be ready to give up their phones and wallets and to always cooperate with criminals: pic.twitter.com/qQhw4YLRSY

— Kyle Hooten (@KyleHooten2) August 1, 2020
Minneapolis has experienced a 46% increase in carjackings and a 36% increase in robberies compared to this same time last year, while "Police in the city's Third Precinct alone have received more than 100 reports of robberies and 20 reports of carjackings in just the last month," reports Alpha News.
Minneapolis' Congressional representative Ilhan Omar has also repeatedly called for the police force to be dismantled and replaced with an army of glorified social workers.
It appears as though authorities in the city have waved a white flag to criminals who will now be emboldened to target more victims who are less likely to put up any resistance.
SUBSCRIBE on YouTube:
Follow on Twitter: Follow @PrisonPlanet
———————————————————————————————————————
There is a war on free speech. Without your support, my voice will be silenced.
Please sign up for the free newsletter here. Donate to me on SubscribeStar here.
Support my sponsor – Turbo Force – a supercharged boost of clean energy without the comedown.
———————————————————————————————————————
Over 100 Police Agencies Ditch Agreement To Guard DNC
Cops are sick of being subjugated and defunded by Democrats
The Associated Press reported Tuesday that more than 100 police agencies across the country have ditched previous agreements to provide security for the Democratic National Convention, scheduled to take place in Milwaukee in August.
The report notes that the move by cops is a reaction to Democrat responses to the anti-police unrest that has raged throughout the Summer.
"They were concerned with directives placed on the police department, including not allowing tear gas or pepper spray," said Milwaukee Police Chief Alfonso Morales.
"It is apparent there is a lack of commitment to provide the Milwaukee Police Department with the resources it needs to ensure the safety of peaceful protesters, attendees, citizens and police personnel," noted Wisconsin, Franklin Police Chief Rick Oliva.
"I can not send personnel if they are not properly equipped or will not be allowed to engage in appropriate actions which would ensure their safety," Oliva added.
"I understand that use of chemical irritants and pepper spray is serious and those are to be used only when legally justified. But when you take that out of the continuum that doesn't leave the officers much other than getting harmed or using deadly force and that's not good for any officer or the public," Waukesha Police Chief Daniel Thompson also warned.
The reaction of police is hardly surprising given that Democrats have introduced reforms to hamper police, and even expressed support for calls to defund the police.
Democrat Ilhan Omar (MN) even described police as a "cancer," adding "we are saying we don't want your damn reforms."
When this whole thing fails, take note that Congresswoman Ilhan Omar also supports the dismantling of the Minneapolis Police Department. pic.twitter.com/cW3O745oq5

— Benny (@bennyjohnson) June 8, 2020
"The Minneapolis Police Department is rotten to the root, and so when we dismantle it, we get rid of that cancer, and we allow for something beautiful to rise, and that reimagining allows us to figure out what public safety looks like for us," Omar said during a speech at a protest in June.
Italian Pedo Cult Tried to Recruit Members of the Elite
"Powerful" cabal has been operating since the 80's.
A "powerful" pedophile cult busted by police in Italy set up a sophisticated legal front to hide its activities and tried to recruit wealthy members of the elite.
The sect was exposed after a 2 year police investigation dubbed 'Operation Dionysus' during which authorities uncovered a "very powerful" cabal that subjected young women and minors to sexual abuse and torture.
Like many sex trafficking networks, the organization appeared to be into occult sex magic rituals that promised inductees entry into a "magical, fantastic and secret world" and the lighting of an "inner fire," while making them dependent on a 77-year-old leader known as 'the Doctor'.
"The brainwashed members worked at the sect's legal establishments, and were required to 'donate' large sums of money to the organization," reports RT, citing police sources. "To make the whole scheme more profitable, the cult tried to recruit new members from wealthy families."
The cult's primary members referred to themselves as "beasts," while naming their victims "prey" as they subjected them to "extreme" and "painful" forms of torture.
"The sect has had a large legal front, including several shops, a psychology center and even a publishing house, which allowed it to operate freely for years and to ensnare unsuspecting victims," according to the report.
Authorities said that the investigation took so long because it was incredibly difficult to penetrate the network as its members showed devout loyalty despite having suffered "persistent psychological damage."
The cult has been active since the 80's and 26 people are currently under investigation for being complicit in its activities, although that number is expected to grow.
As we have previously highlighted, numerous investigations of pedophile sex trafficking rings in several European countries have mysteriously been stymied after names of powerful elitists were alleged to have been connected.
SUBSCRIBE on YouTube:
Follow on Twitter: Follow @PrisonPlanet
———————————————————————————————————————
There is a war on free speech. Without your support, my voice will be silenced.
Please sign up for the free newsletter here. Donate to me on SubscribeStar here.
Support my sponsor – Turbo Force – a supercharged boost of clean energy without the comedown.
———————————————————————————————————————