Police Officer Who 'Threw Herself From Her Horse' Has Collapsed Lung, Broken Collarbone, Shattered Ribs
Officer will not be able to work for four months due to violent thuggery, yet leftists and media say its her own fault.
A police officer in London has suffered serious injuries after her horse bolted when black lives matter protesters started throwing bikes and other projectiles toward the animal. Nevertheless, the media and leftists have claimed that the officer 'knocked herself' from the horse.
Video of the incident in Central London this past weekend shows the horse becoming agitated, and the officer trying to control the animal, but failing as it runs the officer straight into a traffic light, violently throwing her off and knocking her unconscious.
Police being attacked again. Second time this week. Why was this allowed to happen? pic.twitter.com/zs7YjaxN6J

— Michael Heaver (@Michael_Heaver) June 6, 2020
The footage clearly shows 'protesters' throwing things at the animals, including heavy public London bikes:
Why are leftists so insistent on attacking animals? https://t.co/DxQbiZf7cH

— Paul Joseph Watson (@PrisonPlanet) June 7, 2020
Antifa attempted to attack a police horse in London. It did not go well pic.twitter.com/UELn8ycvLj

— Jack Posobiec 🇺🇸 (@JackPosobiec) June 7, 2020
This photo shows a 'protester' deliberately shoving a bike at the horses:
The police may well be investigating before they put out an official statement. But journalists and eyewitnesses on the scene are more forthright.

For example, here's a 'protester' pushing a bike at a police horse. A police investigation may well conclude the same. pic.twitter.com/zOaME0WNeW

— Mind-in-Requiem 🥀 (@PeteMIR69) June 7, 2020
Here the projectiles and bikes can be seen scattered all over the ground:

Photo by Luke Dray/Getty Images
Despite it being obvious what caused the animal to become spooked, the BBC reported that "the officer knocked herself off her horse", while showing a poor angle of the incident, and only the aftermath:
"The officer knocked herself off her horse." BBC.

This is like saying George Floyd kneeled on his own head.pic.twitter.com/lbKOIm2ceg

— Paul Joseph Watson (@PrisonPlanet) June 7, 2020
On their website, the BBC merely noted that the horse bolted, not that rioters were pelting it with projectiles:
"A police horse has bolted."

What caused this to happen, BBC?

Would have thought that would have been an important detail. https://t.co/X8e1MgVkcV

— Paul Joseph Watson (@PrisonPlanet) June 7, 2020
It was a common thread in the state broadcaster's coverage of the entire weekend, as it claimed protesters were 'largely peaceful' despite multiple incidents of violence and full on attacks on police.
Titanic sinks after striking an iceberg during largely peaceful travel over the North Atlantic Ocean https://t.co/L1FdKgTKF5

— Ministry of Truth (@BanTheBBC) June 7, 2020
2 skyscrapers knocked over during largely peaceful September flight. https://t.co/8YVtaDj53h

— Paul Joseph Watson (@PrisonPlanet) June 7, 2020
CNN blamed the horse for causing 'havoc':
Airplane causes havoc during September flight to New York. pic.twitter.com/KY13sZN7Ks

— Paul Joseph Watson (@PrisonPlanet) June 7, 2020
The horse made it's own way home ('screw you guys, I'm going home'):
The horse, uninjured, made its own way back to the stables, nearby.

— MPS Events (@MetPoliceEvents) June 6, 2020
However, the officer is severely injured, with a collapsed lung, broken collarbone and shattered ribs, according to reports.
The Metropolitan Police Federation said that the officer is still receiving treatment in hospital, and is likely to be off duty for four months while she recovers.
Leftists attempted to argue that the entire incident was the police officer's own fault, despite clear images and video of thugs pelting the horse. They were led by virulent socialist virtue signaller Owen Jones:
You're wrong a lot but you're not *this* stupid. Are you seriously suggesting that it was the trained officer's own fault that their horse bolted and sent her flying through the air? Don't you reckon the thugs throwing bricks and bikes played a pretty large part in that?! https://t.co/DKmQtJSUZq

— Darren Grimes (@darrengrimes_) June 6, 2020
Highly trained mounted police officers don't "ride directly into traffic lights." Terrified horses bolt. FFS. https://t.co/VgU5lOMo1t

— Isabel Oakeshott (@IsabelOakeshott) June 6, 2020
Owen Jones is a hideous person, no surprise by the shit that comes out of his mouth. He is only to eager to blame the police for it, wait till he needs to ring people for help, hopefully the police won't bother. https://t.co/wy43ht8epk

— Stephanie (@Stephy31uk) June 6, 2020
The disingenuous sack of shit known as Owen Jones just managed to reach a new low

The female officer's horse was being pelted by bricks and other projectiles thrown by the crowd–causing it to bolt and very nearly ending her life

Jones is detestable. Absolute vermin pic.twitter.com/lnT3IigtrR

— nietzschean (@nietzschean10) June 6, 2020
He even called for horses to be banned:
Owen Jones is gunning for horses. Of course he is – horses were *definitely* the problem today. If it hadn't been for those pesky horses, everything would have been fine! pic.twitter.com/Av6GgyoYI4

— Nathalie (@Arwenstar) June 6, 2020
Give it 24 hours and Owen will claim the war memorials were defaced by the horses.
"LET'S BAN HORSES FROM PROTESTS!"

— Nathalie (@Arwenstar) June 6, 2020
It's outrageous that a police horse got in the way of a dangerous projectile. If the horse hadn't been there, the projectile wouldn't have hit it.
Love from Owen Jones and Ash Sarkar.

— Mark Lees (@WinterfellT) June 7, 2020
A Guardian 'journalist' called for a funny meme to be made out of the footage of the officer being seriously injured:
This is @guardian writer Hannah Jane Parkinson @ladyhaja asking for a parody to be made of the exact moment when a police officer was seriously injured during yesterdays protest in London.

If the @guardian do not fire her, they must approve of her actions and are complicit. pic.twitter.com/egasGPXU1B

— Mason Mills (@MrMasonMills) June 7, 2020
These people are truly sick.
Murder Crisis Plagues DC As Mayor Begs For More Officers After 'Defunding Police'
How it started.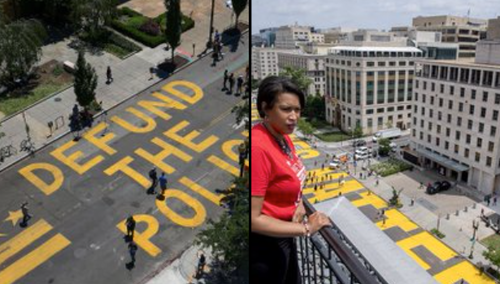 How it's going? 
D.C. Mayor Muriel Bowser, a former supporter of the 'defund the police' movement, urgently calls for increased policing as the nation's capital faces an out-of-control murder crisis.
"What I can say is this: To me, numbers are just numbers. When we lose one person — whether it's one or 200 — that's too many," Bowser said at a press conference earlier this week.
Of course, Bowser, like many Democrat mayors, blames firearms as the issue, deflecting any possibility her disastrous social justice reforms only embolden criminals – while punishing law-abiding taxpayers -across the imploding Washington, DC metro area.
Even the Washington Post can't ignore the murder crisis:
For the first time in a quarter-century, the year's homicide toll in Washington has surpassed 200 before October — a mark of surging violence that has angered and distressed local leaders, drawn scrutiny from Congress and made some residents question whether they can safely live in the nation's capital.
WaPo added:
The last time D.C. logged its 200th homicide before October was Aug. 12, 1997, in a year that ended with 303 people slain, according to police data. After that, annual totals generally trended downward, staying below 200 from 2004 to 2020, with a low of 88 in 2012. But the killing pace has picked up again, reaching 226 in 2021.
Heading into the 2024 presidential election cycle, Democrats will never admit their social justice reforms have failed. They conveniently blame guns.
Directly north of D.C. lies another crime-ridden metro area: Baltimore City. And this week, mass looting was seen in Philadelphia. And just north of Baltimore and Philadelphia, New York City's progressive mayor recently warned of financial ruins due to a migrant crisis.
Democrats have transformed cities into absolute messes.
This post was originally published at Zero Hedge
Lawlessness Spreads To Suburbia: Westport Man Carjacked In Own Garage
Violent crime appears to be spreading to suburbia. For the millions of Americans who fled crime-ridden metro areas where Democrat leaders failed to enforce law and order, the dramatic video of a carjacker assaulting a Westport, Connecticut, man in his garage for his Aston Martin serves as a wakeup call to better defend yourself and loves ones. 
Westport Journal reports that the Westport Police Department released dramatic security footage from a Ring camera that shows a residential burglary and carjacking on Bayberry Lane on Sunday afternoon. Two suspects assaulted the man in his garage and stole his Aston Martin.
"They surround the vehicle and drag the man from the car as he calls for someone in the home to contact police. The intruders appear to repeatedly strike the man as he tries to fend them off," the local media outlet said.
Westport police Lt. Eric Woods said the victim was targeted and followed back to his residence. "Therefore, Westport Police are encouraging residents to be aware of their surroundings and report any suspicious behavior to 911," he said.
The consequence of failed Democrat policies in major cities has only emboldened criminals who are now expanding their theft wave to suburbia. It's also a cautionary sign for homeowners who might want to explore firearms training to defend themselves, their families, and their property.
Meanwhile, the average police response time is more than ten minutes. And Democrat lawmakers want to strip the public of firearms (see New Mexico Governor Michelle Lujan Grisham's latest 2A overreach).
The video proves the Westport man couldn't afford to wait just one minute.
This post was originally published at Zero Hedge
Serial Killer Billy Chemirmir 'Killed by Cellmate' in Texas Prison
The judge in the case declared a mistrial.
Convicted murderer Billy Chemirmir, an illegal alien from Kenya suspected of being one of the most prolific serial killers in American history, was reportedly killed in prison on Tuesday morning by his cellmate.
From WFAA, "Convicted North Texas killer Billy Chemirmir killed in prison, officials say":
Convicted North Texas killer Billy Chemirmir, who was suspected in over 20 murders, was killed in a state prison Tuesday morning, officials confirmed to WFAA.

Chemirmir, 50, was serving life in prison without parole after he was twice found guilty of capital murder by Dallas County juries. He was accused of killing 20 other women in Dallas and Collin counties and still faced charges in those cases.

The Dallas County District Attorney's office confirmed they were notified by Texas prison officials that Chemirmir was killed Tuesday morning. State prison officials confirmed that Chemirmir was found dead in his cell early Tuesday and his cellmate, who was serving on a murder charge out of Harris County, was "identified as the assailant."

Dallas County District Attorney John Creuzot told WFAA that Chemirmir was killed after apparently making inappropriate comments sexual in nature towards his cellmate's children. According to Creuzot, the cellmate allegedly beat Chemirmir, dragged him out of his cell and killed him while other inmates watched. No one intervened and Chemirmir may have been stabbed with a pen, Creuzot said.
They should identify the cellmate so the public can send him letters of appreciation.
Authorities suspected Chemirmir could be involved in around 1,000 suspicious deaths in Texas but tried to convict him in 2021 specifically for killing 24 elderly patients who were overwhelmingly female and white.
Despite having a slam dunk case, one single female juror who "didn't even go back to [look at the evidence]" and "had her mind made up before she walked in" refused to convict, according to family member of a victim who was in the courtroom.
The judge in the case declared a mistrial and two new trials had to be held for separate victims in order to secure convictions.
Follow InformationLiberation on Twitter, Facebook, Gab, Minds and Telegram.