Democrats Declare "Riots Are An Integral Part Of This Country's March Towards Progress"
Trump vows to act where 'weak' Democrat governors refuse.
In a now deleted tweet, Democrats in Virginia defended violence being carried out by so called 'protesters', and announced that "Riots are an integral part of this country's march towards progress."

The tweet by the Fairfax County Democratic Committee cited a previous reference by Barack Obama to the Stonewall riots of 1969 during his second inauguration speech.
Obama said "We, the people, declare today that the most evident of truths –- that all of us are created equal –- is the star that guides us still; just as it guided our forebears through Seneca Falls, and Selma, and Stonewall."
In context, it's clear that Obama was not advocating rioting. Indeed, just days ago he issued a statement condemning the current spate of looting and violence.
The family of George Floyd has also pleaded for rioting to stop:
George Floyd's family has explicitly called for an end to looting and violence, yet blue check marks on here (some of them journalists and academics) are still advocating it.

Almost like this is nothing to do with what happened to Floyd.https://t.co/rwhRd1ee1b

— Paul Joseph Watson (@PrisonPlanet) June 1, 2020
So how many other Democrats believe that rioting and looting is 'a march toward progress'?
On Monday, President Trump issued a stark warning to Democratic governors that if they act 'weak' and do not act to stop the violence he will step in and mobilise all federal and military personnel at his disposal.
The White House has said that Trump is considering invoking the Insurrection Act to deal with the violence. However, it's more likely that the shows of force seen in Washington DC Monday night will be repeated elsewhere.
Attorney General Bill Barr and Defense Secretary Mark Esper both walking around the streets of DC tonight visiting police lines. pic.twitter.com/VZ1Q5dg4o8

— Ebony Bowden (@ebonybowden) June 2, 2020
General Milley, chairman of the joint chiefs of staff, walking the streets of Washington DC right now. Briefly spoke to say he is observing the situation. pic.twitter.com/fHcYOTYMzN

— Shabtai (@velvetart) June 2, 2020
Helicopter parked over a crowd at 5/E St Nw #WashingtonDCProtest trying to force ppl away with noise and wind pic.twitter.com/x0AcC3ob0S

— Daniella Cheslow (@Dacheslow) June 2, 2020
Army blackhawks are conducting "show of force" passes on protestors. One flyover snapped a tree that nearly hit several people. pic.twitter.com/Z8UnQOypYy

— Thomas Gibbons-Neff (@Tmgneff) June 2, 2020
Nando's smashed on 7th St in Chinatown as police use tear gas and flash bang grenades

Mayhem impacting businesses for third night at #WashingtonDCProtest #protest2020 pic.twitter.com/Tu5sfRhAen

— Steven Nelson (@stevennelson10) June 2, 2020
Significant smashing begins: Teamsters union HQ and hotel smashed in view of US Capitol

Around 500 here violating @MayorBowser curfew after Trump vowed enforcement #WashingtonDCProtest #protests2020 pic.twitter.com/CXruyOHgmP

— Steven Nelson (@stevennelson10) June 2, 2020
Hundreds of law enforcement are herding remaining protesters — many trying to smash things as they go — by every means possible: on foot, on bikes, in cars, with flash grenades, in the circling helicopter.

Pandemonium as small bands split apart being tracked across the city pic.twitter.com/3QiCfg3GOu

— Hannah Natanson (@hannah_natanson) June 2, 2020
Things are growing unruly downtown. People are smashing windows with rocks and baseball bats. The helicopter is circling ever closer overhead. Police are throwing flash grenades to force the group in certain directions.

Mass looting of a CVS just now pic.twitter.com/RBhfzOAUBS

— Hannah Natanson (@hannah_natanson) June 2, 2020
Helicopter just flew extremely low over remaining protesters in D.C. Right after some knocked in a few shop windows and window of cop car.

Terrifying & impossible to keep eyes open — too much debris whipped around. People scattering in all directions. pic.twitter.com/Ww8y1mK0zg

— Hannah Natanson (@hannah_natanson) June 2, 2020
Tense situation on Swann Street in DC. Cops surrounded protesters and started firing pepper spray. A resident let more than 100 protesters take shelter in his home. "I'm not letting any of these kids out of my sight," he told me over the phone. pic.twitter.com/Bk6NOIbAwf

— Derek Hawkins (@D_Hawk) June 2, 2020
"There's no way for us to get out of this house and not get arrested." Listen to what a woman who sought refuge inside what appears to be the same DC home as the video below tells @jackiebensen @nbcwashington https://t.co/fOnDJxLizw pic.twitter.com/qZDneJTBf3

— Haleigh Hoffman (@HaleighHoffman) June 2, 2020
another neighbor just opened their door and let protestors run in, Police followed them in pic.twitter.com/01StC2m8Sa

— Meka (@MekaFromThe703) June 2, 2020
City seems mostly quiet now, just jam-packed with law enforcement who are standing silent guard over empty streets. Protesters appear dispearsed. If anyone's still out, they're wandering in 2s or 3s.

A souvenir left on the street, spotted by @nu1wcf : pic.twitter.com/mUg13yVD1H

— Hannah Natanson (@hannah_natanson) June 2, 2020
It is so much calmer and more peaceful in DC tonight relative to the weekend.

— Hunter Walker (@hunterw) June 2, 2020
The scene right now at 16th and I, 2 blocks from the White House. DC National Guard members are here but essentially no protesters. Very different from the past few nights. pic.twitter.com/1lqoQKRZiU

— Josh Rosenthal (@JoshRosenthalTV) June 2, 2020
Small pockets of protesters out now in DC. Crowd beyond the police line chanting "hands up, don't shoot" on 15th & Swann. Still seeing more police than protesters tonight. #DCPROTEST pic.twitter.com/uJ4CCejNxF

— Lindsay Watts (@LindsayAWatts) June 2, 2020
Happening now, 10:30 PM EST – demonstrators march down the street as police throw flashbangs #dcprotests pic.twitter.com/BbursF6Xkz

— jon chase (@jonathanchase_) June 2, 2020
Murder Crisis Plagues DC As Mayor Begs For More Officers After 'Defunding Police'
How it started.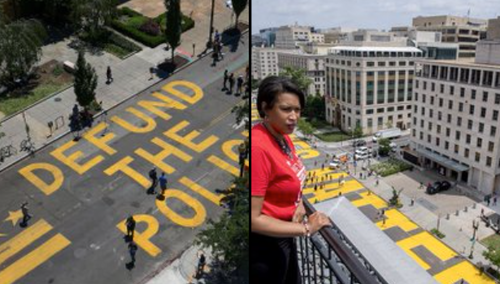 How it's going? 
D.C. Mayor Muriel Bowser, a former supporter of the 'defund the police' movement, urgently calls for increased policing as the nation's capital faces an out-of-control murder crisis.
"What I can say is this: To me, numbers are just numbers. When we lose one person — whether it's one or 200 — that's too many," Bowser said at a press conference earlier this week.
Of course, Bowser, like many Democrat mayors, blames firearms as the issue, deflecting any possibility her disastrous social justice reforms only embolden criminals – while punishing law-abiding taxpayers -across the imploding Washington, DC metro area.
Even the Washington Post can't ignore the murder crisis:
For the first time in a quarter-century, the year's homicide toll in Washington has surpassed 200 before October — a mark of surging violence that has angered and distressed local leaders, drawn scrutiny from Congress and made some residents question whether they can safely live in the nation's capital.
WaPo added:
The last time D.C. logged its 200th homicide before October was Aug. 12, 1997, in a year that ended with 303 people slain, according to police data. After that, annual totals generally trended downward, staying below 200 from 2004 to 2020, with a low of 88 in 2012. But the killing pace has picked up again, reaching 226 in 2021.
Heading into the 2024 presidential election cycle, Democrats will never admit their social justice reforms have failed. They conveniently blame guns.
Directly north of D.C. lies another crime-ridden metro area: Baltimore City. And this week, mass looting was seen in Philadelphia. And just north of Baltimore and Philadelphia, New York City's progressive mayor recently warned of financial ruins due to a migrant crisis.
Democrats have transformed cities into absolute messes.
This post was originally published at Zero Hedge
Lawlessness Spreads To Suburbia: Westport Man Carjacked In Own Garage
Violent crime appears to be spreading to suburbia. For the millions of Americans who fled crime-ridden metro areas where Democrat leaders failed to enforce law and order, the dramatic video of a carjacker assaulting a Westport, Connecticut, man in his garage for his Aston Martin serves as a wakeup call to better defend yourself and loves ones. 
Westport Journal reports that the Westport Police Department released dramatic security footage from a Ring camera that shows a residential burglary and carjacking on Bayberry Lane on Sunday afternoon. Two suspects assaulted the man in his garage and stole his Aston Martin.
"They surround the vehicle and drag the man from the car as he calls for someone in the home to contact police. The intruders appear to repeatedly strike the man as he tries to fend them off," the local media outlet said.
Westport police Lt. Eric Woods said the victim was targeted and followed back to his residence. "Therefore, Westport Police are encouraging residents to be aware of their surroundings and report any suspicious behavior to 911," he said.
The consequence of failed Democrat policies in major cities has only emboldened criminals who are now expanding their theft wave to suburbia. It's also a cautionary sign for homeowners who might want to explore firearms training to defend themselves, their families, and their property.
Meanwhile, the average police response time is more than ten minutes. And Democrat lawmakers want to strip the public of firearms (see New Mexico Governor Michelle Lujan Grisham's latest 2A overreach).
The video proves the Westport man couldn't afford to wait just one minute.
This post was originally published at Zero Hedge
Serial Killer Billy Chemirmir 'Killed by Cellmate' in Texas Prison
The judge in the case declared a mistrial.
Convicted murderer Billy Chemirmir, an illegal alien from Kenya suspected of being one of the most prolific serial killers in American history, was reportedly killed in prison on Tuesday morning by his cellmate.
From WFAA, "Convicted North Texas killer Billy Chemirmir killed in prison, officials say":
Convicted North Texas killer Billy Chemirmir, who was suspected in over 20 murders, was killed in a state prison Tuesday morning, officials confirmed to WFAA.

Chemirmir, 50, was serving life in prison without parole after he was twice found guilty of capital murder by Dallas County juries. He was accused of killing 20 other women in Dallas and Collin counties and still faced charges in those cases.

The Dallas County District Attorney's office confirmed they were notified by Texas prison officials that Chemirmir was killed Tuesday morning. State prison officials confirmed that Chemirmir was found dead in his cell early Tuesday and his cellmate, who was serving on a murder charge out of Harris County, was "identified as the assailant."

Dallas County District Attorney John Creuzot told WFAA that Chemirmir was killed after apparently making inappropriate comments sexual in nature towards his cellmate's children. According to Creuzot, the cellmate allegedly beat Chemirmir, dragged him out of his cell and killed him while other inmates watched. No one intervened and Chemirmir may have been stabbed with a pen, Creuzot said.
They should identify the cellmate so the public can send him letters of appreciation.
Authorities suspected Chemirmir could be involved in around 1,000 suspicious deaths in Texas but tried to convict him in 2021 specifically for killing 24 elderly patients who were overwhelmingly female and white.
Despite having a slam dunk case, one single female juror who "didn't even go back to [look at the evidence]" and "had her mind made up before she walked in" refused to convict, according to family member of a victim who was in the courtroom.
The judge in the case declared a mistrial and two new trials had to be held for separate victims in order to secure convictions.
Follow InformationLiberation on Twitter, Facebook, Gab, Minds and Telegram.