EU 'Green' Agenda Calls For Eating Bugs To Save the Planet
Urges that environmental goals "will not happen without a shift in people's diets."
A new EU draft policy announced last week calls for "insect-based proteins" to be extensively promoted as a replacement for animal products, to save the environment.
The European Commission announced the Farm to Fork (F2F) Strategy, touting it as a "fair, healthy and environmentally-friendly" program that will focus on "increasing the availability and source of alternative proteins such as plant, microbial, marine, and insect-based proteins and meat substitutes."
The draft noted that the program "will not happen without a shift in people's diets".
"Moving to a more plant-based diet with less red and processed meat and with more fruits and vegetables will reduce not only risks of life-threatening diseases, but also the environmental impact of the food system," claims the strategy, revealed last Wednesday.
EU centric news site EURACTIV, noted that the policy is calling for eating bugs, and spoke to Constantin Muraru from the international platform of insects for food and feed (IPIFF), an EU non-profit organisation which represents the interests of the insect production sector.
Muraru lauded the idea of both humans and animals eating more bugs, saying that there is "enormous potential."
"Currently, the EU is heavily reliant on the importation of feedstuffs, but the disruption in the past few months with the coronavirus outbreak has made it increasingly apparent that we must look to make our agriculture more self-sustainable," he said.
"Insects can be produced locally and are a highly nutritious, protein-rich foodstuff that can be produced in high quantities in a small area," he added.
The EU continues to push the idea of eating bugs, with its Food Safety Authority having approved the sale of bugs as "novel food" earlier this year, meaning that they are likely to be mass produced for human consumption throughout the continent by the end of the year.
"These have a good chance of being given the green light in the coming few weeks," the secretary-general of the International Platform of Insects for Food and Feed, Christophe Derrien, told The Guardian.
Would you switch to an insect-based diet? Although insects are viewed as a highly promising solution to the challenges facing the food industry, many Europeans still see them as novelty food at best.@EURACTIVBerlin reports.https://t.co/15bRNTc0oO

— EURACTIV (@EURACTIV) March 7, 2020
The craze for eating insects stems from UN guidelines that "promote insects as a sustainable high-protein food."
As we have previously highlighted, eating bugs has been heavily promoted by cultural institutions and the media in recent years because people are being readied to accept drastically lower standards of living under disastrous global 'Green New Deal' programs.
This will be exacerbated by the expected economic recession, or even depression, caused by the coronavirus outbreak.
This is why globalist publications like the Economist have been promoting the idea of eating bugs despite the fact that the kind of elitists who read it would never consider for a second munching on crickets or mealworms.
Unsurprisingly, restaurants are not seeing a big uptake for worm burgers, otherwise known as 'bug macs', or cricket based cuisine.
Video: Thermal Drone Footage Shows Army Of Illegals Entering U.S.
"It happens every morning"
Footage captured by a thermal drone shows an army of illegal migrants entering the U.S. at Eagle Pass, Texas, yesterday with the reporter who captured the footage noting that it happens "every morning".
The video shows scores of migrants lined up ready to cross into the U.S. under cover of darkness.
Fox News reporter Bill Melugin tweeted out the footage Thursday, noting that there have been over 1,400 crossings in the Del Rio sector alone in the past 24 hours, and close to seventy thousand since the beginning of last month.
Texas GOP ~Senator Ted Cruz commented on the footage, noting that "5,000,000 illegal aliens have crossed the border since Joe Biden was elected."
5,000,000 illegal aliens have crossed the border since Joe Biden was elected.

Over 230,000 illegal aliens crossed last month alone.

And STILL Joe Biden doesn't secure the border. https://t.co/BBSJadktHB

— Ted Cruz (@tedcruz) November 17, 2022
Last week, similar footage captured migrants streaming into Eagle Pass basically unimpeded.
Speaking last week, Melugin urged that he witnesses the same thing happen every morning "with no resistance" on either side of the border.
Melugin noted that many of the migrants he speaks to repeat the same phrase, "Joe Biden es el major".
Melugin recently highlighted newly released CBP numbers showing close to a quarter of a million encounters with migrants at the border in October alone, with 64,000 recorded "gotaways".
BREAKING: CBP reports there were 230,678 migrant encounters at the border in October, the first month of fiscal year 2023. It is an enormous increase over recent Octobers.

OCT FY'23 : 230,678
OCT FY'22 : 164,837
OCT FY'21 : 71,929
OCT FY'20: 45,139
OCT FY'19: 60,781 @FoxNews

— Bill Melugin (@BillFOXLA) November 15, 2022
As we highlighted last month, newly published federal data revealed that close to a hundred individuals listed on the FBI terror watchlist have been apprehended at the Southern border in the last year, a record high and a huge uptick in recent months.
Federal Data Quietly Reveals 100 Terror Suspects Caught At Southern Border
The data was highlighted by Melugin, as he noted that the figure is almost four times the previous five years combined:
Previous data from 2019 indicated that zero terror suspects had been encountered at the border.
Earlier this week, DHS Secretary Mayorkas laughably insisted that the southern border is secure:
.@RepDanBishop: Sec. Mayorkas, do you continue to maintain that the southern border is secured?

Mayorkas: Yes, and we are working day in and day out to enhance its security. pic.twitter.com/YePqcAXB4N

— Julio Rosas (@Julio_Rosas11) November 15, 2022
SUBSCRIBE on YouTube:
Follow on Twitter:
Follow @PrisonPlanet
———————————————————————————————————————
Brand new merch now available! Get it at https://www.pjwshop.com/


ALERT! In the age of mass Silicon Valley censorship It is crucial that we stay in touch.

We need you to sign up for our free newsletter here.

Support our sponsor – Turbo Force – a supercharged boost of clean energy without the comedown.

Also, we urgently need your financial support here. ———————————————————————————————————————
Video: NBC News Advises Parents To Keep Kids Away From "Unvaccinated Individuals"
Medical correspondent falsely claims "we don't know why" more kids are getting sick from respiratory viruses
As winter looms, NBC News has some top tips for parents who are concerned about their children catching respiratory viruses… keep them away from the dirty unvaccinated people.
In a recent segment, an infographic advised that those who want to "protect" their children should wash hands, stay home, get vaccines and "avoid physical interaction with unvaccinated individuals."
There is no actual evidence that unvaccinated individuals are more at risk of transmitting COVID or that the vaccines prevent the spread of the virus, but never mind that inconvenient distraction.
The anchors then asked medical correspondent Dr. John Torres why more children are now so susceptible to RSV (respiratory syncytial virus), to which he responded "we don't exactly know why."
That is also not true, given that the CDC recently issued a report highlighting how a record number of children are now being hospitalised with common colds due to weakened immune systems.
Commenting on the findings, Dr Scott Roberts, a medical director at Yale University stated that lockdowns impacted the ability of children to build up immunity to common illnesses.
"There are two implications to this," the doctor said, explaining "First, the gap gives time for the viruses to mutate even further to cause more severe disease."
"And second, whatever immunity was built up to those viruses' it will have waned making the immune response now much less potent," Roberts added.
The doctor also noted that children, including his own son are now getting "constant infections."
The CDC data is consistent with research by scientists at Yale who warned that it is not normal to see children with combinations of seven common viruses, including adenovirus, rhinovirus, respiratory syncytial virus (RSV), human metapneumovirus, influenza and parainfluenza, as well as COVID-19.
But whatever, keeping your kids safely locked away at home and away from the unvaccinated is the smart move.
SUBSCRIBE on YouTube:
Follow on Twitter:
Follow @PrisonPlanet
———————————————————————————————————————
Brand new merch now available! Get it at https://www.pjwshop.com/


ALERT! In the age of mass Silicon Valley censorship It is crucial that we stay in touch.

We need you to sign up for our free newsletter here.

Support our sponsor – Turbo Force – a supercharged boost of clean energy without the comedown.

Also, we urgently need your financial support here. ———————————————————————————————————————
"Chief Twit" Musk Reportedly Orders Job Cuts Across Twitter
Twitter's workforce is expected to be gutted as soon as today, four people with direct knowledge of the matter told NYTimes. Managers of the social media platform have been asked to create lists of employees to cut.
Billionaire Elon Musk, who became "Chief Twit" on Thursday after finalizing the deal to purchase Twitter for $44 billion, immediately ordered company-wide cuts. The people in the know weren't entirely sure about the scale of the layoffs.
Musk has recently said that he planned to cut 75% of the company's 7,500 employees, leaving a workforce of approximately 2,000.
'FIRED' Trends And Celebratory 'Offensive' Tweets Are Unleashed As Musk Sacks Woke Censorship Kingpins
The layoffs would occur before Nov. 1, when employees are scheduled to receive stock grants as compensation. Musk could avoid paying the grants by laying off workers before that date.
On Wednesday, Musk walked into Twitter's San Francisco headquarters carrying a kitchen sink in preparation for his takeover. He tweeted: "Entering Twitter HQ – let that sink in!"
The world's richest man also changed his Twitter bio to "Chief Twit."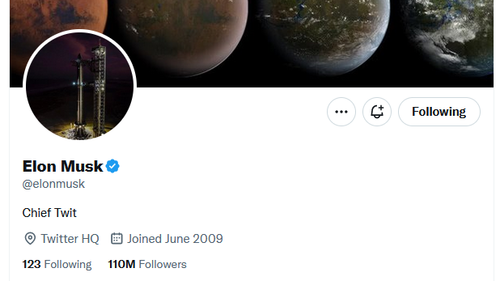 Musk has already fired Twitter's chief executive, chief financial officer, and other executives.
This post was originally published at Zero Hedge