Expert: 'Chinese Regime Is Deeply Racist… This Is Something We Haven't Seen Since The Third Reich'
Report: Universities refusing to co-operate with investigation into Chinese infiltration.
Several universities in the U.S. are refusing to cooperate with federal investigations into alleged infiltration by the Chinese government through bribes and financial kickbacks, according to reports.
College Fix reports that multiple institutions being scrutinised by the Department of Education are refusing to provide internal documents that are thought to contain evidence of undisclosed financial grants from the Chinese government.
The legal representatives of the universities are arguing that they do not have to provide information because of "Freedom of Information Act exemptions and legal privileges," according to correspondence from the Department of Education, which did not name the institutions that have refused to comply.
Department of Education General Counsel Reed Rubinstein noted that "the evidence suggests massive investments of foreign money have bred dependency and distorted the decision making, mission, and values of too many institutions."
Rubinstein admitted that the government will not be able to fully release information it does receive from the universities.
"Inappropriate disclosure of confidential information could lead to separation of powers concerns and will certainly impair the factfinding and enforcement work Congress has authorized us to do," Rubinstein stated.
As we have recently highlighted, many universities throughout America are still allowing what have been described as Chinese propaganda centers to operate on their campuses, despite warnings from intelligence officials that the communist state is using them to infiltrate US society and indoctrinate Americans.
US intelligence agencies have previously labeled the Confucius Institutes as a national security threat, and several universities have since trashed the programs.
In congressional testimony in 2018, FBI Director Christopher Wray warned that "The level of naïveté on the part of the academic sector about this creates its own issues. They're exploiting the very open research and development environment that we have, which we all revere. But they're taking advantage of it."
In January, the Department of Justice also arrested a professor at Harvard, as well as two Chinese nationals for reportedly acting as foreign agents.
An engineering professor at the University of Arkansas was also arrested by the FBI and faces up to 20 years in prison for allegedly hiding funding that he received from the communist Chinese government.
Congressional Republicans have also expressed concerns that China is attempting to hinder US coronavirus research through such infiltration of US universities.
Last week, the FBI issued a PSA warning of the Chinese government's intention to steal American medical research in its quest to find a cure for COVID-19.
Speaking to Campus Reform, Gordon Chang, an expert on United States-China relations, and author of The Coming China Collapse, noted that "estimates put the annual theft of American intellectual property at somewhere between $150-600 billion a year."
"Some of that actually takes place on American college campuses. China has bought a number of college professors, a number of them have been fingered by the FBI and they're pending investigations, and Chinese students have been engaged in activities…for instance, downloading entire databases for China."  Chang added.
Referring to the Confuscious Institutes, Chang said that they "report in reality to the Communist Party's United Front Work Department. That means these are attempts to subvert other countries."
"The U.S. is not permitted to have institutes like this in China. You don't have a Lincoln Center or Roosevelt Institute… we know that propaganda is absolutely critical to totalitarian regimes." Chang urged.
"They want to put forth narratives and restrict what is said about China on American campuses." Chang asserted, adding that "You've got to remember that the Chinese regime is deeply racist with its Han nationalist ideology. This is something we haven't quite seen since The Third Reich."
Last year President Donald Trump signed the 2019 National Defense Authorization Act which proposed an ultimatum to universities receiving financial assistance from the Pentagon: close the Chinese propaganda center on campus or lose funding. Since that time, at least 49 schools have closed their Confucius Institute, according to Human Rights Watch.
The problem extends beyond the US, with European officials also expressing concerns that China is using the programs to infiltrate and spy on other countries. Some nations have outright banned the Chinese from setting up the institutes at their universities.
China Accuses NSA Of Hacking Into Government-Funded University
Three months after US security agencies warned that Chinese-backed hackers had been targeting "major telecommunications companies and network service providers" for over two years, Chinese state media on Thursday accused the National Security Agency (NSA) of infiltrating a government-funded university and gaining access to 'China's telecommunications network,' CNBC reports.
Citing an unnamed source, the Global Times accused the NSA of phishing – a hacking technique which uses malicious links or other methods to trick users into providing access credentials – to gain access to Northwestern Polytechnical University, where they allegedly stole "core technology data including key network equipment configuration, network management data, and core operational data," along with other files.
The report goes on to claim that the NSA infiltrated Chinese telecom operators in an effort to "control the country's infrastructure."
The Global Times, citing its unnamed source, reported that more details about the attack on Northwestern Polytechnical University will be released soon.

For several years, China has accused the U.S. of cyberattacks but has not been specific. However, in the last few weeks, Beijing has been more vocal in attributing particular attacks to the U.S., in a ramping up of tensions between the two nations in the cyber sphere. -CNBC
The alleged attack was discovered by China's National Computer Virus Emergency Response Center several weeks ago, which also accused the US of engaging in "tens of thousands" of cyberattacks on Chinese targets.
Conversely, the US has accused China of massive hacking operations – with FBI Director Christopher Wray claiming in February that Beijing's cyberattacks have become "more brazen, more damaging, than ever before," in their attempts to steal US information and technology.
In June, US security agencies warned that Chinese-backed hackers were targeting "major telecommunications companies and network service providers" since 2020.
In a June 7 cybersecurity advisory, they urged those affected to take immediate remedial action.
The advisory, coauthored by the National Security Agency (NSA), the Cybersecurity and Infrastructure Security Agency (CISA), and the Federal Bureau of Investigation (FBI), said the hackers "continue to exploit publicly known vulnerabilities," using tactics to bypass defenses and keeping themselves undetected.
The agencies pointed out that the hackers allegedly utilized open-source tools, such as RouterSploit and RouterScan, and known software flaws in networking devices such as routers.
"[T]hese devices are often overlooked by cyber defenders, who struggle to maintain and keep pace with routine software patching of Internet-facing services and endpoint devices," noted the agencies.
The agencies did not identify the victim companies in the advisory, but they included a list of the common vulnerabilities and exposures (CVEs) most frequently exploited by the Chinese regime's hackers since 2020, together with vulnerability types and the major vendors—Cisco, Citrix, D-Link, Fortinet, and Netgear.
They urged potential victims to shore up their networks by applying immediate patches, updating infrastructure, and disabling unnecessary ports and protocols.
This post was originally published at Zero Hedge
EU Threatens To Suspend €7.5BN In Hungary Funding Amid Charges Of 'Cozying Up' To Putin
The EU's patience with Viktor Orban's Hungary is running extremely thin after years of wrangling and threats from Brussels of triggering the "rule of law" mechanism, despite recently announced efforts of Budapest to establish an anti-graft agency. 
It seems Russia's war in Ukraine is hastening a confrontational and fractured ending to the standoff, with the EU on Sunday threatening to freeze 7.5 billion euros which had been earmarked for Hungary, citing persisting corruption and fraud.
It's been no secret that Orban has been a thorn in the side of European efforts to punish and isolate Putin's Russia. While Hungary has demanded exemptions from EU energy sanctions on Russia, and has meanwhile enjoyed cheap gasoline and other energy at a moment prices in the rest of Europe have gone steadily up over the course of the war – and into what's sure to be a tough winter – the belief among leading EU states is that joint bloc anti-Russia actions have been largely blunted. The timing of the fresh EU threats is not going unnoticed.
Bloomberg in a fresh report has put the dilemma as follows: "But while most member states have been engaged in a desperate scramble to secure alternative gas supplies ahead of the winter, Orban has deepened his country's ties to the Kremlin, exploiting the exemptions he demanded from EU sanctions to secure increased imports of gas from Russia."
Poland has remained a powerful impediment thus far to Brussels triggering any significant rule of law penalties, despite Warsaw remaining at the forefront of denunciations of Russia's invasion.
"During years of frustration at the Hungarian government, Orban has been shielded from the EU's main disciplinary machinery, known as the article 7 procedure, by the support of the nationalist government in Warsaw — because that mechanism too requires the endorsement of all the other members," Bloomberg recounts. "The war in Ukraine has soured Orban's relationship with the Polish government, which has been among the most ardent supporters of firm action against Putin, but for now the Poles are standing by Orban."
Orban has cast efforts to "punish" his country in terms of a war on traditional values. For now, Poland seems to agree… the vast divergence in rhetoric on the Russia-Ukraine conflict notwithstanding.
Prime Minister Mateusz Morawiecki said Sunday, "Poland will strongly oppose any action of European institutions that intend to unduly deprive any member states of funds, in this case Hungary."
Interestingly (given the timing of the EU's threat to freeze funds), just days ago PM Orban reportedly told a closed-door meeting of officials from his ruling Fidesz party that he would fight efforts to extend EU sanctions on Russia:
Hungarian Prime Minister Viktor Orban expects European Union leaders to start talks on extending sanctions on Russia in the autumn but Budapest would try to block the move, Radio Free Europe/Radio Liberty reported, citing unidentified sources.

Orban, a harsh critic of EU sanctions on Moscow over its invasion of neighbouring Ukraine, made the remarks at a closed meeting to party members in the western village of Kotcse last week, RFE/RL said on its Hungarian website on Friday.
He also appeared to once again blame the West for the Ukraine conflict spiraling out of control, and continued his theme of anti-Russia sanctions ultimately blowing back on populations at home, or shooting the European economy in the foot.
Russian media too has been featuring recent quotes of Orban's lambasting collective Western policy: "The Hungarian leader allegedly told his supporters that he believed Ukraine may end up losing between one third and one half of its territory due to the conflict with Russia, RFE/RL reported on Friday, citing participants of the meeting in the village of Kotcse."
Budapest has meanwhile lashed out at the European Parliament's (EP) recent move to approve a resolution stating that Hungary is no longer a "full democracy." That nonbinding EP vote from last week cited Hungary's failures to uphold "respect for human dignity, freedom, democracy, equality, the rule of law, and respect for human rights, including the rights of persons belonging to minorities" – as the text reads, in repetition of prior EP statements.
A Fidesz statement said in response: "It is unforgivable that, while people are suffering from the severe economic effects of wartime inflation and misguided sanctions, the European Parliament is attacking Hungary again."
This post was originally published at Zero Hedge
Slava Raytheon: Zelensky To Headline Conference Of US Defense Companies
Ukrainian President Volodymyr Zelensky has throughout much of the six-month long Ukraine war been busy rallying support to his side by addressing dozens of Western countries' parliaments, for which Ukraine has since been rewarded with billions of dollars in foreign defense and humanitarian aid.
His foremost theme has been a constant refrain of his military urgently needing more, more and more weapons. He's even requested advanced fighter jets, months ago asking Congress to "close the skies" (or in essence a No Fly Zone).
Now for the first time it seems he'll go straight to the source, as he's set to be the keynote speaker, via video link, to a major meeting of American defense contractors later this month. The Hill is confirming that "he headlines the annual Future Force Capabilities Conference and Exhibition hosted by the National Defense Industrial Association (NDIA)" in Austin, Texas on September 21.
Ukraine's defense minister Oleksii Reznikov is also scheduled to address the conference. Naturally, both are expected to emphasize a message that more and heavier arms are needed if Ukrainian forces hope to sustain their eastern and southern counteroffensive, which in the last days has been widely reported as successful – at least so far.
Russian Defense Ministry spokesman Igor Konashenkov has on Saturday admitted his army has had to "regroup" troopsfrom Balakliya and Izyum in Kharkiv Oblast. This is being taken as a sign Ukraine's military is being pushed back from Kharkiv and could be taking heavy losses, with the day prior Zelensky announcing Ukraine has taken back over 30 settlements in the region.
"We are gradually taking control over more settlements, returning the Ukrainian flag and protection for our people." Zelenskiy said. "Our army, intelligence, the Security Service of Ukraine continue active actions in several operational directions. They continue successfully."
This is the message he's expected to stress in addressing the major arms expo in August. In the audience will be representatives from the leading military weapons manufacturers in the US:
News of the Ukrainian president's speech to the NDIA — whose membership includes defense industry giants like Raytheon Technologies, Lockheed Martin and General Dynamics — comes as Kyiv looks to fend off Russia's invasion as it drags through its sixth month.

Eight defense contractors — including Raytheon, Lockheed and General Dynamics — attended a meeting at the Pentagon in April to discuss how the U.S. could speed up production to help Ukraine fend off Moscow's war.

The U.S. has committed $15.2 billion in security assistance to Ukraine since the beginning of the Biden administration, including $14.5 billion since Russia invaded Ukraine on Feb. 24.
A number of independent observers are noting just how obviously this brings to the fore one of the key motives of US hawks, especially officials tied closely to the military-industrial complex, who have shown no interest in pushing both warring sides to the negotiating table. In fact, evidence has recently emerged strongly pointing to Washington and London playing the role of behind-the-scenes saboteurs to prior ceasefire talks.
Instead the past months have seen these officials by and large argue for Congress to sign off on essentially a "blank check" bonanza of Ukraine arms procurement. Like other recent conflicts, for example in the Middle East, they see the Russia-Ukraine war as fundamentally an opportunity.
Journalist Max Blumenthal sums up the unspoken reality nicely: "Fresh off his appearance at Wall Street, where he pitched corporations on the plunder of his country's assets, Zelensky will appear at a conference of arms makers in Texas to present his country's war as a fantastic business opportunity."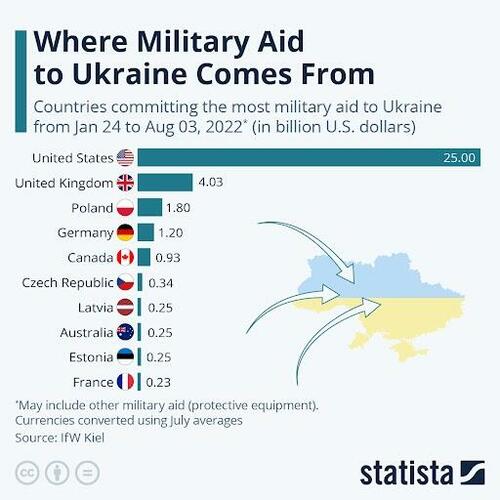 You will find more infographics at Statista
And Zelensky will without doubt continue to get the red carpet rolled out for him by the world's wealthiest defense firms, given he singularly remains the arms contractors' #1 foreign client – and all at the expense of the common US taxpayer to boot.
This post was originally published at Zero Hedge