Austrian Study Finds 'Sign Of Human Intervention' In Coronavirus
Virus was cultured to attack human cells, according to research.
A scientific study in Austria has found that SARS-CoV-2, the coronavirus that has led to a pandemic, was likely created in a lab, barring some "remarkable coincidence" that led to the virus naturally evolving to be optimised to attack human cells.
The study was led by Nikolai Petrovsky, a vaccine researcher at Flinders University. The scientists in his team discovered that the coronavirus is optimized for penetration into human cells, rather than animal cells, which means that the theory that it emerged from an animal market and jumped to humans naturally is unlikely.
Lifesite News reports that the scientists "used a version of the novel coronavirus collected in the earliest days of the outbreak and applied computer models to test its capacity to bind to certain cell receptor enzymes, called "ACE2," that allow the virus to infect human and animal cells to varying degrees of efficacy."
"They found that "the novel coronavirus most powerfully binds with human ACE2, and with variously lesser degrees of effectiveness with animal versions of the receptor."
The authors believe this means that the virus "became specialized for human cell penetration by living previously in human cells, quite possibly in a laboratory."
The Study notes that  "a virus would be expected to have highest affinity for the receptor in its original host species, e.g. bat, with a lower initial binding affinity for the receptor of any new host, e.g. humans. However, in this case, the affinity of SARS-CoV-2 is higher for humans than for the putative original host species, bats, or for any potential intermediary host species."
It continues, noting that a "possibility which still cannot be excluded is that SARSCoV-2 was created by a recombination event that occurred inadvertently or consciously in a laboratory handling coronaviruses, with the new virus then accidentally released into the local human population."
Dr Petrovsky added in a statement that, rather than being rapidly genetically spliced and mutated, the virus shows signs of being  'cultured' to evolve over time.
"Our and other analyses of the genomic sequence of the virus do not reveal any artificial gene inserts that would be the hallmark of a gene jockey, genetic engineers who manipulate or even create viruses by splicing in artificial inserts into their genome." Petrovsky said.
"These are generally easily recognisable and hence clear signatures of human intervention in the creation of a virus. The fact that these artificial inserts are not present has been interpreted by some to mean this virus is not the result of human manipulation." he added.
"However, this logic is incorrect as there are other ways in which humans can manipulate viruses and that is caused by natural selection," he continued, adding that "you can force [a] bat virus to adapt to infect human cells via mutations in its spike protein," after culturing it for a few years.
"The result of these experiments, according to the doctor, would be "a virus that is highly virulent in humans but is sufficiently different that it no longer resembles the original bat virus."
If all of this sounds familiar, it is because this is exactly what the scientists inside the Wuhan Institute of Virology were doing with bat borne coronaviruses.
From Live Science:
The WIV lab, along with researchers in the U.S. and Switzerland, showed in 2015 the scary-good capability of bat coronaviruses to thrive in human cells. In that paper, which was published in 2015 in the journal Nature Medicine, they described how they had created a chimeric SARS-like virus out of the surface spike protein of a coronavirus found in horseshoe bats, called SHC014, and the backbone of a SARS virus that could be grown in mice. The idea was to look at the potential of coronaviruses circulating in bat populations to infect humans. In a lab dish, the chimeric coronavirus could infect and replicate in primary human airway cells; the virus also was able to infect lung cells in mice.

That study was met with some pushback from researchers who considered the risk of that kind of research to outweigh the benefits. Simon Wain-Hobson, a virologist at the Pasteur Institute in Paris, was one of those scientists. Wain-Hobson emphasized the fact that this chimeric virus "grows remarkably well" in human cells, adding that "If the virus escaped, nobody could predict the trajectory," Nature News reported.
In an email to LifeSite, Dr Petrovsky said that his study suggests that "there are some highly unusual features, including optimal human adaptation, that in the absence of identification of a close to identical virus in an animal population from which COVID19 could have arisen, would point in the direction of human intervention at some point in the evolution of COVID19."
He added that scientists have been unable to find any evidence of this coronavirus strain present in animals, which would support the natural evolution theory.
"If an animal vector and virus could be found then of course this would resolve the matter completely," Petrovsky noted, adding "One would have thought that the Chinese would be intensively sampling all conceivable animals trying to find such a virus to exonerate their labs. If no such intense search is going on (which I don't know one way or the other) then the inference could be that they are not looking because they already know what they might find."
"Whilst the facts cannot be known at this time, the nature of this event and its proximity to a high-risk biosecurity facility at the epicentre of the outbreak demands a full and independent international enquiry to ascertain whether a virus of this kind of COVID-19 was being cultured in the facility and might have been accidentally released,"  Petrovsky concluded.
Maryland School Implements New Mask Mandate
As Biden masks up in front of the press
An elementary school in Maryland has reinstated mandatory mask requirements, as Joe Biden appeared in front of the press wearing a face covering Tuesday.
Rosemary Hills Elementary School in Silver Spring, a wealthy DC suburb, has brought back the mask mandate for students and staff, and added that the coverings should be N95 masks.
The school sent out a letter informing parents they have taken the decision after just THREE students tested positive for COVID.
"Additional KN95 masks have been distributed and students and staff in identified classes or activities will be required to mask while in school for the next 10 days, except while eating or drinking. Masks will become options again following the 10-day period," the letter states.
We've heard that one before.
"At-home rapid test kids will be sent home and made available for students," Principal Irwin Kennedy further notes, adding that CDC guidance decrees that testing should be done "5 days after an exposure (starting day 6)" or at such time as symptoms occur.
"We will continue to reinforce good hand washing and follow cleaning and disinfection procedures," the letter further states.
The move comes as Joe Biden donned a face diaper as he arrived at a White House gathering, before removing it altogether.
The White House says Biden will wear the mask after his multiple time vaxxed and boosted wife contracted COVID again.
Related:
SUBSCRIBE on YouTube:
Follow on Twitter:
Follow @PrisonPlanet
———————————————————————————————————————
Brand new merch now available! Get it at https://www.pjwshop.com/


ALERT! In the age of mass Silicon Valley censorship It is crucial that we stay in touch.

We need you to sign up for our free newsletter here.

Support my sponsor – Summit Vitamins – super charge your health and well being.

Also, we urgently need your financial support here. ———————————————————————————————————————
Trump Lockdown Tyrant Does 180, Says No New Mask Mandates
When COVID-19 broker out, Dr. Deborah Birx, a former military AIDS researcher with no training, experience, or publications in epidemiology or public health policy, found herself leading a White House Task Force which would play a seminal role in dictating how the country locked down for the pandemic.
In March of 2020, Birx and Dr. Anthony Fauci were grinning like Cheshire Cats with Duper's Delight as they laid out an unprecedented lockdown and masking strategy which Birx later admitted they pulled out of their asses.
Now that we're revisiting mask mandates over the latest Covid-19 surge, Birx and Fauci are seemingly on different sides of the debate.
"We don't need to mandate," Birx told Newsmax on Saturday, in response to reports that an increasing number of hospitals and businesses are now requiring masks again.
"We need to actually empower people with the information that they need for themselves and their families because every family is different," she continued. "And by the way, outside is safe, and playgrounds are safe."
Meanwhile Fauci – the guy who was funding risky bat coronavirus research in Wuhan, China and was then put in charge of the Coronavirus response in which he had scientists scramble to create and bolster propaganda denying a lab leak – went on CNN to push for mask mandates, claiming "there have been many studies indicate the benefit of wearing masks."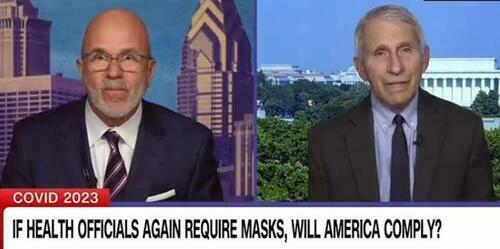 Yet, Anchor Michael Smerconish brought up the Cochrane review of masks, one of umpteen studies that have all found that the face coverings do little to nothing against COVID transmission (via Summit News).
"When you're talking about the effect on the epidemic or the pandemic as a whole, the data are less strong," Fauci said, sqirming. "There are other studies, Michael, that show at an individual level, for individuals they might be protective."
Sure Tony…
This post was originally published at Zero Hedge
Video: Fauci Squirms As CNN Anchor Confronts Him With Data Showing Masks Don't Work
"There are other studies"
Anthony Fauci refused to back away from the recommendation of face masks Saturday as CNN (of all networks) confronted him with a study showing that they have no effect on preventing the spread of COVID.
After Fauci claimed "there have been many studies indicate the benefit of wearing masks," Anchor Michael Smerconish brought up the Cochrane review of masks, one of umpteen studies that have all found that the face coverings do little to nothing against COVID transmission.
"When you're talking about the effect on the epidemic or the pandemic as a whole, the data are less strong," Fauci squirmingly admitted, but then went on to suggest people should still wear them anyway.
"There are other studies, Michael, that show at an individual level, for individuals they might be protective," Fauci claimed.
Senator Rand Paul blasted Fauci for spreading "more subterfuge":
Others chimed in:
Elsewhere during the interview Fauci said he hopes people will comply with wearing masks again, while stating "we're not talking there's forcing anybody to do anything."
He continued, "We're not talking about mandates or forcing anybody but when you have a situation where the volume of cases in society gets to a reasonably high level, particularly the vulnerable, those who are elderly, and those with underlying conditions are going to be more susceptible and vulnerable if they do get infected to get severe disease leading to hospitalization."
"I would hope that if in fact we get to the point where the volume of cases is such an organization's like the CDC recommend, CDC doesn't mandate anything, I mean, recommends that people wear masks, I would hope that they abide by the recommendation and take into account the risk to themselves and to their families," Fauci further stated.
He continued, "People keep thinking that the federal government is going to mandate that you wear a mask, that's not going to happen," he said. "But there may be individual institutions, organizations that are going to say, if you want to come to work, you've got to wear a mask."
Here is the full interview:
As we have highlighted, there is a creeping attempt to bring back masking and COVID restrictions despite no large bounce in cases and the fact that they just don't work.
Related:
SUBSCRIBE on YouTube:
Follow on Twitter:
Follow @PrisonPlanet
———————————————————————————————————————
Brand new merch now available! Get it at https://www.pjwshop.com/


ALERT! In the age of mass Silicon Valley censorship It is crucial that we stay in touch.

We need you to sign up for our free newsletter here.

Support my sponsor – Summit Vitamins – super charge your health and well being.

Also, we urgently need your financial support here. ———————————————————————————————————————