Bizarre EU Funded Comic Book Predicted Pandemic, With Globalists As Saviours
Eerie 2012 document painted eurocrats as saving the planet from a killer virus and draconian lockdowns.
A strange comic book that was commissioned for publication by the European Union in 2012 eerily predicted almost exactly what has unfolded with the Covid-19 global pandemic. However, in this propaganda laced presentation of the outbreak, unelected globalist bureaucrats save the planet.
The comic book, titled 'Infected', was a production of the European Commission's international cooperation and development arm. It was not intended for widespread public consumption, but instead to be distributed inside EU institutions. Only a few hundred of the comic books were made.
The EU's description of the strange publication states that "While the story may be fictional, it is nevertheless intertwined with some factual information."
The graphic novel depicts scientists inside a lab in China experimenting with deadly pathogens: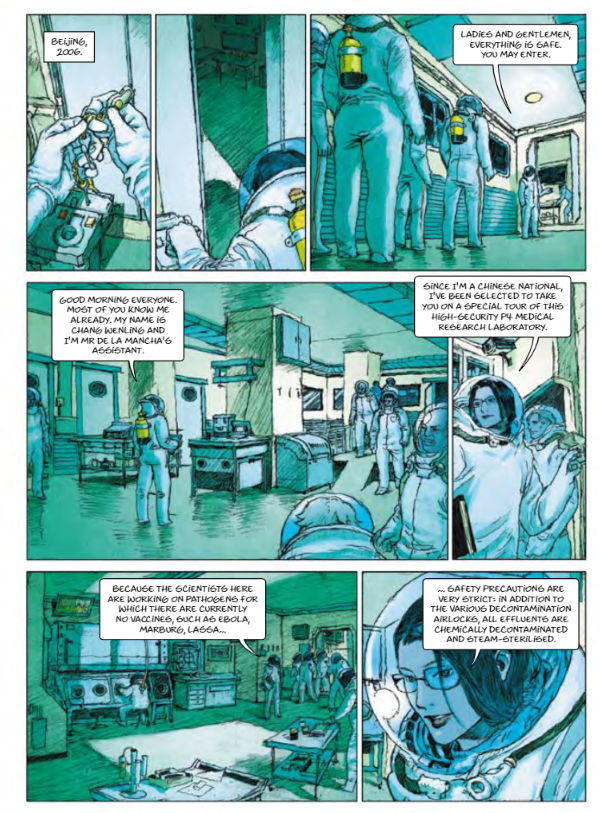 A wannabe hero time travels from the future, alerting authorities to the coming pandemic, and presents an antidote, before quickly becoming the target of opportunists who want to steal the cure and sell it to drug companies:
The story features the transmission of a novel virus from animals to humans in a crowded wet market:
"Indeed, imagine if you were infected in this market by a new contagious agent." says the UN's chief advisor on contagious diseases, adding "You probably wouldn't even realise it until the end of the incubation period."
The publication suggests that air travel would exacerbate the spread of the disease, with the character adding that "You'd have headed back to Europe, the US, Latin America, or Australia as planned via an international airport."
The cartoon depicts the failure of a global health organisation to act quickly enough to stop a pandemic:
It also predicts draconian safety measures, including social distancing, which make everyday life "totally unbearable":
The piece concludes with an EU Parliament hearing, in which Brussels pushes for more integrated European cooperation on global health matters, mirroring a real life initiative known as 'One health'.
The globalists are lauded for helping develop and distribute a vaccine to the world:
Was this predictive programming or just a bizarre coincidence?
In 2020, in reality, the EU has pandered to China, and bowed to censorship regarding the virus outbreak.
The EU has also been heavily criticised by member states and insiders for monumental failings owing to internal bureaucracy. The EU's science chief even resigned due to the inept coronavirus response from the institution.
In the Eurocrats' own fiction, globalism saves the planet. In reality, it ends in mass death and global tyranny.
Rules Dictate Employees Can Be Fired For Not Wearing A Face Mask
Workers "who refuse to wear a face covering out of political conviction would still probably lose in court"
New rules put into place to allow businesses to re-open mandate that employees must wear face masks, and can be disciplined or even fired for refusing to do so.
Bloomberg law noted last week that face coverings are being mandated as a "term of employment," and can only be avoided in very limited circumstances.
Anyone refusing to go along with the rules means "In essence, they're saying 'I really don't want to work here. That really is like someone coming in and saying 'I don't like your rules.'" said Katherine Dudley Helms, an Ogletree Deakins attorney who represents employers.
Employers have a "basic right to devise and enforce nondiscriminatory work rules, including those pertaining to clothing," said Fordham University School of Law professor James Brudney.
The report notes that this was the case before the coronavirus outbreak, given that an employer can mandate that employees cover tattoos, or adhere to a dress code. The new mandates simply insert face masks into the equation as part of the dress code.
Workers "who refuse to wear a face covering out of political conviction would still probably lose in court," said attorney Mark Frost, noting that employers are within their rights to terminate workers for any reason, as long as it doesn't break the law.
In addition, there is an increased eagerness to punish people seen not wearing masks.
Last month, a local Colorado media outlet ran an undercover sting on their nearby Home Depot store following reports that employees were flouting mandatory face mask orders.
On Twitter, CBS Denver news director Tim Wieland announced their investigation was based off tipsters who reported violations of Gov. Polis' executive order, which expires May 17.
Our investigative tips email is filled with people reporting on essential workers ignoring Colorado's mask order. So reporter @KatiWeis set out to learn who's not wearing them, and why. https://t.co/4fTrSsBL1I

— Tim Wieland (@CBS4Tim) April 29, 2020
Footage of a man being dragged off a bus by police in Philadelphia because he was not wearing a face mask went viral recently.
This is now the new normal. Inform on and punish those who choose not to follow the rules.
do riders know that they might be pulled off a SEPTA bus by 10 cops for not having a mask? pic.twitter.com/NnHXJC02E8

— Philly Transit Riders Union (@phillyTRU) April 10, 2020
Early on during the outbreak, it was universally noted by virologists and doctors that face masks are largely ineffectual against the spread of the virus.
Even Dr. Anthony Fauci, head of the National Institutes of Infections, admitted "There's no reason to be walking around with a mask."
The US Surgeon General also advised the public not to wear masks:
Seriously people- STOP BUYING MASKS!

They are NOT effective in preventing general public from catching #Coronavirus, but if healthcare providers can't get them to care for sick patients, it puts them and our communities at risk!
https://t.co/UxZRwxxKL9

— U.S. Surgeon General (@Surgeon_General) February 29, 2020
However, once the CDC applied pressure…
There remains scant evidence wearing a mask- especially improperly- provides much benefit to a healthy wearer.

However emerging data suggests facial coverings may prevent asymptomatic disease transmission to others.

We always follow and react to the data – @CDCgov is studying

— U.S. Surgeon General (@Surgeon_General) April 2, 2020
And Fauci now wears a mask at every press briefing, admitting that it is a 'symbol' of following the 'rules':
3 types of mask wearers.

– Older people who are genuinely at risk (fair enough).

– People who have been so terrorised by media coverage, they think COVID is literally everywhere outside.

– People who want to feel smug in their obedience & to broadcast they are better than you.

— Paul Joseph Watson (@PrisonPlanet) May 5, 2020
In addition to all of this, there are currently more than one thousand US patents that cover the N95, 3M's medical mask. If masks are now mandatory, why are certain government approved companies allowed a monopoly on production?
Fauci Says He Wears Face Mask As A 'Symbol Of What You Should Be Doing'
Admits it's virtue signalling to other people.
Dr Anthony Fauci, director of the National Institute of Allergy and Infectious Diseases, proclaimed Wednesday that he is wearing a face mask in order to virtue signal 'respect' to other people, and that he wants it to be seen as 'a symbol' of what everyone else should be doing.
The often maligned Fauci made the comments in an appearance on CNN, commenting that "I think we should be recommending it. As you know, I wear it whenever I'm outside. We can try and keep the usual distance, but sometimes it is out of your control."
"There are certain things that you can do and still do as you reopen. One is wearing a mask." Fauci declared, adding that it's something "everybody should seriously consider doing."
The host Jim Sciutto asked if it helps when Americans "look at folks like you doing it, does that encourage its use to a positive degree?"
"It does, Jim." Fauci replied, before going on to admit the mask is more of a symbol than an actual deterrent from the virus.
"I wear it for the reason that I believe it is effective. It is not 100% effective. I mean, its sort of respect for the another person and have that other person respect you." Fauci said.
"You wear a mask. They wear a mask, you protect each other. I do it when I'm in the public for the reasons that, A, I want to protect myself and protect others. Also, because I want to make it be a symbol for people to see, that's the kind of thing you should be doing." he continued.
Fauci claimed that many people are using the mask as a way of projecting 'respect' for others.
"When I walk around the street and the neighborhood where I live in Washington, D.C., which still has a considerable number of infections, it is very clear that many people are doing that." he said.
3 types of mask wearers.

– Older people who are genuinely at risk (fair enough).

– People who have been so terrorised by media coverage, they think COVID is literally everywhere outside.

– People who want to feel smug in their obedience & to broadcast they are better than you.

— Paul Joseph Watson (@PrisonPlanet) May 5, 2020
Study: Lockdown "Will Destroy at Least Seven Times More Years of Human Life" Than it Saves
"Likely more than 90 times greater."
A study has found that the "stay at home" lockdown order in the United States will "destroy at least seven times more years of human life" than it saves and that this number is "likely" to be more than 90 times greater.
As we have repeatedly highlighted, the untold cost of the lockdown in terms of untreated serious illnesses and the impact on mental health will not be fully known for years, but discussion around the issue has been limited in the mainstream media.
Now a new study finds that debilitating stress and anxiety caused by the lockdown, including turmoil caused by huge job losses, could lead to a plethora of negative health problems that will have a far greater overall toll on human life than the number of lives saved by the lockdown.
"Based on a broad array of scientific data, Just Facts has computed that the anxiety created by reactions to Covid-19—such as stay-at-home orders, business shutdowns, media exaggerations, and legitimate concerns about the virus—will destroy at least seven times more years of human life than can possibly be saved by lockdowns to control the spread of the disease. This figure is a bare minimum, and the actual one is likely more than 90 times greater."
Research shows that at least 16.8% of adults in the United States have suffered "major mental harm from responses to Covid-19."
Extrapolating these numbers out, the figures show that "anxiety from responses to Covid-19 has impacted 42,873,663 adults and will rob them of an average of 1.3 years of life, thus destroying 55.7 million years of life."
This contrasts with "a maximum of 616,590 lives (which) might be saved by the current lockdowns, and the disease robs an average of 12 years of life from each of its victims, which means that the current lockdowns can save no more than 7.4 million years of life."
The seven times figure is a massively conservative estimate which minimizes the impact of the negative consequences of lockdown and maximizes the number of lives affected by lockdown.
"Under the more moderate scenarios…anxiety will destroy more than 90 times the life saved by lockdowns," states the study.
The study lists a number of reasons why the lockdown has increased anxiety and depression, one of which includes the media's role in exaggerating the deadliness of COVID-19 and "using false denominators that exaggerate its death rate."
"This research is engaging and thoroughly answers the question about the cure being worse than the disease," concluded Joseph P. Damore, Jr., M.D., who reviewed the study.
As we highlighted earlier, psychiatrists wrote 86% more prescriptions for psychotropic drugs, including antidepressants, during the lockdown months of March and April compared to January and February.
SUBSCRIBE on YouTube:
Follow on Twitter: Follow @PrisonPlanet
———————————————————————————————————————
My voice is being silenced by free speech-hating Silicon Valley behemoths who want me disappeared forever. It is CRUCIAL that you support me.
Please sign up for the free newsletter here. Donate to me on SubscribeStar here.
Support my sponsor – Turbo Force – a supercharged boost of clean energy without the comedown.
———————————————————————————————————————