Arkansas Professor Arrested For Concealing Communist Chinese Funding
U.S. educators are allegedly on the take from China's communist government
An engineering professor at the University of Arkansas has been arrested by the FBI and faces up to 20 years in prison for allegedly hiding funding that he received from the communist Chinese government.
The New York Times reports that "Simon Ang of the University of Arkansas, was arrested on Friday and charged on Monday with wire fraud."
"He worked for and received funding from Chinese companies and from the Thousand Talents program, which awards grants to scientists to encourage relationships with the Chinese government," the report notes, adding that "he warned an associate to keep his affiliation with the program quiet."
The report explains that Ang's alleged hiding of the funding enabled him to also get US government subsidies, specifically from NASA, to the tune of more than $5 million.
"The complaint charges that Ang had close ties with the Chinese government and Chinese companies, and failed to disclose those ties when required to do so in order to receive grant money from NASA," a Department of Justice statement reads.
"These materially false representations to NASA and the University of Arkansas resulted in numerous wires to be sent and received that facilitated Ang's scheme to defraud." the statement adds.
Suspicions were raised concerning professor Ang after a library employee found an email between Ang and a Chinese researcher, the Arkansas Times reports.
"You can search the Chinese website regarding what the US will do to Thousand Talent Scholars," Ang reportedly wrote in an email. "Not many people here know I am one of them but if this leaks out, my job here will be in deep troubles."
The Times article also states that another professor, Dr. Xiao-Jiang Li, formerly of Emory University in Atlanta, pleaded guilty … to a felony charge of filing a false tax return that omitted around $500,000 that he received from the Thousand Talents program.
"He was sentenced to a year of probation and ordered to pay $35,089 in restitution." the report notes.
The "Thousand Talents Program" has been scrutinised recently, with suspicions that it is being used by the communist state to attract foreign experts from overseas, and steal intellectual property from U.S. institutions.
Another professor, from Harvard University, is also accused of abusing the program, and lying to officials about alleged ties to the Chinese government.
Charles Lieber, head of chemistry and the chemical biology department at Harvard, was arrested at the beginning of the year, with prosecutors accusing him of taking $50,000 a month, as well as a $1.5 million payment to set up a research lab at the Wuhan University of Technology.
Court documents revealed that since 2008, Lieber received more than $15,000,000 in grant funding from the National Institutes of Health (NIH) and Department of Defense (DOD).
"These grants require the disclosure of significant foreign financial conflicts of interest, including financial support from foreign governments or foreign entities," the Department of Justice noted.
"These talent programs seek to lure Chinese overseas talent and foreign experts to bring their knowledge and experience to China and reward individuals for stealing proprietary information,"  the U.S. Attorney's Office of the District of Massachusetts said in a January statement related to Lieber's arrest.
The revelations regarding US based professors allegedly on the take from China comes at a time when lawmakers are taking a hard look at China's use of U.S. higher education institutions to spread CCP propaganda and exert influence inside the country.
Researchers Warn Of "Jaw Dropping" Crash In Global Fertility Rate
"It's extraordinary, we'll have to reorganise societies".
Researchers at the University of Washington's Institute for Health Metrics and Evaluation have warned that the planet is not prepared for an ongoing global population crash, and that the impact will be "jaw dropping".
The BBC reports that the research, published in the Lancet highlights that the global fertility rate almost halved to 2.4 in 2017, and projections indicate that it will fall below 1.7 by 2100.
For further context, In 1950, an average of 4.7 children were being born for every woman.
The research suggests that almost every country on the planet could have shrinking populations by the end of this century, with 23 nations projected to see their populations halve by 2100.
The research indicates that the total global population will peak at 9.7 billion in 2064, and then naturally shrink back to 8.8 billion come the end of the century.
Fewer births and longer life expectancy will also mean a drastically older population.
"That's a pretty big thing; most of the world is transitioning into natural population decline," Professor Christopher Murray noted.
"I think it's incredibly hard to think this through and recognise how big a thing this is; it's extraordinary, we'll have to reorganise societies," Murray further warned.
The research highlights that Japan's population likely peaked at 128 million in 2017 yet will fall below 53 million by 2100.
In addition, Italy's population is expected to crash from 61 million to 28 million in the same time period.
"It will create enormous social change," Professor Murray urged, adding "Who pays tax in a massively aged world? Who pays for healthcare for the elderly? Who looks after the elderly? Will people still be able to retire from work?"
"We need a soft landing," Murray warned.
When asked whether the trend could threaten the human race, Murray said "I find people laugh it off; they can't imagine it could be true, they think women will just decide to have more kids."
"If you can't [find a solution] then eventually the species disappears, but that's a few centuries away." Murray added.
Cotton: Woke Left Allowing 'Evil' China To Get Away With Forced Abortion, Concentration Camps
"A disgraceful and shameful contrast" to denounce America in the face of Chinese tyranny.
GOP Senator Tom Cotton blasted the 'woke left' Monday for ignoring China's brutal human rights violations while simultaneously demonizing the US as a terrible country to live in.
In an interview with Sirius XM's Breitbart News Daily, Cotton reminded listeners that "The Chinese Communist Party is an evil regime."
"They are running concentration camps in Northwestern China, and they are persecuting Christians throughout their region, and they have long forced abortions on women or sterilization on women," Cotton urged.
"Yet many of the woke champions on the left in America, like so many NBA players led by Lebron James, turn a blind eye to their crimes, at the same time we denounce our own police officers, which I think is a disgraceful and shameful contrast," the Senator asserted.
Cotton charged that China has eroded US manufacturing for decades while "too many politicians in Washington stood by."
"They have broken their fundamental obligations to Hong Kong. When they received Hong Kong from Great Britain, they promised to preserve its unique character for 50 years. … Years later, that's gone." Cotton added.
"They in essence invaded India, the world's biggest democracy, killing 20 Indian soldiers in a brutal attack. They're conducting threatening air and naval maneuvers in the vicinity of Taiwan and Japan," the Senator also charged.
Turning to the coronavirus pandemic, Cotton said that "If Beijing had had its way, we might never have known about this coronavirus originating in Wuhan until it spread all across the country and perhaps all around the world."
"And yet [the World Health Organization] covered for Beijing's duplicity for months and months and months. This is one reason the president is withdrawing from the WHO and rightly so," he continued.
"China is only growing more aggressive, partly using this pandemic for cover. That's one reason why it's so important that we've finally begun to stand up to China under President Trump," Cotton added.
Cotton said he wants to see more legislation to hold China accountable.
Iran Holds 'Art' Exhibition Depicting US Police As Nazis, KKK
Iran is one of the most systemically racist countries on the planet.
Iran, governed by one of the most racist regimes on Earth, has sponsored an 'international art exhibition' using the death of George Floyd to tar America as deeply racist society.
The exhibition, titled "I can't breathe" includes 'art' that depicts US police as Nazis and Ku Klux Klan.
Tehran Hosts "I Can't Breathe" Cartoon Exhibition: America, Trump, Police Depicted with Nazi, KKK Imagery; Star of David Shown Crushing the Neck of a Dove pic.twitter.com/2YEbsfXaHo

— MEMRI (@MEMRIReports) June 14, 2020
Footage of the exhibition was broadcast on Iranian state television, showing one painting with a Guillotine for "only colored" people, with the blade as an American flag: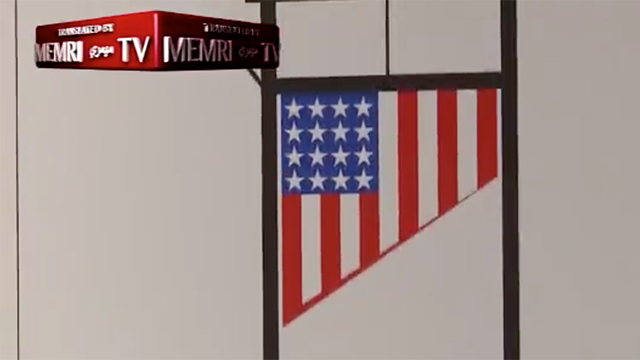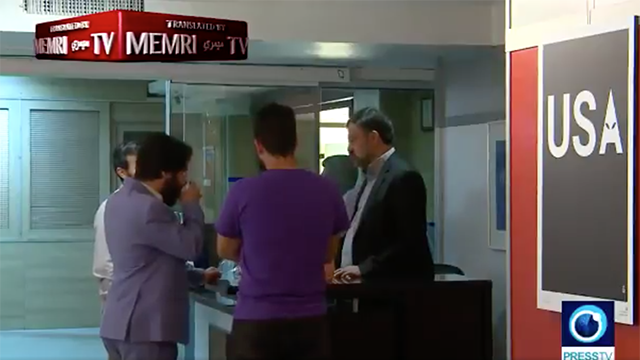 Another piece features the star of David crushing the neck of a dove, which is in itself a racist sentiment: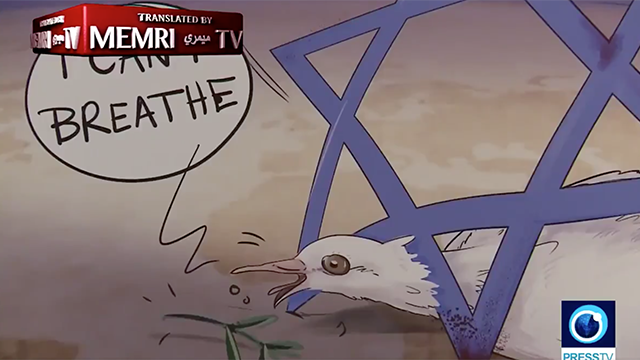 While the collection features pieces from people with 27 different nationalities, it is clearly being hosted and promoted by Iran as anti-American propaganda.
The Iranian regime has basked in the unrest in America, with its 'Supreme Leader' and its Foreign Ministry bragging about how racist the US is on Twitter:
If you're dark-skinned walking in the US, you can't be sure you'll be alive in the next few minutes. #ICantBreathe #BlackLivesMatter pic.twitter.com/nwR8jeUPpg

— Khamenei TV (@Khamenei_tv) May 27, 2020
Some don't think #BlackLivesMatter.

To those of us who do: it is long overdue for the entire world to wage war against racism.

Time for a #WorldAgainstRacism. pic.twitter.com/06p1LmmwgF

— Javad Zarif (@JZarif) May 30, 2020
This coming from a country that viciously oppresses all minorities, sanctions brutally beating women if they dare to uncover their heads, and endorses the execution of people for their sexuality.
Go on then Twitter:
Another Exhibition in Iran pic.twitter.com/DUjstcrFNr

— Dilpak (@AlMaidan5) June 14, 2020
Iran killed 7500 of their own ppl protesting just a few months ago

— PresidentofBTC (@Mr_ShuShu_) June 14, 2020
— Elle Unmasked (@ElleZee6) June 17, 2020
Today in Tehran, there was a protest in which entrepreneurs gathered in front of the Central Bank holding placards saying "Remove your knee off our throats, we can't breathe." You can find it here:https://t.co/cO7ktNXB4g

— Nahid Ghani (@NahidGhani) June 14, 2020
There is a reason an enemy state of the US is creating propaganda in support of BLM and antifa.

— Gary Beal (@Giqueux) June 17, 2020
Imagine a cartoon of a gay man crushed by the knee of a mullah, I imagine all hell would break loose

— Tannie (@Tannie66364346) June 14, 2020
As a woman who's forced to cover her head or be jailed walks by and only men are allowed to gather and speak. Throw any gays off the roof lately?

— BicycleBelle🚲 (@BicycleBelle00) June 17, 2020
Should we stuff down their throats what the Islamic slave trade did to Black men?

— Dennis (@djbarro) June 14, 2020