EU Defends Bowing To Communist Chinese Censors
The EU rolled over twice for China's communist government, altering a letter by 27 ambassadors and a report on the coronavirus to soften criticism.
The EU has attempted to defend the fact that it allowed the communist Chinese government to censor a letter it wrote before it was published in a Chinese newspaper, erasing a sentence that stated the coronavirus originated in China.
The letter, co-written by the bloc's 27 ambassadors, was published in China's English-language newspaper China Daily on Tuesday. However, the EU agreed to allow censors to remove the sentence, which stated "But the outbreak of the coronavirus, in China, and its subsequent spread to the rest of the world over the past three months…"
"China has state-controlled media. There is censorship, that's a fact," EU foreign affairs spokesperson Virginie Battu-Henriksson told reporters in an attempt to justify bowing to the Chinese censors.
Henriksson suggested that the EU reluctantly agreed to the amendment because it was better than not being able to communicate with a Chinese audience on 'key EU issues', including climate change, human rights and the pandemic response.
It is the second time in the space of two weeks that the EU has rolled over for Chinese censorship, having previously softened criticism of the communist regime in a report documenting how governments have pushed "disinformation" about the coronavirus pandemic.
The European Union was set to issue the report until Chinese officials "quickly contacted the European Union's representatives in Beijing to try to kill the report," according to two diplomats. The EU then "diluted the focus on China, a vital trading partner."
German conservative politician Norbert Roettgen criticised the EU's actions, stating "I am shocked not once but twice."
"First the EU ambassadors generously adopt Chinese narratives and then the EU representative on top accepts Chinese censorship of the joint op-ed." he added.
"This story beggars belief," another EU diplomat told Politico, asking "What is the point in letting yourself be censored?"
The source urged that it was an "embarrassment" for the EU, adding: "The cost of taking a stand and defending what you believe in would have been very small."
Soros' Son Complains That Another "MAGA-style" Presidential Victory Would "Imperil" Globalist Vision
Says populist leadership in U.S. would "undermine the progress…in Ukraine"
Alex Soros, son of arch globalist Open Society founder George Soros writes in an op-ed that he is worried that another Trump victory, or "MAGA style" victory in a U.S. election will endanger the "unity" of globalists in Europe.
"I believe a MAGA-style Republican victory in next year's U.S. presidential election could, in the end, be worse for the EU than for the U.S." the younger Soros writes.
He continues, "Such an outcome will imperil European unity and undermine the progress achieved on many fronts in response to the war in Ukraine."
What progress?
Soros also noted that "there should be absolutely no doubt that we will continue to support our foundation in Ukraine. We are proud that the network of civil society groups it has assisted, with over $250 million since 2014, has played such an important role in Kyiv's resilience in the face of Russia's horrific war of aggression."
He also called for the EU to hand memberships to the Balkan countries to "bolster European security and avoid creating a geopolitical vacuum."
Trump has vowed to quickly end the war in Ukraine in one day should be re-elected, by cutting off funding.
"I would tell Zelensky," Trump said, "'no more, you got to make a deal.' I would tell Putin, 'if you don't make a deal, we're gonna give them a lot. We're gonna give more than they ever got if we have to,'" he said. "I will have the deal done in one day, one day."
Related:
SUBSCRIBE on YouTube:
Follow on Twitter:
Follow @PrisonPlanet
———————————————————————————————————————
Brand new merch now available! Get it at https://www.pjwshop.com/


ALERT! In the age of mass Silicon Valley censorship It is crucial that we stay in touch.

We need you to sign up for our free newsletter here.

Support my sponsor – Summit Vitamins – super charge your health and well being.

Also, we urgently need your financial support here. ———————————————————————————————————————
Ramaswamy: Today's Politicians Are "Hollowed Out Husks Serving As Puppets" To The Globalist Machine
The deep state "is woven into a machine of a horizontal managerial class composed of people in three-letter agencies in government"
GOP presidential candidate Vivek Ramaswamy spoke in length recently about his opinions on the deep state and how he would go about opposing it, calling U.S. politicians "puppets" and "hollowed out husks" serving a 'globalist machine'.
During the podcast appearance with Shawn Ryan, Ramaswamy noted "It's a machine that we're up against. If we think it is individual, person-to-person combat, like: 'We found the bad guys of the globalist cabal, we got 'em smoking cigars in the back room,' that is the wrong mental model. That's how it worked in the old world."
"What we have today going on in the U.S. is a modern 1775 moment," he explained, adding "In the old world, there were a group of people who got together in the back of palace halls and determined what was right for the rest of society. The old world vision, and it is rearing its head again in this country today."
Ramaswamy emphasised that the attitude of that vision is that "We The People can not be trusted to sort out our differences through free speech and open debate in a constitutional republic, on how we fight climate change or racial injustice. It has to be decided in the back of palace halls by an enlightened elite."
"We fought a revolution to say hell no to that vision, that yes, We The People in this constitutional republic decide how we self-govern, thank you very much," he continued.
"Now that old monster is rearing its head again, except now they say it is in the back of palace halls like a three-letter government building in Washington D.C. But you show up there and it isn't quite right, there's no smoking cigars," Ramaswamy added.
"So you say, maybe it is the corner office of Black Rock in their C-suite on Park Avenue. It is woven into a machine of a horizontal managerial class composed of people in three-letter agencies in government, the people who professionally sit on corporate boards, the associate deans of god knows what universities, the ambassadors to some second-tier nation in Europe who was a donor to some political party, it is the same managerial class that makes it very hard to identify because it pervades multiple institutions both within and without of government. That's what we're up against," Ramaswamy asserted.
"The real divide in the country is not between Republicans and Democrats… It is between the managerial class and the citizens," he further urged.
Here is the full podcast:
When asked recently about Ramaswamy, President Trump said he would be open to considering the candidate as his number two.
"I think he's great. Look, anybody that said I'm the best president in a generation… I have to like a guy like that," Trump told Glenn Beck, adding "he's a smart guy. He's a young guy. He's got a lot of talent. He's a very very very intelligent person. He's got good energy and he could be in some form of something."
Ramaswamy has said that he is only focused on the top office, and is "not interested" in being anyone else's Vice President, noting that "Trump and I share something in common and that is that neither of us does well in a number two position."
SUBSCRIBE on YouTube:
Follow on Twitter:
Follow @PrisonPlanet
———————————————————————————————————————
Brand new merch now available! Get it at https://www.pjwshop.com/


ALERT! In the age of mass Silicon Valley censorship It is crucial that we stay in touch.

We need you to sign up for our free newsletter here.

Support my sponsor – Summit Vitamins – super charge your health and well being.

Also, we urgently need your financial support here. ———————————————————————————————————————
Population Collapse "Good for the Planet", WEF Adviser Prof Sarah Harper Explains
Remember how depopulation was called a right-wing conspiracy theory? Things have changed, and 'population collapse', which can no longer be denied, is now good for us!
The Telegraph picked the perfect messenger to communicate the new way we should think about population declines. A high-level WEF adviser tells us: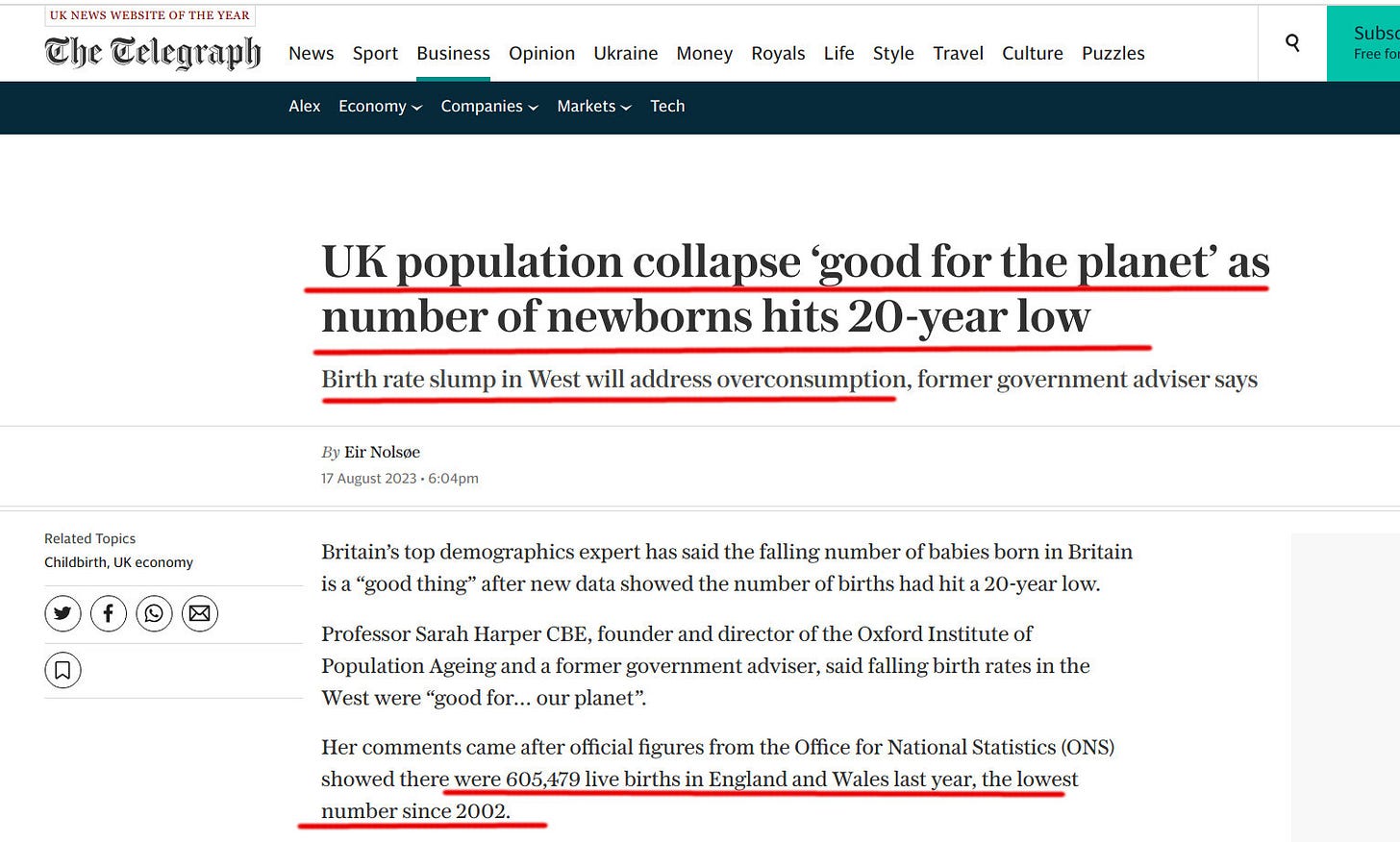 Oxford Professor Sarah Harper is a very important person. The Telegraph article listing her credentials forgot to mention that she serves on the Global Agenda Council on Ageing Societies of the World Economic Forum.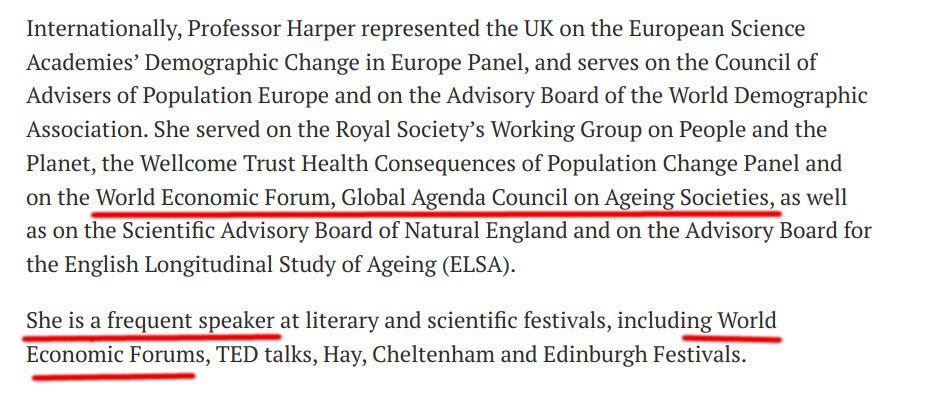 Prof Harper is thrilled about recent declines in fertility:
Prof Harper told the Telegraph: "I think it's a good thing that the high-income, high-consuming countries of the world are reducing the number of children that they're having. I'm quite positive about that."

The academic said declining fertility in rich countries would help to address the "general overconsumption that we have at the moment", which has a negative impact on the planet.
Most importantly, declines in births will bring about reductions in CO2 emissions from wealthy nations, Prof Harper points out:
Research has found that wealthy nations tend to have much larger carbon footprints than poorer countries, as rich people can afford to buy more goods, travel more and do other activities that generate emissions.

Carbon emissions from high-income countries were 29 times larger than low-income countries on a per capita basis in 2020, World Bank figures show.
Population Declines or Population Replacement?
Here's the strange part: If the leadership of the World Economic Forum wanted to reduce emissions from wealthy countries, I could understand how they would hope that population reductions would lead to a decline in economic output. Aside from moral implications, it is simple math that fewer people means fewer cars on the road, less food consumed and so on.
However, something entirely different is going on! While the population of local-born natives is no longer reproducing at the levels needed to maintain the population, new immigration picks up. It accounts for a larger and larger share of births!
While the number of births in Britain is declining, the share of children born to parents who immigrated from outside Britain has hit a record high.
Almost one in three children born last year were delivered by mothers born outside of the U.K. The number of births by women born outside the U.K. rose 3,600 year-on-year to account for 30.3% of all births. The previous peak was 29.3% in 2020.

When including the father, more than one in three children born last year had at least one foreign-born parent. In London, the figure was two thirds.
This development is inconsistent with wanting to reduce the populations of high-consumption countries. It seems self-defeating to celebrate birth reductions while simultaneously amping up the arrivals of new immigrants who work hard to live well, consume a lot, have many children and realise the 'British dream'.
Please do not interpret me pointing out the above inconsistency as my hostility towards immigrants: I immigrated to the United States, worked hard to have a good life and am blessed with a beautiful family and two grown children. I am immensely thankful for the opportunity to live in this wonderful land of the free – and I am sure that most other immigrants want to live well and work hard, just as I did.
However, even though I am equally sympathetic towards immigrants, just as I am towards the natives, I cannot shake the feeling that Prof Harper and the WEF have an inconsistency between stated goals and actions that I cannot explain easily.
This inconsistency is not something I can quite understand: New immigrants want to consume just as much as native residents. Why encourage immigration from poor countries to rich countries if the goal is a reduction of carbon and other emissions that would occur due to declines in the population of rich countries?
Help me understand this puzzle! Are we missing something? What do they really want?
This post was originally published at Daily Sceptic