LeBron James Claims Black People are "Hunted Every Time We Step Foot Outside Our Homes"
Fact check; False.
Basketball star LeBron James claimed in a tweet that black people are "hunted every time we step foot outside our homes."
Turns out that's not true.
The tweet was a response to the killing of "jogger" Ahmaud Aubrey who was shot after a confrontation with two white men in Georgia who believed him to be a burglary suspect.
The media has spun the incident as Aubrey being "hunted" down, despite the fact that video of the incident shows him physically charging one of the other men.
"We're literally hunted EVERYDAY/EVERYTIME we step foot outside the comfort of our homes!" tweeted James. "Can't even go for a damn jog man! Like WTF man are you kidding me?!?!?!?!?!? No man fr ARE YOU KIDDING ME!!!!!"
We're literally hunted EVERYDAY/EVERYTIME we step foot outside the comfort of our homes! Can't even go for a damn jog man! Like WTF man are you kidding me?!?!?!?!?!? No man fr ARE YOU KIDDING ME!!!!! I'm sorry Ahmaud(Rest In Paradise) and my prayers and blessings sent to the….. pic.twitter.com/r1PNxs8Vgn

— LeBron James (@KingJames) May 6, 2020
Not only is LeBron James obviously wrong with his hyperbolic tweet, the opposite is actually true.
FBI statistics show that black people are significantly more likely to murder white people than vice versa, despite them only making up 13 per cent of the population.
For example, in 2015, 500 killings of white people were attributed to blacks while 229 black lives taken by white killers. Since white people make up roughly 73 per cent of the population, there are disproportionately more black on white homicides per capita.
When you account for the fact that the overwhelming majority of perpetrators are black males, that brings the figure down closer to 6 per cent.
From 1976 to 2005, 94 per cent of black victims were killed by other African Americans, a statistic that continued to hover around the 90 per cent level since then and been the norm for over a century.
However, when a black person is murdered by another African-American, it barely makes the news.
So no, black people are not being "hunted" every time they leave the house.
The media whips up hysteria surrounding individual incidents to create the false perception that black people are being targeted en masse by whites, which is simply not true.
SUBSCRIBE on YouTube:
Follow on Twitter: Follow @PrisonPlanet
———————————————————————————————————————
My voice is being silenced by free speech-hating Silicon Valley behemoths who want me disappeared forever. It is CRUCIAL that you support me.
Please sign up for the free newsletter here. Donate to me on SubscribeStar here.
Support my sponsor – Turbo Force – a supercharged boost of clean energy without the comedown.
———————————————————————————————————————
He Didn't Expect This
Leftist influencer gets a shock.
A Swedish influencer visited a crime-ridden migrant suburb to prove that the area was safe, and ended up getting robbed on the street.
Please share this video! https://youtu.be/piUmlNiFYLg
SUBSCRIBE on YouTube:
Follow on Twitter: Follow @PrisonPlanet
———————————————————————————————————————
Brand new merch now available! Get it at https://www.pjwshop.com/
ALERT!
In the age of mass Silicon Valley censorship It is crucial that we stay in touch.
I need you to sign up for my free newsletter here.
Support my sponsor – Turbo Force – a supercharged boost of clean energy without the comedown.
Get early access, exclusive content and behind the scenes stuff by following me on Locals.
———————————————————————————————————————
"Crisis Of Crimes": New Orleans Becomes Murder Capital Of America
Progressives in top city leadership positions have helped transform New Orleans into the murder capital of America.
WSJ reported the Louisiana city on the Mississippi River, near the Gulf of Mexico, recorded the highest homicide rate of any major city so far this year, with 41 homicides per 100,000 residents.
Metropolitan Crime Commission Inc., a nonprofit that works on crime-reducing strategies in the city, said the homicide rate is up 141% compared with the same period in 2019. It pointed out carjackings are up 210%, shootings 100%, and armed robberies up 25%.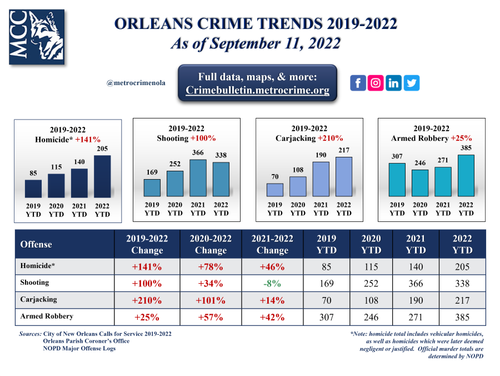 "The homicide rate is on pace to surpass last year's rate, which was the worst since Hurricane Katrina in 2005," WSJ noted.
The city's alarming spike in the homicide rate comes at the same time as "progressive prosecutor" Jason Williams became the district attorney of the metro area in early 2021. He promised a "more selective" approach to prosecutions that goes "beyond punishment."
"Being more selective about prosecutions will allow us to focus on the crimes that matter most to all of us," Williams said last year, adding, "We've got to go beyond punishment and invest in our community."
Metropolitan Crime Commission recently said Williams' criminal justice reforms have resulted in a "drastic decline in accountability for violent felony offenders."
Residents told WSJ an "overwhelmed" police department is a significant factor in the rise in violent crime.
Ronal Serpas, the city's police superintendent from 2010-14, said the city has about 50% to 60% of officers needed for adequate patrols.
"We're in a crisis of crime and a crisis of confidence in this city," Serpas said.
Democratic Mayor LaToya Cantrell warned last month Mardi Gras festivities early next year could be canceled because of the police shortage. Local news Times-Picayune said the police department budgets for 1,500 offices, but its force just fell below 1,000 — the lowest level in decades.
"If we don't have adequate police, it could mean that there will be no Mardi Gras. That's a fact," Cantrell said at a community meeting last month.
Violent crime has surged in many liberal-controlled cities, as some believe this is due to failed criminal justice reform policies.
Democrat's inability to address the crime wave is a failure in policy — and their lack of accountability will come in the form of no confidence by taxpayers.
Remember in June when a George Soros-backed progressive district attorney in San Francisco was booted out of office?
"Action must be taken NOW if there is ever a chance to save the city and bring the reputation of being a city where tourists can come to party and celebrate and not become victims," nonprofit New Orleans Police & Justice Foundation, which raises funds to aid police in the city, warned.
This post was originally published at Zero Hedge
Biden Silent On Memphis Massacre As First Victims Identified
Joe Biden has still yet to weigh in on the mass shooting rampage in Memphis on Wednesday at the hands of 19-year-old thug Ezekiel Kelly.
Biden's also said nothing about the brutal kidnapping and murder of Eliza Fletcher in Memphis last week.
He rushed to weigh in on the mass shooting in Buffalo but I guess this is another one of those mass killings like Waukesha which he simply doesn't have "time" for.
Kelly killed four people and injured at least three others in a rampage that he livestreamed on Facebook.
According to reports, Kelly first shot 24-year-old Dewayne Tunstall while the two were at a friend's house together.
"Officers said Tunstall was visiting a friend named Marcus Cash at a house in the 3100 block of Lyndale in Highland Heights," WREG reported. "During a conversation, Kelly allegedly pulled Tunstall to the side, pulled out a handgun and fired several shots, striking Tunstall in the head."
"Cash said Kelly ate and laughed with them prior to the shooting," WREG continued. "He says he does not know why Kelly shot his friend, but he knew the two had an argument the day before."
"Family for Rodolfo Berger confirmed on Facebook that he was the man shot about 6 p.m. at the AutoZone store in the 4000 block of Jackson Avenue in North Memphis," ABC24 Memphis reports. He was rushed to the hospital in critical condition, where family said he underwent surgery and is 'under extreme care.'"
"Allison Parker's employer and West Memphis Police confirmed she was the woman who was shot and killed just before 7:30 p.m. along Poplar Avenue and Evergreen in Midtown Memphis," ABC24 Memphis reports. "Memphis Police said the suspect carjacked Parker and shot her several times, taking her gray SUV."
"Corteria Wright, 17, was shot in the back by Kelly at around 8.55pm and is thought to be his final victim before he was apprehended by officers," the Daily Mail reports.
Kelly's other victims have yet to be identified.
This post was originally published at Information Liberation