US Universities Now Shutting Down 'Arms Of China's Propaganda Machine'
Confucius Institutes have been used by communist state to infiltrate America.
Another US university has announced that it is shutting down its Confucius Institute, the organization which is overseen by the Chinese Ministry of Education, amid charges that the 'cultural exchange' programs are being used by the communist state to indoctrinate Americans and spread Chinese propaganda.
The University of California-Davis is the latest of a string of Universities to axe the Confucius Institute, after heightened concerns among US officials that China is abusing the program.
Chancellor Gary S. May wrote a letter on April 28 to the Hanban division of China's Ministry of Education announcing the decision.
"The time has come for us to consider new pathways by building on cultural exchange programs like those our Confucius Institute has fostered," May wrote.
Speaking to Campus Reform, UC-Davis News and Media Relations Specialist Julia Ann Easley said that "The Hanban division of China's Ministry of Education announced at the annual meeting of the Confucius Institutes in December that there would be a renewed focus on language instruction."
"The focus of the Confucius Institute at UC Davis has been Chinese food and beverage culture. It has not offered language instruction. Because of this, UC Davis is going to explore other ways of working with international universities." Easley added.
UC-Davis student Michael Gofman commented that the closure of the program after 7 years is "absolutely a benefit," because "The Confucius Institute is an arm of the Chinese government's propaganda machine."
"The fact that it does dumpling workshops and language training does not change that." he added.
The stated aim of the Confucius Institutes is to promote Chinese language and culture, support local Chinese teaching internationally, and facilitate cultural exchanges. However, US intelligence agencies have previously labeled the organisations as a national security threat, and many universities have since trashed the programs.
In January, the Department of Justice also arrested a professor at Harvard, as well as two Chinese nationals for reportedly acting as foreign agents.
The problem extends beyond the US, with European officials also expressing concerns that China is using the programs to infiltrate and spy on other countries. Some nations have outright banned the Chinese from setting up the institutes at their universities.

LONDON, Oct. 22, 2015– Chinese President Xi Jinping, right, and British Prince Andrew, the Duke of York, unveil the 1,000th Confucius Classroom, the Confucius Classroom at Hautlieu School, in London, Britain, Oct. 22, 2015. Xi attended the opening ceremony of an annual conference of UK Confucius Institutes and Confucius Classrooms in London on Thursday. (Xinhua/Pang Xinglei via Getty Images)

German Chancellor Angela Merkel (R) and XU Lin (L), Director General of Hanban, Chief Executive of the Confucius Institute Headquarters, stand at the opening event of the Confucius Institute Stralsund in Stralsund, Germany, 30 August 2016. The city of Stralsund is now place of residence of a branch of the Chinese Confucius Insitute.(Photo by Stefan Sauer/picture alliance via Getty Images)
The UC-Davis closure also comes as the US government vows to hold China accountable for withholding information on and profiting from the coronavirus outbreak.
Congressional Republicans have also expressed concerns that China is attempting to hinder US coronavirus research through such infiltration of US universities.
Ranking GOP members across seven House committees delivered a letter to Education Secretary Betsy DeVos this week that warns Beijing is indoctrinating American students.
🚨🚨🚨 NEW: 7 top House committee Republicans announce probe into China's infiltration of U.S. colleges

"We cannot allow a dangerous communist regime to buy access to our institutions of higher education, plain and simple" – @Jim_Jordan

More➡️ https://t.co/GwgpkDFkhn pic.twitter.com/C3JQbJIGyJ

— Oversight Committee Republicans (@GOPoversight) May 4, 2020
"China has strategically invested in U.S. academia to attempt to steal confidential information and technology from U.S. companies, and even the U.S. government," the lawmakers state in the letter, pointing to a 2018 report from the Hoover Institution identifying upwards of 110 Confucius Institutes operating on American colleges to facilitate China's espionage and theft of intellectual property.
The Department of Education also instigated an investigation into several universities last year to determine if they had failed to disclose foreign funding.
In February, the department announced it has uncovered $6.5 billion so far in undisclosed foreign funding from Saudi Arabia, Qatar, China and Russia. The investigation has since been expanded to include Harvard and Yale.
Last year President Donald Trump signed the 2019 National Defense Authorization Act which proposed an ultimatum to universities receiving financial assistance from the Pentagon: close the Chinese propaganda center on campus or lose funding. Since that time, at least 49 schools have closed their Confucius Institute, according to Human Rights Watch.
Cotton: Woke Left Allowing 'Evil' China To Get Away With Forced Abortion, Concentration Camps
"A disgraceful and shameful contrast" to denounce America in the face of Chinese tyranny.
GOP Senator Tom Cotton blasted the 'woke left' Monday for ignoring China's brutal human rights violations while simultaneously demonizing the US as a terrible country to live in.
In an interview with Sirius XM's Breitbart News Daily, Cotton reminded listeners that "The Chinese Communist Party is an evil regime."
"They are running concentration camps in Northwestern China, and they are persecuting Christians throughout their region, and they have long forced abortions on women or sterilization on women," Cotton urged.
"Yet many of the woke champions on the left in America, like so many NBA players led by Lebron James, turn a blind eye to their crimes, at the same time we denounce our own police officers, which I think is a disgraceful and shameful contrast," the Senator asserted.
Cotton charged that China has eroded US manufacturing for decades while "too many politicians in Washington stood by."
"They have broken their fundamental obligations to Hong Kong. When they received Hong Kong from Great Britain, they promised to preserve its unique character for 50 years. … Years later, that's gone." Cotton added.
"They in essence invaded India, the world's biggest democracy, killing 20 Indian soldiers in a brutal attack. They're conducting threatening air and naval maneuvers in the vicinity of Taiwan and Japan," the Senator also charged.
Turning to the coronavirus pandemic, Cotton said that "If Beijing had had its way, we might never have known about this coronavirus originating in Wuhan until it spread all across the country and perhaps all around the world."
"And yet [the World Health Organization] covered for Beijing's duplicity for months and months and months. This is one reason the president is withdrawing from the WHO and rightly so," he continued.
"China is only growing more aggressive, partly using this pandemic for cover. That's one reason why it's so important that we've finally begun to stand up to China under President Trump," Cotton added.
Cotton said he wants to see more legislation to hold China accountable.
Iran Holds 'Art' Exhibition Depicting US Police As Nazis, KKK
Iran is one of the most systemically racist countries on the planet.
Iran, governed by one of the most racist regimes on Earth, has sponsored an 'international art exhibition' using the death of George Floyd to tar America as deeply racist society.
The exhibition, titled "I can't breathe" includes 'art' that depicts US police as Nazis and Ku Klux Klan.
Tehran Hosts "I Can't Breathe" Cartoon Exhibition: America, Trump, Police Depicted with Nazi, KKK Imagery; Star of David Shown Crushing the Neck of a Dove pic.twitter.com/2YEbsfXaHo

— MEMRI (@MEMRIReports) June 14, 2020
Footage of the exhibition was broadcast on Iranian state television, showing one painting with a Guillotine for "only colored" people, with the blade as an American flag: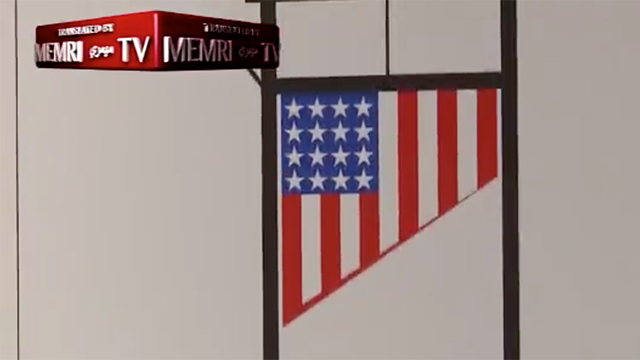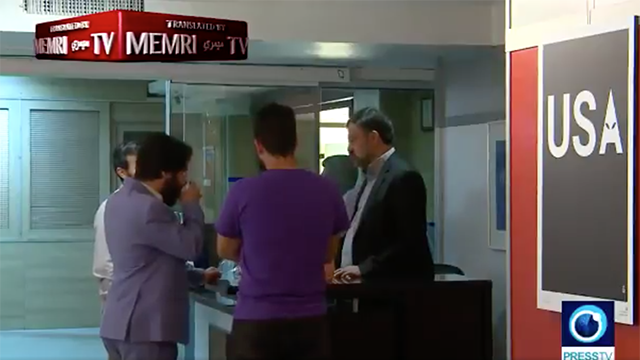 Another piece features the star of David crushing the neck of a dove, which is in itself a racist sentiment: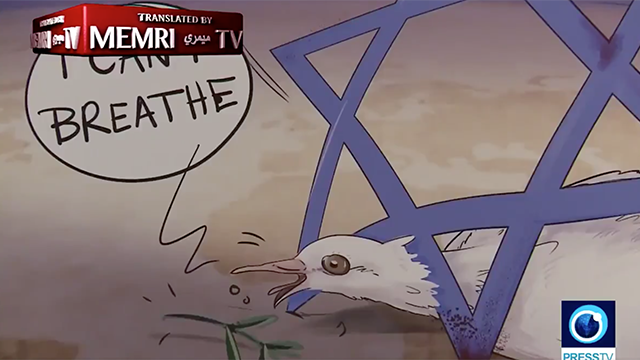 While the collection features pieces from people with 27 different nationalities, it is clearly being hosted and promoted by Iran as anti-American propaganda.
The Iranian regime has basked in the unrest in America, with its 'Supreme Leader' and its Foreign Ministry bragging about how racist the US is on Twitter:
If you're dark-skinned walking in the US, you can't be sure you'll be alive in the next few minutes. #ICantBreathe #BlackLivesMatter pic.twitter.com/nwR8jeUPpg

— Khamenei TV (@Khamenei_tv) May 27, 2020
Some don't think #BlackLivesMatter.

To those of us who do: it is long overdue for the entire world to wage war against racism.

Time for a #WorldAgainstRacism. pic.twitter.com/06p1LmmwgF

— Javad Zarif (@JZarif) May 30, 2020
This coming from a country that viciously oppresses all minorities, sanctions brutally beating women if they dare to uncover their heads, and endorses the execution of people for their sexuality.
Go on then Twitter:
Another Exhibition in Iran pic.twitter.com/DUjstcrFNr

— Dilpak (@AlMaidan5) June 14, 2020
Iran killed 7500 of their own ppl protesting just a few months ago

— PresidentofBTC (@Mr_ShuShu_) June 14, 2020
— Elle Unmasked (@ElleZee6) June 17, 2020
Today in Tehran, there was a protest in which entrepreneurs gathered in front of the Central Bank holding placards saying "Remove your knee off our throats, we can't breathe." You can find it here:https://t.co/cO7ktNXB4g

— Nahid Ghani (@NahidGhani) June 14, 2020
There is a reason an enemy state of the US is creating propaganda in support of BLM and antifa.

— Gary Beal (@Giqueux) June 17, 2020
Imagine a cartoon of a gay man crushed by the knee of a mullah, I imagine all hell would break loose

— Tannie (@Tannie66364346) June 14, 2020
As a woman who's forced to cover her head or be jailed walks by and only men are allowed to gather and speak. Throw any gays off the roof lately?

— BicycleBelle🚲 (@BicycleBelle00) June 17, 2020
Should we stuff down their throats what the Islamic slave trade did to Black men?

— Dennis (@djbarro) June 14, 2020
Communist Chinese, Iranian Officials Celebrate Unrest In America
Twitter allows enemies of America to gloat while censoring US President
As America burns at the hands of ANTIFA extremists who have latched onto the George Floyd backlash, Chinese and Iranian officials took glee in the unrest and violence that is being perpetrated on the streets of major US cities.
Communist party officials have been keen to use the situation in the US to somehow justify China's brutal crackdown on protests in Hong Kong.
China's Foreign Ministry Spokesperson Director General took to Twitter (no fact check here) and cited a previous post by Morgan Ortagus, spokesperson for the United States Department of State, tweeting simply "I can't breathe" in response:
"I can't breathe." pic.twitter.com/UXHgXMT0lk

— Hua Chunying 华春莹 (@SpokespersonCHN) May 30, 2020
Chunying also retweeted a segment aired on RT that labelled as 'hypocritical' the way Washington categorises Hong Kong protesters as heroes, yet the current US "protesters" as thugs:
THUGS & HEROES HYPOCRISYhttps://t.co/rD7vvrvKfa

— Hua Chunying 华春莹 (@SpokespersonCHN) May 30, 2020
The difference is, of course, that those in Hong Kong are protesting a brutal communist regime crushing their freedom, where as in the US it's mainly looting opportunists stealing TV's from Target, and chicken necked Antifa kids smashing up everyday people's businesses and attacking them in the process.
There is no hypocrisy in calling them thugs.
Twitter also allows Communist Chinese propaganda mouthpieces to bask in glee over the unrest:
Peacekeepers or mass murderers? A video circulating on social media shows #NYPD squad cars ramming into #GeorgeFloyd protesters behind a barricade in #NewYork City. pic.twitter.com/wCOeLyIMl2

— Global Times (@globaltimesnews) May 31, 2020
While censoring the US President, Twitter is fine with allowing Iran's 'Supreme Leader' and its Foreign Ministry to post this kind of shit:
If you're dark-skinned walking in the US, you can't be sure you'll be alive in the next few minutes. #ICantBreathe #BlackLivesMatter pic.twitter.com/nwR8jeUPpg

— Khamenei TV (@Khamenei_tv) May 27, 2020
Some don't think #BlackLivesMatter.

To those of us who do: it is long overdue for the entire world to wage war against racism.

Time for a #WorldAgainstRacism. pic.twitter.com/06p1LmmwgF

— Javad Zarif (@JZarif) May 30, 2020
Seriously? From a country that viciously oppresses all minorities, sanctions brutally beating women if they dare to uncover their heads, and endorses the execution of people for their sexuality.