Athiest Dawkins Says 'Eugenics Would Work'
"Facts ignore ideology"
In a set of rather bizarre tweets on Sunday, notorious atheist Richard Dawkins argued that eugenics, the practice of selective breeding supported by the Nazis, would work perfectly well if applied to humans, because it works on animals.
"It's one thing to deplore eugenics on ideological, political, moral grounds. It's quite another to conclude that it wouldn't work in practice," Dawkins wrote.
"Of course it would. It works for cows, horses, pigs, dogs & roses. Why on earth wouldn't it work for humans? Facts ignore ideology," he added.
It's one thing to deplore eugenics on ideological, political, moral grounds. It's quite another to conclude that it wouldn't work in practice. Of course it would. It works for cows, horses, pigs, dogs & roses. Why on earth wouldn't it work for humans? Facts ignore ideology.

— Richard Dawkins (@RichardDawkins) February 16, 2020
Okaaaay, Mein Führer.
Sensing that his comments would generate immediate backlash and Hitler comparisons, Dawkins clarified that he wasn't advocating for eugenics, merely acknowledging that it would be a very effective practice.
"For those determined to miss the point, I deplore the idea of a eugenic policy," he said.
"I simply said deploring it doesn't mean it wouldn't work. Just as we breed cows to yield more milk, we could breed humans to run faster or jump higher. But heaven forbid that we should do it." Dawkins explained.
A eugenic policy would be bad. I'm combating the illogical step from "X would be bad" to "So X is impossible". It would work in the same sense as it works for cows. Let's fight it on moral grounds. Deny obvious scientific facts & we lose – or at best derail – the argument.

— Richard Dawkins (@RichardDawkins) February 16, 2020
Dawkins has previously made his thoughts on eugenics clear, writing that he suspects "that the idea is too dangerous for comfortable discussion, and my conjecture is that Adolf Hitler is responsible for the change."
"Nobody wants to be caught agreeing with that monster, even in a single particular." Dawkins continued, adding "The spectre of Hitler has led some scientists to stray from "ought" to "is" and deny that breeding for human qualities is even possible."
"But if you can breed cattle for milk yield, horses for running speed, and dogs for herding skill, why on Earth should it be impossible to breed humans for mathematical, musical or athletic ability? Objections such as 'these are not one-dimensional abilities' apply equally to cows, horses and dogs and never stopped anybody in practice." Dawkins urged.
"In the 1920s and 1930s, scientists from both the political left and right would not have found the idea of designer babies particularly dangerous – though of course they would not have used that phrase." Dawkins further asserted.
"I wonder whether, some 60 years after Hitler's death, we might at least venture to ask what the moral difference is between breeding for musical ability and forcing a child to take music lessons. Or why it is acceptable to train fast runners and high jumpers but not to breed them. I can think of some answers, and they are good ones, which would probably end up persuading me. But hasn't the time come when we should stop being frightened even to put the question?" the evolutionary biologist stated.
Dawkins' latest considerations on eugenics quickly opened up a torrent of disbelief.
Greg Epstein, Humanist Chaplain at Harvard University, was one of the first to respond:
So unacceptable for Richard Dawkins to tweet about eugenics without clearly condemning it. Dawkins is *supposedly* one of our exemplars of humanism & science outreach. Yet today he's given every manner of passive and active bigot an opening to "consider" persecution on steroids. https://t.co/jycoxZQJFP

— Greg Epstein 🩸🦷 (@gregmepstein) February 16, 2020
Others joined in:
This eugenics crap is so dangerous. In the US it lead to forced sterilizations of women in the South — sometimes against their wills, often without their knowledge — that became so common that they came to be referred to as "Mississippi appendectomies." https://t.co/TKFQGFc0dL

— Charles M. Blow (@CharlesMBlow) February 16, 2020
While Richard Dawkins is a noted biologist, his science on eugenics is bad. We turned magnificent wolves into pure breed dogs with severe genetic defects causing joint and heart problems and cancer. In fact, many Cavalier spaniels develop mitral valve and neurological disorders.

— Eugene Gu, MD (@eugenegu) February 16, 2020
I have literally never seen an argument against eugenics that hinges on the idea of whether or not it "would work." The issue is what would it mean to say that eugenics "works," which you conveniently have not defined. Care to elaborate on what a "working" model of eugenics is?

— Rani Sadbutt Baker (@destroyed4com4t) February 16, 2020
You absolute pin-headed simpleton. It doesn't work in practice because too many of the goals turn out to be arbitrary fantasies, and too many of those fantasies are the pet projects of abusive bigots who fuck up any civilization they get their hands on. Are you new here? Christ.

— Scott Lynch (@scottlynch78) February 16, 2020
what does 'work' mean, richard

— Shaun (@shaun_vids) February 16, 2020
You're gonna start talking about 'useless eaters' next. We see you.

— Mike Stuchbery 💀🍷 (@MikeStuchbery_) February 16, 2020
yes, facts ignore ideology, except in this instance because your definition of "works" would necessarily be influenced *by ideology*

— Avery Edison (@aedison) February 16, 2020
This is racist trash, Richard. The analogy you draw here between the ideology of eugenics and the domestication of cows or horses is false, dangerous, and historically illiterate.

— Dan Hicks (@profdanhicks) February 16, 2020
Media Executive Warns Big Tech Is Secretively Seizing "All The Power" Over Information
Testifies that Google and Facebook are trying to have a monopoly on news with 'black box' algorithms.
Newspaper executive Peter Wright has slammed big tech for secretively developing and changing algorithms for news distribution without giving the industry any indication whatsoever of what they are doing.
Wright of DMG Media, which is the parent company of The Daily Mail, was testifying before the House of Lords Communications and Digital Committee Tuesday.
He accused companies like Google and Facebook of 'monopoly behaviour' as they seek to seize 'all the power' in online news and advertising.
Wright claims that the Mail's online daily traffic from Google searches has been diminished by 50 per cent in just one year after the company changed the algorithm for news content in 2019.
"Google and Facebook in our view are market dominant companies and they behave in the way that market dominant companies do," Wright stated, noting that it is significantly impacting journalism.
"Google and Facebook both distribute our content via algorithm. Those algorithms are what is known in the digital world as a 'black box' – they are secret, you have no idea how they work. But we can see and measure the results," Wright said.
Wright also implied that the Mail's pro Brexit stance led to it being targeted by big tech for diminished online distribution.
He noted that last June "over the space of three days, our search visibility, which is the measure of how often your content is appearing against a basket of search terms, dropped by 50 per cent, and it was particularly marked against some particular terms. One of them for instance was 'Brexit'."
Wright noted that after his group protested, normality eventually returned.
"But this is monopoly behaviour. You can't do this if you're in a business relationship with someone where there's any semblance of equality of power," he urged.
Wright noted that Google and Facebook are not regulated and so they are getting away with a secretive takeover of content.
"As far as the commercial relationship between news publishers and the platforms is concerned, it's a business relationship between two partners in which one partner has all the power," Wright declared.
He described Google as "completely dominant" in search and digital marketing, the two main avenues for distributing news content, and Facebook (which also owns instagram) as "dominant in social media", pointing out that they make "more money out of advertising than our newspapers do."
Despite the vast power that these companies have in such areas, Wright noted that their terms of service are completely "opaque".
"Even the contracts that we sign to use their services are often presented to us on a take-it-or-leave-it basis. So what we're asking for here is for regulation, and the CMA (Competition and Markets Authority) are about to report on a massive piece of work they've been doing, to address the complete imbalance in the business relationship," Wright asserted.
Facebook Bans Trump Ad For Using ANTIFA Symbol
Election meddling.
Facebook, the arbiters of everything in the new world order, has banned a political ad by the Trump campaign because it used a symbol connected with 'organised hate'. Yet, it turns out that symbol is one used all the time by ANTIFA.
Facebook has taken down multiple Trump reelection campaign ads citing policy violation against organized hate.

Spox tells @NBCNews "our policy prohibits using a banned hate group's symbol to identify political prisoners without the context that condemns or discusses the symbol"

— Sally Shin (@sallyshin) June 18, 2020
The ad used a red triangle pointing downward, which was picked up on by The Washington Post, which linked it to Nazi-ism:
A red inverted triangle was first used in the 1930s to identify Communists, and was applied as well to Social Democrats, liberals, Freemasons and other members of opposition parties. The badge forced on Jewish political prisoners, by contrast, featured a yellow triangle overlaid by a red triangle.

In response to queries from The Washington Post, Facebook on Thursday afternoon deactivated ads that included the inverted red triangle.
Jewish Action charged that "Trump & the RNC are using it to smear millions of protestors."
The President of the United States is campaigning for reelection using a Nazi concentration camp symbol.

Nazis used the red triangle to mark political prisoners and people who rescued Jews.

Trump & the RNC are using it to smear millions of protestors.

Their masks are off. pic.twitter.com/UzmzDaRBup

— Bend the Arc: Jewish Action (@jewishaction) June 18, 2020
The Trump campaign responded, noting that the symbol is an emoji, and is routinely used by ANTIFA, hence the campaign's use of it in reference to "dangerous mobs of far left groups"
This is an emoji. 🔻

It's also a symbol widely used by Antifa. It was used in an ad about Antifa.

It is not in the ADL's Hate Symbols Database. pic.twitter.com/RSzvNT0SrC

— Trump War Room – Text TRUMP to 88022 & get the APP (@TrumpWarRoom) June 18, 2020
A cursory search confirms that ANTIFA groups use this symbol all the time, as this NBC reporter found out:
It seems like it is a Spain-specific symbol. I've seen versions on several Spanish accounts now. Thanks!

— Brandy Zadrozny (@BrandyZadrozny) June 18, 2020
So, ironically, Trump's ad was banned by Facebook because Antifa's imagery is hateful.
Facebook is coming under increasing scrutiny, with calls for it to be held accountable as a publisher. The company has all manner of secretive 'woke' policies that are leading to increased censorship and directly impacting Americans' right to freedom of speech.
Facebook's secret 'diversity board' is the latest example:
71 Percent Of Americans Reject Privacy Killing Contact Tracing Apps
Europeans also say no to government monitoring.
Almost three quarters of Americans say they will not submit their privacy to contact tracing apps, with Europeans also rejecting the notion outright because they do not trust government to keep their information safe and refrain from misusing it.
A study from Avira reveals that the vast majority of Americans are against contact tracing apps, with 71 percent saying they will not download them, and 75% believing their digital privacy is at risk from the technology.
Image: Avira
The poll found that only 14 percent believe the government would protect their data effectively.
When asked if they would trust big tech more than the government, 32 percent said they would feel safe giving Apple or Google their data.
The study also noted that those working in Government and Healthcare are the least-likely to download the technology, with 84% of people from these sectors saying they will not use the apps.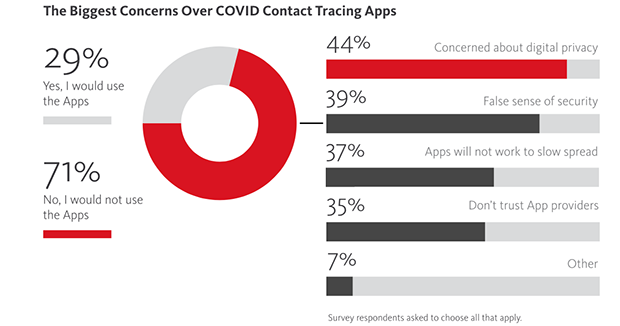 Image: Avira
Travis Witteveen, CEO of Avira commented "We believe these survey results send a clear signal to both app creators and the government. COVID contact tracing apps could fail before they launch if developers don't communicate to the public how they plan to protect people's privacy."
Meanwhile, in Germany people are also rejecting the contact tracing technology owing to privacy concerns.
The amount of people willing to use the apps has fallen to 42 percent, according to polling data from Forschungsgruppe Wahlen.
Statista notes that the latest data indicates a 6 percentage point drop since April: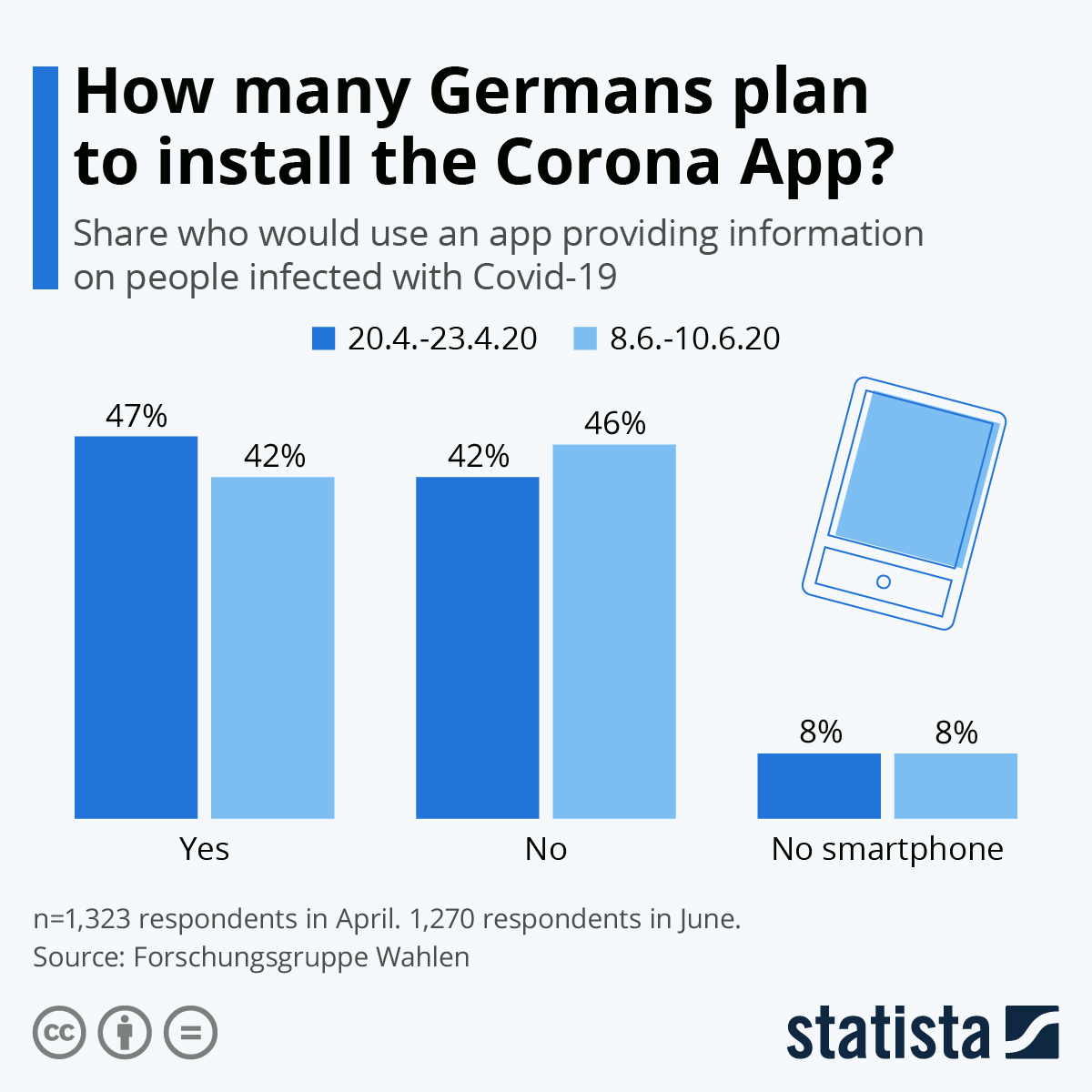 Image: Statista
In Norway, the technology has been completely abandoned after it was deemed to be too invasive.
Amnesty International has warned that contact tracing apps like Norway's are "most alarming mass surveillance tools". The organisation's assessment did not include the US contact tracing app.
In the UK, despite touting it for months, the government has (predictably) failed to roll out its contact tracing app because of bureaucracy.
Cybersecurity experts also analysed the source code of the app and found no less than seven major flaws.