Facebook Censors Jordan Peterson Video Link Sent in Private Message
Thought crime patrolling reaches absurd new level.
Facebook is now so censorship happy that it is blocking links to Jordan Peterson videos sent between two people via private message.
Yes, really.
A screenshot posted to The Donald Reddit forum titled "THE DYSTOPIA IS NOW. Facebook censored a PRIVATE MESSAGE I sent because it has a link to Jordan Peterson's Bible Lecture Series" illustrates the ridiculous new standard.
When the user attempted to send a link to Peterson's video to his friend, the URL was blocked and replaced with the text, "This message was removed because it includes a link that goes against our Community Standards."
Facebook appears to have a clear bias against biblical discussion.
As we previously highlighted, the company banned a peace-loving quote by St. Augustine of Hippo, a Catholic theologian and philosopher, saying it was "hate speech".
In addition to blocking links that contain thought crimes, when Facebook suspends a user, it also prevents them entirely from using its messenger function.
For many people, Facebook messenger is their only means of communication with friends and loved ones, meaning that if an emergency were to occur and the user was suspended, it could actually result in real world harm.
Given that the social media giant openly incited violence against people it deemed "dangerous individuals" (including yours truly), it's unsurprising that they would put people deemed to be thought criminals at risk.
SUBSCRIBE on YouTube:
Follow on Twitter: Follow @PrisonPlanet
———————————————————————————————————————
My voice is being silenced by free speech-hating Silicon Valley behemoths who want me disappeared forever. It is CRUCIAL that you support me.
Please sign up for the free newsletter here. Donate to me on SubscribeStar here.
Support my sponsor – Turbo Force – a supercharged boost of clean energy without the comedown.
———————————————————————————————————————
"Something Very Dramatic Has Changed": Matt Taibbi Says Democrats Ditched Free Speech
Independent journalist Matt Taibbi – of recent "Twitter Files" fame – has exposed the fact that civil liberties are no longer popular among Democrats. Taibbi appeared on Fox News' "Sunday Morning Futures with Maria Bartiromo" to reiterate his perspective that the modern Democratic Party no longer represents the values of the everyday American. 
"About all of this — Matt, how do you feel about all of this? I know before you started discovering this bad behavior, you identified as a Democrat, and now you've got all of your friends, quote-unquote, in the media attacking you for exposing this," Bartiromo asked.

"Yeah, it's funny, I mean, I was raised in a traditional ACLU liberal, I believed in free speech all my life. That was one of the things, frankly, that attracted me to the Democratic Party when I was a kid, the idea that we were the party that believed in letting everybody have a say, and we'll just make a better argument, and that's how the system works," Taibbi said.

He continued, "Apparently, something very dramatic has changed in politics in America, and there's been a shift. There's no question about it anymore, that now the parties have had a complete reversal on how they read these issues."
Taibbi leads a team of journalists, including Michael Shellenberger, who have been given access to Twitter Files, revealing a startling network of government agencies, think tanks, and Twitter personnel coordinating efforts to attack the First Amendment.
What we've learned from the Twitter Files is the ever-expanding coalition of groups working with the government and social media to target and censor Americans, including government-funded organizations.
Twitter files are chilling in the details and show how Democrats have weaponized government and colluded with corporations to wage war on the First Amendment.
The modern Democratic Party is not the same one that your parents or grandparents were members of in the past.It's obsessed with starting World War 3 in Ukraine, eroding the First Amendment, dismantling the Second Amendment, and normalizing 'woke' culture.
What caused such a significant shift in the party in just a few short years?
And what kind of blowback will Taibbi get for telling these truths?
This post was originally published at Zero Hedge
White House Tried to Censor Private WhatsApp Messages About Vaccine Skepticism
Alarming leaked emails reveal attempted level of intrusion beyond public forums.
Leaked emails show that the White House was intent on pressuring messaging platform WhatsApp to censor private conversations about 'vaccine skepticism'.
The revelation is perhaps even more alarming than the Biden administration's efforts to shut down dissent on public social media networks such as Facebook and Twitter, because the lobbying pertained to information exchanged between as a few as two people.
The leaked emails were featured in a Substack article written by journalist and author David Zweig.
From March 2021 onwards, Rob Flaherty, the Biden White House's Director of Digital Strategy, demanded WhatsApp owner Meta explain the actions it was taking to intervene in private conversations about the COVID vaccine between WhatsApp users.
"If you can't see the message, I'm genuinely curious—how do you know what kinds of messages you've cut down on?" Flaherty asked.

Flaherty and Andrew Slavitt, then the White House Senior Advisor on the Covid Response, wanted to set up phone calls with a Meta executive a "couple of times per week" if necessary to oversee the censorship.
"I care mostly about what actions and changes you're making to ensure you're not making our country's vaccine hesitancy problem worse," Flaherty wrote on April 9, 2021.
"I still don't have a good, empirical answer on how effective you've been at reducing the spread of vaccine-skeptical content and misinformation to vaccine fence sitters," he added.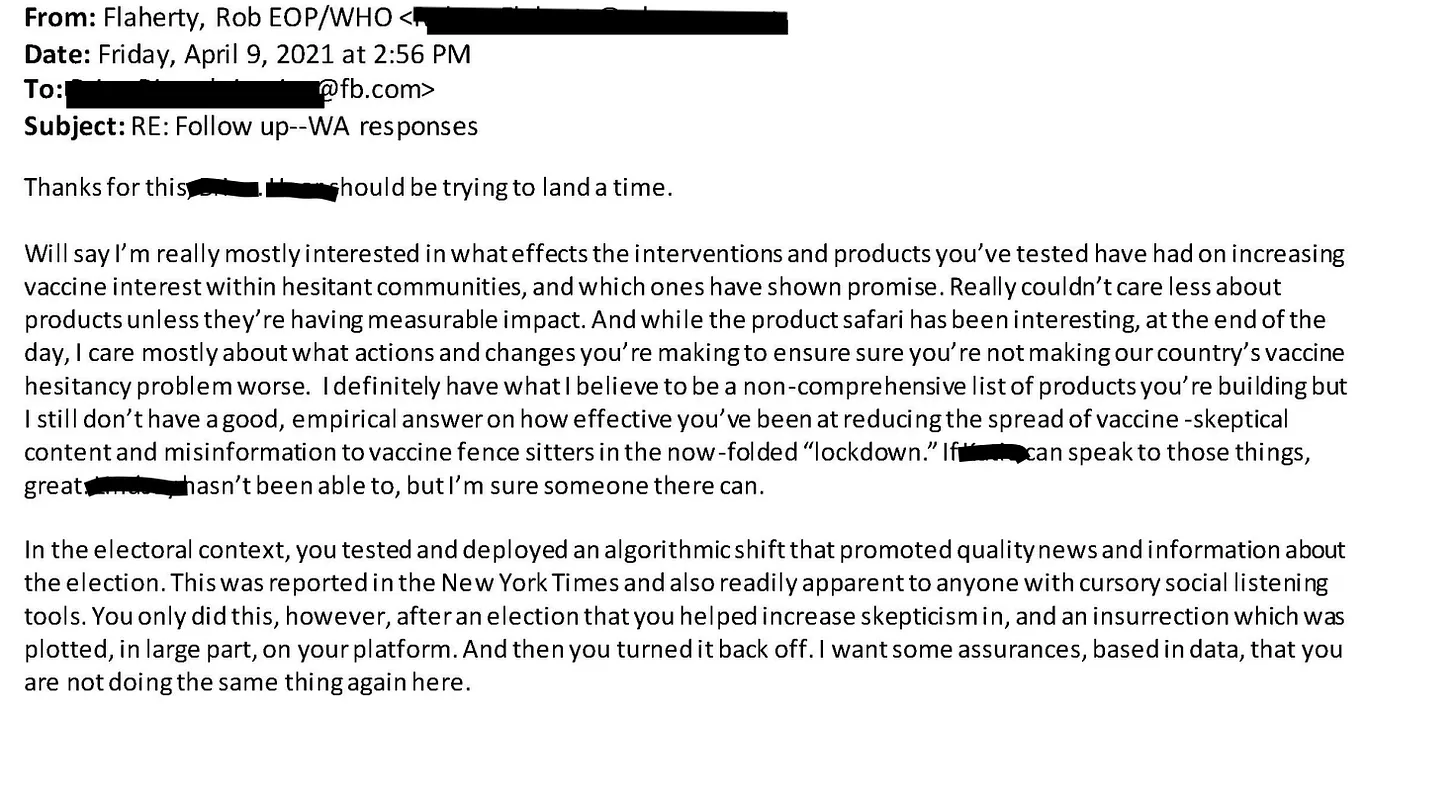 The White House wanted non-public messages about vaccine skepticism to be brought "under control," a chilling interference in private encrypted conversations.
"What, exactly, was he hoping to get Meta to do?" asks Zweig.
"It was obvious from the start that WhatsApp's interface didn't allow for the granular control Flaherty appeared to desire. And his smiley face response suggests he well understood this. Yet he kept badgering the Meta executives anyway."
Meta was seemingly unable to satisfy the Biden administration's demands, perhaps wary that directly censoring people's ability to communicate with their own friends and family would have represented a massive public relations disaster.
SUBSCRIBE on YouTube:
Follow on Twitter: Follow @PrisonPlanet
———————————————————————————————————————
Brand new merch now available! Get it at https://www.pjwshop.com/
ALERT!
In the age of mass Silicon Valley censorship It is crucial that we stay in touch.
I need you to sign up for my free newsletter here.
Support my sponsor – Turbo Force – a supercharged boost of clean energy without the comedown.
Get early access, exclusive content and behind the scenes stuff by following me on Locals.
———————————————————————————————————————
Sam Harris: Conservatives "Should Not Have Opinions" On Ukraine, Vaccines, Climate Change
"You've got people who are moving the opinions of millions of others, who should not have an opinion on these topics"
Leftist 'thinker' Sam Harris declared last week that conservatives should not be allowed to voice their opinions on issues such as the war in Ukraine, climate change, or vaccine safety.
Making the remarks on a podcast, Harris' argument is that conservative commentators are making a living out of "not caring" and thus should not be allowed to influence anyone else's opinion.
"We're swimming in a sea of misinformation, where you've got people who are moving the opinions of millions of others, who should not have an opinion on these topics," Harris proclaimed.
He continued, "There is no scenario in which you should be getting your opinion about vaccine safety or climate change, or the war in Ukraine, or anything else that we might want to talk about from Candace Owens, right?"
"She's not a relevant expert on any of those topics. And what's more, she doesn't seem to care, right?" Harris continued, adding "And she's living in a culture that has amplified that not caring into a business model, an effective business model, right? That is something very Trumpian about all that."
Watch:
This is all very rich coming from someone who previously admitted he supported the suppression of reporting on the Hunter Biden laptop immediately prior to the election, if it would prevent Donald Trump from being reelected.
Indeed, Harris went as far as saying "Hunter Biden could have had the corpses of children in his basement. I would not have cared."
Harris later pathetically claimed that the New York Post's reporting on the story was accurate only "by accident."
After he received backlash for the remarks, Harris rage quit Twitter and is still absent from the platform, refusing to even entertain debate or opinions antithetical to his own:
Given that she was used as an example by Harris, Candace Owens responded:
SUBSCRIBE on YouTube:
Follow on Twitter:
Follow @PrisonPlanet
———————————————————————————————————————
Brand new merch now available! Get it at https://www.pjwshop.com/


ALERT! In the age of mass Silicon Valley censorship It is crucial that we stay in touch.

We need you to sign up for our free newsletter here.

Support our sponsor – Turbo Force – a supercharged boost of clean energy without the comedown.

Also, we urgently need your financial support here. ———————————————————————————————————————