Migrants Waiting For Dems To Win Election Because 'It Would Make Things Easier To Get In'
"Once Trump is defeated and the Democrats take over, things are going to get better."
Migrants in central America say they are waiting for President Trump to be voted out of office and for Democrats to reopen the borders so they can cross illegally into the US without the fear that authorities will 'throw them back.'
The Center for Immigration Studies reports that many migrants are sitting in wait in Mexico, praying for a Trump defeat.
U.S.-bound migrants stuck in Mexico say they're staying, calculating a Trump 2020 election loss and Dems will reopen the southern border. "The Trump-defeat gambit offers powerful motive, a 50-50 chance that the U.S. border will clear in less than a year."https://t.co/jQmPyUEclo pic.twitter.com/9d90U1Fdwe

— Todd Bensman (@BensmanTodd) January 19, 2020
"I'll wait for that because it would make things easier to get in." Honduran Katherine Cabrera told researchers, adding "I want Trump out!"
Another told CIS that many are not attempting to illegally gain entry to the country "until Trump leaves," because the prevailing expectation is that "right now, the Americans will throw you back" to Mexico.
"A lot of people in El Salvador believe he (Trump) is the reason all this is happening, that he is selfish and cruel and doing everything he can to make us suffer," another migrant commented, adding "But once Trump is defeated and the Democrats take over, things are going to get better."
Other groups of migrants are attempting to cross in greater numbers, believing that it will give them a better chance of evading capture:
A migrant Caravan from Guatemala gathered near the Mexican border on Sunday, waiting for more migrants to arrive in hopes that greater numbers may give them a better chance in their attempt to cross into Mexico. pic.twitter.com/elxYkDqOMO

— ANews (@anewscomtr) January 20, 2020
On Monday, Thousands of migrants stormed a bridge over the Suchiate River from Guatemala to Mexico, attempting and failing to move further north.
The scenes were chaotic with Mexican National Guard troops confronting the migrants:
#BREAKING Migrants from new caravan cross Suchiate river and have reached Mexico. pic.twitter.com/CKCdFqsATP

— teleSUR English (@telesurenglish) January 20, 2020
VIDEO: 🇬🇹 🇲🇽 Thousands of Central American #migrants wait on the #RodolfoRobles bridge on the Guatemala-Mexico border as they hope to enter Mexico legally on their journey to the US pic.twitter.com/6I3xz9MTxy

— AFP news agency (@AFP) January 20, 2020
Migrants have just crossed the Guatemala-Mexico border. pic.twitter.com/epkdH7WTH9

— teleSUR English (@telesurenglish) January 20, 2020
The CIS reports that apprehensions of illegal crossers are down from about 144,000 last May to 40,000 in December, owing to new reinforcements on the US side of the border, and the asylum agreement made by the US government with Mexican authorities that allows migrants to wait in Mexico.
Further reports suggest that President Trump wants to divert billions in funding to the border wall:
Meanwhile, Democratic Presidential candidate Joe Biden, the "moderate" opposition to Trump, declared Monday that he will seek to end all illegal immigration detention "across the board".
Joe Biden: end all illegal immigration detention "across the board" pic.twitter.com/YkwHiNJYcC

— Steve Guest (@SteveGuest) January 20, 2020
Fox News Host: "I Love A Good Drag Show"
Fox News is endorsing drag shows now in addition to child transgendism. 
"I love a good drag show," The Big Sunday Show co-host Julie Banderas said over the weekend, "but like, not for my first grader."
Banderas said that despite loving drag shows herself, she takes issue with using "taxpayer dollars" to fund Drag Queen Story Hours for kids.
"Drag shows have been going on for a very long time without incident," co-host Guy Benson chimed in. "It's got a following, especially in gay culture, it's not personally my thing but people like it. It's campy, it's funny, it's bawdy, it can be raunchy — and like go for it!"
"Knock yourself out!" Benson said. "Have fun! Go to your brunch! But there are some lines here, like do taxpayer dollars need to fund this? And do we need to have children at these events?"
Fox News endorsed and promoted child transgenderism last year during "Pride Month" and earlier this month they ran a column arguing that America needs open borders for LGBTQIA+ Latinx illegal aliens and their homosexual lovers to own the libs.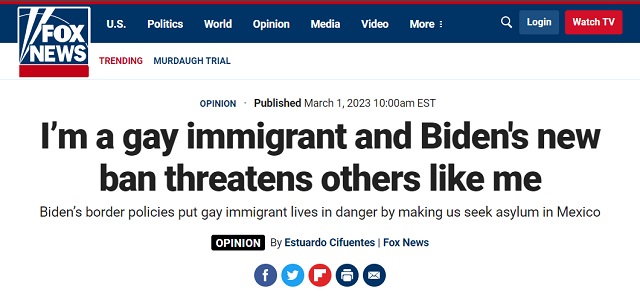 Their biggest hosts are also now lobbying for war with China and trying to scapegoat China for all the problems in our country that were caused by our own crooked globalist elites.
This post was originally published at Information Liberation
Israel Introduces Bill to Outlaw Teaching The Gospel of Jesus Christ, Sentence Violators to Prison
Two influential members of Israel's Knesset have introduced a bill to outlaw teaching the Gospel of Jesus Christ in Israel and sentence violators to prison. 
Israel already bans Christians from proselytizing minors but this new bill will go even further and "ban any and all efforts to tell people about Jesus."
From All Israel News, "EXCLUSIVE: Two Knesset members propose legislation to outlaw sharing the Gospel in Israel and send violators to prison – could it become law?":
JERUSALEM, ISRAEL – Is it possible that the Israeli government this year could pass legislation making it illegal for people to share the Gospel message in the very land where Jesus was born, raised, preached, died, buried and rose from the dead?

Unfortunately, yes.

As Palm Sunday and Easter approach – the two most sacred days on the calendar for those who follow Jesus as both God and Messiah – two members of the Knesset (Israel's parliament) introduced a bill last week that would ban any and all efforts to tell people about Jesus.

The bill would send violators to prison.

[…] The proposed legislation would outlaw all efforts by people of one faith who, in any way, want to discuss or try to persuade people of other faiths to consider changing their current religious beliefs.

The punishment for doing so would be "one year imprisonment."

If the conversation is with minor – someone under the age of 18 – the punishment would be "two years imprisonment."

This bill would apply to people having spiritual conversations with Israelis of any religion.

However, in their official explanation of the bill, the two Israeli legislators specifically emphasized the warning to stop Christians, in particular.

The bill's primary objective, therefore, appears to be making it illegal for followers of Jesus ("Yeshua" in Hebrew) to explain why they believe that Jesus is both Messiah and God with the hope that Israelis might consider following Him.

The bill does not only make a simple personal conversation about Jesus with another individual a crime.

It would also make it illegal for "someone who solicits a person – directly, digitally, by mail or online – in order to convert his religion."

Thus, producing and publishing online videos explaining the Gospel to Jewish or Muslim people in Israel – and to those of any other religious faiths – would suddenly become illegal.

Publishing books, other printed literature, online articles, podcasts, or other forms of media that explains the life and ministry of Jesus and His message found in the New Testament would also become illegal.

So would discussing the Gospel message via email, text messages, written letters and/or on social media, including answering questions initiated by people who don't follow Jesus.
All Israel News has the full text of the bill.
This is how Christians are treated when they preach the Gospel in Israel:
A new Pew Research poll in America found that Evangelicals have a +39 favorability rating towards Jews but Jews have a -40 favorability rating of Evangelicals. 
Anti-Christian attitudes are even worse in Israel.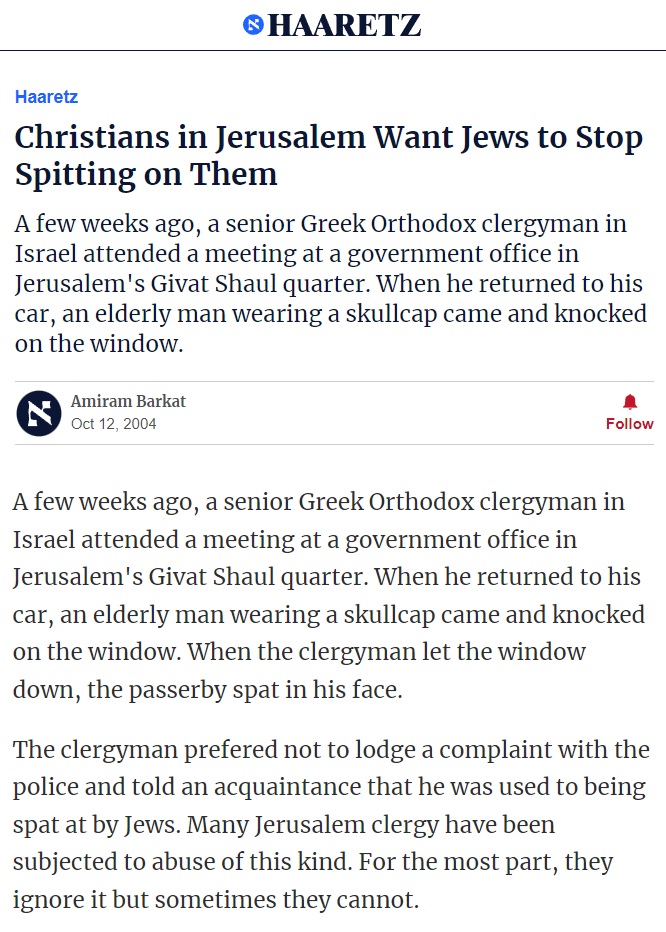 In 2019, the pro-Israel Christian TV broadcasting network Daystar had their headquarters burned to the ground by suspected Jewish extremists who were never caught.
The Greek Orthodox Patriarch of Jerusalem warned last year that "our presence in Jerusalem is under threat."
"Our churches are threatened by Israeli radical fringe groups," Patriarch Theofilos III said. "At the hands of these Zionist extremists the Christian community in Jerusalem is suffering greatly. Our brothers and sisters are the victims of hate crimes. Our churches are regularly desecrated and vandalized. Our clergy are subject to frequent intimidation."
Just last month, a Jewish extremist from America desecrated a statue of Jesus inside a Jerusalem church.
"We cannot have idols in Jerusalem," the Jewish-American vandal said. "This is a very serious matter, we cannot worship stones of false gods in Jerusalem." 
A poll from Gallup released last week found that Israel is losing support among American Democrats, though support among Republicans – especially Evangelicals — remains strong.
For the first time ever, Democrats said "their sympathies in the Middle East now lie more with the Palestinians than the Israelis, 49% versus 38%," Gallup reported:
Today's attitudes reflect an 11-percentage-point increase over the past year in Democrats' sympathy with the Palestinians. At the same time, the percentages sympathizing more with the Israelis (38%) and those not favoring a side (13%) have dipped to new lows.

Sympathy toward the Palestinians is also at a new high among political independents, up six points to 32%. However, more independents still lean toward the Israelis (49%).

Republicans' views are unchanged, with nearly eight in 10 (78%) continuing to sympathize more with the Israelis while 11% side with the Palestinians.
All Israel News said the bill to outlaw teaching the Gospel in Israel has a solid chance of passing now that Orthodox and ultra-Orthodox Jewish members control the legislature.
"These members are far more aggressive in this legislative session than ever before in pushing for legislations to be passed that advance their theological worldview," All Israel News reported.
This post was originally published at Information Liberation
Germany Will Execute International Court's Arrest Warrant If Putin Enters Territory
Germany said over the weekend that it is ready to arrest Russian President Vladimir Putin if he ever travels to its territory, following the Hague-based International Criminal Court issuing an arrest warrant last week related to alleged human rights abuses in Ukraine.
German Justice Minister Marco Bushman stipulated the Russian leader will be detained if he steps foot on Russian soil. "I expect that the International Criminal Court in The Hague will swiftly approach Interpol as well as the contracting states and ask them for enforcement," Bushman told Germany's Bild am Sonntag newspaper on Sunday.
This comes after German Chancellor Olaf Scholz welcomed the ICC ruling, stressing that "no one is above the law."
The Friday ICC statement had said that Putin "is allegedly responsible for the war crime of unlawful deportation of population (children) and that of unlawful transfer of population (children) from occupied areas of Ukraine to the Russian Federation."
"Today, 17 March 2023, Pre-Trial Chamber II of the International Criminal Court … issued arrest warrants against two individuals in connection with the situation in Ukraine: Mr. Vladimir Vladimirovich Putin and Ms. Maria Alekseevna Lvova-Belova," the statement added, referencing Russia's commissioner for children's rights Maria Alekseyevna Lvova-Belova.
As we described earlier, the ICC warrant remains largely symbolic, given the ICC doesn't have a police force or enforcement mechanism. Thus sovereign governments would have to take action on it (as in this case with Germany).
However, it does complicate Putin's ability to travel to European or other capitalswhich cooperate with the ICC. This also means it could hinder peace efforts in the scenario Putin might choose to personally engage in negotiations or diplomacy in a European city.
The Kremlin has said the ICC warrant is "legally null and void" and that it doesn't recognize the international court's decisions. The US is also not a signatory to the ICC.
This post was originally published at Zero Hedge