Trump Says 'Pathetic' Democrats Would've Leaked Soleimani Strike Plans To 'Fake' Media
'We had to make a decision, we didn't have time to call crazy Nancy'
During a rally in Ohio Thursday, President Trump slammed Democrats for criticizing his decision to take out Iranian terrorist General Qassem Soleimani, saying that if he'd informed Congress ahead of the surgical strike, 'pathetic' House leaders would have called the 'corrupt media'.
The President also claimed that the 'sadistic mass murderer' "Soleimani was actively planning new attacks and he was looking very seriously at our embassies, and not just the embassy in Baghdad."
"But we stopped him, and we stopped him quickly and we stopped him cold," Trump told the crowd in Toledo, adding that the actions saved American lives and delivered 'American justice.'
"Now I see, the radical left Democrats have expressed outrage over the termination of this horrible terrorist." The President continued adding, "you know what, instead they should be outraged by Soleimani's savage crimes, and that fact that his countless victims were denied justice for so long."
"We have Bernie and Nancy Pelosi, we have them all – they're trying to say, 'How dare you take them out that way. You should get permission from Congress. You should come in and tell us what you want to do. You should come in and tell us so that we can call up the fake news that's back there and we can leak it," Trump said, slamming the Democrats.
"We had to make a decision." Trump roared, adding that he didn't have time to call "nervous Nancy," who is "not operating with a full deck."
"They're so pathetic. So they want us to call them," the President continued, adding "Now, Schiff is a big leaker, you know. He leaks to crazy CNN, Not too many people are watching CNN. But he leaks!"
"So he'll say: 'You know, uh, off the record – I got to hurry up because everyone's watching me in the hallway on my cell phone – off the record, they've got the No. 1 terrorist in the world – Soleimani. And they're going to get him, they're going to take him out in the next 10 minutes. Please, don't tell anyone I told you," Trump said, imagining Schiff taking pleasure in leaking the story to CNN.
Trump touted the strike as 'the anti-Benghazi,' saying "We got there very quickly. We got there very quickly. This is the exact opposite. We did it exactly the opposite of Benghazi where they got there so late."
The President followed up in a series of tweets after the rally:
Under my administration, we will NEVER make excuses for America's enemies – we will never hesitate in defending American lives – and we will never stop working to defeat Radical Islamic Terrorism! pic.twitter.com/022PjwhHjs

— Donald J. Trump (@realDonaldTrump) January 10, 2020
After years of rebuilding OTHER nations, we are finally rebuilding OUR nation. We are finally putting AMERICA FIRST! #KAG2020 pic.twitter.com/azKL54A6BU

— Donald J. Trump (@realDonaldTrump) January 10, 2020
Democrats are now the party of high taxes, high crime, open borders, late-term abortion, socialism, and blatant corruption. The Republican Party is the party of the American Worker, the American Family, and the American Dream! #KAG2020 pic.twitter.com/05XRX2odxN

— Donald J. Trump (@realDonaldTrump) January 10, 2020
Kanye Accuses Kushner of Sabotaging Trump
"These guys might have really been holding Trump back."
During his interview with Tucker Carlson last night, Kanye West savaged the Kushner family, accusing former White House advisor Jared Kushner of sabotaging Trump.
"After talking to them, and really sitting with Jared and sitting with Josh and finding out other pieces of information, I was like wow, these guys might have really been holding Trump back," said Kanye.
Kanye also claimed that Jared Kushner and his brother Josh only arranged the Abraham Accords between Israel and Arab countries to "make money."
During the interview, West appeared to be somewhat nervous about the subject, at one point asking Carlson, "All these things with Israel … I just think it was to make money. Is that too heavy-handed to put in this platform?"
"I just think that that's what they're about, making money, I don't think they have the ability to make anything on their own, I think they were born into money," West said.
"For me as a maverick and a talent and a person that has been beaten, kicked, lost everything, said to have lost my mind… It's a weird thing. A person who has built something from nothing when I sit across the table from Josh Kushner and he feels so entitled to that idea and this person has never brought anything of value other than being a good venture capitalist, I have a major issue with that. It makes me feel like they weren't serving my boy Trump the way we could have."
Kanye West on the Kushner family: "They are all about making money, I don't think they have the ability to make anything on their own, they were born into money" pic.twitter.com/Va3BgzJhkw

— A Very Serious Place (@SeriousPIace) October 7, 2022
As Chris Menahan notes, "Though West didn't know the minutia of Kushner's dealings, his suspicions were entirely correct. Kushner sought $100 million in kickbacks from Israel after securing them $38 billion in foreign aid from the US."
"The Abraham Accords consisted of bribing Arab kings to normalize relations with Israel by offering them billions of US taxpayer dollars and high-tech weaponry to oppress their own populations."
The rapper also separately attacked Kushner's brother, Josh Kushner, for investing in Kim Kardashian's underwear line without his knowledge.
"FUCK JOSH KUSHNER," wrote Kanye in an Instagram post.
"WHAT IF I HAD 10% OF KARLIE KLOSS UNDERWEAR LINE WITHOUT YOU KNOWING," West wrote, adding, "AND YOU ONLY HAD 5%."
In the same post, Kanye also said, "JARED WAS HOLDING TRUMP BACK."
The latter message is a sentiment held by many Trump supporters, namely that Jared Kushner was a globalist plant within the administration.
As we previously highlighted, Jared Kushner recently criticized Ron DeSantis over the Florida Governor's migrant flights to to Martha's Vineyard, claiming he was 'troubled' by the situation.
"I personally watch what's happening, and it's very hard to see at the southern border, I also—we have to remember that these are human beings, they're people, so seeing them being used as political pawns one way or the other is very troubling to me," said Kushner.
However, he didn't have much criticism for Joe Biden for using migrants as political pawns to flood America, 4.9 million of whom have crossed the border since he came to power, paving the way for demographic changes that will permanently alter the country.
Jared Kushner criticizes Desantis's flight of migrants to MV: "We have to remember that these are human beings, they're people, so seeing them being used as political pawns is very troubling to me." pic.twitter.com/zVCWxMUeES

— Ron Filipkowski 🇺🇦 (@RonFilipkowski) September 22, 2022
SUBSCRIBE on YouTube:
Follow on Twitter: Follow @PrisonPlanet
———————————————————————————————————————
Brand new merch now available! Get it at https://www.pjwshop.com/
ALERT!
In the age of mass Silicon Valley censorship It is crucial that we stay in touch.
I need you to sign up for my free newsletter here.
Support my sponsor – Turbo Force – a supercharged boost of clean energy without the comedown.
Get early access, exclusive content and behind the scenes stuff by following me on Locals.
———————————————————————————————————————
Nobody Cares: Trump Approval Rating Remains Stable Despite Multiple Investigations
Despite the best efforts of the January 6th committee and Biden's 'weaponized' DOJ (which took 18 months to stage a public raid on the former President's home), Americans just don't care.
According to the most recent New York Times/Siena College poll – voters held nearly identical views from those earlier in the summer when it comes to a favorable view of Trump, whether they think he committed serious federal crimes, and who they would support in a potential 2024 Trump-Biden rematch.
Also worth noting that the Times poll sampled 49% Biden voters and 42% Trump voters, weighted towards younger Democrats and older Republicans.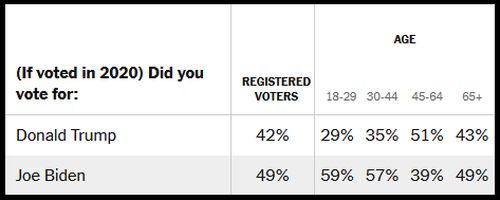 Overall, 44 percent of voters viewed Mr. Trump favorably, and 53 percent viewed him unfavorably. The recent poll was fielded early this month, after news of the Justice Department's inquiry into Mr. Trump's handling of confidential documents but before the New York attorney general announced she was suing Mr. Trump and his family business.
That level of Trump support has effectively been unchanged since the last Times/Siena poll, which was fielded in July amid televised hearings by the House committee investigating the Jan. 6 storming of the Capitol. It was also fundamentally similar to levels of support Times/Siena polls and other surveys found in recent years. –NYT
Approximately half of voters said they thought Trump had committed serious federal crimes, while 38% said they thought he hadn't – which was essentially identical to similar responses from July.
The Times also acknowledges that Trump supporters' loyalty towards the former president "has long been clear in his favorability ratings, which remained stable throughout his time in office, even during moments of peak turmoil, such as his first impeachment trial."
Many of Mr. Trump's signature policy proposals have remained fairly popular among the public, the September poll found. Half of all respondents favored a wall along the U.S.-Mexico border, including more than 15 percent of those who said they would vote for Mr. Biden in 2024. And a majority said they agreed more with the Republican Party than with the Democratic Party when it came to illegal immigration. -NYT
Meanwhile, the poll also found that 49% of registered voters think Democrats "have gone too far in pushing a 'woke' ideology on issues related to race and gender," while 34% think Democrats have not gone far enough in exposing "racism and sexism."
This post was originally published at Zero Hedge
DOJ Denied Access To Trump Raid Docs After Judge Appoints Special Master
A special master has been appointed to act as a firewall between the Justice Department and materials seized during an Aug. 8 raid on former President Trump's Mar-a-Lago residence in Palm Beach, Florida.
In a pair of Thursday orders from federal district Judge Aileen Cannon, the DOJ's motion to access a subset of classified records stored on the Trump property was denied, and a recently retired judge that both the DOJ and Trump's team agreed on – recently retired Judge Raymond Dearie – will serve as special master.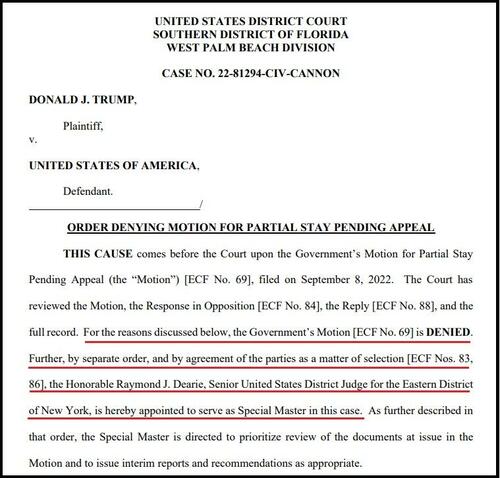 Raymond has until Nov. 30, 2022 to complete his review.
Cannon struck down the DOJ's request for a partial stay of an earlier motion on accessing the seized materials, after lawyers for the government argued that they should be able to review over 100 classified documents taken during the raid – as they are not covered by any claims of personal property or executive privilege.
That said, Cannon sided with a DOJ request for Trump to pay the full cost associated with a special master.
"If the court were willing to accept the government's representations that select portions of the seized materials are—without exception—government property not subject to any privileges, and did not think a special master would serve a meaningful purpose, the court would have denied plaintiff's special master request," wrote Cannon. "The court does not find it appropriate to accept the government's conclusions on these important and disputed issues without further review by a neutral third party in an expedited and orderly fashion."
This post was originally published at Zero Hedge