CNN Gives Platform to Iranian Who Once Said She'd Shoot U.S. Hostages in the Head
Optics check.
CNN gave a platform to an Iranian government official who once said that she wouldn't hesitate to shoot American hostages in the head.
Masoumeh Ebtekar, the current Vice President of Iran for Women and Family Affairs, was formerly the spokesperson for the extremist students who stormed and occupied the U.S. Embassy during the Iran hostage crisis of 1979, where 52 Americans were held hostage for 444 days.
She was also once asked if the she would shoot U.S. hostages in the head and responded by remarking, "Yes. When I've seen an American gun being lifted up and killing my brothers and sisters in the streets, of course."
MY GOD! @CNN LITERALLY INVITED MASOUMEH EBTEKAR WHO WANTED TO KILL AMERICAN HOSTAGES IN IRAN. NOW SHE IS THE VP OF IRAN AND CNN IS USING HER AS A COMMENTATOR TO COME AND CALL AMERICA TERRORISTS. RETWEET THIS. pic.twitter.com/PNID2ltUEz

— Imam of Peace / Pray for Peace… (@Imamofpeace) January 7, 2020
During her appearance on CNN with Christiane Amanpour, Ebtekar described the killing of Qassem Soleimani as a "terrorist action."
"I'm saying that the American government, the American president made a serious miscalculation," Ebtekar said.
"They made a serious mistake by assassinating, by taking this terrorist action against Commander Soleimani and I'm sure that they regret what they have done," she added.
"CNN is using her as a commentator to come and call America terrorists," commented Imam Tawhidi.
SUBSCRIBE on YouTube:
Follow on Twitter: Follow @PrisonPlanet
———————————————————————————————————————
My voice is being silenced by free speech-hating Silicon Valley behemoths who want me disappeared forever. It is CRUCIAL that you support me.
Please sign up for the free newsletter here. Donate to me on SubscribeStar here.
Support my sponsor – Turbo Force – a supercharged boost of clean energy without the comedown.
———————————————————————————————————————
Poland Begins Handing Out Iodine Pills On Fears Of Ukraine Nuclear Plant Meltdown
Poland has begun a program of distributing iodine tablets to emergency workers and first responders, starting with regional fire departments – who can in turn hand them out to the general population – in the event of a possible radioactive disaster at Europe's largest nuclear power plant. 
A Polish deputy minister first announced the plan on Thursday, warning of the possibility of dangerous radioactive exposure amid continued fighting in neighboring Ukraine, where technicians at the Zaporizhzhia Nuclear Power Plant continue to struggle to maintain safeguards.
"After the media reports about battles near the Zaporizhzhia Nuclear Power Plant, we decided… ahead of time to take protective action to distribute iodine," the Polish official, Blazej Pobozy, said in a national radio broadcast.
"I would like to reassure all citizens that these are routine, preemptive actions that are to protect us in the event of a situation which… I hope will not happen." Iodine tablets can help protect against conditions associated with radioactive exposure such as thyroid cancer.
The plant has suffered frequently cut power cables, having been removed from the nation's power grid multiple times and reverting to back-up measures, amid shelling in the area as some 500 Russian troops have occupied the complex since March.
Both sides have continued to blame the other for the deteriorating operating conditions, which earlier in the month caused plant operators to take a sixth reactor off the grid out of an abundance of caution while a power line was being restored after fire.
Earlier this month, Ukrainian President Volodymyr Zelenskiy said, "Due to Russian provocation, the Zaporizhzhya plant is one step away from a radiation disaster."
A couple of IAEA officials are still present at the site, with the UN nuclear watchdog talking about implementing plans to establish a "nuclear safety and security protection zone" around the plant.
Various attempts have been made to model the impact of potential radiation fallout centered at Zaporizhzhia…
Below is a timeline review of events based on Ukrainian regional reporting and Yahoo News:
Russia captured the Chornobyl NPP in the beginning of the full-scale invasion in Ukraine. On 4 March, it captured the Zaporizhzhia NPP, creating a threat of radiation disaster. In mid-March, Russian occupying forces detonated ammunition on the territory of the ZNPP.
On 15 July, Energoatom reported that Russia had deployed several missile systems on the territory of the ZNPP. Russian forces were using these weapons to fire on the area around the city of Nikopol.
On 1 September, the International Atomic Energy Agency (IAEA) mission arrived at the ZNPP.
On 2 September, Rafael Grossi, Director General of the IAEA, confirmed that two representatives of the organisation would remain at the ZNPP after the mission was over.
On 5 September, four out of six IAEA inspectors finished their inspection of the plant and left the ZNPP. Two IAEA workers remained at the power plant.
On 5 September, as a result of a fire caused by Russian shelling of the ZNPP, the last line connecting the ZNPP and the Zaporizhzhia Thermoelectric Power Plant to Ukraine's power grid was disconnected.
This post was originally published at Zero Hedge
Blinken Warns China FM Against Support To Russia At UN
Secretary of State Antony Blinken met his Chinese counterpart Foreign Minister Wang Yi on the sidelines of the United Nations General Assembly in New York on Friday – at a moment tensions over Taiwan are still on edge following Nancy Pelosi's early August trip to the self-ruled island.
Blinken took the opportunity to again warn Beijing against providing any support to ongoing Russian operations amid the invasion of Ukraine. A statement said the top US diplomat "reiterated the United States' condemnation of Russia's war against Ukraine and highlighted the implications if the PRC [People's Republic of China] were to provide support to Moscow's invasion of a sovereign state."
"He underscored that the United States remains open to cooperating with the PRC where our interests intersect," State Department spokesman Ned Price said of Blinken's meeting with the Chinese FM.
Blinken told Wang that the US administration desires to keep lines of communication open and wants peace, directly invoking the Taiwan crisis, also after a recent sail through of a US Navy warship of contested waters in the strait.
Blinken "emphasized that the United States is committed to maintaining peace and stability across the Taiwan Strait, consistent with our longstanding one China policy," Price said.
President Biden's address to the UNGA the day prior struck a conciliatory tone when compared to his 60 Minutes interview last week, wherein he said the US would intervene militarily if China invaded Taiwan:
In remarks to the UNGA on Wednesday, Biden said the US opposes "unilateral changes in the status quo" in Taiwan by either side. He also stressed that Washington does not want a confrontation with Beijing.

"Let me be direct about the competition between the United States and China as we manage shifting geopolitical trends: the United States will conduct itself as a reasonable leader," Biden said.
"We do not seek conflict. We do not seek a cold war. We do not ask any nation to choose between the United States or any other partner," Biden had followed with, also speaking in the general context of the Russia-Ukraine conflict.
This post was originally published at Zero Hedge
Russia Prepares To 'Ramp Up' Stealth Jet Production Amid Rising Threat Of War With West
Russia's war in Ukraine escalated this week when Russian President Vladimir Putin announced a partial mobilization of the country's military and vowed to use "all available means" to deter future attacks against Russia — a reference to the country's diverse nuclear weapons arsenal. 
Then Dmitry Medvedev, the deputy chairman of Russia's Security Council, provided fresh warnings Thursday on the heels of Putin's nuclear threats that "Hypersound [hypersonic weapons] will be able to reach targets in Europe and in the United States much faster, guaranteed."
Now there's word that Russian state-owned defense corporation Rostec will increase production of Su-57 5th-generation stealth fighter jets.
"The Russian Air Force will receive new Su-57 jet fighters this year," Rostec head Sergey Chemezov said on the company's Telegram channel.
Chemezov said the "production speed" of the stealth fighter jets "will be increased." He said the plant is based in Russia's Far East and is undergoing expansion to ramp up output. 
The multirole fifth-generation fighter was first delivered to Russia's Aerospace Force in 2019. A video surfaced in 2018 of the jets used in Syria for combat operations. 
Meanwhile, the US has been training for aerial warfare against Su-57s. We noted in 2019, Nellis Air Force Base had a General Dynamics F-16 Fighting Falcon painted to mimic Russia's fifth-generation stealth fighter.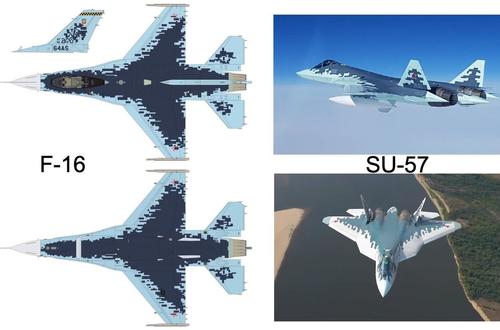 "The next world war will be fought with fifth-generation fighters and hypersonic weapons," we said in 2019.
This post was originally published at Zero Hedge