Tucker Carlson Slams Iran Escalation: "They're Liars and They Don't Care About You"
Real threat from southern border being ignored as America plunges into another Middle Eastern war.
Tucker Carlson was one of few voices on the right to oppose the United States' military escalation against Iran, warning his viewers that the neo-cons who have been pushing for it, are "liars" and "don't care about you."
Tensions in the region are on fire after Iran's Quds Force General Qasem Soleimani was killed during an airstrike near Baghdad's airport.
The attack could lead to the United States being at war with Iran as well as Iranian retaliatory attacks on U.S. soil.
Carlson warned that the country now "appears to be lumbering toward a new Middle East war," a confrontation that "official Washington has wanted for decades."
"Disgraced [former] National Security Advisor John Bolton has made it his life's mission to start a war with Iran" and could be "finally getting his wish," added the Fox News host.
"Should you be happy about that?" asked Tucker. "That's the question. Well, the last time we took John Bolton's advice in the region, Iran became far more powerful than before we took John Bolton's advice. Why? Because things are never quite as simple as they claim they are in Washington."
Carlson then contrasted the focus on the Iranian threat to U.S. interests to the threat to the American people coming from the southern border, which is all but being ignored.
Tucker said those "demanding action against Iran" are the same people who say nothing about "the invasion of America now in progress from the South, the millions, the tens of millions of foreign nationals living among us illegally, the torrent, more significantly of Mexican narcotics that has killed and disabled entire generations of Americans."
Carlson concluded his response with a stark warning.
"'Pay no attention to all of that,' these very same people tell us. 'The real threat is Iran.' Well, they're liars, and they don't care about you, they don't care about your kids. They are reckless and incompetent, and you should keep all of that in mind as war with Iran looms closer."
SUBSCRIBE on YouTube:
Follow on Twitter: Follow @PrisonPlanet
———————————————————————————————————————
My voice is being silenced by free speech-hating Silicon Valley behemoths who want me disappeared forever. It is CRUCIAL that you support me.
Please sign up for the free newsletter here. Donate to me on SubscribeStar here.
Support my sponsor – Turbo Force – a supercharged boost of clean energy without the comedown.
———————————————————————————————————————
PANIC: Searches For 'Virus Mask' Explode Online
Washington residents worried after confirmed case in Seattle; Man treated by ROBOT
Search engine requests for 'virus mask' have exploded as panic begins to set in regarding the deadly coronavirus, which experts have warned could lead to a global pandemic.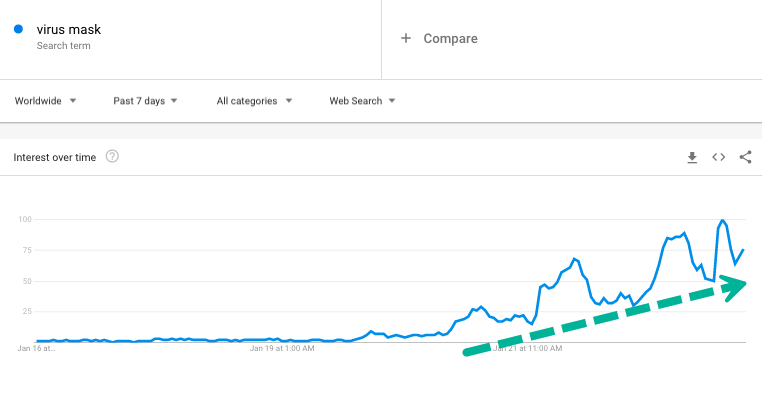 The spike is comparable to those registered during other major virus outbreaks:

The searches for "virus mask" are most prevalent in Singapore, China, Macao, Hong Kong, and the Philippines.

Other related searches are exploding: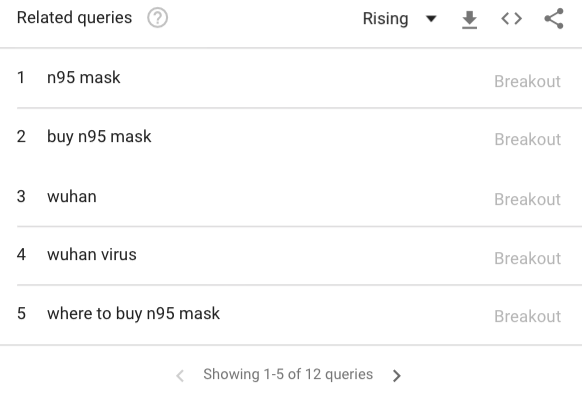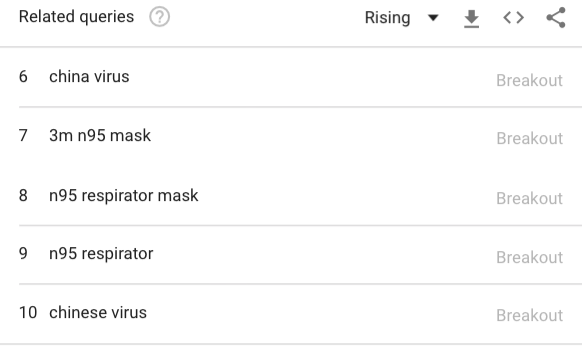 Statistics also show that in the US, people in Washington, Hawaii, California, the District of Columbia, and Massachusetts are the ones doing the most googling:

Cases of the killer virus have not only been reported in China but also in Singapore, Thailand, Japan, South Korea, and Vietnam.
A suspected case is being investigated in Texas, while The CDC has confirmed a traveler from China has been diagnosed in Seattle.
CNN reports that the man arrived to hospital in an ISOPOD and is being treated largely by a robot, in an effort to avoid any spread of the virus:
The man arrived at the hospital in a special isolated gurney called an ISOPOD and has been treated in a two-bed isolated area, says Dr. George Diaz, chief of the infectious disease division at the Providence Regional Medical Center in Everett, Washington. https://t.co/HznZCw6tEH pic.twitter.com/YDpIxFUHES

— CNN (@CNN) January 24, 2020
There are also several potential cases in the UK, prompting the government to call an emergency meeting.
Several frightening videos purporting to show victims of the virus have emerged, including people dropping dead in the street and a man being wheeled away in a giant quarantine box:
Chinese authorities transporting a person infected with the coronavirus in a box 😂 #ChinaVirus #coronovirus pic.twitter.com/surpfI2sZc

— يوسف (@DashtiUsef) January 23, 2020
In #Wuhan,people are collapsing on streets due to the deadly #WuhanPneumonia .
so helpless.#WuhanCoronavirus #WuhanOutbreak pic.twitter.com/X5ho3Llpcm

— 巴丢草 Badiucao (@badiucao) January 23, 2020
More and more…pic.twitter.com/z5Dpu7RASa

— Turkish Market (@kamerknc) January 23, 2020
Bugün kaçıncı oldu bu yerde rastgele yatanların videosu… Vücut pat diye gidiyor. pic.twitter.com/29YA3uZCCu

— Turkish Market (@kamerknc) January 23, 2020
There have been multiple cases of people collapsing on the streets due to the coronavirus outbreak in Wuhan & various parts of China#WuhanCoronavirus #Wuhan#WuhanOutbreak #China pic.twitter.com/4iIwJCGl0M

— Jimmy Lee Curtains (@WulfMunkey) January 23, 2020
Video: Man With Suspected Killer Virus Wheeled Away in Huge Box
WTF Is This?
Bizarre footage has emerged of a man in China, suspected of having the killer coronavirus, being wheeled away to a fate unknown in some kind of huge quarantine box.
The footage shows a man dressed in a hazmat suit, mask and gloves being transported to an ambulance outside the airport in the city of Fuzhou in south-eastern China.
Chinese authorities transporting a person infected with the coronavirus in a box 😂 #ChinaVirus #coronovirus pic.twitter.com/surpfI2sZc

— يوسف (@DashtiUsef) January 23, 2020
This all seems perfectly normal, right?
Reports continue to suggest that the deadly coronavirus is out of control in China, and an attempted cover up is underway.
Entire cities are in lockdown and more footage has emerged of people dropping dead in the streets.
As we highlighted yesterday, a biosafety level 4 laboratory that studies the "world's most dangerous pathogens" is based in Wuhan, leading some to speculate whether the virus was accidentally released.
However, officials say the source of the outbreak was an illegal animal market in Wuhan which sold bats and snakes.
Killer Coronavirus Reaches UK?
Government calls emergency COBRA meeting
The British government has called an emergency meeting after medical experts warned that it is 'highly likely' that the deadly super-bug has already reached UK shores.
The Cobra contingencies committee convened at the Cabinet Office in London, where Health Secretary Matt Hancock told press that "the clinical advice is that the risk to the public remains low and the chief medical officer will be making a full statement later today."
Dr Paul Cosford, Director of Health Protection, noted that several suspected cases of the virus, which originated in China, are still ongoing with results expected today.
Speaking on BBC radio, Cosford said "There are no positive cases in the UK as yet, but we will go on testing and those numbers will of course change."
"I think it's highly likely that we will have cases in the UK, and of course every so often we do get new infections coming from the animal kingdom such as this one." he added.
According to a BBC report, a total of 14 people have been tested in the UK, with nine people awaiting results and five getting the all clear.
The head of infection medicine at the University of Edinburgh, Professor Jurgen Haas, confirmed that four people in Scotland have exhibited symptoms of the virus.
Haas told the Press Association: "The situation will be pretty similar in pretty much all UK cities with a large number of Chinese students.
"It's not too surprising. My suspicion is that there will probably be many more cases in many other cities in the UK." Haas added.
Meanwhile, in the US, officials at the Brazos County Health District in Texas said Thursday they are investigating a suspected case of the virus in a student at Texas A&M University.