New York Times Published Story About Hypothetical Military Attack on Suleimani in Baghdad Hours Before Strike
Some claim it was a warning.
The New York Times published a story about a hypothetical U.S. military strike on Qassim Suleimani in Baghdad hours before it actually happened.
In an article entitled 'Hypersonic Missiles Are a Game Changer', Steven Simon, an analyst at the Quincy Institute, wrote, "What if the former commander of Iran's Revolutionary Guards, Qassim Suleimani, visits Baghdad for a meeting and you know the address?"
"The temptations to use hypersonic missiles will be many," Simon added.
Some respondents on social media suggested that the NY Times received advance notice of the strike from the Pentagon and tried to warn Suleimani, although there is no evidence to prove this.
Did the NYTimes know in advance AND attempt to tip off Qassem Soleimani of the incoming missile strike? pic.twitter.com/n3t8KKDVx4

— ENoCH (@elenochle) January 3, 2020
As we highlighted earlier, another New York Times journalist, Farnaz Fassihi, offered what some of her critics described as a "eulogy" to killed Iranian terrorist leader Qasem Suleimani after she posted a video of him reciting poetry.
"Rare personal video of Gen. Suleimani reciting poetry shared by a source in #Iran. About friends departing & him being left behind," tweeted Fassihi alongside a video of Suleimani.
SUBSCRIBE on YouTube:
Follow on Twitter: Follow @PrisonPlanet
———————————————————————————————————————
My voice is being silenced by free speech-hating Silicon Valley behemoths who want me disappeared forever. It is CRUCIAL that you support me.
Please sign up for the free newsletter here. Donate to me on SubscribeStar here.
Support my sponsor – Turbo Force – a supercharged boost of clean energy without the comedown.
———————————————————————————————————————
US Intel Concludes Ukraine Was Responsible For Car Bombing That Killed Darya Dugina
Car bombing private citizens is what the 'good guys' do.
US intelligence officials have concluded that the Ukrainian government ordered the car bombing of Darya Dugina, the daughter of political philosopher Aleksandr Dugin.
Despite Kyiv denying responsibility for the attack, which took place in August, "US intelligence agencies have now concluded that the explosion was sanctioned by parts of the Ukrainian government," reports the Telegraph.
The US reportedly had nothing to do with the attack, had no advance knowledge, and chastised the Ukrainians when it found out they were responsible.
The intended target of the attack was almost certainly Aleksandr Dugin, whom the western media claims is a "close ally" of Vladimir Putin yet has seemingly never met the Russian president.
Dugin had initially planned to travel to Moscow in the same car as his daughter, but ended up traveling in a different vehicle.
Asked about the assessment, Ukrainian government spokesman Mykhailo Podolyak continued to deny involvement, telling the New York Times, "Someone like Dugina is not a tactical or a strategic target for Ukraine."
The Telegraph calls the murder "one of the boldest operations of the war to date," a description they presumably wouldn't use if Russia blew up the daughters of obscure Ukrainian commentators.
At the time, many legacy media outlets claimed that the attack was likely a "false flag" carried out by Russia, which is how they respond to virtually every attack targeting Russia or Russians.
Apparently, car bombing private citizens is now something that the 'good guys' do.
Support Ukraine!
SUBSCRIBE on YouTube:
Follow on Twitter: Follow @PrisonPlanet
———————————————————————————————————————
Brand new merch now available! Get it at https://www.pjwshop.com/
ALERT!
In the age of mass Silicon Valley censorship It is crucial that we stay in touch.
I need you to sign up for my free newsletter here.
Support my sponsor – Turbo Force – a supercharged boost of clean energy without the comedown.
Get early access, exclusive content and behind the scenes stuff by following me on Locals.
———————————————————————————————————————
U.S. Buying $290M Worth of Anti-Radiation Drugs for Use in 'Nuclear Emergency'
The Biden regime is buying up $290 million in anti-radiation drugs for use in "nuclear emergencies" amid escalating tensions with Russia and heightened threats of a nuclear war.
From Health and Human Services:
FOR IMMEDIATE RELEASE
October 4, 2022

Contact HHS Press Office
202-821-9446
[email protected]
www.hhs.gov/news
Twitter: @HHSgov

HHS purchases drug for use in radiological and nuclear emergencies

As part of long-standing, ongoing efforts to be better prepared to save lives following radiological and nuclear emergencies, the U.S. Department of Health and Human Services is purchasing a supply of the drug Nplate from Amgen USA Inc; Nplate is approved to treat blood cell injuries that accompany acute radiation syndrome in adult and pediatric patients (ARS).

Amgen, based in Thousands Oaks, California, developed Nplate for ARS with support from the Biomedical Advanced Research and Development Authority (BARDA), part of the HHS Administration for Strategic Preparedness and Response (ASPR), as well as the National Institute of Allergy and Infectious Diseases, part of the National Institutes of Health.

BARDA is using its authority provided under the 2004 Project Bioshield Act and $290 million in Project BioShield designated funding to purchase this supply of the drug. Amgen will maintain this supply in vendor-managed inventory. This approach decreases life-cycle management costs for taxpayers because doses that near expiration can be rotated into the commercial market for rapid use prior to expiry and new doses can be added to the government supply.

ARS, also known as radiation sickness, occurs when a person's entire body is exposed to a high dose of penetrating radiation, reaching internal organs in a matter of seconds. Symptoms of ARS injuries include impaired blood clotting as a result of low platelet counts, which can lead to uncontrolled and life-threatening bleeding.

To reduce radiation-induced bleeding, Nplate stimulates the body's production of platelets. The drug can be used to treat adults and children.

Nplate is also approved for adult and pediatric patients with immune thrombocytopenia, a blood disorder resulting in low platelet counts. Repurposing drugs for acute radiation syndrome that also are approved for a commercial indication helps to sustain availability of the product and improves healthcare provider familiarity with the drug.
"The US government said the procurement of Nplate was not in response to the war in Ukraine," The Telegraph reported.
"An HSS spokesman told The Telegraph: 'This is part of our ongoing work for preparedness and radiological security. It has not been accelerated by the situation in Ukraine.'"
The State Department last week urged all Americans to leave Russia "as soon as possible" in the wake of the sabotage of the Nord Stream pipelines.
The official reasoning they gave was to avoid getting conscripted in their mobilization effort but that logic only applied to dual citizens and their advisory was for all Americans.
As I noted at the time, the real reason they told everyone to leave is more likely the risk of a full-blown war breaking out due to the US, Ukraine or Poland being responsible for the belligerent bombing of the Nord Steam pipelines.
While Russia has issued statement after statement warning the US they will use nuclear weapons to defend their territory and are "not bluffing," the US has been shipping billions in high-tech weaponry to Ukraine to attack Russian forces and strike inside of Russia.
Just last week, Congress voted to send another $12.3 billion in military and economic aid to Ukraine.
Biden said in February after the war broke out that Americans should not be worried about a nuclear war then spent the next eight months antagonizing Russia (and China) with endless provocations to make nuclear war more likely than ever.
This post was originally published at Information Liberation
Swiss Company Offers Fortified Luxury Bunkers For The Apocalypse
A Swiss firm which supplies fortified underground residences has unveiled its new L'Heritage bunkers – for ultra high-net worth individuals who want to ride out the apocalypse bathed in the lap of luxury they've grown accustomed to.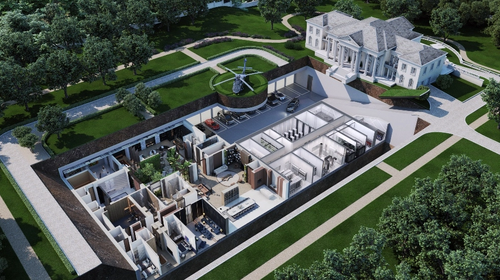 The company, Oppidum, commissioned French architect Marc Prigent to design the sprawling underground abodes for "unprecedented times" – with each one offering a minimum of 10,000 square feet of space.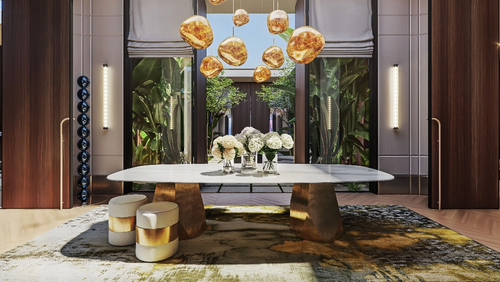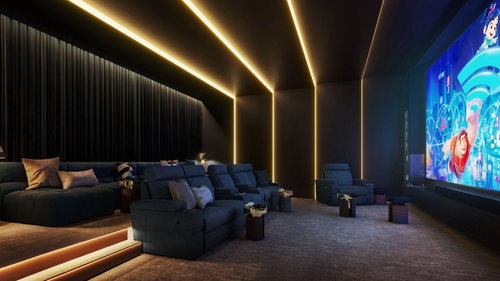 The residences can be customized to the owner's tastes – and can include extra facilities such as an extra-large garage, a private art gallery, meeting lounges, an indoor garden, and even a spa with a private pool, according to Robb Report.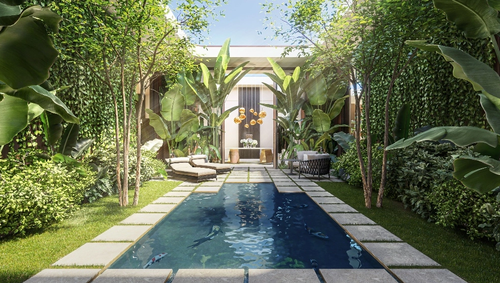 The residences have two independent air filtration systems – a primary unit for peacetime operation which provides fresh air indefinitely, and a state-of-the-art secondary air filtration system that can protect against airborne contaminants "be it of radioactive, chemical, biological or nuclear origin," according to the website.
Should the need arise, the Oppidum's unique high-pressure air reserve and internal circulation provides sufficient level of oxygen in the building and at the same time maintains an overpressure to ensure absolute airtightness and gas-tightness of the indoor environment.

The air filtration includes a CO2 removal system to provide breathable air when there is insufficient or no fresh air supply in the building. If necessary, the auxiliary supply connected to the CO2 removal will provide a sufficient level of oxygen. -Oppidum
The main structure is a reinforced concrete shell designed for static and dynamic loads, blast or shock waves, seismicity and other factors, and shelters can even be "designed to the highest NATO STANAG 2280:2016 level of protection."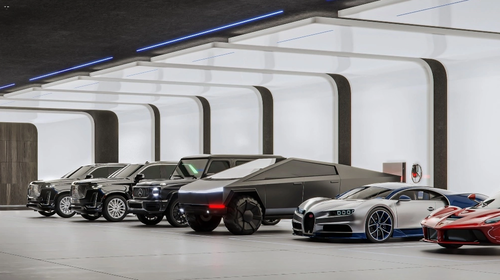 Heavy security is key, given that these bunkers are made to ride out an apocalypse in extreme luxury. To that end, fortified blast doors are controlled by a multi-biometric meter that scans a resident's face, iris, palm and fingerprints. Each residence also comes with an integrated, military-grade security system, as well as (of course) the ability to survive off-grid.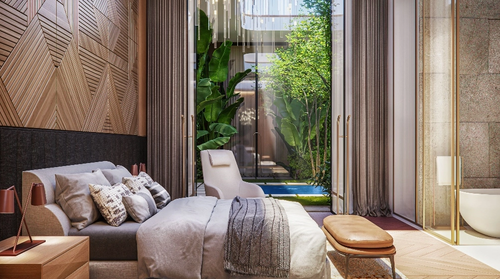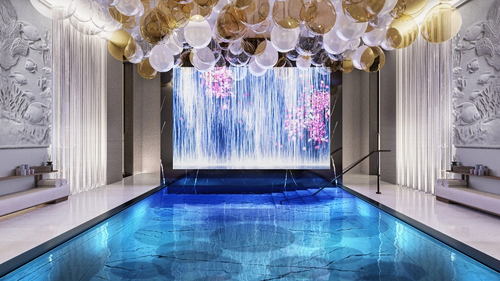 "They are places of serenity and absolute safety for owners and their families. We are privileged to offer our clients the highest levels of service, creating beautiful places that will protect them and their legacy for generations to come," said Oppidum founder and CEO Jakub Zamrazil in a statement.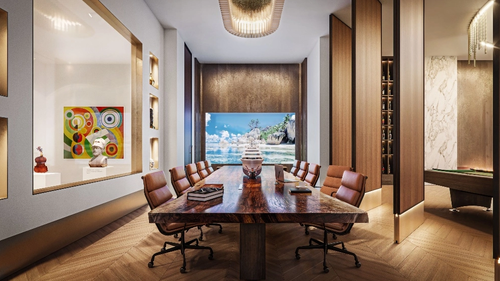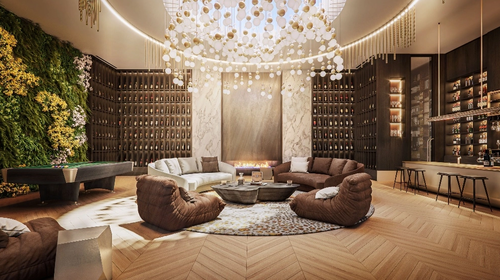 The bunkers are available in the US, EU, UK and UAE.
This post was originally published at Zero Hedge