Obama Photographer Accuses Trump of Staging ISIS Raid Photo
Spreads fake news and conspiracy theories instead of congratulations
A photographer who has worked extensively with Barack Obama spread conspiracy theories Sunday regarding a photograph released by the White House of President Trump and numerous officials watching the US Special Operations forces raid that killed ISIS leader Abu Bakr al-Baghdadi.
President @realDonaldTrump watches as U.S. Special Operations forces close in on ISIS leader Abu Bakr al-Baghdadi. pic.twitter.com/SAgw4KxM77

— The White House (@WhiteHouse) October 27, 2019
Pete Souza, Obama's photographer, implied that the photo showing Trump with Vice President Mike Pence, Defence Secretary Mark T. Esper and US Chairman of the Joint Chiefs of Staff Mark Milley, was staged.
The raid, as reported, took place at 3:30PM Washington time. The photo, as shown in the camera IPTC data, was taken at "17:05:24". https://t.co/XV0MFfFiTt

— Pete Souza (@PeteSouza) October 27, 2019
Souza's "evidence" was that some reports suggested the raid began at 3:30pm Washington time, yet the photo timestamp says the image was taken at 17:05:24, local Washington DC time, over 90 minutes later.
But, no. Wrong.
Trump himself stated that "We were pretty much gathered at five o'clock yesterday…the attack started moments after that."
Souza was forced to issue a follow up tweet backpedaling:
Just to be clear, I didn't say it was staged. Trump himself said he didn't arrive to the Situation Room until "around 5pm". So it's definitely possible the photo was taken during the raid. https://t.co/h3yx8BbLAT

— Pete Souza (@PeteSouza) October 27, 2019
The fake news had already spread, however, with the blue check brigade, media and Democrats 'outraged' that Trump was at his golf course at 3:30 p.m. on Saturday, and not watching US soldiers conducting the raid.
I was the White House pool reporter on Saturday: Trump was in the motorcade from his golf club from 3:33 p.m. until 4:18 p.m., wearing blue pullover, khaki pants and a red cap.

— Cheryl Bolen (@cherylbolen) October 27, 2019
Trump on the golf course "wait don't give it away, I wanna be surprised when we replay it"

— KP (@katrinka_pack) October 27, 2019
Others suggested that the photo was fake because there are unplugged network cables:
Why are all the computer and electronic cables unplugged and just laying on the table?

— Bernadette Lacey (@vtgrl1) October 27, 2019
The conspiracy theory train had already left the station.
Whoa hold on now. I didn't say it was staged I just completely implied it so my dense followers could take the next step for me. Great work hero.

— Mukwrm (@mukwrm) October 27, 2019
The raid, as reported, took place at 3:30PM Washington time. The photo, as shown in the camera IPTC data, was taken at "17:05:24".

— Justin Satzman (@jsatz23) October 27, 2019
My theory is they lied to POTUS and told him he was watching it live, when in fact he was watching something that occurred 90 minutes earlier. They were afraid he would leak if they informed him in real-time.

— David Goodhand (@David_Goodhand) October 27, 2019
The photograph evoked memories of the one Souza himself took featuring Obama and Hillary from the 2011 raid on Osama Bin Laden's compound. At the time, it too was suggested to have been staged.
Much better. Much more realistic pic.twitter.com/zRPLBurJWO

— Mel B (@Booger_Jean) October 27, 2019
— kare morelli (@followkare) October 27, 2019
He was golfing. But this picture will always be historic. pic.twitter.com/tKhX7CZOg7

— Lesley Abravanel🆘 (@lesleyabravanel) October 27, 2019
While the Washington Post labeled al-Baghdadi as a 'scholar', Bloomberg related how the ISIS leader had successfully 'transformed himself':
Islamic State leader Abu Bakr al-Baghdadi transformed himself from a little-known teacher of Koranic recitation into the self-proclaimed ruler of an entity that covered swaths of Syria and Iraq https://t.co/CNI5XBsoai

— Bloomberg Politics (@bpolitics) October 27, 2019
Media and Democrats piled on, some complaining that Trump hadn't spoken politely or respectfully enough about ISIS:
Trump compares watching a human getting killed to watching a movie pic.twitter.com/01d8ysFg3M

— Aaron Rupar (@atrupar) October 27, 2019
CNN's @npwcnn says President Trump's remarks "echoed frankly the crudeness you would often expect to hear maybe from ISIS." pic.twitter.com/ueGxy5J4c0

— Trump War Room (Text TRUMP to 88022) (@TrumpWarRoom) October 27, 2019
Admiral James Winnefeld tells @margbrennan that he's worried about Trump's "piling on" by describing al-Baghdadi as a "dog." Says it sends a signal to followers "that could cause them to lash out possibly more harshly in the wake." pic.twitter.com/L6y7a17bm0

— Face The Nation (@FaceTheNation) October 27, 2019
Getting back to business! CNN begins bashing Trump following the elimination of the ISIS leader. pic.twitter.com/wqA5HoAE6d

— Breaking911 (@Breaking911) October 27, 2019
MSNBC's Vossoughian: I wonder here if this type of killing only reinforces the ideology of Baghdadi's followers pic.twitter.com/MoZHIfZ3Ws

— Wojciech Pawelczyk 🇵🇱🇺🇸 (@PolishPatriotTM) October 27, 2019
Some, like journalist Glenn Greenwald, pointed out the grim fascination of watching Democrats deal with the situation:
It's genuinely fascinating watching Democrats in real time struggle to figure out what to say about this. They want to be patriotic and anti-ISIS, but also need a way to malign Trump without contradicting their gushing Obama praise over OBL: not an easy balancing act. Good luck!

— Glenn Greenwald (@ggreenwald) October 27, 2019
"You know, it's a sad day in America when the Democrats can't stand up and thank the President, thank the U.S. military for taking out the leader of ISIS last night. That's a tragedy, here is the problem, Maria, the Democrats have impeachment obsession…" – @SteveDaines pic.twitter.com/b19vT6XVec

— Trump War Room (Text TRUMP to 88022) (@TrumpWarRoom) October 27, 2019
It should be pointed out that after the Bin Laden raid in 2011, this was Trump's reaction:
I want to personally congratulate President Obama and the men women of the Armed Forces for a job very well (cont) http://tl.gd/a7dhom

— Donald J. Trump (@realDonaldTrump) May 2, 2011
I want to personally congratulate President Obama and the men [and] women of the Armed Forces for a job very well done. I am so proud to see Americans standing shoulder to shoulder, waving the American flag in celebration of this great victory.

We should spend the next several days not debating party politics, but in remembrance of those who lost their lives on 9/11 and those fighting for our freedom. God Bless America.
Greta 'Put Them Against The Wall' Thunberg Nominated For Nobel Peace Prize
Climate alarmist's nomination triggers backlash
17-year-old Climate alarmist Greta Thunburg has been nominated for a Nobel Peace Prize, prompting the internet to attempt to re-balance the scales of sanity back from bat-shit-crazy.
Thunberg has been nominated for the 2020 prize by two leftist Swedish lawmakers, Jens Holm and Hakan Svenneling, according to reports.
The pair argued that Greta "has worked hard to make politicians open their eyes to the climate crisis." and that her efforts have contributed to "reducing our emissions and complying with the Paris Agreement."
The liberal politicians claim that this is "therefore also an act of making peace."
Greta's antics of skipping school to fly and motor boat all over the planet lecturing everyone about carbon emissions, while cameras follow her every move, and her dad writes her social media posts, earned her a TIME Magazine person of the year award in 2019.
Thunberg never made it over to China or India, however, where the world's worst environmental impact is emanating from. instead, she opted to scowl at President Trump and threatened to put Western leaders "against the wall".
President Trump: "You have another continent where the fumes are rising at levels that you can't believe. I mean, I think Greta ought to focus on those places." pic.twitter.com/oaUc3dY4bx

— The Hill (@thehill) January 22, 2020
… improvise speeches in a second language.
But of course I apologise if anyone misunderstood this. I can not enough express the fact that I – as well as the entire school strike movement- are against any possible form of violence. It goes without saying but I say it anyway.

— Greta Thunberg (@GretaThunberg) December 14, 2019
So ridiculous. Greta must work on her Anger Management problem, then go to a good old fashioned movie with a friend! Chill Greta, Chill! https://t.co/M8ZtS8okzE

— Donald J. Trump (@realDonaldTrump) December 12, 2019
The news of the Nobel nomination for Greta, was met with… shall we say 'skepticism':
If white privileged existed Greta would be a prime example. Literally just skips school and shitposts at a politician or two gets a time magazine cover and a Nobel prize

— North Dutchie (@DutchieNorth) February 4, 2020
Greta Thunberg getting a nomination for a Nobel Prize is like me getting a raise at work for my impression of Sméagol from the Lord of the Rings. pic.twitter.com/TpGTEAEZ3I

— STOLTY (@stoltergeist) February 4, 2020
She has done nothing for peace, actually her hatred and disdain for people who do not agree with her was the opposite of bringing peace, it actually brought hatred and violence. @NobelPrize #peace #ClimateChangeHoax
Thunberg Nominated https://t.co/BzhjxXKCti via @BreitbartNews

— WesternNews (@WesternNews4) February 1, 2020
A Nobel prize ? For sending young Children to the brink of mental Breakdown. Believing the end is Neigh . Find a better way Greta 😞

— Shelagh Needham (@K9aokShelagh) February 3, 2020
Greta Thunberg has been nominated for the 2020 Nobel Peace Prize, More Proof that the Nobel Prize has no substance or merit and is full of absolute SHIT…

— Churchhill Browne (@ChurchHillBrown) February 3, 2020
Greta nominated for a nobel prize, for missing school, jet setting around the world, speaking from a script to politicians and celebrities says everything about the world.

No substance. All propoganda fuelled sensationalism.

— Jared 🇿🇦🇬🇧 (@jaredlouw) February 3, 2020
To nominate Greta Thunberg for a Nobel Peace prize demeans every legitimate Nobel prize recipient. https://t.co/Jtf5FrvZ5r

— Nana (@Nana21712443) February 3, 2020
Now a days "Nobel Prize for Peace" value is same as Potatoes & onions in open market @NobelPrize @GretaThunberg https://t.co/VBU2RGFlIH

— Mohanty RN (@men_toomovement) January 31, 2020
North Korea. Iran. World not in a nuclear holocaust: thank you @realDonaldTrump. That Obama and Greta are up there, Nobel Prize meaningless. I give my own personal Nobel to President Trump. https://t.co/rsI460Bd5O

— George McImpeached (@Artfull01) February 3, 2020
And they will probably give it to her as well, biased as they are. To a silly little exploited schoolgirl. How nice.

— Kim Conrad Jorgensen (@KimCJorgensen) February 3, 2020
@GretaThunberg how can somebody who has admitted she wants to shoot politicians and uses a private jet claiming she is the most important person in the world claim she should be given a Nobel prize you are a vile disgusting person

— Graham kitcher (@kitcher_graham) February 3, 2020
You have got to be kidding. So @georgesoros pays an activist father millions so he can prostitute his own daughter @GretaThunberg for #ClimateChange – @NobelPrize is no longer a distinguished and respected honor. It has sold out to the highest bidder.

— Lori (@LoriSnow1225) February 3, 2020
Greta Thunberg is the front-runner for the Nobel Peace Prize.

Barack Obama won it during his first year in office for absolutely no apparent reason.

At this point, it's just a popularity contest without meaning.

— Ryan Fournier (@RyanAFournier) February 3, 2020
I want her to get it just for those 10 minutes of her shouting "how dare you?!?" at all those state officials, and her disgust at their "fairytales of endless economic growth."

Give her the Nobel just for that.

— Sending love to John Lewis (@rachelpowers) February 3, 2020
And then there's this…
I've been saying this since I saw Greta Thunberg splayed all over tv. Thunberg is a moron but that whiteness is getting her nods for a Nobel prize. Then they claim she's disabled to play the victim card as is always done for white women 🤮🤮🤮 fck Greta Thunberg and all her ilk..

— Reno Morrow (@MorrowReno) January 31, 2020
Okaaaaaay.
W.H.O. Demands 'Gratitude And Respect' For Chinese Dictator's Coronavirus Response
Bizarre comments from Director-General as it becomes clear Communists have lied about scale of global pandemic
The World Health Organisation asked Thursday that China be shown "gratitude and respect" for its handling of the deadly novel coronavirus, despite the the widespread belief among health experts and government officials that the Communist state has been covering up the true scale of the outbreak to save face.
After meeting with Chinese dictator Xi Jinping, WHO Director-General Tedros Adhanom Ghebreyesus declared that China needs to be applauded for the "extraordinary steps it has taken to prevent the spread of the new coronavirus."
"China is implementing very serious measures and we cannot ask for more," Ghebreyesus said, adding "I was very encouraged and impressed by the president's detailed knowledge of the outbreak and his personal involvement in the outbreak,"
"This was for me a very rare leadership," Ghebreyesus proclaimed, as the WHO declared the outbreak to be an international health emergency.
Ghebreyesus, a former Ethiopian health minister, also bizarrely praised China's "transparency," stating that "China has been completely committed to transparency, both internally and externally, and has agreed to work with other countries that need support."
The fawning continued as the Director-General urged that "The level of commitment in China is incredible; I will praise China again and again, because its actions actually helped in reducing the spread of the novel coronavirus to other countries … we shall tell the truth and that's the truth."
It's a version of 'truth' that not even the Wall Street Journal is on board with, however, given that it has documented how the reality of the situation is being suppressed.
According to the Chinese government, there are now 9,692 confirmed coronavirus cases in China, and the official death toll has risen to 213.
The real death toll appears to be much higher, however, given that those who have succumbed to "severe pneumonia" are not being classed as coronavirus deaths.
In addition, large numbers of victims are still being classified as "suspected cases" despite it being extremely obvious that they have the virus.
The true scale of the situation is not yet known, yet researchers at the University of Hong Kong have estimated that there could be 44,000 victims already.
A model that predicts the number of coronavirus infections that will occur if the outbreak isn't contained shows that based on current projections, there will be over 183 million infections before the end of February.
Whatever the case, it is quite clear that the Chinese authorities have been anything but transparent, thus it is completely backwards for the World Health Organisation to demand the country's leaders be afforded any 'gratitude and respect'.
PANIC: Searches For 'Virus Mask' Explode Online
Washington residents worried after confirmed case in Seattle; Man treated by ROBOT
Search engine requests for 'virus mask' have exploded as panic begins to set in regarding the deadly coronavirus, which experts have warned could lead to a global pandemic.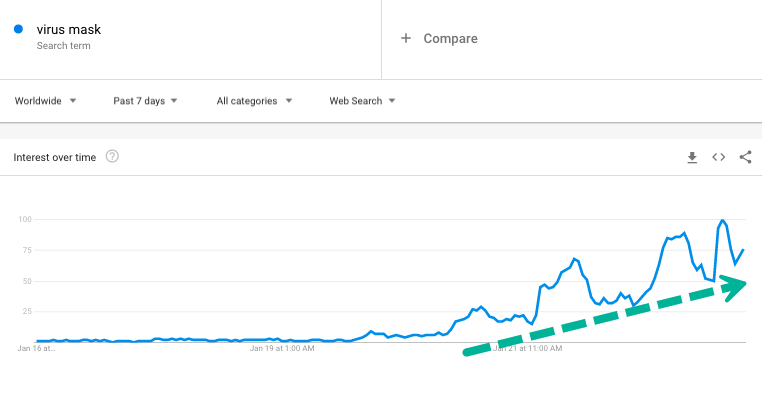 The spike is comparable to those registered during other major virus outbreaks:

The searches for "virus mask" are most prevalent in Singapore, China, Macao, Hong Kong, and the Philippines.

Other related searches are exploding: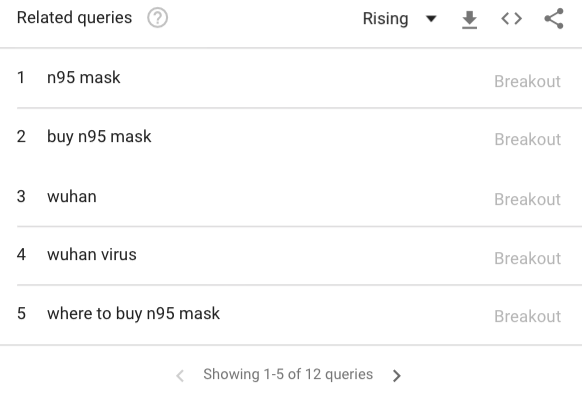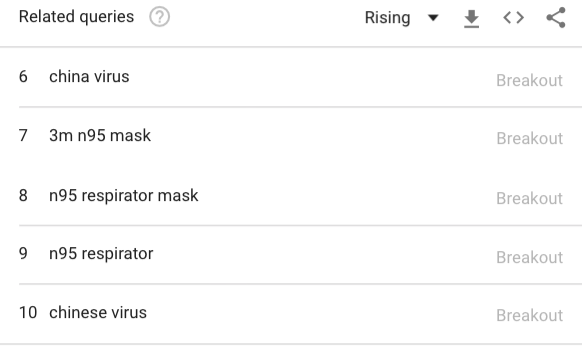 Statistics also show that in the US, people in Washington, Hawaii, California, the District of Columbia, and Massachusetts are the ones doing the most googling:

Cases of the killer virus have not only been reported in China but also in Singapore, Thailand, Japan, South Korea, and Vietnam.
A suspected case is being investigated in Texas, while The CDC has confirmed a traveler from China has been diagnosed in Seattle.
CNN reports that the man arrived to hospital in an ISOPOD and is being treated largely by a robot, in an effort to avoid any spread of the virus:
The man arrived at the hospital in a special isolated gurney called an ISOPOD and has been treated in a two-bed isolated area, says Dr. George Diaz, chief of the infectious disease division at the Providence Regional Medical Center in Everett, Washington. https://t.co/HznZCw6tEH pic.twitter.com/YDpIxFUHES

— CNN (@CNN) January 24, 2020
There are also several potential cases in the UK, prompting the government to call an emergency meeting.
Several frightening videos purporting to show victims of the virus have emerged, including people dropping dead in the street and a man being wheeled away in a giant quarantine box:
Chinese authorities transporting a person infected with the coronavirus in a box 😂 #ChinaVirus #coronovirus pic.twitter.com/surpfI2sZc

— يوسف (@DashtiUsef) January 23, 2020
In #Wuhan,people are collapsing on streets due to the deadly #WuhanPneumonia .
so helpless.#WuhanCoronavirus #WuhanOutbreak pic.twitter.com/X5ho3Llpcm

— 巴丢草 Badiucao (@badiucao) January 23, 2020
More and more…pic.twitter.com/z5Dpu7RASa

— Turkish Market (@kamerknc) January 23, 2020
Bugün kaçıncı oldu bu yerde rastgele yatanların videosu… Vücut pat diye gidiyor. pic.twitter.com/29YA3uZCCu

— Turkish Market (@kamerknc) January 23, 2020
There have been multiple cases of people collapsing on the streets due to the coronavirus outbreak in Wuhan & various parts of China#WuhanCoronavirus #Wuhan#WuhanOutbreak #China pic.twitter.com/4iIwJCGl0M

— Jimmy Lee Curtains (@WulfMunkey) January 23, 2020