Erdogan Threatens to Send Millions of Refugees to Europe Over EU's Opposition to Syria Offensive
"We will open the gates."
Turkish President Recep Tayyip Erdogan has threatened to send 3.6 million refugees to Europe if the EU doesn't end its opposition to Turkey's offensive in Syria.
On Wednesday, Erdogan announced the beginning of 'Operation Peace Spring' against Kurdish forces and ISIS terrorists in northern Syria.
European Commission President Jean-Claude Juncker responded by demanding Ankara "must cease the ongoing military operation" in the area.
"It will not work. And if Turkey's plan is to create a security zone, do not expect funding from the European Union," Juncker told the European Parliament.
Erdogan responded with a stark threat to flood Europe with refugees if the EU doesn't back down.
"We will open the gates and send 3.6 million refugees your way," Erdogan said during a speech to lawmakers from his AK Party.
This is not the first time Erdogan has threatened to use refugees as a weapon.
He has repeatedly invoked the threat, including back in 2016 when the EU tried to freeze talks on Turkey's accession to the European bloc.
SUBSCRIBE on YouTube:
Follow on Twitter: Follow @PrisonPlanet
———————————————————————————————————————
My voice is being silenced by free speech-hating Silicon Valley behemoths who want me disappeared forever. It is CRUCIAL that you support me.
Please sign up for the free newsletter here. Donate to me on SubscribeStar here.
Support my sponsor – Turbo Force – a supercharged boost of clean energy without the comedown.
———————————————————————————————————————
Disney Cuts Simpsons Episode In Hong Kong That Mentioned Chinese 'Forced Labour Camps'
"It could be strategic to eliminate any China-offending episodes."
Disney+ has pulled an episode of The Simpsons in Hong Kong because it mentions Chinese 'forced labour camps', according to reports.
It appears that while it is quite content pushing divisional anti-white critical race theory conspiracy theories on children in the U.S., Disney seemingly has a problem with offending the Communinst Chinese government.
The Simpsons episode, "One Angry Lisa," was first broadcast last year and featured a character stating "Behold the wonders of China. Bitcoin mines, forced labor camps where children make smartphones."
Last year, Disney also pulled an old episode of The Simpsons from 2005 that referenced the Tiananmen Square massacre and the subsequent crackdown by the CCP on any documentation of it.
Kenny Ng, associate professor at the Academy of Film at Hong Kong Baptist University noted that Disney pulling the episodes is probably "to do with the company's ties, current and future, in mainland China," adding, "It could be strategic to eliminate any China-offending episodes."
While China has concentration camps, it also has Disney theme parks, so best not to offend them, a policy the Biden administration seems to be fully behind.
SUBSCRIBE on YouTube:
Follow on Twitter:
Follow @PrisonPlanet
———————————————————————————————————————
Brand new merch now available! Get it at https://www.pjwshop.com/


ALERT! In the age of mass Silicon Valley censorship It is crucial that we stay in touch.

We need you to sign up for our free newsletter here.

Support our sponsor – Turbo Force – a supercharged boost of clean energy without the comedown.

Also, we urgently need your financial support here. ———————————————————————————————————————
Fire At New Zealand's Largest Egg Farm Kills 75,000 Hens Amid National Shortage
The latest major food supplier to go up in flames, after decades of food suppliers not going up in flames, is New Zealand's largest egg producer – after a blaze broke out on Monday, killing around 75,000 hens.
The fire at Zeagold farm had "taken the better part of the day to contain," according to the company, adding that twelve workers on the site were "unharmed but very distressed."
Prior to the fire, New Zealand farmers estimated that the country needed another 300,000 hens to deal with a national egg shortage, The Guardian reports.
The spokesperson added that while it was still too early to assess how much the fire would affect the supply chain, "There will be some impact obviously – it's not a great thing to happen in the middle of a shortage."
New Zealand has been in the grip of an egg shortage since the start of the year, when it put an end to battery farming. The ban had been in the works since 2012 and battery hen numbers had dropped over time to make up just 10% of overall egg production – but their final outlawing at the start of January has still been enough to jolt the egg supply chain, leaving supermarket shelves empty, shop owners policing tray purchases and big-breakfast lovers bereft.

The shortage has reached the point of contention: one small-town supermarket banned a cruise ship crew from further egg purchases after they cleared the shelves; newspapers have issued advice columns on egg-free baking and tofu scrambles; and in January, the SPCA released an advisory telling New Zealanders not to engage in kneejerk purchases of back yard poultry, after concerns that a rise in amateur chicken ownership would result in the animals not being properly cared for. –The Guardian
"Egg supplies are tight, so this will not assist in any way," said Michael Brooks, executive director of the Egg Producers Federation.
The fire comes roughly one week after one of America's top egg suppliers, Hillandale Farms, burned down, killing up to 100,000 chickens.
Related:
Shortage Fears Spike As Some Costco And Walmart Stores Run Out Of Eggs
Egg Crisis Sparks Soaring Interest In Backyard Farms
Another US Food Processing Plant Erupts In Flames
This post was originally published at Zero Hedge
The Chinese 'Spy Balloon' Story As Manufactured Crisis: An Alternative Reading
Previous constant headlines of the Ukraine-Russia war were put on pause Friday into Saturday as the American public's attention and discourse got temporarily consumed by the bizarre Chinese 'spy balloon' saga, which grew more dramatic by the hour until it was shot down by the Pentagon over the Atlantic Ocean.
But few are currently asking the necessary deeper questions related to the timing. Given the last major balloon crisis to take over 24/7 network news coverage ended up being a complete hoax (remember the "balloon boy" stunt of 2009 which had the world breathless and on edge for a full news cycle?), the current context to the Chinese balloon story and the question of cui bono is worth a deeper dive…
Entrepreneur and geopolitical commentator Arnaud Bertrand, who as a Westerner has spent many years living in China and frequently attempts to correct the often misleading analysis of mainstream press reports, offers an 'alternative view' of what's fast unfolding below [emphasis ZH's)…
* * *
"I took a bit of time to dissect the "spy balloon" story – both how it is portrayed in the US and China's response," Bertrand begins a lengthy thread. As you'll see, the more you think about it, the more stunned you get at the sheer absurdity of the whole thing."
First, the US story.
China sent a "spy balloon" over highly strategic US sites. It chose to spy on these sites with a big visible balloon (reported as being "as big as multiple school buses"), that anyone can see with the naked eye from the ground, to "demonstrate it had the capability", despite having a plethora of other more discreet ways to spy like satellites or stealth drones.
Unclear that anyone doubted China had mastered the technology of *check notes* hot air balloons and why it therefore needed to demonstrate this capability… China chose to do so on the eve of Secretary of States Blinken's visit to China, where he was invited, and hours after signaling Blinken would also be meeting with Xi during his visit, a high-level meeting not granted to any US Secretary of States in years.
The story therefore being that China chose to disrupt a meeting with its own president and to sabotage its own efforts at détente in the US-China conflict… The Pentagon said it had been "tracking the balloon for quite some time" and that it wasn't the first time such an incident occurred, but this time – for unclear reasons – it chose to do a public announcement. As a result, Blinken announced he was postponing his China trip.
Now the story from the Chinese side.
To them this is a fluke accident, the balloon being "a civilian airship used for research, mainly meteorological, purposes" that "deviated far from its planned course" because of strong "Westerlies" (wind that flows west to east) and "limited self-steering capability", the main characteristic of a balloon being of course that it can only go up or down.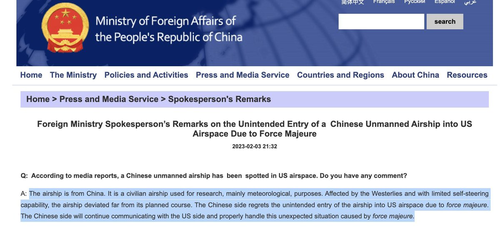 A piece in WaPo seems to confirm this, quoting "experts in national security and aerospace [who] said the craft appears to share characteristics with high-altitude balloons used by developed countries around the world for weather forecasting."
(Source: washingtonpost.com/world/2023/02/… )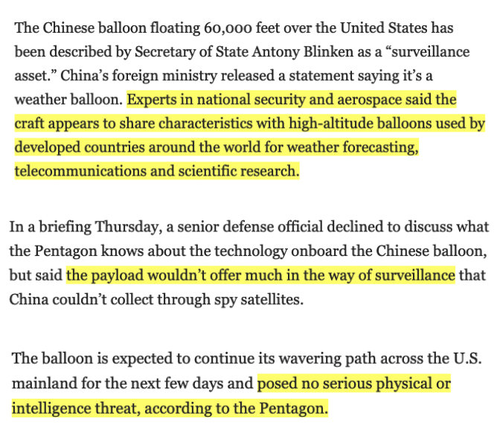 The Pentagon itself said that "the payload wouldn't offer much in the way of surveillance that China couldn't collect through spy satellites" and that "the balloon posed no serious physical or intelligence threat".
I.e. the Pentagon themselves say it would make zero sense for China to use a balloon like this for intelligence purposes when it has satellites. Kind of begs the question why they decided to make a big deal out of it in the first place…
I'll let you decide for yourself which story makes more sense… The sheer ridiculousness of this Nth "red scare" episode is absolutely obvious to anyone with an iota of common sense. Except, sadly, common sense seems to be in critically short supply nowadays.
Also, as often, the real story is probably why this story became a story in the first place.
And the important context here is of course Blinken's visit to China, which could – one can always dream – have been a step towards some form of de-escalation in China-US rapports. It was quite easily foreseeable that a story like this one on the eve of the trip would have made it politically very difficult for Blinken to go.
So a plausible hypothesis is that this whole episode is an attempt by internal US forces to prevent any US-China détente. One alternative hypothesis, much less likely, is that it's internal Chinese forces trying to do the same thing by sending this big balloon.
Unlikely because:
a) China has time on its side so it gains from reduced tensions with the US and there isn't any obvious "faction" in China who believe the contrary

b) it'd be immensely risky for anyone in China to do something like this as it'd undoubtedly be seen as an act of high treason with grave consequences for themselves

c) again, balloons like this particular one basically can't be steered so…
To plan sending a balloon like this from China to a place over US land isn't even doable in the first place. The last hypothesis, which I guess is also somewhat likely, is that this is a series of unfortunate events without any malice on either side.
1) Balloon deviates from course and gets in US airspace,

2) people see it and Pentagon feels it has to communicate about it

3) the media, wearing their usual "China bad" hat, decide to go all-in on the scare-mongering,

4) political opposition and China hawks jump on the bandwagon,

5) administration feels it has no other choice than to cancel the trip and doesn't have the political courage to say "this is just a balloon that drifted off course".
Well I guess in this scenario there is in fact malice on the media's part and that of politicians and wider members of the blob but it's "organic malice", so to speak, jumping at a golden opportunity to scare-monger.
Conclusion: however you see it, this story is absolutely shameful and a sad reflection of the insane times we live in, when rather than take the time to carefully consider facts, apply reason and common sense, we instead choose as a society to incite fear and hostility.
This post was originally published at Zero Hedge