FLIP FLOP: AOC Suddenly Thinks Pulling Out Of Syria Is Terrible
Trump Derangement syndrome on full display
After months and months of criticizing US involvement in 'forever wars', Rep. Alexandria Ocasio-Cortez has had a sudden change of mind, tweeting Tuesday that pulling US troops out of Syria could have 'catastrophic  consequences'.
Trump's sudden withdrawal from northern Syria & endorsement of Turkey's actions could have catastrophic consequences & risks laying the ground for immense violence and suffering.

We can pursue a strategy to stop our endless wars without endangering the lives of innocent people. https://t.co/N2YWjEGveX

— Alexandria Ocasio-Cortez (@AOC) October 8, 2019
Of course, her only reason for adopting this position now is that she will oppose literally anything President Trump does.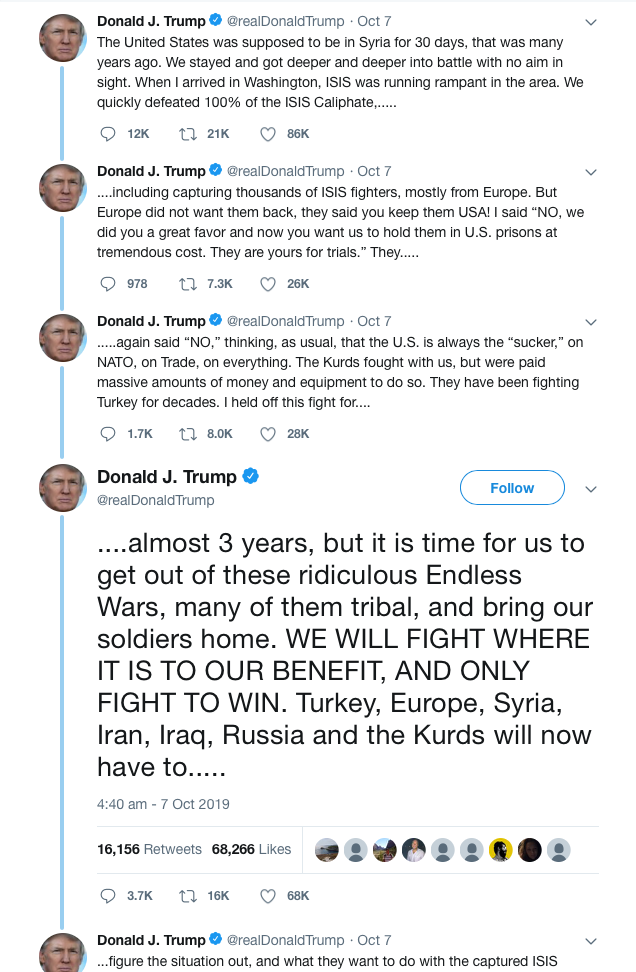 Last year AOC ran for Congress on a promise of working to remove troops from  Syria and elsewhere:
"Alexandria believes that we must end the "forever war" by bringing our troops home, and ending the air strikes that perpetuate the cycle of terrorism throughout the world," her 2018 campaign website noted.
She has repeatedly criticized 'endless war':
Previous gens have used millennials like a credit card: leaving nonstop war, an eroding planet, and education profiteering to fix ourselves.

Now it's on us. The same officials who got us into this mess aren't going to get us out.

It's time to elect a new generation to office. https://t.co/jFthsbFdix

— Alexandria Ocasio-Cortez (@AOC) February 9, 2018
The blueprint for war and regime change is right here.

This is dangerous. Bolton championed wars costing thousands of lost lives – both in American soldiers and innocent people abroad.

The US must transition to humanitarian, diplomacy-led, peace-driven foreign policy. https://t.co/q44f4Nvk6U

— Alexandria Ocasio-Cortez (@AOC) March 24, 2018
Congress MUST repeal the AUMF.

It is incredibly destabilizing legislation that erodes our government's system of checks and balances, and a persistent threat to peace worldwide.

War doesn't bring peace. Alleviating poverty does. Education does. Representative gov does. /2

— Alexandria Ocasio-Cortez (@AOC) April 14, 2018
Here is the profound danger of what we just did in Syria:

A 'mad king' President, with majority disapproval of Americans, just decided to bomb a nation without the Constitutional requirement of Congressional approval.

Democrats who take war money passed the laws allowing that.

— Alexandria Ocasio-Cortez (@AOC) April 14, 2018
Sure looks like powerful people are trying to bribe the President into war. https://t.co/e4L4YcrGKp

— Alexandria Ocasio-Cortez (@AOC) June 7, 2019
Paul Ryan's project to "balance the budget" was always a ruse to explode the deficit with corporate tax cuts + endless war.

Ryan continues his abdication of economic + moral responsibility with his war in Yemen, curtailing of Congressional power, & imperiling countless children. https://t.co/kXDoK2e6DQ

— Alexandria Ocasio-Cortez (@AOC) December 12, 2018
I remember a time when it was "unacceptable" to question the Iraq War.

All of Congress was wrong, including both GOP & Dem Party, and led my generation into a disastrous + wrong war that virtually all would come to regret, except for the one member who stood up: Barbara Lee.

— Alexandria Ocasio-Cortez (@AOC) March 5, 2019
'@tedlieu repeatedly asked [Sec. Pompeo's advisor] if the Constitution gives Congress the power to declare war. He would not say "yes."

Lieu submitted the Constitution for the record.'

— Alexandria Ocasio-Cortez (@AOC) June 19, 2019
This administration needs to put down its saber and pick up a phone.

Diplomacy is what grants us peace and stability – not war. #NoWarOnIran https://t.co/NZtifF3eki

— Alexandria Ocasio-Cortez (@AOC) June 21, 2019
Common ground I find with (some) GOP:

– Ending needless war & curbing exploding military spending
– Protecting civil liberties & privacy rights (I believe people shouldn't be spied on by gov or corporations, incl your phone & habits)
– Holding bad contractors accountable https://t.co/PSde2DWGn4

— Alexandria Ocasio-Cortez (@AOC) August 3, 2019
But now suddenly, AOC is OK with US troops staying in Syria, because… ORANGE MAN BAD.
The response was swift:
You couldn't even find Syria on a map.

— Mark Dice (@MarkDice) October 9, 2019
— B. (@bleech1) October 8, 2019
Love how a former bartender is now a foreign policy expert.

— Ty Webb (@soft_fade) October 8, 2019
Even AOC wants forever war

— josé miguel (@transfix) October 8, 2019
"I'm pro-war now!"

-AOC

— Aaron Kinney (@aaron_kinney) October 8, 2019
Admit it, if Trump were for sending more troops over, you'd come out against that.

I'm no Trump guy, but he's right to start extricating us from these disastrous interventions abroad. My 17-year-old daughter has never known a time when the US wasn't in a war with someone.

— NonAggressionPrinciple (@NonAggressionP1) October 9, 2019
You could't find Syria or Turkey on a map of Syria and Turkey.

— James (@James07910075) October 9, 2019
"Stop our endless wars"

"But not like that"

"Not like really stop them"

— Wesley Mullins (@wesleyamullins) October 9, 2019
Trump said breathing was good for ya.

— Fedorable The Horrible (@FedorableH) October 9, 2019
.@AOC in 2018 (still up on her website): "Alexandria believes that we must end the 'forever war' by bringing our troops home." @AOC today: War because Orange Man Bad.https://t.co/udDg2jw1Ri via @BreitbartNews

— Big E. (@TXraidernation2) October 9, 2019
Meanwhile, some administration officials are already trying to walk back Trump's withdrawal statements.
An anonymous senior administration official told reporters Monday "the U.S. is not removing its forces from Syria in the face of a Turkish incursion."
Rather, the president ordered roughly 50 special operations troops in northern Syria to relocate to a different part of the country after he learned that Turkey has planned an offensive against U.S.-backed Kurdish forces in Syria. The official said that offensive had not yet begun.
Furthermore, Secretary of Defense Mark Esper tweeted then deleted the following:
Why did @EsperDoD delete this tweet? pic.twitter.com/X8LI0VksME

— Dave Brown (@dave_brown24) October 7, 2019
It seems as if the deep state is once again papering over Trump's promises, and the media is in lockstep.
How long do people think US troops must remain in Syria? Ten years? Forever? (Are you aware they were there illegally in the first place)? Why is it that the media always ends up defending perpetual war?

— Michael Tracey (@mtracey) October 7, 2019
Trump Is The Anti-War President
"No blood in the sand, much less expensive"
During one of three rallies in Pennsylvania Monday, President Trump celebrated the one year anniversary of the killing of ISIS leader Abu Bakr Al Baghdadi, which effectively ended the genocidal terrorist group.
Trump told the crowd that he has presided over taking out the world's top terrorists.
"Exactly one year ago today, we killed the leader of ISIS, al-Baghdadi. And we took out the world's number one terrorist, Soleimani is dead. And we took 100 percent of the ISIS caliphate, you know that, 100 percent," Trump boomed.
Watch:
"Instead of never-ending wars, we are forging peace in the Middle East," Trump added.
"No blood in the sand, much less expensive," he proclaimed, adding "They're tired of fighting all the time. They're tired. We're bringing our soldiers back from Afghanistan, all coming back."
Breitbart News notes that Trump has achieved this while drawing DOWN US troops' presence in land wars in the Middle East, where for years his predecessors mired the US in endless wars.
"In Afghanistan, Trump is slated to bring home approximately 4,000 U.S. troops from America's longest war. When he first entered office in January 2017, there were approximately 8,600 forces there. That number will be 4,500 by the end of November," the report notes.
It further points out that "Trump wants to bring down forces in Afghanistan even further, to 2,500 by early next year, and pull out all forces by the middle of 2021."
The President has also ordered the number of troops in Iraq reduced to 3,000, down from 5,200 when he took office.
It's the same story in Syria, where Trump has reduced troop numbers from around 2,000 to 500.
Trump has also overseen one of the century's most expansive peace deals, by rejecting 'conventional' wisdom. Only this President could have done that.
The deal is still continuing to evolve and expand.
"Our Agenda is One of Optimism, Prosperity, and True American Pride!" Trump told the crowd Monday:
Trump is the anti-war President.
Biden is a diehard globalist.
Report: Trump Determined To Get US Troops Out Of Afghanistan
Coronavirus spread providing more reason to bring troops home.
Reports this week have once again shed light on President Trump's continued efforts to get US troops out of the middle east and away from conflicts pursued by his predecessors.
A report by NBC news notes that Trump "complains almost daily" that US troops are still in Afghanistan, and that now they are at risk from the coronavirus outbreak.
"His renewed push to withdraw all of them has been spurred by the convergence of his concern that coronavirus poses a force protection issue for thousands of U.S. troops in Afghanistan and his impatience with the halting progress of his peace deal with the Taliban," officials have told NBC.
"U.S. officials worry the virus could become rampant in Afghanistan, given its lack of health care and testing and its shared border with Iran, which has been hit hard by the pandemic." the report adds.
"Afghanistan is going to have a significant coronavirus issue," a former senior U.S. official said. "It hasn't really manifested yet but it will."
As highlighted in other reports, Afghanistan's relatively substandard health ministry is preparing to be overrun by "millions" of coronavirus cases.
According to the NBC report, Trump isn't happy with the progress of US and NATO troops being withdrawn from the country, which was part of a deal signed with the Taliban in February.
The accord paved the way for a large US troop reduction to 8,600 within 135 days of signing, numbers that are not being achieved quickly enough for Trump.
The report notes that military advisors are worried that troops will also have to be be withdrawn from elsewhere if they're brought home from Afghanistan.
"The president's military advisers have made the case to him that if the U.S. pulls troops out of Afghanistan because of the coronavirus, by that standard the Pentagon would also have to withdraw from places like Italy, which has been hit particularly hard by the pandemic, officials said."
It's difficult to imagine that Trump would have much of a problem with that either.
World War 3? US Accuses China Of Testing Secret NUKES
State Dept. issues report noting 'high tempo of activity at China's Lop Nur test site'.
The United States has accused China of setting off underground nuclear bombs, conducting banned nuclear tests while the world is focused on the coronavirus crisis.
As if things weren't already bad enough between the two nations, a US State Department report made public by The Wall Street Journal confirmed the charges earlier this week.
"The concerns stem from the high tempo of activity at China's Lop Nur test site, extensive excavations at the site, and Beijing's purported use of special chambers to contain explosions." the State Department report suggests.
The report raises concerns about whether China is abiding to the US-interpreted "zero yield" standard on nuclear testing, which is a reference to a type of nuclear test whereby there is no explosive chain reaction of the type ignited by the detonation of a nuclear warhead.
The report also claimed Beijing blocked data transmissions from sensors linked to an international monitoring center, a claim that was disputed by the Comprehensive Test Ban Treaty Organization in China.
If the accusations are true, China, which is estimated to have about 300 nuclear weapons, would be in violation of the 1996 Comprehensive Test Ban Treaty (CTBT), which prohibits any nuclear reactions involving explosives.
Neither China nor the US has officially ratified the treaty, however, which means each is still relying purely on the word of the other, and on-site inspections cannot be conducted.
China responded to the accusations by angrily denying them as 'false'.
"China has always adopted a responsible attitude, earnestly fulfilling the international obligations and promises it has assumed," Chinese foreign ministry spokesman Zhao Lijian said, adding "The US criticism of China is entirely groundless, without foundation, and not worth refuting."
There have been some concerns among more hawkish Republicans that the US is not keeping up with China in terms of nuclear arms development, thus some have been trying to influence President Trump to ditch the CTBT, allowing the US to start new testing of its own.
An anonymous senior US official told The Guardian that "The pace and manner by which the Chinese government is modernising its stockpile is worrying, destabilising, and illustrates why China should be brought into the global arms control framework."