Rand Paul Warns Trump Against "Needless Escalation" Of War
President says he's 'locked and loaded' to attack Iran
As President Trump warned that the US is "locked and loaded" to respond to the drone attack on Saudi Arabia's oil supply this past weekend, Senator Rand Paul warned that hitting Iran would be a "big mistake."
Appearing on CNN, Paul warned that any attack on Iran would constitute a "needless escalation" of war.
"The Iraq War, President Trump has said, was the biggest geopolitical blunder of the last generation," Paul said.
"It destabilized the Middle East and increased the strength of Iran and tipped the balance toward Iran," the Senator added.
Paul also had stern words for Rep. Liz Cheney, who earlier in the day proclaimed that the US should deny visas for Iranian diplomats at the United Nations General Assembly meeting this fall.
"There was nothing good about the Iraq war and Dick Cheney, Liz Cheney and John Bolton still don't get it. They are still advocating for more regime change in the Middle East." Paul declared.
US Secretary of State Mike Pompeo declared unequivocally Saturday that Iran is behind the attack:
We call on all nations to publicly and unequivocally condemn Iran's attacks. The United States will work with our partners and allies to ensure that energy markets remain well supplied and Iran is held accountable for its aggression

— Secretary Pompeo (@SecPompeo) September 14, 2019
President Trump tweeted Sunday that he is waiting to hear from Saudi Arabia on how to proceed.
Saudi Arabia oil supply was attacked. There is reason to believe that we know the culprit, are locked and loaded depending on verification, but are waiting to hear from the Kingdom as to who they believe was the cause of this attack, and under what terms we would proceed!

— Donald J. Trump (@realDonaldTrump) September 15, 2019
Some warned that Trump's words make conflict with Iran more likely:
"Locked and loaded"

And "waiting to hear from the kingdom". Now MbS is boxed: if he doesn't point to #Iran, he's likely to dissapointing Trump, but he does, he could start an all-war with Tehran of unknown end | #OOTT 🇺🇸 🇸🇦 🇮🇷 ⛽️🛢 https://t.co/aYS6uWixGl

— Javier Blas (@JavierBlas) September 15, 2019
There is a cruel irony in all of this, given that only last week Iran was about to renew talks with the US following Trump's ousting of John Bolton, who had long advocated for attacking Iran.
Paul: Neocons "Want To Keep Starting Endless Wars In Conflicts That Go Back Hundreds Of Years"
"Trump is the first president in my lifetime to understand what is our national interest and what is not"
Senator Rand Paul once again slammed warmongering neocons Wednesday, expressing disbelief that Republicans are in favor of 'endless wars' and delivering high praise for President Trump's attempts to stop them.
Paul tore apart Sen. Lindsey Graham and Rep. Liz Cheney, again labeling them the "neocon War Caucus" as they continue their attacks on Trump following Turkey's assault on Kurdish forces in Syria.
The Senator noted that though they want a war, the neocons are not sure who they want it with:
The Cheney/Graham neocon War Caucus wants to come back to DC and declare a war. My question for them is – who will you declare it on?

— Senator Rand Paul (@RandPaul) October 9, 2019
He added that the conflicts they want to continue date back centuries, and that their positions make zero sense:
Will it be out NATO allies the Turks? Will it be Assad? Will it be Islamic rebels? Which ones? They want to keep starting endless wars in conflicts that go back hundreds of years, but what they want makes no sense.

— Senator Rand Paul (@RandPaul) October 9, 2019
Paul also noted that Trump is the first President for many years to realise that endless military involvement weakens the country:
I know this @realDonaldTrump is the first President in my lifetime to understand what is our national interest and what is not. He is stopping the endless wars and we will be stronger as a result. The Cheney/Graham Neocon War Caucus has cost us too much fighting endless wars.

— Senator Rand Paul (@RandPaul) October 9, 2019
Liz Cheney, who has previously accused Paul of putting "terrorists first",  has called Trump's Syria move "a catastrophic mistake" while Graham has said Trump's decision could put the nation at risk and is the "biggest mistake of his presidency."
Hi @RandPaul I know the 2016 race was painful for you since you were such a big loser (then & now) with a dismal 4.5% in Iowa. No surprise since your motto seems to be "Terrorists First, America Second."

Here's a TBT courtesy of @realDonaldTrump. No truer words were ever spoken https://t.co/7MIM31ZuKl

— Liz Cheney (@Liz_Cheney) September 12, 2019
Hi @Liz_Cheney, President @realDonaldTrump hears all your NeverTrump warmongering. We all see your pro-Bolton blather. I'm just grateful for a president who, unlike you, supports stopping these endless wars.

— Senator Rand Paul (@RandPaul) September 12, 2019
The president noted Wednesday that 50 soldiers have be re-deployed following the Turkish offensive against the Kurds.
"This morning, Turkey, a NATO member, invaded Syria," Trump said in a statement. "The United States does not endorse this attack and has made it clear to Turkey that this operation is a bad idea."
"There are no American soldiers in the area," the president's statement continued. "From the first day I entered the political arena, I made it clear that I did not want to fight these endless, senseless wars — especially those that don't benefit the United States."
FLIP FLOP: AOC Suddenly Thinks Pulling Out Of Syria Is Terrible
Trump Derangement syndrome on full display
After months and months of criticizing US involvement in 'forever wars', Rep. Alexandria Ocasio-Cortez has had a sudden change of mind, tweeting Tuesday that pulling US troops out of Syria could have 'catastrophic  consequences'.
Trump's sudden withdrawal from northern Syria & endorsement of Turkey's actions could have catastrophic consequences & risks laying the ground for immense violence and suffering.

We can pursue a strategy to stop our endless wars without endangering the lives of innocent people. https://t.co/N2YWjEGveX

— Alexandria Ocasio-Cortez (@AOC) October 8, 2019
Of course, her only reason for adopting this position now is that she will oppose literally anything President Trump does.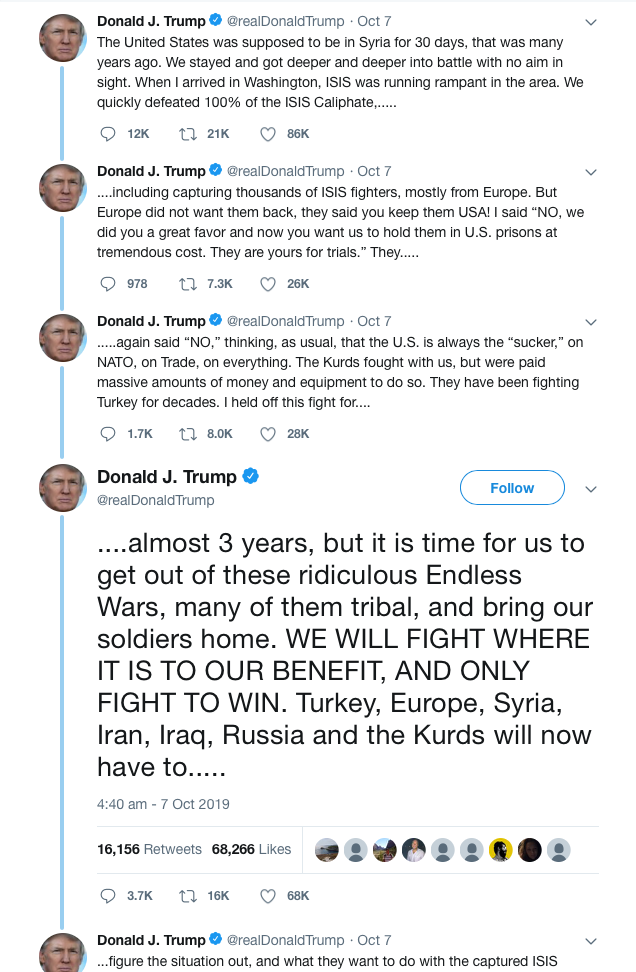 Last year AOC ran for Congress on a promise of working to remove troops from  Syria and elsewhere:
"Alexandria believes that we must end the "forever war" by bringing our troops home, and ending the air strikes that perpetuate the cycle of terrorism throughout the world," her 2018 campaign website noted.
She has repeatedly criticized 'endless war':
Previous gens have used millennials like a credit card: leaving nonstop war, an eroding planet, and education profiteering to fix ourselves.

Now it's on us. The same officials who got us into this mess aren't going to get us out.

It's time to elect a new generation to office. https://t.co/jFthsbFdix

— Alexandria Ocasio-Cortez (@AOC) February 9, 2018
The blueprint for war and regime change is right here.

This is dangerous. Bolton championed wars costing thousands of lost lives – both in American soldiers and innocent people abroad.

The US must transition to humanitarian, diplomacy-led, peace-driven foreign policy. https://t.co/q44f4Nvk6U

— Alexandria Ocasio-Cortez (@AOC) March 24, 2018
Congress MUST repeal the AUMF.

It is incredibly destabilizing legislation that erodes our government's system of checks and balances, and a persistent threat to peace worldwide.

War doesn't bring peace. Alleviating poverty does. Education does. Representative gov does. /2

— Alexandria Ocasio-Cortez (@AOC) April 14, 2018
Here is the profound danger of what we just did in Syria:

A 'mad king' President, with majority disapproval of Americans, just decided to bomb a nation without the Constitutional requirement of Congressional approval.

Democrats who take war money passed the laws allowing that.

— Alexandria Ocasio-Cortez (@AOC) April 14, 2018
Sure looks like powerful people are trying to bribe the President into war. https://t.co/e4L4YcrGKp

— Alexandria Ocasio-Cortez (@AOC) June 7, 2019
Paul Ryan's project to "balance the budget" was always a ruse to explode the deficit with corporate tax cuts + endless war.

Ryan continues his abdication of economic + moral responsibility with his war in Yemen, curtailing of Congressional power, & imperiling countless children. https://t.co/kXDoK2e6DQ

— Alexandria Ocasio-Cortez (@AOC) December 12, 2018
I remember a time when it was "unacceptable" to question the Iraq War.

All of Congress was wrong, including both GOP & Dem Party, and led my generation into a disastrous + wrong war that virtually all would come to regret, except for the one member who stood up: Barbara Lee.

— Alexandria Ocasio-Cortez (@AOC) March 5, 2019
'@tedlieu repeatedly asked [Sec. Pompeo's advisor] if the Constitution gives Congress the power to declare war. He would not say "yes."

Lieu submitted the Constitution for the record.'

— Alexandria Ocasio-Cortez (@AOC) June 19, 2019
This administration needs to put down its saber and pick up a phone.

Diplomacy is what grants us peace and stability – not war. #NoWarOnIran https://t.co/NZtifF3eki

— Alexandria Ocasio-Cortez (@AOC) June 21, 2019
Common ground I find with (some) GOP:

– Ending needless war & curbing exploding military spending
– Protecting civil liberties & privacy rights (I believe people shouldn't be spied on by gov or corporations, incl your phone & habits)
– Holding bad contractors accountable https://t.co/PSde2DWGn4

— Alexandria Ocasio-Cortez (@AOC) August 3, 2019
But now suddenly, AOC is OK with US troops staying in Syria, because… ORANGE MAN BAD.
The response was swift:
You couldn't even find Syria on a map.

— Mark Dice (@MarkDice) October 9, 2019
— B. (@bleech1) October 8, 2019
Love how a former bartender is now a foreign policy expert.

— Ty Webb (@soft_fade) October 8, 2019
Even AOC wants forever war

— josé miguel (@transfix) October 8, 2019
"I'm pro-war now!"

-AOC

— Aaron Kinney (@aaron_kinney) October 8, 2019
Admit it, if Trump were for sending more troops over, you'd come out against that.

I'm no Trump guy, but he's right to start extricating us from these disastrous interventions abroad. My 17-year-old daughter has never known a time when the US wasn't in a war with someone.

— NonAggressionPrinciple (@NonAggressionP1) October 9, 2019
You could't find Syria or Turkey on a map of Syria and Turkey.

— James (@James07910075) October 9, 2019
"Stop our endless wars"

"But not like that"

"Not like really stop them"

— Wesley Mullins (@wesleyamullins) October 9, 2019
Trump said breathing was good for ya.

— Fedorable The Horrible (@FedorableH) October 9, 2019
.@AOC in 2018 (still up on her website): "Alexandria believes that we must end the 'forever war' by bringing our troops home." @AOC today: War because Orange Man Bad.https://t.co/udDg2jw1Ri via @BreitbartNews

— Big E. (@TXraidernation2) October 9, 2019
Meanwhile, some administration officials are already trying to walk back Trump's withdrawal statements.
An anonymous senior administration official told reporters Monday "the U.S. is not removing its forces from Syria in the face of a Turkish incursion."
Rather, the president ordered roughly 50 special operations troops in northern Syria to relocate to a different part of the country after he learned that Turkey has planned an offensive against U.S.-backed Kurdish forces in Syria. The official said that offensive had not yet begun.
Furthermore, Secretary of Defense Mark Esper tweeted then deleted the following:
Why did @EsperDoD delete this tweet? pic.twitter.com/X8LI0VksME

— Dave Brown (@dave_brown24) October 7, 2019
It seems as if the deep state is once again papering over Trump's promises, and the media is in lockstep.
How long do people think US troops must remain in Syria? Ten years? Forever? (Are you aware they were there illegally in the first place)? Why is it that the media always ends up defending perpetual war?

— Michael Tracey (@mtracey) October 7, 2019
Rand Paul Slams 'Neocon War Caucus'; Applauds Trump Syria Withdrawal
"They always want to stay at war"
Senator Rand Paul slammed the swamp monsters who are up in arms at President Trump fulfilling his promise to pull US troops out of Syria, noting Monday that "it sounded like the neocon war caucus of the Senate."
"They always want to stay at war.  They always think it's the best answer." Paul asserted, referring to Lindsey Graham, Marco Rubio, Mitt Romney, Nikki Hale among many other Republicans.
We must always have the backs of our allies, if we expect them to have our back. The Kurds were instrumental in our successful fight against ISIS in Syria. Leaving them to die is a big mistake. #TurkeyIsNotOurFriend

— Nikki Haley (@NikkiHaley) October 7, 2019
Withdrawing US forces from Northern Syria is a catastrophic mistake that puts our gains against ISIS at risk and threatens US security.

This decision ignores lesson of 9/11. Terrorists thousands of miles away can and will use their safe-havens to launch attacks against America.

— Liz Cheney (@Liz_Cheney) October 7, 2019
NEW: Mitch McConnell weighs in on Syria:

`A precipitous withdrawal of U.S. forces from Syria would only benefit Russia, Iran, and the Assad regime,' he says. pic.twitter.com/YTmoA1A4dz

— Laura Litvan (@LauraLitvan) October 7, 2019
If reports about US retreat in #Syria are accurate, the Trump administration has made a grave mistake that will have implications far beyond Syria.

— Marco Rubio (@marcorubio) October 7, 2019
No matter what President Trump is saying about his decision, it is EXACTLY what President Obama did in Iraq with even more disastrous consequences for our national security.

Unlike President Obama, I hope President Trump will reassess and take sound military advice.

— Lindsey Graham (@LindseyGrahamSC) October 7, 2019
"We need to not think that it's always the U.S.' responsibility to fight every war and find every peace." Paul urged, adding that "a couple of hundred people in Syria is simply a trip wire for a bigger war or for a calamity for our soldiers."
"All these people got involved in this Syrian civil war.  And to what end?" Paul asked.
"I mean, hundreds of thousands of people have died.  Millions of people are displaced.  So, once again, the idea of regime change in the Middle East — and this is what President Trump is so right about — regime change hasn't worked.  It's led to more chaos." the Senator further stated.
"It's led to more chaos and the rise of ISIS came in the chaos of Hussein being toppled but also the chaos of Assad's regime being made marginal and made fragile." Paul continued.
"I think President Trump recognizes what President Reagan recognized — unfortunately too late, in Beirut.  Leaving three or 400 people in an area that are vulnerable could lead to catastrophe, but also doesn't really do anything to secure our national security." Paul explained.
The Senator was following up on a tweet he fired out Monday declaring his support for Trump working to stop endless war.
I stand with @realDonaldTrump today as he once again fulfills his promises to stop our endless wars and have a true America First foreign policy.

— Senator Rand Paul (@RandPaul) October 7, 2019
Trump issued a tweetstorm Monday defending his decision, saying "the Kurds fought with us," and they "were paid massive amounts of money and equipment to do so."
"I held off this fight for almost 3 years, but it is time for us to get out of these ridiculous Endless Wars, many of them tribal, and bring our soldiers home," the president wrote.
"WE WILL FIGHT WHERE IT IS TO OUR BENEFIT, AND ONLY FIGHT TO WIN," he added.
Trump also vowed to "totally destroy and obliterate" Turkey's economy if it wages missions considered "off limits" in the region.