Media Predictions of "Tiny Crowd" For Trump July 4 Speech Proven Spectacularly Wrong
More fake news.
The media ran headlines right up to the day of President Trump's July 4 speech predicting only a "tiny crowd" would show up. How spectacularly wrong they were.
An Independent article titled 'Trump officials 'fear embarrassingly tiny crowd' for his Fourth of July speech' was typical of the coverage.
In reality, photos from the event show crowds stretching the full length of the national mall.
— Graham Ledger (@GrahamLedger) July 5, 2019
According to the media, this is "tiny".
Yes! There are so many Trump Supporters that LOVE their country & the Make America Great Again Agenda! This photo makes me want to cry — so happy & proud!

Trump2020 here we come!🇺🇸❤️ pic.twitter.com/2tVBvql4kU

— Corryn💙 (@Corrynmb) July 4, 2019
So tiny!
The view looking out into the crowd from the Lincoln Memorial. No word yet on if weather will affect the planned flyovers during/after President Trump's speech. #SaluteToAmerica pic.twitter.com/GDTVhOET7c

— Omar Jimenez (@OmarJimenezCNN) July 4, 2019
"The webcam at the National Mall was abruptly shut down without notice and has been removed from the http://whitehouse.gov site. Presumably to stop viewers from seeing the lack of attendees at the #TrumpParade. We are about to relive Trump's inauguration all over again," claimed one leftist on Twitter.
— Paul Joseph Watson (@PrisonPlanet) July 4, 2019
He was presumably unaware of the fact that it's silly to judge the size of a crowd hours before an event even starts.
Leftists are all over Twitter claiming the huge crowd images were "photoshopped". Presumably, renowned Trump-loving network CNN was busy photoshopping them.
Leftists everywhere claiming huge crowds at July 4 parade were "photoshopped". Here's one from CNN, hardly a fan of Trump.

The sheer level of self-delusion you engage in is beyond belief.#TrumpParadeFailhttps://t.co/D00XcyBquA pic.twitter.com/YYAAm5cu4S

— Paul Joseph Watson (@PrisonPlanet) July 5, 2019
In fact the only only "tiny" crowd was the one that showed up with the Trump baby balloon.
Oh. pic.twitter.com/MIZKusylVS

— Paul Joseph Watson (@PrisonPlanet) July 4, 2019
That was really tiny.
Watch live analysis of Trump's incredible speech and what it means for America.
SUBSCRIBE on YouTube:
Follow on Twitter: Follow @PrisonPlanet
———————————————————————————————————————
There is a war on free speech. Without your support, my voice will be silenced.
Please sign up for the free newsletter here. Donate to me on SubscribeStar here.
Support my sponsor – Turbo Force – a supercharged boost of clean energy without the comedown.
———————————————————————————————————————
Biden Thanks Coast Guard Diver For Saving Lives in Florida – Plans to Fire Him in Days Over Vax Mandate
"President Joe Biden on Friday personally called to thank a Coast Guard rescue swimmer — who is facing discharge over Biden's vaccine mandate — for saving people's lives during Hurricane Ian," Breitbart reports.
From Breitbart, "Biden Thanks Coast Guard Rescue Swimmer He's Kicking Out over Vaccine Mandate":
The White House publicized the call in a press release and Biden himself bragged about calling him.

"I told him how proud of him I was and thanked him for all the work he and his Coasties are doing to save lives," Biden said of his call to Aviation Survival Technician Second Class Zach Loesch.
The White House press release said he thanked Loesch and Lieutenant Commander Christopher Hooper "for the heroic work that they and their Coast Guard colleagues have performed during search and rescue operations in response to Hurricane Ian."

"The President thanked them for saving lives and asked for a report on the work that continues to rescue Floridians. He also asked if they needed any additional support that he can provide to accelerate successful rescues; they indicated they have gotten what they need to execute their vital mission," it said.

Despite Biden thanking Loesch for saving people's lives, Loesch is due to be kicked out from the Coast Guard in 30-60 days due to Biden's own mandate that all members of the United States Armed Forces be fully vaccinated, Loesch told Breitbart News on Saturday.

Loesch had submitted a request for religious accommodation, as well as an appeal, but both were denied, according to Loesch.

"If I had asked any of the people I saved yesterday if they wanted to come with me even though I am unvaccinated, every single one of them would have said 'yes,'" he said.

Loesch personally pulled out a disabled woman and her husband who were trapped in their back bedroom with a couch jammed in the doorway. He kicked through a wall in order to free them.

Once they were freed, he went back to retrieve her wheelchair, securing it to his own body as he was hoisted up by a Coast Guard helicopter. Loesch also rescued several dogs and cats.

Loesch said he did not want to bring up his pending discharge to Biden — who is essentially his commander-in-chief — and ruin the call.

"It just sucks that he thanked me yet the vaccine mandate is what's kicking me out," he said. "I just love my job and I'm really good at it. It sucks. I feel like this is the job that I was born to do."
What was that term Putin used to describe our government the other day?
Oh that's right, "Satanic."
This post was originally published at Information Liberation
Biden Admin Showered Millions On Government's 'Misinformation' Czars After 2020 Election
The Biden administration awarded millions of federal dollars to members of four private groups that worked with the departments of Homeland Security (DHS) and State during the 2020 election to censor social media posts they deemed 'misinformation' – according to an in-depth analysis of documents obtained by Just the News.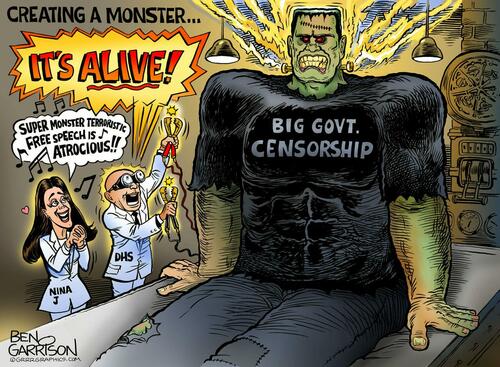 The four groups in question – Stanford Internet Observatory (SIO), the University of Washington's Center for an Informed Public, the Atlantic Council's Digital Forensic Research Lab, and social media analytics firm Graphika – comprise the "Election Integrity Partnership," which exists as a 'concierge-like' service for federal agencies such as Homeland's Cybersecurity Infrastructure Security Agency (CISA) and State's Global Engagement Center to flag online content for censorship or monitoring by Big Tech using a "ticket" system.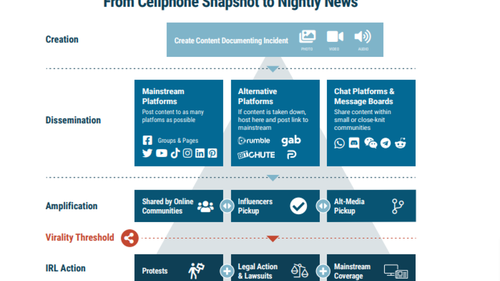 Unsurprisingly, the head of Stanford's Internet Observatory is a Clinton donor who previously served as Facebook's Head of Security – while the University of Washington's Center for an Informed Public is largely funded by the Knight Foundation, whose board exclusively contributes to Demorat or Neocon entities (a few examples here, here, here, here, here, here, hereand here).
Meanwhile, the Biden administration empowered three liberal groups to file tickets seeking censorship; the Democratic National Committee, Common Cause and the NAACP.
In its own after-action report on the 2020 election, the consortium boasted it flagged more than 4,800 URLs — shared nearly 22 million times on Twitter alone — for social media platforms. Their staff worked 12-20 hour shifts from September through mid-November 2020, with "monitoring intensif[ying] significantly" the week before and after Election Day.

The tickets sought removal, throttling and labeling of content that raised questions about mail-in ballot integrity, Arizona's "Sharpiegate," and other election integrity issues of concern to conservatives.

The consortium achieved a success rate in 2020 that would be enviable for baseball batters: Platforms took action on 35% of flagged URLs, with 21% labeled, 13% removed and 1% soft-blocked, meaning users had to reject a warning to see them. The partnership couldn't determine how many were downranked. -Just the News
First Amendment be damned
The operation falls under a legal gray-area, in that the First Amendment prohibits Congress from passing laws that abridge free speech – while courts have ruled that this extends to federal agencies funded by the legislative branch.
"The government knows that they cannot do it by themselves because of the First Amendment of the Constitution,which prohibits it," said Rep. Andrew Clyde (R-GA), a a member of the House Homeland Security Committee, in a statement to JTN. "And then they decide to partner with another entity, a private entity. a social media platform or university. "
"And then they say, 'Hey, we're going to feed you information that we think is disinformation, or we want to be disinformation. And then you go ahead and you do the de-platforming. You label it as misinformation, or disinformation.'"
And according to the report, participants in the censorship consortium were acutely aware that their effort strayed into uncharted legal territory.
For example, Stanford's Renee DiResta (who previously worked for a firm that created a 'false flag' against Republican Senate candidate Roy Moore) noted in a 2021 CISA Cybersecurity Summit video that the effort faced "unclear legal authorities" and "very real First Amendment questions."
Former State Department official Mike Benz told Just the News that the censorship consortium was the largest federally-funded censorship operation he had ever seen – and a precursor to the Disinformation Governance Board, which was scrapped after public outcry over the highly-partisan and Orwellian nature of the organization. Benz runs the nonprofit, Foundation for Freedom Online, which advocates for free speech globally while monitoring US censorship.
"If you trace the chronology, you find that there was actually 18 months' worth of institutional work to create this very apparatus that we now know played a significant role in the censorship of millions of posts for the 2020 election and has ambitious sights for 2022 and 2024," he told Just the News. "Amazingly, there are now so many Ministry of Truth functionaries within the Department of Homeland Security."
"There are so many Ministry of Truth tasks, so many Ministry of Truth points of contact, so many different Ministry of Truth, policies for whether to remove something, reduce it, slap a fact checking label on it."
Rep. Clyde, meanwhile, says he expects Republicans to investigate the consortium next year if they regain control of Congress – and that he's drafting a piece of legislation called the 'Free Speech Defense Act' to address censorship issues.
"This bill would prevent the federal government from labeling anything through a proxy entity, like a social media company, as disinformation, labeling it as misinformation or labeling it as true," he told JTN. "And then it would also give an opportunity for those people who have been injured by it to take legal action."
Censoring right-leaning media
The consortium didn't just target blogs and individual social media users – the censorship czars also went after news and opinion organizations such as the New York Post, Fox News, Just the News and SeanHannity.com (ZeroHedge included).
The partnership's members published the 292-page public report in March 2021, though the most recent version is dated June 15, 2021. The launch webinar featured former CISA Director Christopher Krebs, "who led the effort to secure electoral infrastructure and the response to mis- and disinformation during the election period."
During the launch webinar, the Atlantic Council's Emerson Brooking said they wanted to stop the "amplification and legitimation" of "far-right influencers [who] would be doing all they could to try to catch the eye of a Fox News producer," making it likely that President Trump, "the social media death star," would see their content.

Government entities were involved in real-time chats with the partnership and social media platforms over specific content under review.

A chat screenshot in the report shows an unidentified government partner rejecting the Sharpiegate claim that "sharpies aren't read at all" by ballot-counting machines, and a platform provider responding that it was now reviewing those claims. -JTN
"I think we were pretty effective in getting [platforms] to act on things they haven't acted on before," said SIO founder Stamos.
Meanwhile, the censorship partners all received federal grants from the Biden administration over the next two years.
In August 2021, the National Science Foundation awarded the Stanford and UW projects $3 million "to study ways to apply collaborative, rapid-response research to mitigate online disinformation."
Octant Data (aka Graphika), received nearly $3 million from the Department of Defense right after the 2020 election for unspecified "research on cross-platform detection to counter malign influence" – with almost 2 million more awarded in fall 2021 for "research on co-citation network mapping" to track sources that are cited together.
The Atlantic Council, which hosted then-VP Biden in 2011 for a keynote address, has received $4.7 million in grants since 2021.
Read the rest here…
This post was originally published at Zero Hedge
Videos: Biden Gets Lost On Stage AGAIN, Can't Remember Name Of FEMA Head
It's not as bad as repeatedly asking where a dead person is, but it's still pretty bad.
It's another day, so Joe Biden got lost on another stage and forgot the name of the person he was talking to just moments earlier.
Biden was speaking at the FEMA headquarters with FEMA Administrator Deanne Criswell and DHS head Alejandro Mayorkas regarding the response to Hurricane Ian which hit Florida with force earlier this week.
Biden attempted to praise Criswell for her efforts, labelling her the "MVP," and saying that "these days" he has spent a lot of time with her.
Not enough time to recall her name though, as he struggled to remember and came out with "uhh, uh, Griswell," apparently completely forgetting her first name and butchering her last name.
Biden then wandered off his podium into a crowd of random office workers, who immediately started applauding him, while Criswell attempted to redirect him.
Watch as Mayorkas throws a 'WTF?' glance at Biden's handlers:
It's not as bad as repeatedly asking where a dead person is, as he did on Wednesday, but it's still pretty bad.
There are too many daily incidents like this to keep track of now:
SUBSCRIBE on YouTube:
Follow on Twitter:
Follow @PrisonPlanet
———————————————————————————————————————
Brand new merch now available! Get it at https://www.pjwshop.com/


ALERT! In the age of mass Silicon Valley censorship It is crucial that we stay in touch.

We need you to sign up for our free newsletter here.

Support our sponsor – Turbo Force – a supercharged boost of clean energy without the comedown.

Also, we urgently need your financial support here. ———————————————————————————————————————