Ilhan Omar Calls For "Eliminating Existence" of Border Patrol Officers
Because of what they think about black & brown people (despite 51% of CBP agents being Latino).
Congresswoman Ilhan Omar has called for "eliminating" Border Patrol officers because of their views towards black and brown people despite the fact that 51% of CPB agents are Latino.
The comments were made during an appearance on BET's Black Coffee show.
"We have rogue agencies that have no accountability, no transparency in how they conduct their business, we know they have spoken in the most vile ways about immigrants, we know that they have certain views about what brown and black people deserve," said Omar.
Ilhan Omar demonizes CBP officers, says it's time to talk about "eliminating their existence"

Omar says CBP officers have "certain views on what black or brown people deserve"

51% of CBP agents are Latinopic.twitter.com/GQUjf2cSrz

— Ryan Saavedra (@RealSaavedra) July 3, 2019
"So we should be having a conversation about eliminating their existence," she added, before accusing Border Patrol agents of terrorizing migrants.
According to the Customs and Border Protection (CBP), over half of agents who guard the borders between the U.S. and Mexico and the U.S. and Canada are Hispanic. That number is from 2008, so it's probably even higher now.
To portray CBP agents as some kind of vanguard of white supremacy is clearly wholly inaccurate and hysterical, but that's par for the course when it comes to Ilhan Omar.
The left's crusade against border security has kicked into high gear, with the New York Times publishing an op-ed this past weekend that called for the doxxing and public harassment of Border Patrol agents.
SUBSCRIBE on YouTube:
Follow on Twitter: Follow @PrisonPlanet
———————————————————————————————————————
There is a war on free speech. Without your support, my voice will be silenced.
Please sign up for the free newsletter here. Donate to me on SubscribeStar here.
Support my sponsor – Turbo Force – a supercharged boost of clean energy without the comedown.
———————————————————————————————————————
First Transgender Officer in U.S. Army Indicted For Allegedly Conspiring to Aid Russia
History made!
From The Daily Mail, "REVEALED: Johns Hopkin doctor told her trans Army officer wife to stop being a 'coward' and to 'work through' her 'ethical issues' to hand over medical information on senior military officers to Russians, indictment shows":
The wife of the US Army's first trans officer told her to stop being a 'coward' and to overlook 'ethical issues' when the couple tried to hand over medical records of senior military officers and their families to the Russian government.

Major Jamie Lee Henry, 39, and Johns Hopkins Dr. Anna Gabrielian, 36, were accused of using their secret security clearance at North Carolina's Fort Bragg to steal the records from the base's hospital, according to the Department of Justice.

Fort Bragg is among one of the most populated military installations in the world, housing about 52,000 active duty soldiers. The base is home to the US Army's Delta Force and Special Operations Forces.

The couple, from Rockville, Maryland, had communicated and met with an undercover FBI agent who they believed was from the Russian embassy in order to deliver files that the Kremlin 'could exploit.'

According to the indictment, which was unsealed on Thursday, Gabrielian said she was motivated by her patriotism to Russia, with Henry using her clearance as a staff internist to help secure the files.

'My point of view is until the United States actually declares war against Russia, I'm able to help as much as I want,' Henry allegedly told the undercover agent when they met to set up the deal in August. 'At that point, I'll have some ethical issues I'll have to work through.'

'You'll work through those ethical issues,' Gabrielian allegedly replied, adding that Henry was a 'coward' over fears of breaking HIPPA.
This sounds like a very convoluted FBI entrapment plot. One would think the FBI would have more pressing priorities but as we all know, they do not.
From the Department of Justice:
[…] According to the eight-count indictment, Gabrielian and Henry conspired to cause harm to the United States by providing confidential health information of Americans associated with the United States government and military to Russia. Specifically, the indictment alleges that beginning on August 17, 2022, Gabrielian and Henry conspired to provide IIHI related to patients at Medical Institution 1 and at Fort Bragg to an individual they believed to be working for the Russian government in order to demonstrate the level of Gabrielian's and Henry's access to IIHI of Americans; their willingness to provide IIHI to the Russian government; and the potential for the Russian government to gain insights into the medical conditions of individuals associated with the United States government and military in order to exploit this information.

Gabrielian and Henry met with an individual they believed to be associated with the Russian government, but who was, in fact, a Federal Bureau of Investigation Undercover Agent ("UC"), in order to convey to the UC their commitment to aid Russia, and to discuss ways in which they could help the Russian government. Gabrielian told the UC that she had previously reached out to the Russian embassy by email and phone, offering Russia her and her husband's assistance. Gabrielian told the UC that, although Henry knew of Gabrielian's interaction with the Russian Embassy, she never mentioned Henry's name to the Russian Embassy. Gabrielian wanted to make sure Henry could deny any knowledge of her actions. On August 17, 2022, Gabrielian met with the UC at a hotel in Baltimore. During that meeting, Gabrielian told the UC she was motivated by patriotism toward Russia to provide any assistance she could to Russia, even if it meant being fired or going to jail. Gabrielian proposed potential cover stories for meeting the UC and stressed the need for "plausible deniability" in the event she was confronted by American authorities about meeting with the UC. Gabrielian also told the UC that, as a military officer, Henry was currently a more important source for Russia than she was, because he had more helpful information, including how the United States military establishes an army hospital in war conditions and information about previous training provided by the United States military to Ukrainian military personnel. Gabrielian arranged to meet with the UC and Henry later that evening.

At about 8:10 p.m. that evening, the indictment alleges that Gabrielian and Henry met with the UC in the UC's hotel room. During the meeting, Henry explained to the UC he was committed to assisting Russia and had looked into volunteering to join the Russian Army after the conflict in Ukraine began, but Russia wanted people with "combat experience" and he did not have any. Henry further stated, "the way I am viewing what is going on in Ukraine now, is that the United States is using Ukrainians as a proxy for their own hatred toward Russia."
Sounds about right.
Henry and Gabrielian allegedly offered to provide the UC with private medical records from the United States Army and Medical Institution 1 in order to help the Russian government. During the same meeting, Gabrielian demanded that if she were put at significant risk of arrest, she wanted her and Henry's children to, "have a nice flight to Turkey to go on vacation because I don't want to end in jail here with my kids being hostages over my head." Henry also indicated that he was concerned about passing a background check for his security clearance, telling the UC, "I don't want to know your name . . . because I want plausible deniability too. In a security clearance situation they want to know names and people and all this stuff."
What's with all the misgendering? I thought "trans rights are human rights" and all that?
As detailed in the indictment, a few days later Gabrielian and the UC again met at the hotel in Baltimore to discuss providing Army medical records to the UC. Gabrielian told the UC that Henry was concerned about violating HIPAA, but Gabrielian had no such concerns. Gabrielian stated that she would check with Henry about providing medical records from Fort Bragg patients and get back in touch. The next day, Gabrielian sent a text to the UC, using coded language, to advise that Henry would provide Army medical records to the UC. On August 31, 2022, Gabrielian and Henry allegedly met the UC at a hotel room in Gaithersburg, Maryland. According to the indictment, Gabrielian provided the UC with IIHI related to two individuals, including the spouse of an employee of the Office of Naval Intelligence, whom Gabrielian pointed out had a medical condition Russia could "exploit." Henry also allegedly provided IIHI related to five individuals who were military veterans or related to military veterans.

If convicted, the defendants face a maximum sentence of five years in federal prison for the conspiracy, and a maximum of 10 years in federal prison for each count of disclosing IIHI. Actual sentences for federal crimes are typically less than the maximum penalties. A federal district court judge will determine any sentence after taking into account the U.S. Sentencing Guidelines and other statutory factors.

An indictment is not a finding of guilt. An individual charged by indictment is presumed innocent unless and until proven guilty at some later criminal proceedings.

United States Attorney Erek L. Barron commended the FBI for its work in the investigation and thanked the U.S. Army Counterintelligence for its collaboration Mr. Barron thanked Assistant U.S. Attorney Aaron S.J. Zelinsky, who is prosecuting the federal case.
What an incredibly stupid plot. This strikes me as yet another case of the FBI entrapping the mentally ill.
This post was originally published at Information Liberation
Videos: Biden Gets Lost, Looks For Dead Person, Rambles Incoherently and Yells "Don't Jump"
White House says it's just another day
Within the space of the past 24 hours Joe Biden displayed several more signs of severe cognitive decline as he asked where a dead Congresswoman was, got lost again on a stage, rambled incoherently during a speech and yelled "don't jump" at a random audience member at a health conference.
Is any of this normal?
Yep, according to The White House Press Secretary, there's nothing to worry about:
There are too many incidents to keep track of now:
SUBSCRIBE on YouTube:
Follow on Twitter:
Follow @PrisonPlanet
———————————————————————————————————————
Brand new merch now available! Get it at https://www.pjwshop.com/


ALERT! In the age of mass Silicon Valley censorship It is crucial that we stay in touch.

We need you to sign up for our free newsletter here.

Support our sponsor – Turbo Force – a supercharged boost of clean energy without the comedown.

Also, we urgently need your financial support here. ———————————————————————————————————————
Ian Makes Landfall As "Catastrophic" Category 4 Hurricane On Southwest Florida
Update (1510ET):
Accuweather has declared Hurricane Ian made landfall around 1420 ET on North Captiva Island, a barrier island just west of Fort Myers, Florida. The storm came ashore with maximum sustained winds of 155 mph.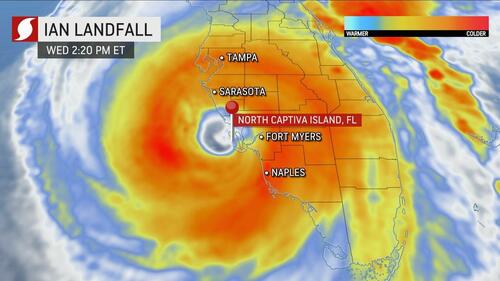 This is absolutely shocking… 
Sharknado?
* * *
Update (1247ET):
The National Weather Service reports powerful Hurricane Ian is nearing landfall on the southwest coast of Florida. NWS expects "catastrophic storm surge and wind damage" will occur across Charlotte County, just north of Fort Myers.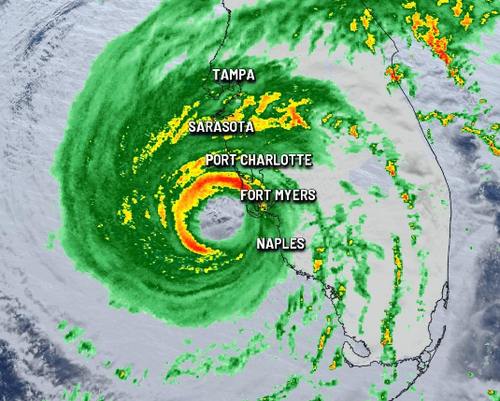 Recent readings showed Ian had sustained winds of 155 mph, only 2 mph shy of a Category 5 storm. As of 1144 ET, the storm's "outer eyewall" was about 20 miles from land, according to meteorologist Jason Boyer. 
NWS provided satellite footage of Ian encompassing nearly the whole state of Florida.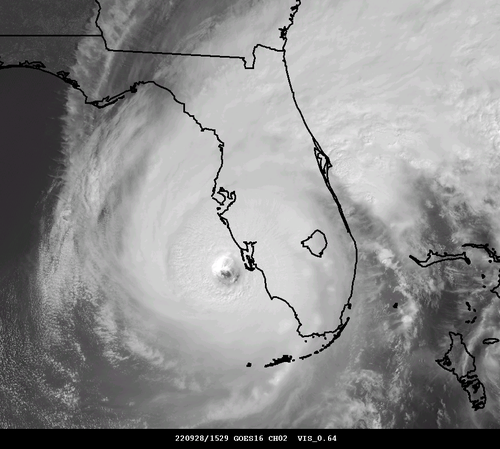 NWS shows a 12-18 feet storm surge forecasted for Charlotte County.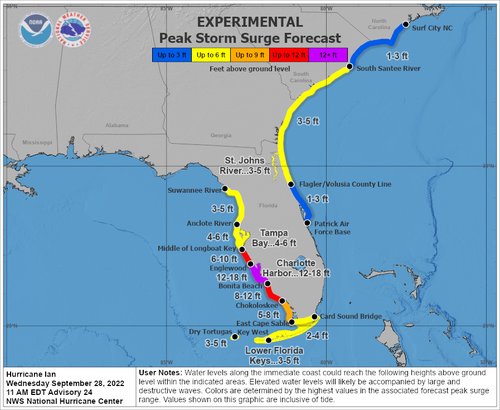 Horrifying videos have been posted on social media showing Ian's wrath ahead of landfall expected this afternoon. 
* * *
Update (0739ET):
Hurricane Ian continues to strengthen ahead of landfall. As of 0733 ET, the National Hurricane Center said Ian's sustained maximum winds were 155 mph, just 2 mph shy of a Cat. 5 storm.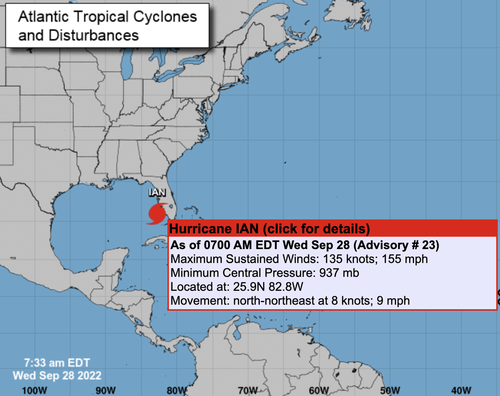 * * *
Hurricane Ian strengthened into a powerful Category 4 storm expected to make landfall on Florida's southwest coast today and then traverse central Florida and emerge in the Atlantic by Thursday.
At 0500 ET, the National Hurricane Center said Ian sustained maximum winds of 140 mph and gusts up to 165 mph. The storm's center was about 75 miles west-southwest of Naples and 105 miles south-southwest of Punta Gorda, moving north-northeast at 10 mph.
"Ian is forecast to approach the west coast of Florida as an extremely dangerous major hurricane, weakening is expected after landfall.

"On the forecast track, the center of Ian is expected to approach the west coast of Florida within the hurricane warning area this morning, and move onshore later today. The center of Ian is forecast to move over central Florida tonight and Thursday morning and emerge over the western Atlantic by late Thursday," NHC senior hurricane specialist Daniel Brown told Orlando Sentinel.
Ian's path has shifted south of Tampa Bay, and landfall is now expected between Fort Myers and Sarasota on Wednesday morning or early afternoon before moving across the central part of the state.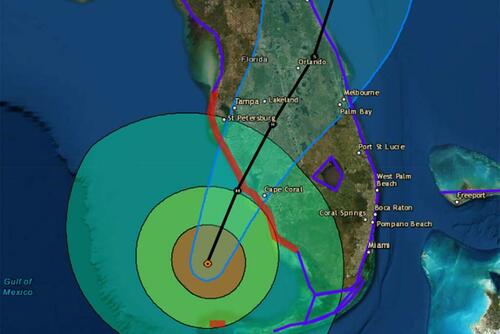 NHC warned a "life-threatening storm surge is expected along the Florida west coast and the Lower Florida Keys," with "devastating wind damage" expected near Ian's center.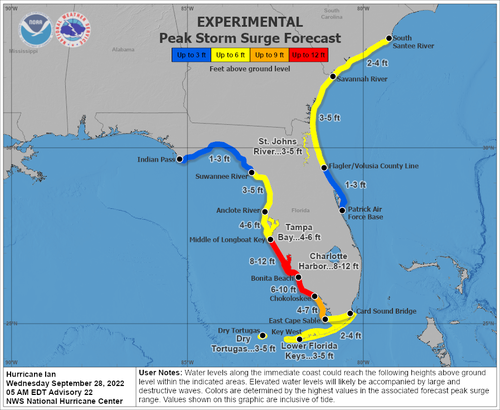 "Catastrophic flooding is expected across portions of central Florida with considerable flooding in southern Florida, northern Florida, southeastern Georgia and coastal South Carolina," the weather agency continued.
"It's going to be historic," National Weather Service Melbourne meteorologist Kole Fehling in Melbourne, referring to the storm's landfall impacts.
Fehling said Central Florida could be swamped with 15 to 20 inches of rainfall, with some areas receiving upwards of 24 inches.
"The normal value for the amount of rainfall over the entire year is about 52 inches," he said. "So if we were to see those higher- end totals, we could be experiencing half of our total annual rainfall in a very short period of time."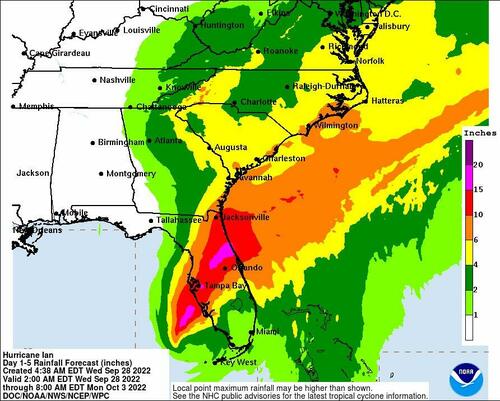 On Tuesday night, Florida Governor Ron DeSantis told residents:
"You need to evacuate now. You're going to start feeling major impacts of this storm relatively soon."
Millions of Floridians are under evacuation orders or advisories as DeSantis activated the National Guard earlier this week before the storm's arrival.
There are notable economic impacts due to adverse weather conditions in the region. On Tuesday evening, US energy companies idled 190,000 barrels of daily crude production, some 11% of US Gulf of Mexico output.
Bloomberg pointed out that the "nation's production of phosphate fertilizer" is in the storm's path.
Chuck Watson, a disaster modeler with Enki Research, said Mosaic's New Wales plant is "right in the middle of the damage swath," adding the facility "could be out for weeks."
Bloomberg said Ian could cause $45 billion in damage, which would make it one of the most costly storms in the country's history.
By late Tuesday, over 2,000 flights to and from Florida were canceled. Flight delays and cancelations could spill over to the rest of the country.
This post was originally published at Zero Hedge