Knitting Website Bans Expressions of Support For Donald Trump to be More "Inclusive"
Up is down. Down is up.
A knitting website with more than 8 million members has banned users from expressing support for President Donald Trump in order to be more "inclusive".
Because what could be more "inclusive" than not including potentially millions of people?
Administrators for Ravelry said they were "making any expression of support for Trump and his administration in forum posts, patterns, on their personal profile pages or elsewhere permanently off limits" in order to combat "white supremacy".
We are banning support of Donald Trump and his administration on Ravelry. We cannot provide a space that is inclusive of all and also allow support for open white supremacy. More details: https://t.co/hEyu9LjqXa

— Ravelry (@ravelry) June 23, 2019
Users who express support for Trump may not only have their posts removed, but could be banned permanently.
The tweet received over 50,000 likes and an onslaught of media attention, proving once again how lame virtue signaling is the easiest way to acquire free advertising.
The left relentlessly proclaims its love for "diversity," until it comes to diversity of opinion, which is ruthlessly silenced at every available opportunity.
———————————————————————————————————————
There is a war on free speech. Without your support, my voice will be silenced.
Please sign up for the free newsletter here. Donate to me on SubscribeStar here.
Support my sponsor – Turbo Force – a supercharged boost of clean energy without the comedown.
———————————————————————————————————————
Twitter Censors Trump Tweet For "Glorifying Violence"
"We've taken action in the interest of preventing others from being inspired to commit violent acts"
Following the signing of an Executive order directly targeting Twitter's censorship of President Trump's posts earlier this week, the company has once again censored a tweet Trump posted, claiming that it "violated the Twitter Rules about glorifying violence".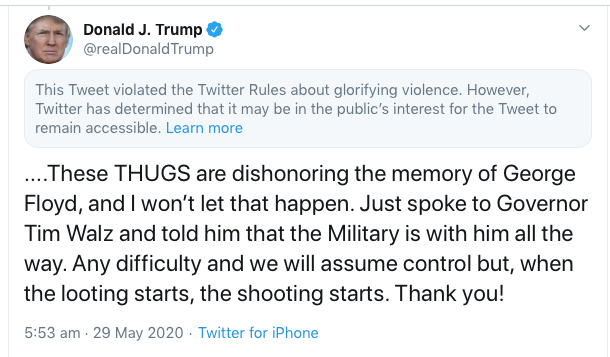 The tweet in question was a response to a third day of looting in Minneapolis.
Trump wrote: "These THUGS are dishonoring the memory of George Floyd, and I won't let that happen. Just spoke to Governor Tim Walz and told him that the Military is with him all the way. Any difficulty and we will assume control but, when the looting starts, the shooting starts. Thank you!"
In a further statement, Twitter claimed that the tweet "violates our policies regarding the glorification of violence based on the historical context of the last line, its connection to violence, and the risk it could inspire similar actions today."
The company added, "We've taken action in the interest of preventing others from being inspired to commit violent acts, but have kept the Tweet on Twitter because it is important that the public still be able to see the Tweet given its relevance to ongoing matters of public importance."
According to Twitter, "As is standard with this notice, engagements with the Tweet will be limited. People will be able to Retweet with Comment, but will not be able to Like, Reply or Retweet it."
It is clear that Twitter's action is a tit-for-tat response to Trump's Executive order, as it will likely only increase scrutiny of the tweet content itself anyway.
The company even tweeted about the censoring of the tweet:
We have placed a public interest notice on this Tweet from @realdonaldtrump. https://t.co/6RHX56G2zt

— Twitter Comms (@TwitterComms) May 29, 2020
According to reports, the decision to place a "public interest notice" on Trump's tweet was "made by teams within Twitter and CEO Jack Dorsey was informed of the plan before the tweet was labeled."
Trump had earlier tweeted a 'test' post to see if the company would again censor him:
MAIL-IN VOTING WILL LEAD TO MASSIVE FRAUD AND ABUSE. IT WILL ALSO LEAD TO THE END OF OUR GREAT REPUBLICAN PARTY. WE CAN NEVER LET THIS TRAGEDY BEFALL OUR NATION. BIG MAIL-IN VICTORY IN TEXAS COURT TODAY. CONGRATS!!!

— Donald J. Trump (@realDonaldTrump) May 29, 2020
There was no action taken by Twitter, a confusing situation given that it censored the exact same words in Trump's post earlier this week, redirecting people away from it and to a barrage of ultra-leftist opinion.
The notion that Twitter takes action against glorifying violence across the board is laughable, given that the company allows literal death threats against Trump to remain on its platform every day.
The company recently allowed a thread comprising entirely of white people "getting their ass beat for black history month" to remain, as it racked up over 335,000 likes, despite being a clear violation of Twitter rules.
Twitter allows violent Antifa groups to post on its platform, despite the fact that they often openly doxx people.
"Twitter, do your thing" has become a dog whistle being used by digital hate mobs to cyberbully, doxx and harass minors. Families are being exposed to violent threats and nothing is being done to stop it.
Just yesterday, Twitter allowed huge amounts of verified users to spread fake pictures purporting to show Minneapolis police officer Derek Chauvin wearing a "Make Whites Great Again" hat.
The platform is even being used reportedly to sell child porn.
Twitter is not a level playing field, it routinely censors conservative opinion, and even apolitical material merely mentioned by conservatives, while leaving alone all kinds of filth and hate.
Hollywood Vapids Celebrate POTUS Being Censored By Twitter
"Welcome to Accountability Bitch."
Hollywood braindeads celebrated Wednesday as it emerged that Twitter is actively censoring the President of The United States and directing anyone who reads Trump's tweets to a barrage of leftist opinion overseen by a hardcore anti-trumper.
Here's just a small selection of pointless out of work celebrities cheering the big-tech censorship:
MASSIVE. Twitter says it will put a warning label on the Lies and Disinformation tweeted by Trump. Since Trump is incapable of tweeting without lying, adios amigo. And don't let the door hit you on the way out.

— Rob Reiner (@robreiner) May 26, 2020
@realDonaldTrump welcome to accountability bitch! https://t.co/a3ETM5JB2R

— Super Duper Dave Bautista (@DaveBautista) May 27, 2020
Nope. Just correcting your lies.

— Alyssa Milano (@Alyssa_Milano) May 27, 2020
— Ken Jeong (@kenjeong) May 27, 2020
Your incompetence led to the unnecessary deaths of tens of thousands of innocent Americans and destroyed the economy that @BarackObama built. You're a racist birther, a puppet of Vladimir Putin and a conman. You're destroying our future. Fact check that, you malignant narcissist. https://t.co/WalxYKVgiV

— Bradley Whitford (@BradleyWhitford) May 27, 2020
that didn't take long, did it….?🙄

Twitter labels Trump's tweets with a fact check for the first time – The Washington Post https://t.co/ifd4Ajv9Pc

— Don Cheadle (@DonCheadle) May 27, 2020
This is excellent. Trumps false claims will now be flagged as such pic.twitter.com/Fct3moRvi8

— Mia Farrow (@MiaFarrow) May 26, 2020
Thank you @Twitter for slapping this fact-check on Dear Leader. pic.twitter.com/r73T2UhKqB

— George Takei (@GeorgeTakei) May 26, 2020
They've long been clambering for Orange man to be silenced. Mere censorship isn't enough for some:
Donald Trump is officially the most loathsome man on the planet: Twitter Must Cleanse the Trump Stain https://t.co/mfSIxX1R9B

— bettemidler (@BetteMidler) May 26, 2020
From Psycho Joe to Sleepy Joe.

From mail in ballot fraud to Connor Lamb fraud.

From Obamagate to Poligrip to buffet tables to skanks.

Translation: Trump sees the polls and 100,000 dead and is in full, tilt, boogie panic mode.#TakeTrumpOffTwitter pic.twitter.com/guX8wc2bsc

— Billy Baldwin (@BillyBaldwin) May 26, 2020
While Twitter has instituted 'fact checking' on Trump's tweets, other governments and heads of state, such as the Communist Chinese, have not been subject to such censorship.
Members of the CCP in China are free to regularly claim that the coronavirus is a US bio-weapon, intentionally released in China by the US military.
The #US keeps calling for transparency & investigation. Why not open up Fort Detrick & other bio-labs for international review? Why not invite #WHO & int'l experts to the US to look into #COVID19 source & response?

— Hua Chunying 华春莹 (@SpokespersonCHN) May 8, 2020
This article is very much important to each and every one of us. Please read and retweet it. COVID-19: Further Evidence that the Virus Originated in the US. https://t.co/LPanIo40MR

— Lijian Zhao 赵立坚 (@zlj517) March 13, 2020
2/2 CDC was caught on the spot. When did patient zero begin in US? How many people are infected? What are the names of the hospitals? It might be US army who brought the epidemic to Wuhan. Be transparent! Make public your data! US owe us an explanation! pic.twitter.com/vYNZRFPWo3

— Lijian Zhao 赵立坚 (@zlj517) March 12, 2020
In our fight against #COVID19, the Chinese government has always been open, transparent & responsible. We always speak the truth with facts. It's crystal clear which country has been doing everything possible to ensure people's life & health & promote anti-pandemic cooperation. pic.twitter.com/jGXXVbElPL

— Spokesperson发言人办公室 (@MFA_China) May 21, 2020
No fact check for them.
When Twitter was questioned as to why these posts were allowed without 'fact checks', while other people's posts were being removed or censored, the company responded by saying it 'makes an exception for government officials.'
The World Health organisation tweeted that the coronavirus was not transmissible between humans, at the behest of China.
Hey, Twitter fact-check required! https://t.co/9RNGyo7IGw

— Paul Joseph Watson (@PrisonPlanet) May 26, 2020
No fact check for them.
Seems like its one rule for Trump and another for the Communist Chinese government, as far as Twitter and Google are concerned.
Senator To Google: 'Kowtowing To Communist China Is Unacceptable'
Hawley says Google has "long disturbing pattern" of appeasing Chinese government.
Senator Josh Hawley (R-MO) penned a letter to Google this week asking for an explanation as to why the company censored YouTube comments that were critical of the Chinese Communist Party, rejecting a previous claim from Google that it was a 'technical error' they are trying to fix.
The case stems from a human-rights activist discovering that YouTube is seemingly censoring at least two Chinese-language phrases that the Communist government finds offensive.
The phrases are "communist bandit" and "50-cent party".
#YouTube "automatically" deletes a comment in Chinese, "Gongfei", which means "communist bandit", in 15 seconds.
This person tested 3 times, same result. #油管 15秒內自動刪除「共匪」留言,網友連試三次皆如此。
他們找了個比李飛飛更厲害的AI專家? pic.twitter.com/MLCeko0SIY

— Jennifer Zeng 曾錚 (@jenniferatntd) May 13, 2020
When it looked into the matter, The Verge found that YouTube has placed the phrases on a filter that automatically deletes them, no matter what context they are used in. The report noted that it is a strange practice by Google because YouTube is completely blocked in China anyway.
Senator Hawley said in his letter to Google CEO Sundar Pichai, that the behaviour is part of a "long disturbing pattern" of pandering to the Communist party.
"This kowtowing is unacceptable," Hawley wrote, adding that "Selling out American principles to curry favor with communist officials is no way to run an American business — regardless of who else is doing it."
NEW: @HawleyMO is demanding that @Google's Sundar Pichai provide information about censorship of YouTube comments critical of China's Communist Party.

"Selling out American principles to curry favor with communist officials is no way to run an American business."

FULL: pic.twitter.com/N5pfwRGTs3

— j.d. durkin (@jiveDurkey) May 27, 2020
Prior to Hawley's letter, Indiana Rep. Jim Banks also wrote to Google this week demanding an explanation as to why the company is censoring criticism of the Chinese government, even on videos uploaded by Americans and hosted in the US.
.@PalmerLuckey reported that @YouTube is removing comments w/ the word "Wumao," which refers to #CCP's army of paid bots.

Is Project Dragonfly going global? Google must stop imitating #CCP censorship practices now.

Read my letter to @google 👇 pic.twitter.com/TWPkDFvvYn

— Jim Banks (@RepJimBanks) May 26, 2020
Google is actively censoring Americans in America in order to cosy up to the Communist Chinese government.
Is it time to regulate big tech yet?