Sweden: Church in Migrant Heavy Area Targeted With Explosion For Second Time
Police say attack suggests there is "a motive against the church".
A church in a migrant-heavy area of Sweden was targeted for a second time by a loud bomb blast that woke up shocked residents in the middle of the night.
Police were called to the site of the Syrian Orthodox Church St. Afrem in Södertälje after residents reported hearing a huge explosion at 3am.
According to reports, authorities quickly concluded that a device had been detonated in a building adjacent to the church which is rented out as a party room.
Having established that there were no victims, the National Bomb Guard was called to carry out an investigation.
Intressant morgon, liksom alla andra dagar denna veckan. #Explosion #bränder #gäng #skjutningar #svpol #Borås #Södertälje pic.twitter.com/WtMxgrxcCS

— Johan Sangberg (@konstsmeden) June 14, 2019
Police say the fact that this is the second time the church has been targeted – there was another explosion last fall – means there is probably "a motive against the church".
Authorities said such attacks are difficult to investigate because "the perpetrators disappear quickly from the site".
Sodertalje, a city 30 kilometers southwest of Stockholm, has a large immigrant population which was swelled by the most recent "refugee" wave. More than 50 per cent of the population now hail from migrant backgrounds.
According to a Radio Sweden report, Sodertalje received "the largest percentage of refugees and this in turn has caused major problems."
As we highlighted yesterday, grenade attacks and deadly shootings in Sweden – concerns over which were once derided as a conspiracy theory by the media – now represent a "national emergency" according to a new report.
———————————————————————————————————————
There is a war on free speech. Without your support, my voice will be silenced.
Please sign up for the free newsletter here. Donate to me on SubscribeStar here.
Support my sponsor – Turbo Force – a supercharged boost of clean energy without the comedown.
———————————————————————————————————————
PANIC: Searches For 'Virus Mask' Explode Online
Washington residents worried after confirmed case in Seattle; Man treated by ROBOT
Search engine requests for 'virus mask' have exploded as panic begins to set in regarding the deadly coronavirus, which experts have warned could lead to a global pandemic.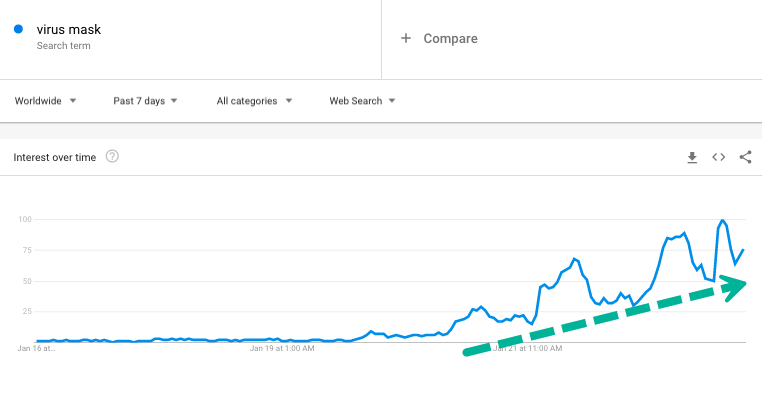 The spike is comparable to those registered during other major virus outbreaks:

The searches for "virus mask" are most prevalent in Singapore, China, Macao, Hong Kong, and the Philippines.

Other related searches are exploding: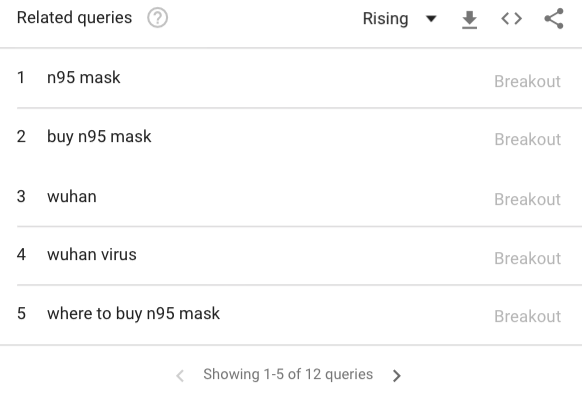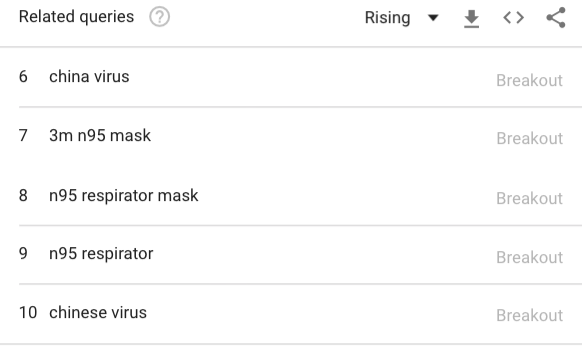 Statistics also show that in the US, people in Washington, Hawaii, California, the District of Columbia, and Massachusetts are the ones doing the most googling:

Cases of the killer virus have not only been reported in China but also in Singapore, Thailand, Japan, South Korea, and Vietnam.
A suspected case is being investigated in Texas, while The CDC has confirmed a traveler from China has been diagnosed in Seattle.
CNN reports that the man arrived to hospital in an ISOPOD and is being treated largely by a robot, in an effort to avoid any spread of the virus:
The man arrived at the hospital in a special isolated gurney called an ISOPOD and has been treated in a two-bed isolated area, says Dr. George Diaz, chief of the infectious disease division at the Providence Regional Medical Center in Everett, Washington. https://t.co/HznZCw6tEH pic.twitter.com/YDpIxFUHES

— CNN (@CNN) January 24, 2020
There are also several potential cases in the UK, prompting the government to call an emergency meeting.
Several frightening videos purporting to show victims of the virus have emerged, including people dropping dead in the street and a man being wheeled away in a giant quarantine box:
Chinese authorities transporting a person infected with the coronavirus in a box 😂 #ChinaVirus #coronovirus pic.twitter.com/surpfI2sZc

— يوسف (@DashtiUsef) January 23, 2020
In #Wuhan,people are collapsing on streets due to the deadly #WuhanPneumonia .
so helpless.#WuhanCoronavirus #WuhanOutbreak pic.twitter.com/X5ho3Llpcm

— 巴丢草 Badiucao (@badiucao) January 23, 2020
More and more…pic.twitter.com/z5Dpu7RASa

— Turkish Market (@kamerknc) January 23, 2020
Bugün kaçıncı oldu bu yerde rastgele yatanların videosu… Vücut pat diye gidiyor. pic.twitter.com/29YA3uZCCu

— Turkish Market (@kamerknc) January 23, 2020
There have been multiple cases of people collapsing on the streets due to the coronavirus outbreak in Wuhan & various parts of China#WuhanCoronavirus #Wuhan#WuhanOutbreak #China pic.twitter.com/4iIwJCGl0M

— Jimmy Lee Curtains (@WulfMunkey) January 23, 2020
Video: Man With Suspected Killer Virus Wheeled Away in Huge Box
WTF Is This?
Bizarre footage has emerged of a man in China, suspected of having the killer coronavirus, being wheeled away to a fate unknown in some kind of huge quarantine box.
The footage shows a man dressed in a hazmat suit, mask and gloves being transported to an ambulance outside the airport in the city of Fuzhou in south-eastern China.
Chinese authorities transporting a person infected with the coronavirus in a box 😂 #ChinaVirus #coronovirus pic.twitter.com/surpfI2sZc

— يوسف (@DashtiUsef) January 23, 2020
This all seems perfectly normal, right?
Reports continue to suggest that the deadly coronavirus is out of control in China, and an attempted cover up is underway.
Entire cities are in lockdown and more footage has emerged of people dropping dead in the streets.
As we highlighted yesterday, a biosafety level 4 laboratory that studies the "world's most dangerous pathogens" is based in Wuhan, leading some to speculate whether the virus was accidentally released.
However, officials say the source of the outbreak was an illegal animal market in Wuhan which sold bats and snakes.
Killer Coronavirus Reaches UK?
Government calls emergency COBRA meeting
The British government has called an emergency meeting after medical experts warned that it is 'highly likely' that the deadly super-bug has already reached UK shores.
The Cobra contingencies committee convened at the Cabinet Office in London, where Health Secretary Matt Hancock told press that "the clinical advice is that the risk to the public remains low and the chief medical officer will be making a full statement later today."
Dr Paul Cosford, Director of Health Protection, noted that several suspected cases of the virus, which originated in China, are still ongoing with results expected today.
Speaking on BBC radio, Cosford said "There are no positive cases in the UK as yet, but we will go on testing and those numbers will of course change."
"I think it's highly likely that we will have cases in the UK, and of course every so often we do get new infections coming from the animal kingdom such as this one." he added.
According to a BBC report, a total of 14 people have been tested in the UK, with nine people awaiting results and five getting the all clear.
The head of infection medicine at the University of Edinburgh, Professor Jurgen Haas, confirmed that four people in Scotland have exhibited symptoms of the virus.
Haas told the Press Association: "The situation will be pretty similar in pretty much all UK cities with a large number of Chinese students.
"It's not too surprising. My suspicion is that there will probably be many more cases in many other cities in the UK." Haas added.
Meanwhile, in the US, officials at the Brazos County Health District in Texas said Thursday they are investigating a suspected case of the virus in a student at Texas A&M University.