Islamic Minaret Should Replace Notre Dame Spire, Says Architecture Expert
As an apology to Algerian Muslims.
An architecture expert has called for Notre Dame's fallen spire to be replaced with an Islamic minaret as an apology to Algerian Muslims killed by French police.
Writing in Domus, Tom Wilkinson, history editor of the Architectural Review, argues that the rebuild is an opportunity to communicate a message of political correctness.
"I can't say I ever thought it the most beautiful cathedral in the world," writes Wilkinson, before going on to slam Eugène Viollet-le-Duc, the cathedral's 19th century restorer, accusing him of "utterly unforgettable fantasies of structural engineering".
He goes on to call for the rebuild to reflect "a more up-to-date form of political truth," which could include "transforming Notre-Dame into a memorial to the generations of peasants who were exploited to fund it."
According to Wilkinson, it could also include replacing the church's perished 200 year old spire with an Islamic minaret.
My Modest Proposal for the spire of Notre Dame: replace it with a minaret https://t.co/6EsiVNuZpY

— Tom Wilkinson (@TMOWilkinson) April 18, 2019
"What about the approximately 100 Algerians who were killed by the French police while protesting the Algerian War in 1961, many of them thrown into the Seine at the foot of Notre-Dame?" he writes.
"These victims of the state could be memorialised by replacing Viollet-le-Duc's flèche with – why not? – a graceful minaret."
A minaret is a tower built next to a mosque that is normally used to broadcast the Islamic call to prayer.
As I document in the video below, while Wilkinson's proposal is unlikely to be taken seriously, top architects and President Macron himself have called for the rebuild of Notre Dame to reflect the country's new "diversity".
The favorite to secure the rebuilding contract, Foster + Partners, has been responsible for some of western architecture's most hideous eyesores, including the new 'Tulip' tower in London, which critics say reminds them of a giant dildo.
Those who prayed for Notre Dame to be rescued from the fires that nearly destroyed it should keep praying because the threat posed by modernist architects may be substantially greater.
This is Paul Joseph Watson with a special message to my supporters. Big Tech wants to stop us from communicating. Don't let them. Get the inside track and bypass the censorship by signing up for the Summit newsletter right here.
SUBSCRIBE on YouTube:
Follow on Twitter: Follow @PrisonPlanet
'Golden Demon' Statue Placed Atop New York Courthouse to Honor Ruth Bader Ginsburg and Abortion
A new state-sanctioned desecration of our heritage just dropped.
The demon statue to honor Ginsberg sticks out like a sore thumb.
"The image of justice as a woman has been present for centuries, but women only gained juridical voice in the last one," Pakistani-born Shahzia Sikander said her artist's statement. "Despite years of women's struggle for legal socio-economic and political equality, gender bias still continues to create barriers for many women, whether it is health and education rights, equal economic opportunities, gender-based violence and race, or class discrimination."
What were the "barriers" stopping you from having this monstrosity placed atop the courthouse?
There are no barriers to anything anymore — that's why giant piles of garbage are desecrating all of our public spaces.
Contrast Sikander's garbage heap with the original work of art designed by James Brown Lord: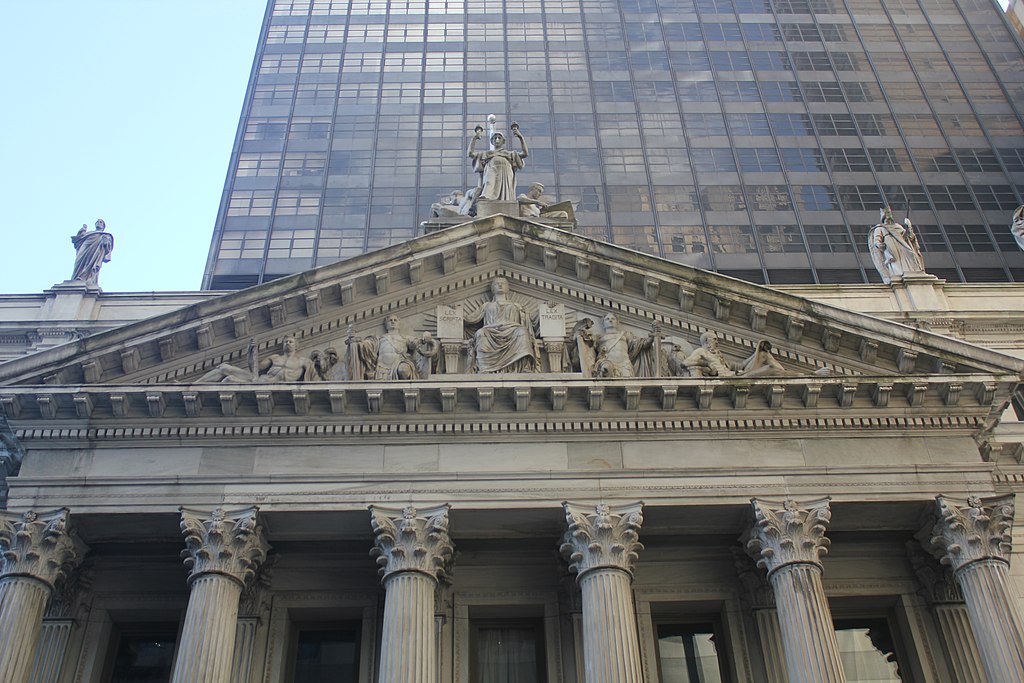 [Image source: EpicGenius, CC BY-SA 4.0]
[Image source: Beyond My Ken, CC BY-SA 4.0]
[Image source: Beyond My Ken, CC BY-SA 4.0]
We need more barriers to protect our heritage, not less. One would think plain old shame would serve as a "barrier" to prevent such desecrations but our ruling elites are clearly utterly shameless.
This post was originally published at Information Liberation
Sh*thouses
Globalist architecture.
In an age of ugliness, a work of beauty is an act of defiance.
Let's check in on modern architecture.
Please share this video! https://youtu.be/RsUFIWD-5fk
SUBSCRIBE on YouTube:
Follow on Twitter: Follow @PrisonPlanet
———————————————————————————————————————
Brand new merch now available! Get it at https://www.pjwshop.com/
ALERT!
In the age of mass Silicon Valley censorship It is crucial that we stay in touch.
I need you to sign up for my free newsletter here.
Support my sponsor – Turbo Force – a supercharged boost of clean energy without the comedown.
Get early access, exclusive content and behind the scenes stuff by following me on Locals.
———————————————————————————————————————
Video: More Idiots Allowed To Damage Priceless Art In Latest 'Climate Protest'
Why were they allowed to return for a photo op?
More 'climate change activists' were allowed to vandalise a valuable artwork in Milan, Italy Sunday in the latest display of pointless attention seeking adolescent petulance.
Three youths and an older woman from a group that calls itself 'Last Generation' managed to throw flour all over a Andy Warhol piece, before being incomprehensibly allowed to return to the scene and sit cross legged on the ground next to the work like stubborn toddlers refusing to play nice.
The work they targeted was Warhol's BMW Art Car, a painted sports car from 1979 that resides in Milan's Fabbrica del Vapore.
The group had planned to glue themselves to the car windows, but were dragged away before they had the chance, according to reports.
Further footage shows they were, however, brought back to sit in front of the car for the media.
The elder woman, a university researcher wearing a shirt on which was scrawled "we have 858 days left," stated that "staying in the classroom or in workshop with my students without trying everything possible to get governments to do their part has become unbearable to me," further declaring that she was helping "the last generation on the face of the planet that can still do something."
BMW's cultural engagement department issued a response noting "Art is as priceless as it is untouchable. It belongs to all of humanity and reflects the great achievements of which each of us is capable. Andy Warhol's 1979 Art Car is a unique masterpiece and we have no sympathy for a violent attack on the artist's work defaced for many decades."
As we highlighted last week, dozens of museums issued a statement condemning the attacks and stating that they are "deeply shaken by their risky endangerment."
The culprits believe that attention-seeking to propagandize for climate change activism, a cause amplified by virtually every major media outlet, corporation, the entertainment industry, cultural institution, government and academia, is some kind of rebellious, edgy statement.
It isn't.
How about the vandals do us all a favour and go after this shit instead?
SUBSCRIBE on YouTube:
Follow on Twitter:
Follow @PrisonPlanet
———————————————————————————————————————
Brand new merch now available! Get it at https://www.pjwshop.com/


ALERT! In the age of mass Silicon Valley censorship It is crucial that we stay in touch.

We need you to sign up for our free newsletter here.

Support our sponsor – Turbo Force – a supercharged boost of clean energy without the comedown.

Also, we urgently need your financial support here. ———————————————————————————————————————