Vladimir Putin Calls For Defending Internet Free Speech
When rulers of authoritarian regimes are more pro-freedom than western leaders.
In stark contrast to attempts in numerous western countries to stifle free speech online, Russian President Vladimir Putin defended Internet freedom during a conference earlier today.
When rulers of authoritarian regimes are more pro-freedom than western leaders, you know we're in trouble.
Putin told the Russian Internet Governance Forum, "I am confident that we should continue to follow the principle of the freedom of the Internet, creating conditions for a wide exchange of information and the implementation of business initiatives and startups."
The Russian leader said that it was important to balance free speech online with concerns about tackling cyber-crime and illegal content.
When the leader of an openly authoritarian regime believes in free speech more than most western leaders. pic.twitter.com/2LisRR4eqZ

— Paul Joseph Watson (@PrisonPlanet) April 8, 2019
Putin's position is at odds with many western leaders, who have elevated concerns about "fake news" and people's feelings being hurt over free speech.
In addition to the widespread banning and deplatforming of numerous dissident speakers over the course of the last year, Internet regulation by the state is also intensifying in the west.
According to reports, the UK is about to impose what some are calling "the toughest Internet laws in the world" in the name of stopping cyber-bullying and the spread of "disinformation".
The European Union also recently passed Article 13, which some fear could lead to the banning of memes.
In the not too distant future, the Russian Internet, where for example you can criticize transgenderism without the risk of being arrested (unlike in the UK), might be more free than anywhere in western Europe.
I can think of nothing more humiliating than that.
SUBSCRIBE on YouTube:
Follow on Twitter: Follow @PrisonPlanet
Elon Musk Meets With Tim Cook, Says They Resolved 'Misunderstanding' About Twitter Being Purged From App Store
"This Is Appalling": Major Tax Filing Services Have Been Sending Financial Information To Facebook
Major tax filing services, including H&R Block, TaxAct and TaxSlayer, have been covertly sending Facebook sensitive financial information when Americans file their taxes online, according to The Markup.
The data includes names, email addresses, income, filing status, refund amounts and college scholarship information – which is sent to Facebook regardless of whether a person even has a Facebook account – or with other platforms owned by Meta. The company can then be used to fine tune advertising algorithms.
It is sent through widely used code called the Meta Pixel.
Of note, Intuit-owned TurboTax does use Meta Pixel, however the company did not send financial information – just usernames and the last time a device signed in. Beyond that, they have kept Pixel entirely off pages beyond sign in.
Each year, the Internal Revenue Service processes about 150 million individual returns filed electronically, and some of the most widely used e-filing services employ the pixel, The Markup found.

When users sign up to file their taxes with the popular service TaxAct, for example, they're asked to provide personal information to calculate their returns, including how much money they make and their investments. A pixel on TaxAct's website then sent some of that data to Facebook, including users' filing status, their adjusted gross income, and the amount of their refund, according to a review by The Markup. Income was rounded to the nearest thousand and refund to the nearest hundred. The pixel also sent the names of dependents in an obfuscated, but generally reversible, format. -The Markup
TaxAct, which services around three million "consumer and professional users," also sends data to Google via the company's analytics tool, however names are not included in the information.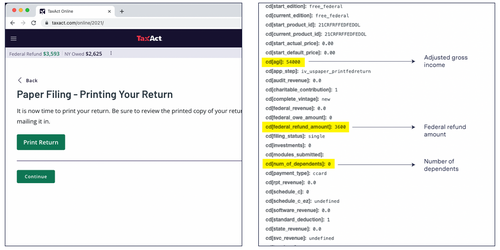 "We take the privacy of our customers' data very seriously," said TaxAct spokeswoman Nicole Coburn. "TaxAct, at all times, endeavors to comply with all IRS regulations."
H&R Block embedded a pixel on its site that included information on filers' health savings account usage, dependents' college tuition grants and expenses. The company similarly claimed in a very boilerplate statement that they "regularly evaluate[s] our practices as part of our ongoing commitment to privacy, and will review the information."
While TaxSlayer – which says it completed 10 million federal and state returns last year – provided Facebook information on filers as part of the social media giant's "advanced matching" system which attempts to link information from people browsing the web to Facebook accounts. The information sent includes phone numbers and the name of the user filling out the form, as well as the names of any dependents added to the return. Specific demographic information was also obscured, but Facebook was still able to link them to existing profiles.
Another tax filing service, Ramsey Solutions, told The Markup that the company "implemented the Meta Pixel to deliver a more personalized customer experience," but that they "did NOT know and were never notified that personal tax information was being collected by Facebook from the Pixel."
"As soon as we found out, we immediately informed TaxSlayer to deactivate the Pixel from Ramsey SmartTax."
Harvard Law School lecturer and tax law specialist Mandi Matlock said the findings showed that taxpayers have been "providing some of the most sensitive information that they own, and it's being exploited."
"This is appalling," she added. "It truly is."
Read more here…
This post was originally published at Zero Hedge
SUBSCRIBE on YouTube:
Follow on Twitter:
Follow @PrisonPlanet
———————————————————————————————————————
Brand new merch now available! Get it at https://www.pjwshop.com/


ALERT! In the age of mass Silicon Valley censorship It is crucial that we stay in touch.

We need you to sign up for our free newsletter here.

Support our sponsor – Turbo Force – a supercharged boost of clean energy without the comedown.

Also, we urgently need your financial support here. ———————————————————————————————————————
Democrat Intel Senator: "Trump Was Right" About TikTok
"All of that data that your child is inputting and receiving is being stored somewhere in Beijing."
The top ranking Democrat on the Senate Intelligence Committee warned Sunday that TikTok is a national security threat and that President Trump was right to want to ban it in 2020.
Committee Chairman Senator Mark Warner told Fox News Sunday "I think Donald Trump was right, I mean, TikTok is an enormous threat, it's a threat on two levels."
"One, it is a massive collector of information, oftentimes of our children. They can visualize even down to your keystrokes. So If you're a parent and you've got a kid on TikTok, I would be very, very concerned," Warner explained.
He added, "All of that data that your child is inputting and receiving is being stored somewhere in Beijing."
"The idea that we can somehow separate out TikTok from the fact the actual engineers writing the code in Beijing I think is a — The Justice Department's trying to come up with a solution. I'm going to take a look at that solution, but they've got a huge mountain to climb," the Senator further noted.
"The second problem is that TikTok in a sense is a broadcasting network." Warner continued, adding "And if the Chinese Communist Party and TikTok at the end of the day has to be reliant on the Communist Party, the Chinese law states that."
"If they suddenly want to dial up the fact that we're going to decrease the content that criticizes Chinese leadership but increase the content that your kids may be seeing saying, hey, you know, Taiwan really is part of China, that is a distribution model that would make RT or Sputnik or some of the Russian propaganda models pale in comparison," he further stated.
Earlier in the broadcast, Republican Senator Tom Cotton warned that China is lying about claims that it stores Americans' TikTok user data in the United States with backups in Singapore.
"There have been reports indicating that that data is accessible in mainland China. That TikTok, a Chinese company, is subject to communist China's laws and that TikTok is one of the most massive surveillance programs ever, especially on America's young people," Cotton stated.
"It's not just the contents you upload to TikTok but all the data on your phone and other apps, all your personal information, even facial imagery, even where your eyes are looking on your phone," Cotton added.
"That's why I've encouraged every American, if they're using TikTok, to delete it from their phone if they can, to get a new phone all together," The Senator further warned.
The Chinese-owned video app, which is notorious as perhaps the most censorious in existence, has previously allowed fake news about Trump resigning to go viral, has censored videos that make fun of Dr. Anthony Fauci, has removed videos that highlighted inconsistencies in Amber Heard's testimony, and has also threatened to censor criticism of Joe Biden.
SUBSCRIBE on YouTube:
Follow on Twitter:
Follow @PrisonPlanet
———————————————————————————————————————
Brand new merch now available! Get it at https://www.pjwshop.com/


ALERT! In the age of mass Silicon Valley censorship It is crucial that we stay in touch.

We need you to sign up for our free newsletter here.

Support our sponsor – Turbo Force – a supercharged boost of clean energy without the comedown.

Also, we urgently need your financial support here. ———————————————————————————————————————