Tucker Says Trump Might Not Want to be Re-Elected
"It wouldn't be a crazy conclusion".
In a blistering attack on Trump hiking gas taxes, which directly impacts working class rural people who voted for him, Tucker Carlson suggested that the president might not want to be re-elected.
"Everyone assumes he wants to be re-elected, most presidents do, but what if Donald Trump decided he's had enough?" asked Tucker, adding, "Too many investigations, too much nastiness, too few upsides."
"It wouldn't be a crazy conclusion, how would you like to spend your seventies locked in the White House?" Carlson pondered.
The Fox News host pulled no punches by suggesting Trump "wants to lose" because of the policies he is enacting which go against the platform he ran on. These include;
– Half a billion dollars in medicare cuts
– Slashing funding for the e-verify program, allowing companies to keep hiring illegal aliens
– Bringing in more low skilled workers via legal immigration, pushing down the wages of the people who voted for him
– Releasing drug dealers onto the streets
– Continuing the "pointless military intervention in Syria"
– Raising gas taxes, economically impacting the poorest who voted for Trump
Tucker said that if Trump enacted all those policies, it could only mean he "just wants out," making the point that numerous other things, such as foreign lobbying, capital gains, and giant corporations like Amazon, which uses public roads to deliver its packages, could be taxed instead of gas.
By "hiking taxes on working class rural people," Tucker suggested that Trump was abandoning his base and wants to "retire early".
SUBSCRIBE on YouTube:
Follow on Twitter: Follow @PrisonPlanet
ABC's The Good Doctor Joins ABC News In New Fraud
Demonization now embedded in scripts of TV shows.
The same network that just got caught putting out gun range footage claiming it was a Turkish attack on civilians is now lecturing us about fake news.
Oh, the irony.
Moody's: Trump Will Cruise To Victory in 2020
Analytics models have been historically accurate every election (except the last one!)
Moody's Analytics has predicted that Donald Trump will easily win reelection in 2020, with three models showing that the President will secure at least 289 electoral votes and as many as 351.
Moody's has been highly accurate in predicting the outcome of elections dating back to 1980. The only time the company was incorrect was in 2016, when it predicted Hillary Clinton would narrowly win.
Three different economic models employed by the analytics agency suggest that Trump's Electoral College victory is on course to surpass the 304-227 count that secured him victory over 'Crooked' Hillary.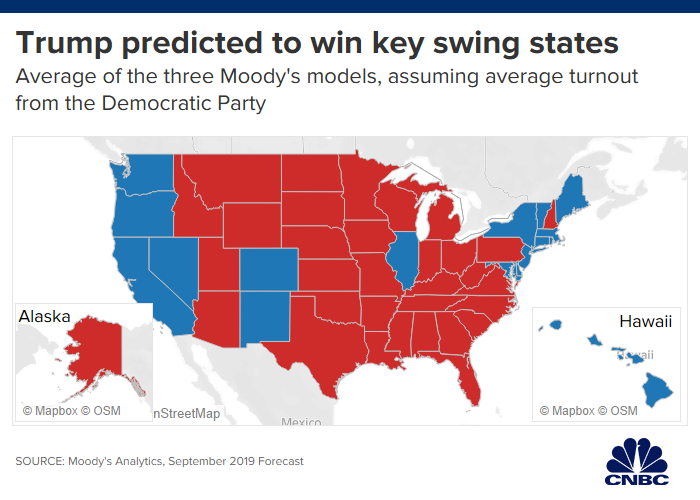 The projections are based on economic factors, specifically how confident consumers are with their financial situation.
With unemployment at record lows and the stock market's overall gains, Moody's predicts that Trump will cruise to victory.
"Our 'pocket¬book' model is the most economically driven of the three. If voters were to vote primarily on the basis of their pocketbooks, the president would steamroll the competition," the report notes.
"This shows the importance that prevailing economic sentiment at the household level could hold in the next election." the report continues.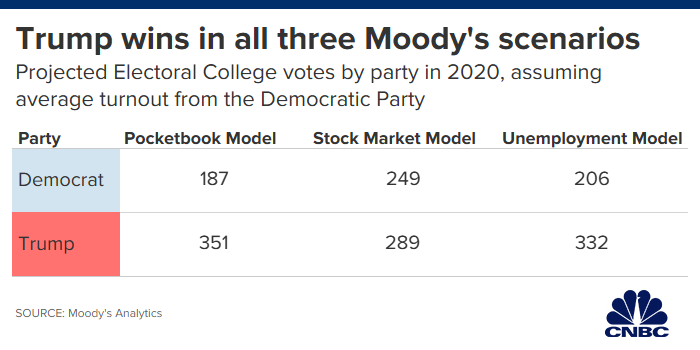 "If the economy a year from now is the same as it is today, or roughly so, then the power of incumbency is strong and Trump's election odds are very good, particularly if Democrats aren't enthusiastic and don't get out to vote," said Mark Zandi, chief economist at Moody's.
"It's about turnout," Zandi added, noting that if there is a minimum turnout on the Democratic side, then Trump will more easily win.
"Record turnout is vital to a Democratic victory," the report notes, yet across all three Moody's models, Trump wins 324-214.
Trump Campaign Manager: Dems Involved In 'Seditious Conspiracy to Overthrow' President
President Trump's campaign manager Brad Parscale accused Democrats Monday of "undertaking a seditious conspiracy to overthrow the people's president."
Declaring that Democrats have "crossed over the line of partisan politics," Parscale tweeted out a video super cut of various media talking heads criticizing the Democrats' ongoing impeachment inquiry.
The compilation perhaps most notably focuses on the fact that there still hasn't been a vote held on the matter in the House.
Parscale also called for Nancy Pelosi to resign for "betraying her oath of office and attempting to overthrow our great Republic."
Democrats have crossed over the line of partisan politics and have undertaken a seditious conspiracy to overthrow the people's president.

Nancy Pelosi should step down for betraying her oath of office and attempting to overthrow our great Republic. pic.twitter.com/fSB05qYRmA

— Brad Parscale (@parscale) October 14, 2019
Parscale's declaration comes on the heels of the President slamming the "impeachment scam."
….Democrat's game was foiled when we caught Schiff fraudulently making up my Ukraine conversation, when I released the exact conversation Transcript, and when Ukrainian President and the Foreign Minister said there was NO PRESSURE, very normal talk! A total Impeachment Scam!

— Donald J. Trump (@realDonaldTrump) October 14, 2019
Both Trump and Parscale have also described the Democrats' actions as a 'coup'.
….People, their VOTE, their Freedoms, their Second Amendment, Religion, Military, Border Wall, and their God-given rights as a Citizen of The United States of America!

— Donald J. Trump (@realDonaldTrump) October 1, 2019
#DoNothingDemocrats stop crying about 2016 and start working on USMCA, infrastructure, and other legislation that help America instead of trying to overthrow our government with a coup.

— Brad Parscale (@parscale) October 2, 2019